Sometimes love begins with "I like your pants," is reinforced by a laser-tag marriage proposal and is finalized with the help of a conga-dancing inflatable shark.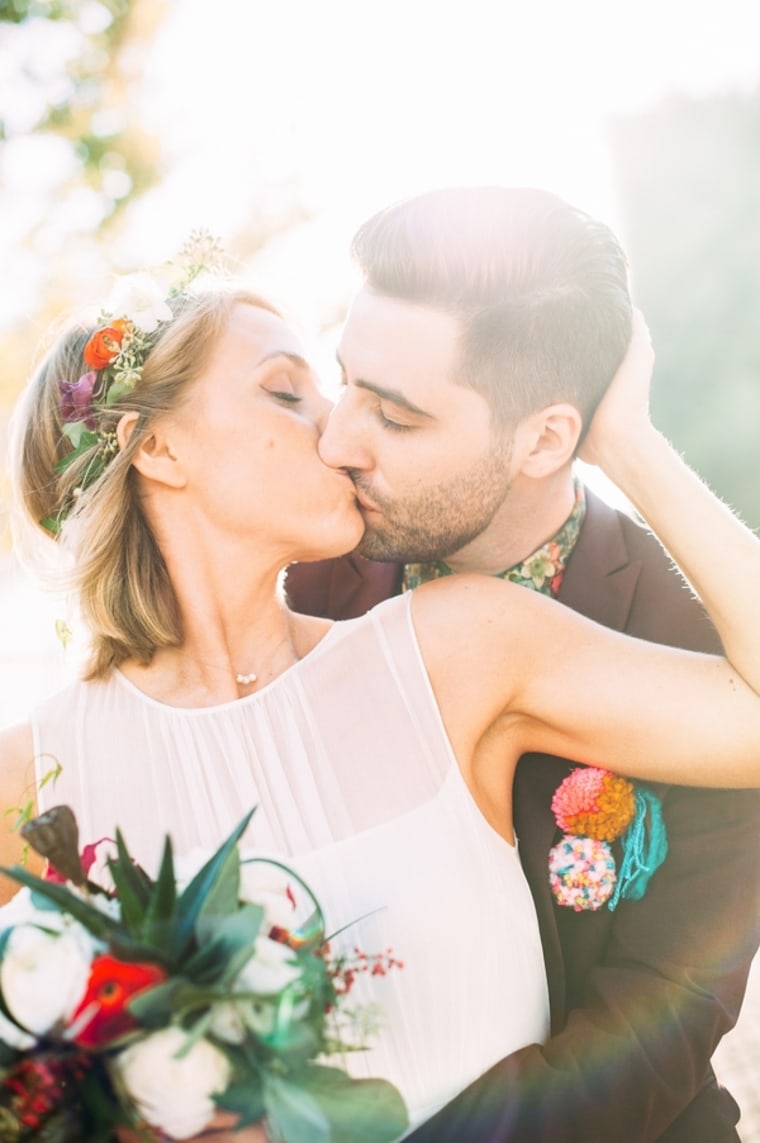 Known for her audiobook narration of the "Vampire Academy" series and credits that include HBO's "How to Make it in America," USA's "Covert Affairs" and CBS' "Unforgettable," actress Emily Shaffer found her quirky match in Vance Barber, who teaches acting at New York University and co-hosts a music podcast called Ear Candy.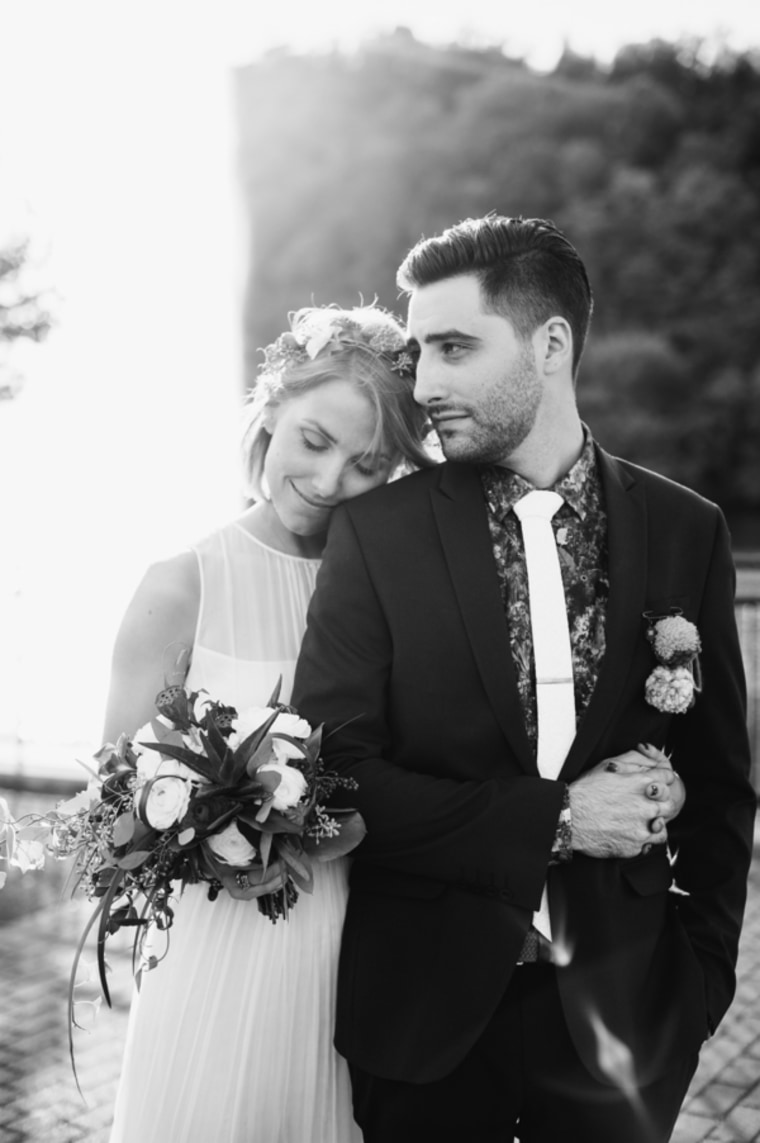 Long before they made New York City their home, they introduced themselves as theater majors at West Virginia University's freshman orientation. Barber made his first move as they headed to a nearby barbecue.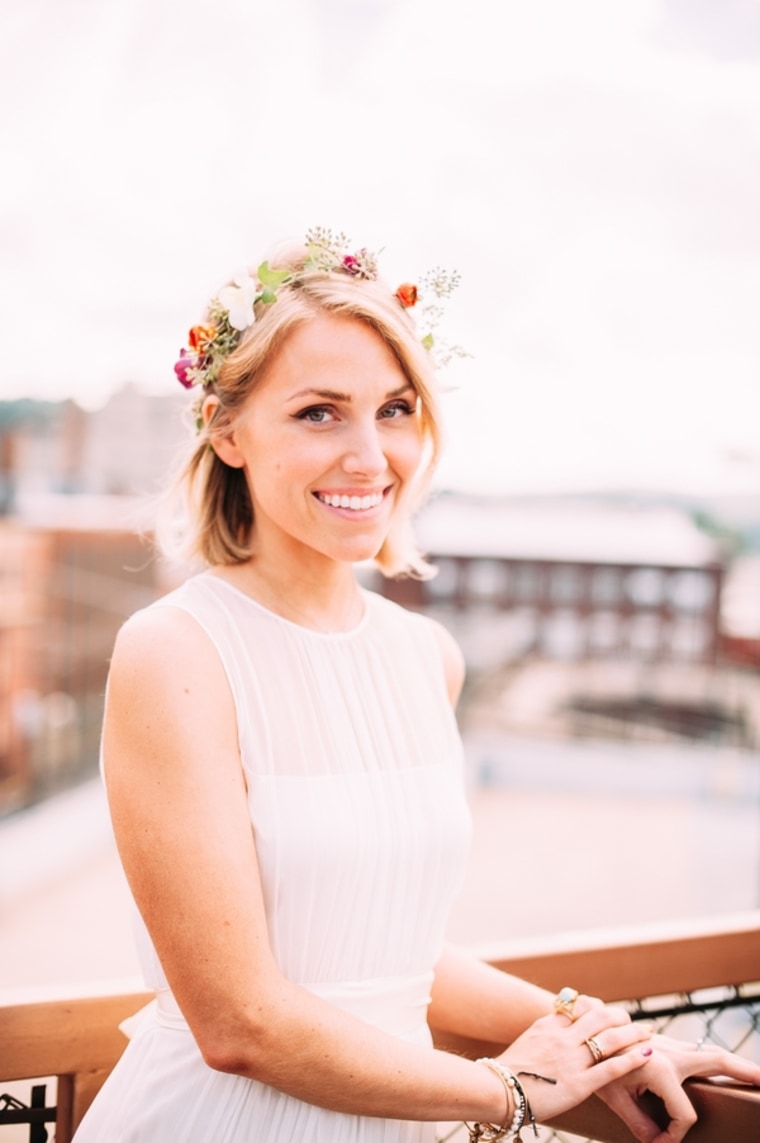 "He said, 'I like your pants,'" Shaffer, 28, said with a laugh.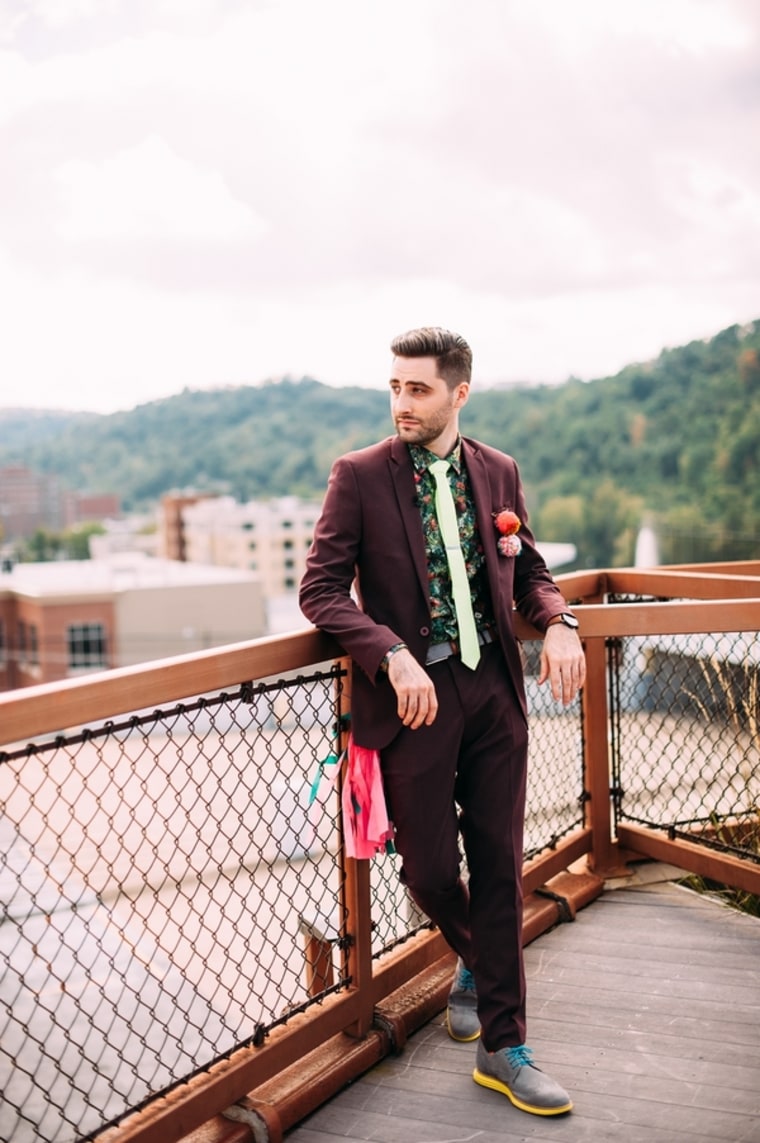 Barber, 29, admitted that his compliment about her black-and-white capri pants was "something really dumb, but it worked."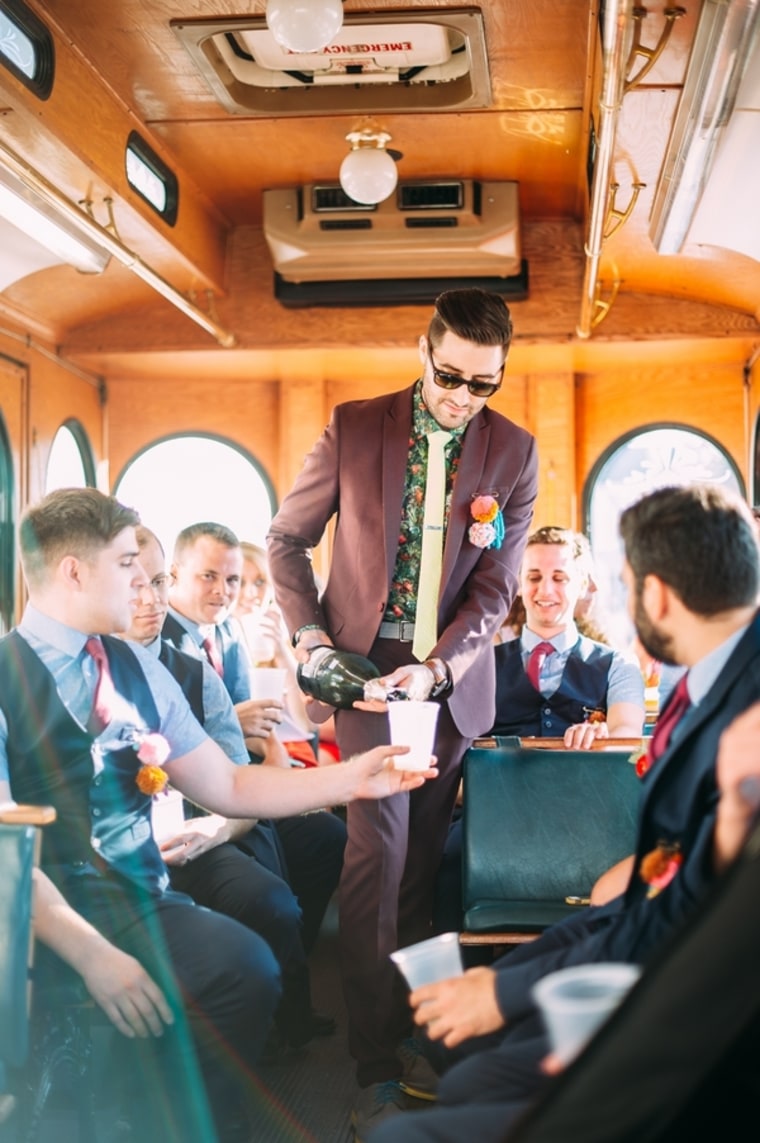 He laughed while describing their first date, which included a romantic serenade in his dorm room. "This is so dumb: I remember playing my saxophone," he said, while Shaffer giggled in the background.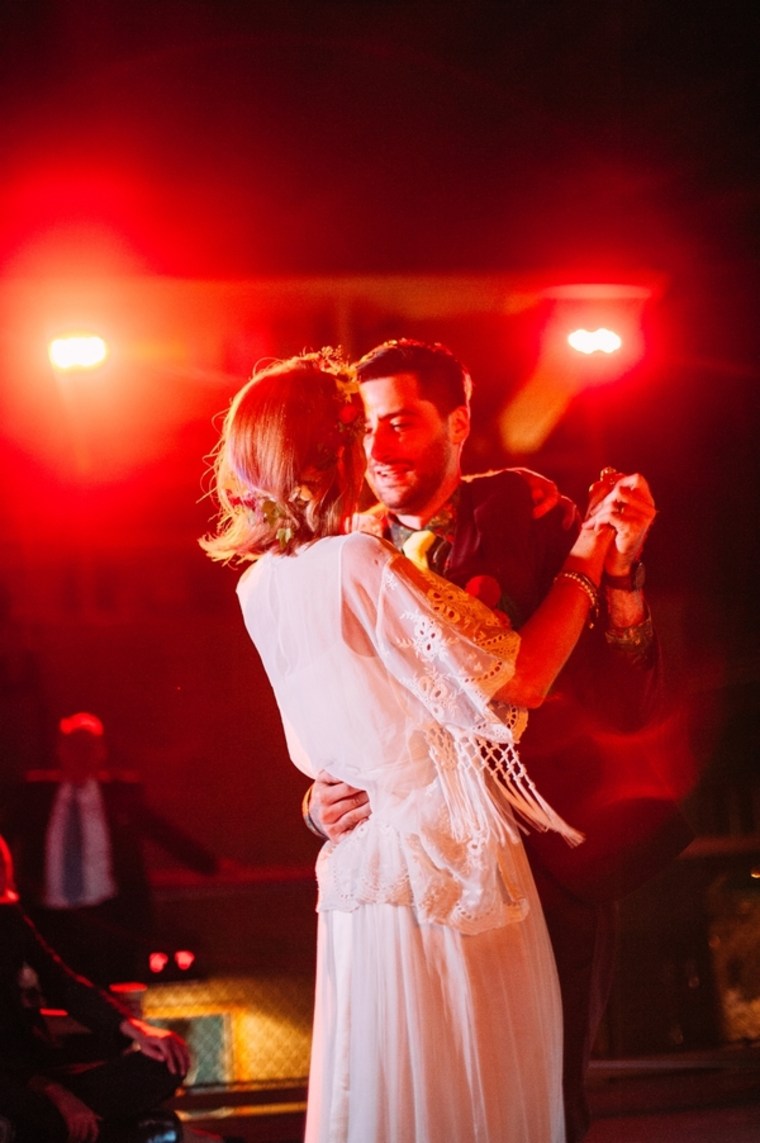 Shaffer contended the date involved a little more than that, adding, "We just walked around Morgantown, got Dairy Queen, and just ended up talking for a long time."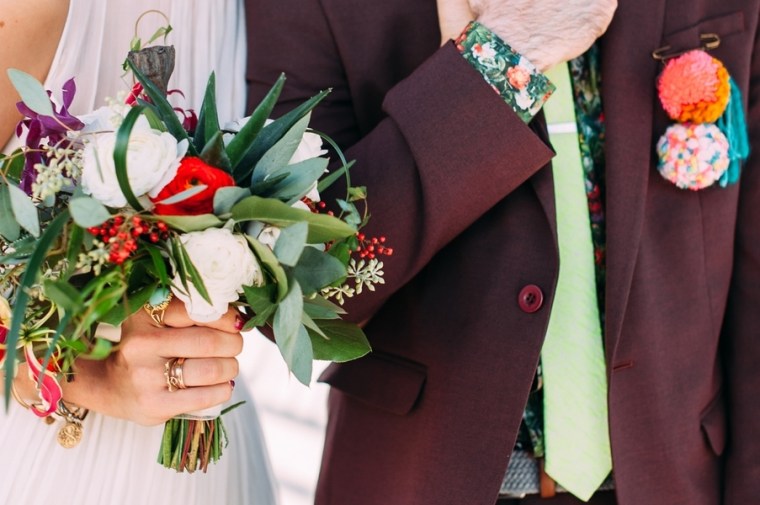 Two years later, they started to take each other more seriously. "We sort of were on-and-off being best friends, and then it being a little bit too weird, because we both liked each other, but we didn't realize it," Shaffer said. "Finally, two years later, we were like, 'Eh, let's just get it over with, because we're in love.'"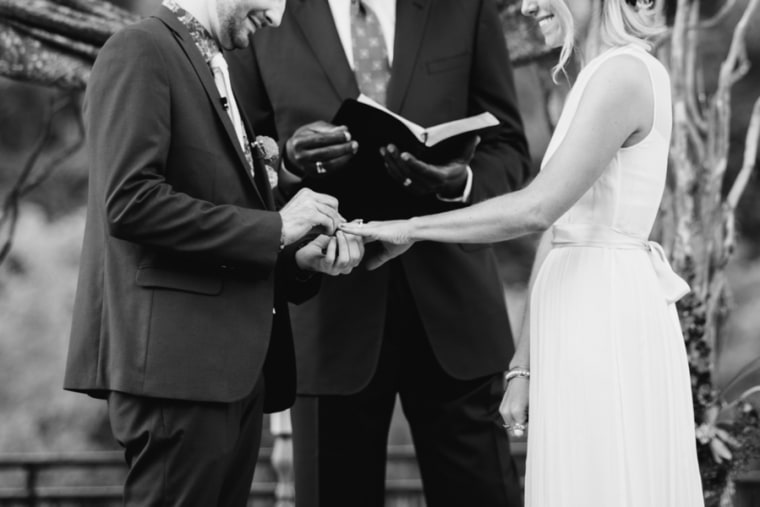 The summer after their first year of dating, Barber bought a ring and started a countdown. "I told myself I was going to have the ring and wait five years," he said, "and if I still felt the way that I felt that day, then I would ask her to marry me."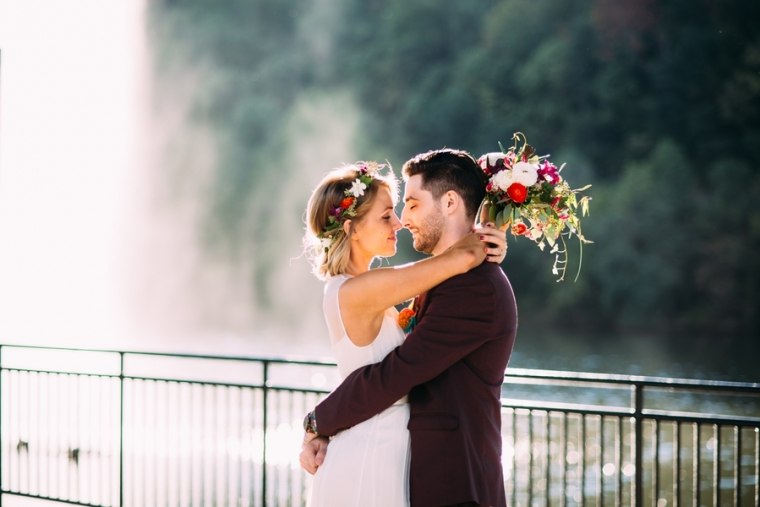 Five years later, on June 14, 2013, he proposed while friends joined them for a few rounds of laser tag. "It was the last game, and Emily and I were on the same team, and our friends were on the other side, yelling at us, and there was Rob Zombie [music playing]," Barber recalled.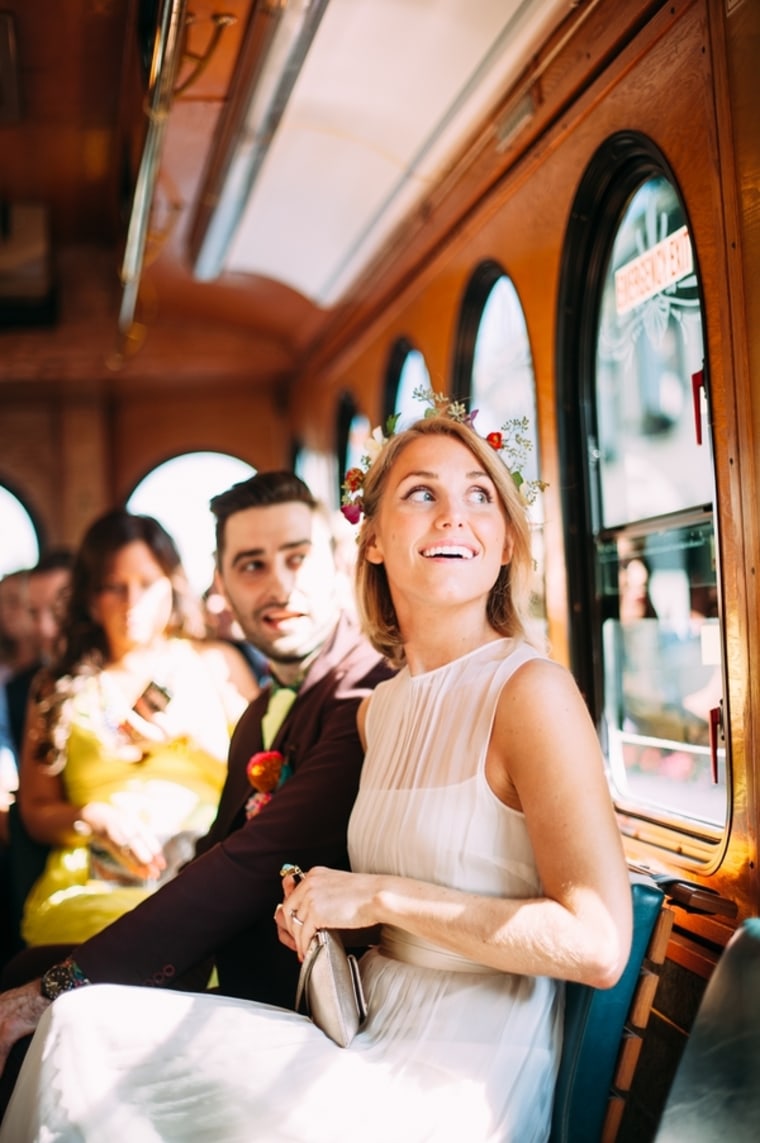 Added Shaffer, "It was romantic."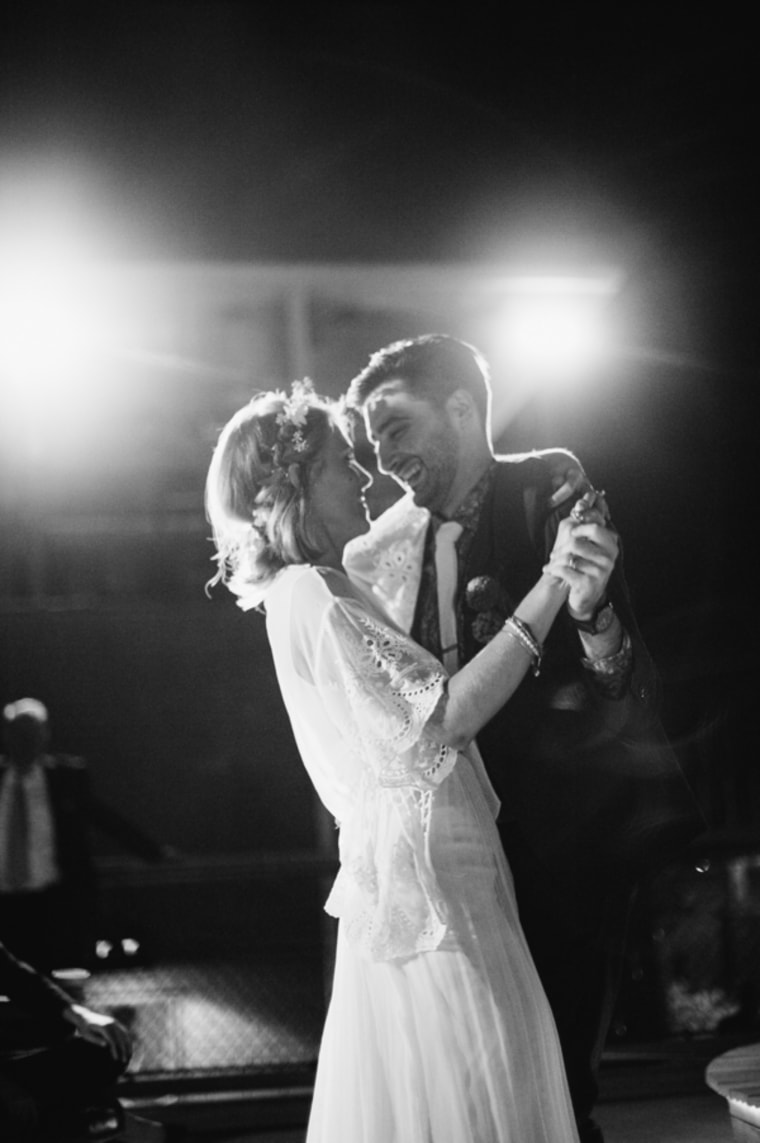 Barber instructed her to run to an inflatable tank in the middle of the arena, where he'd meet her. "I wiggled my way up right next to her, so that both of us were back-to-back, and she was like, 'What do we do now?' And I said, 'You could marry me,' and I pulled out the ring. She had immediate tears while crazy hard-core death-metal music's playing and my friends are cursing at each other from across the room. And she said yes, and we kissed."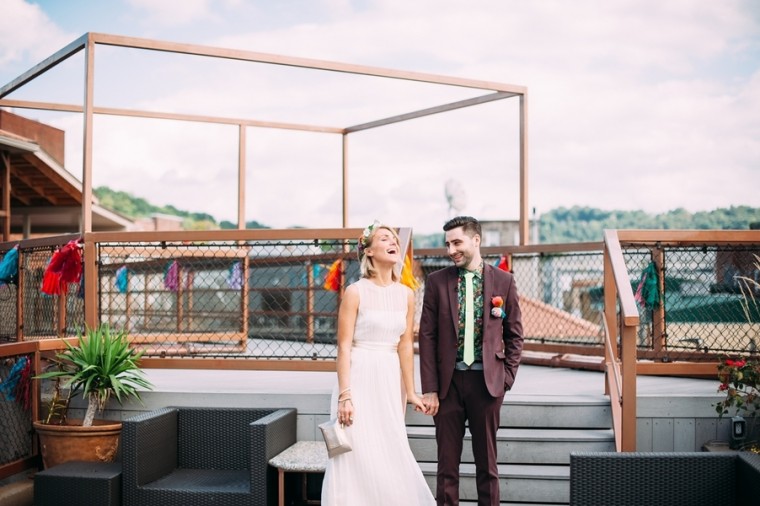 Shaffer described it as an oddly perfect moment. "Obviously, as a woman, I never would have expected it to happen during laser tag," she added, "but, now, looking back, I wouldn't change it at all, because it was uniquely us, super-silly and intimate."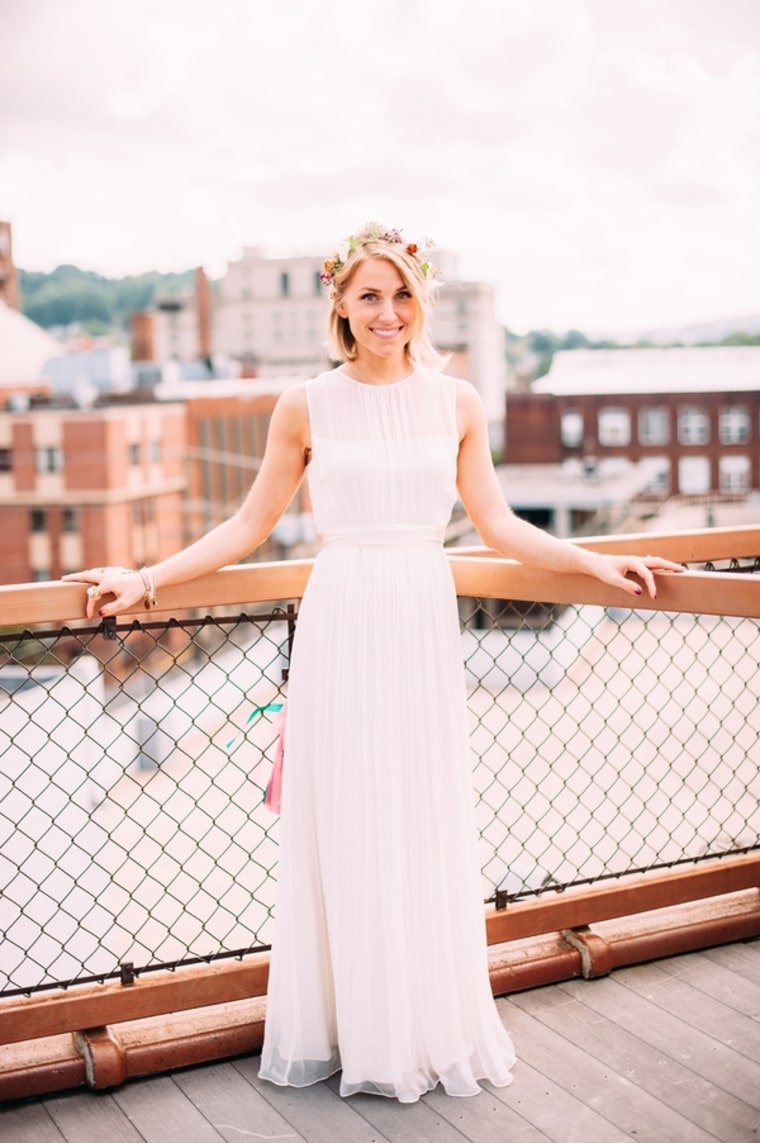 Finding a wedding dress took some time, but the search ended when she found a small shop in SoHo.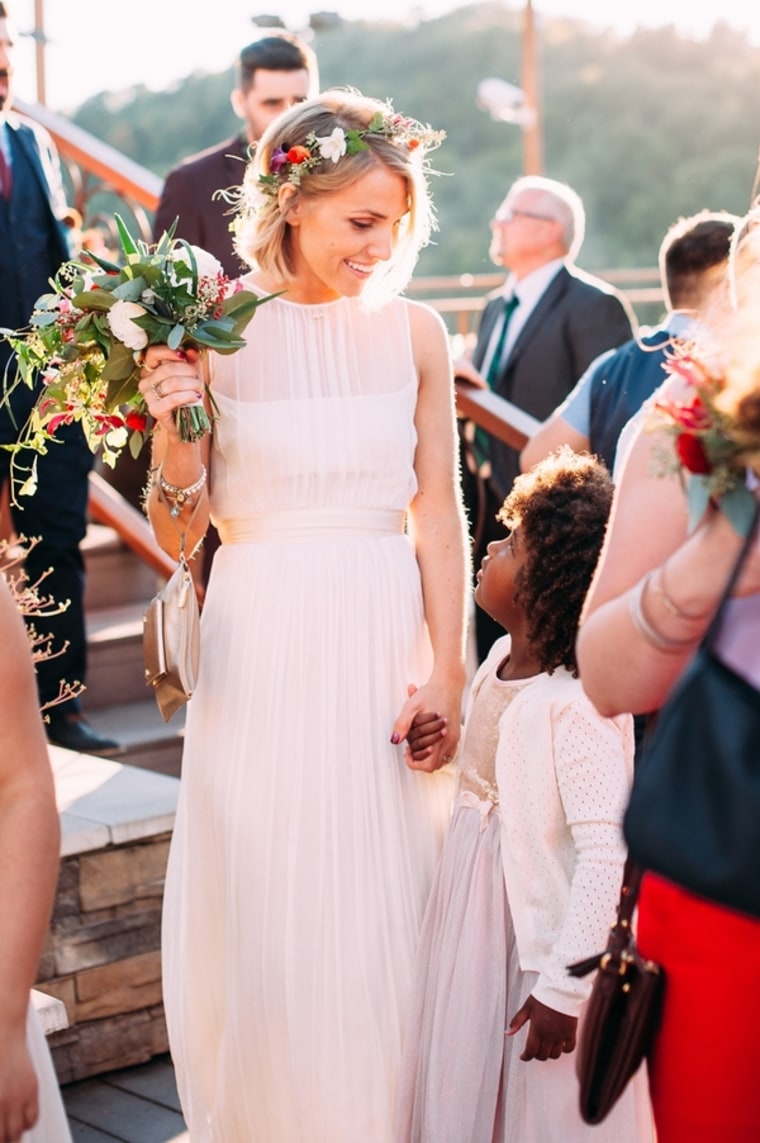 "I tried on, like, five dresses, and I knew immediately, when I put this one on, that it was mine," Shaffer said. "It just felt simple and a little bohemian, but classic, and I knew I'd be comfortable in it the whole day. And that sounds silly, but I wanted to have the best day ever, and I didn't want to feel like I was in a piece of art that would inhibit my fun. I felt beautiful, but also relaxed."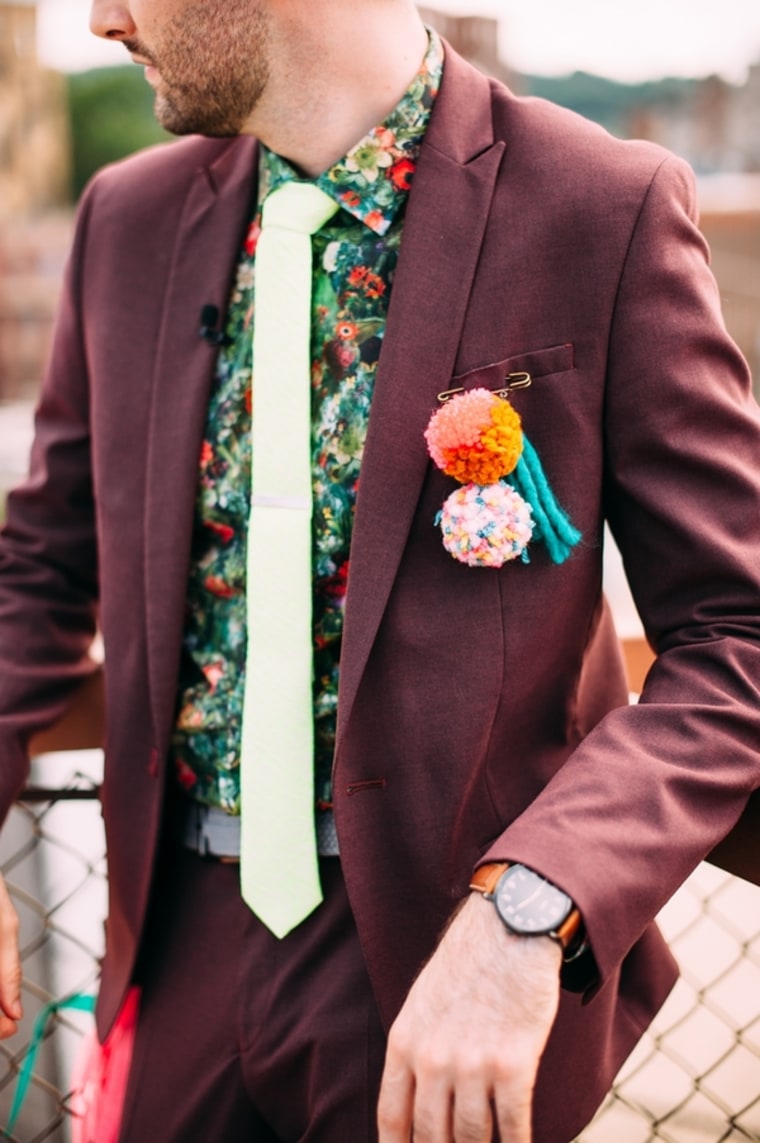 And while many American grooms opt for a classic tux or suit, Barber opted for some more flair. "I didn't want to go typical, because that's not the kind of dude I am," he said. "I mean, if I'm playing saxophone on a first date and going to laser tag to propose, it's not going to be a black-and-white thing."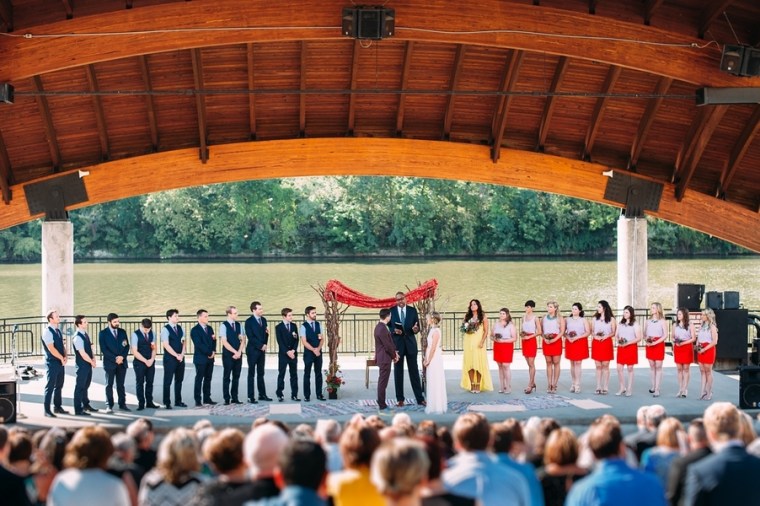 The couple held their Sept. 13 wedding at the Hazel Ruby McQuain Amphitheater in Morgantown, West Virginia. "We knew we wanted it to be outside," Shaffer said. "I walked down to the amphitheater, and it was sort of a back-burner of an option, just because I was worried it would be too big and epic, and not really small and intimate for a wedding feel, but we walked down there, and it was perfect. I was sold immediately when I went there in person."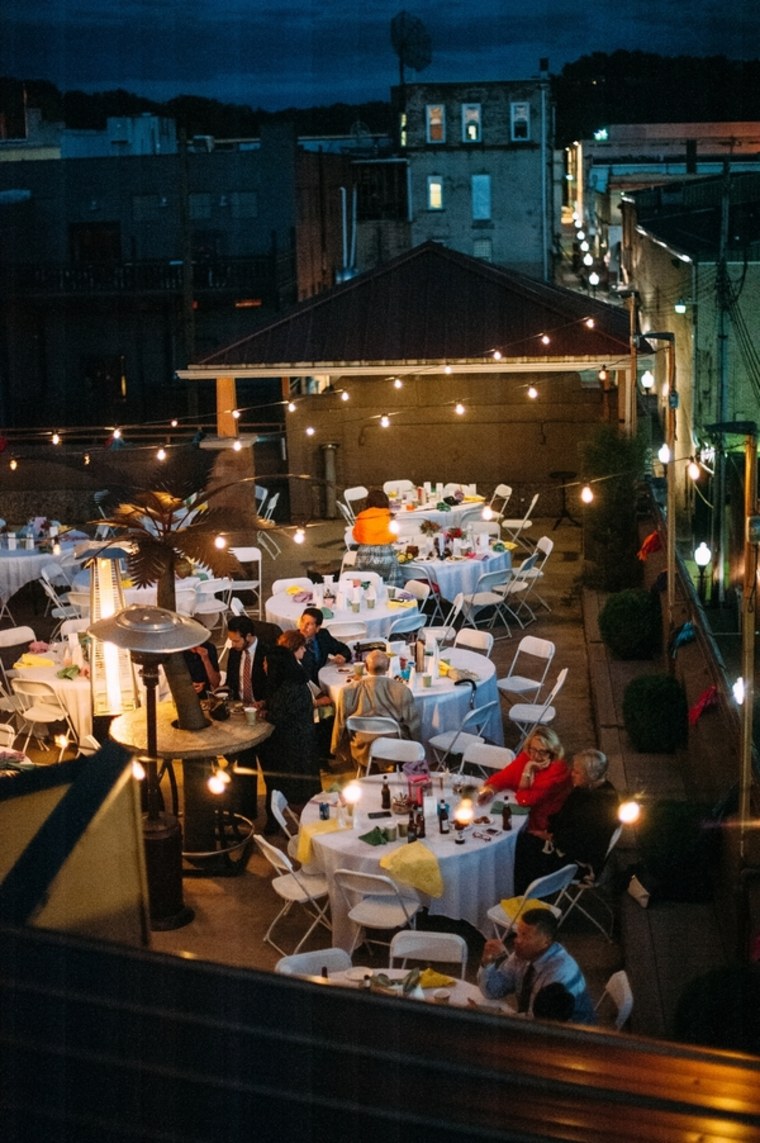 Shaffer's sister recommended hosting the reception at the Chestnut Hotel's RockTop Lounge, which could accommodate the wedding's 200 guests. "I think that we chose it, ultimately, because it had sort of a New York feel in Morgantown, which is like this very small-town, college, country, West Virginia place," Shaffer said. "The RockTop Lounge was a little swanky, and a little touch of New York."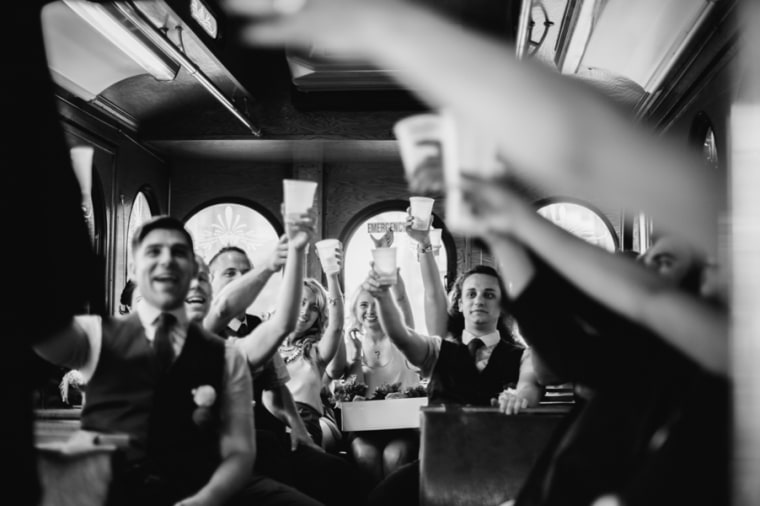 It also fit the couple's goal for the reception ambiance. "We really wanted it to be a party, this sort of Mexican fiesta-meets-desert bohemian," Shaffer said. "We wanted it to be a party for us, and a party for all the people we love the most, as opposed to, like, an elegant affair."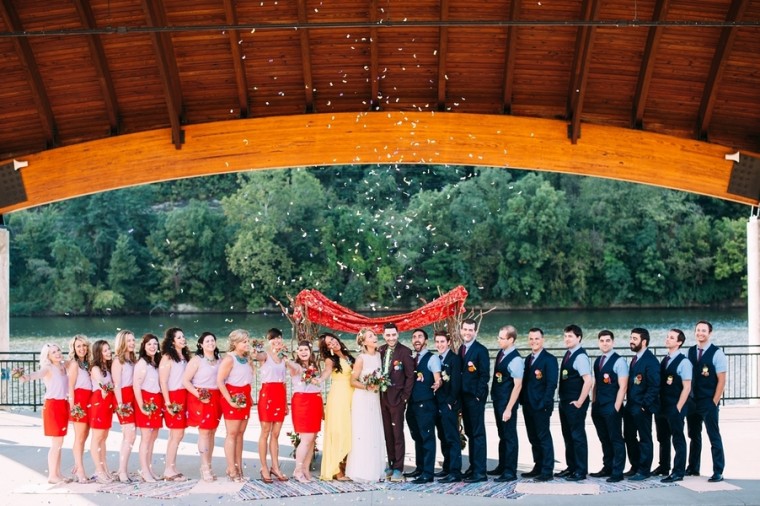 In keeping with the casual theme, the bride and groom did some of the work that, at another wedding, would be assigned to a DJ. "We ran up and introduced our bridesmaids and groomsmen as they walked in, because we wanted to do that," Barber said.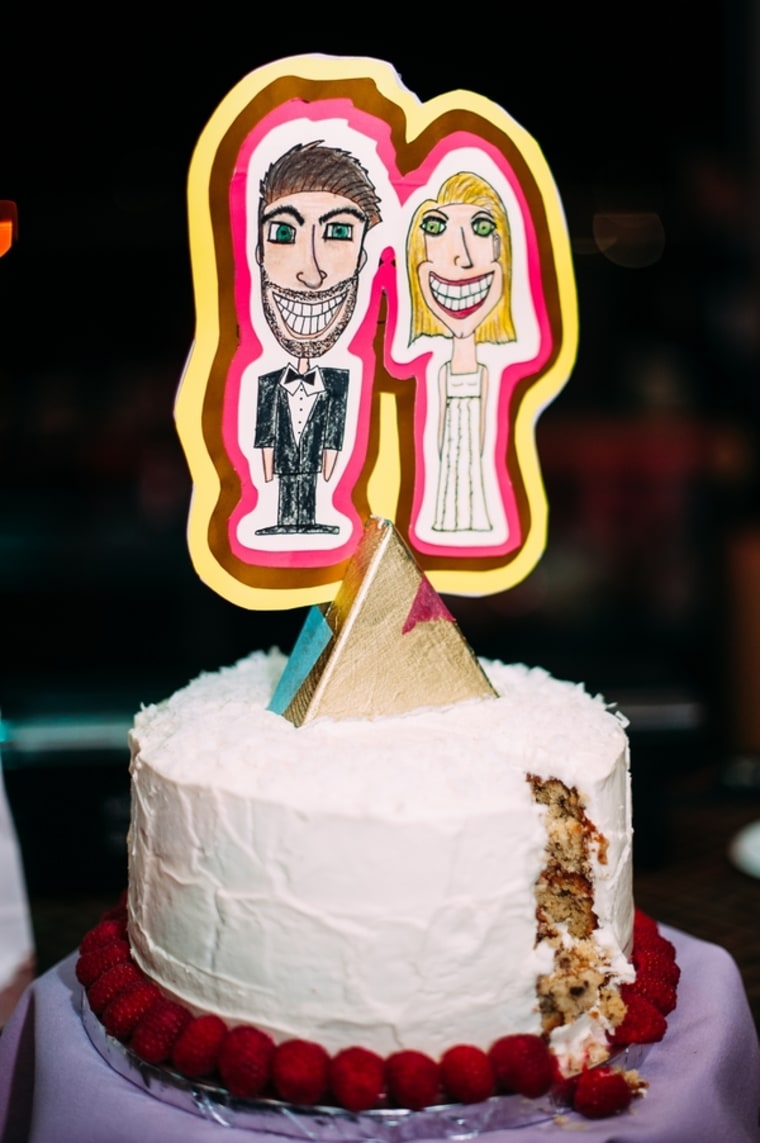 Barber also provided the artwork for the cake-topper. "I was very adamant on having that," Shaffer said. "Over the years, for Valentine's or birthday parties or whatever, he's always drawn us, and I love it, because it's silly and cute."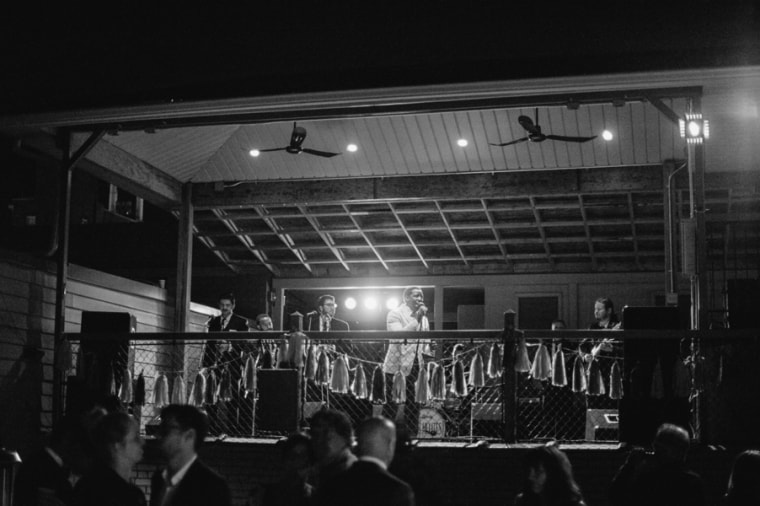 In addition to sharing their first dance to The Rolling Stones' "Beast of Burden," the couple made sure to get down to the funk and soul sounds of their wedding band, Wesley Bright and the Hi-Lites. "They're way too good to be playing any wedding," Barber said. "I can't imagine how we convinced them to do it. They're going to be a big deal one day, and it's weird that they played our wedding."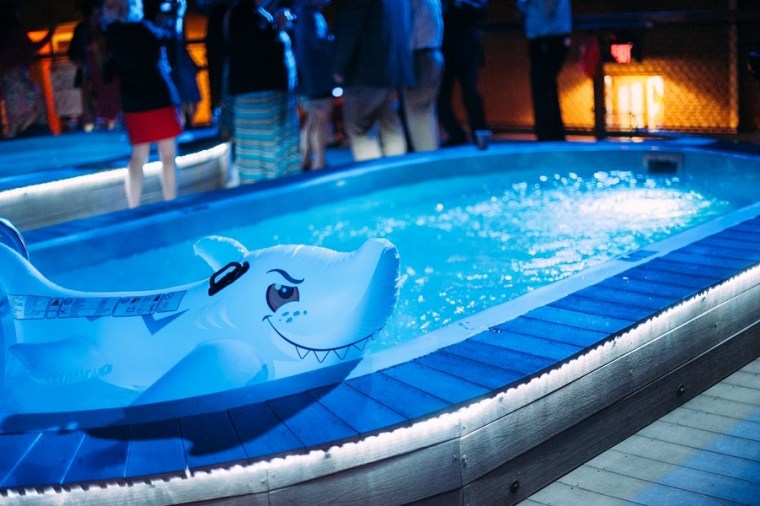 Shaffer figured RockTop's in-ground pool would be strictly ornamental, but in addition to its inflatable shark toy serving double-duty as a conga-line dancer, she recalled the moment she realized the water would be put to good use. "At the stroke of 11 p.m., groomsman Nick Jarebek kicked it off with a cannonball," she said. "Then, folks were all about it."
Most of the action was captured by the couple's wedding photographer, Veronica Varos, and a separate videographer, Megan Sutherland, who helms the Pittsburgh-based Pictory Productions.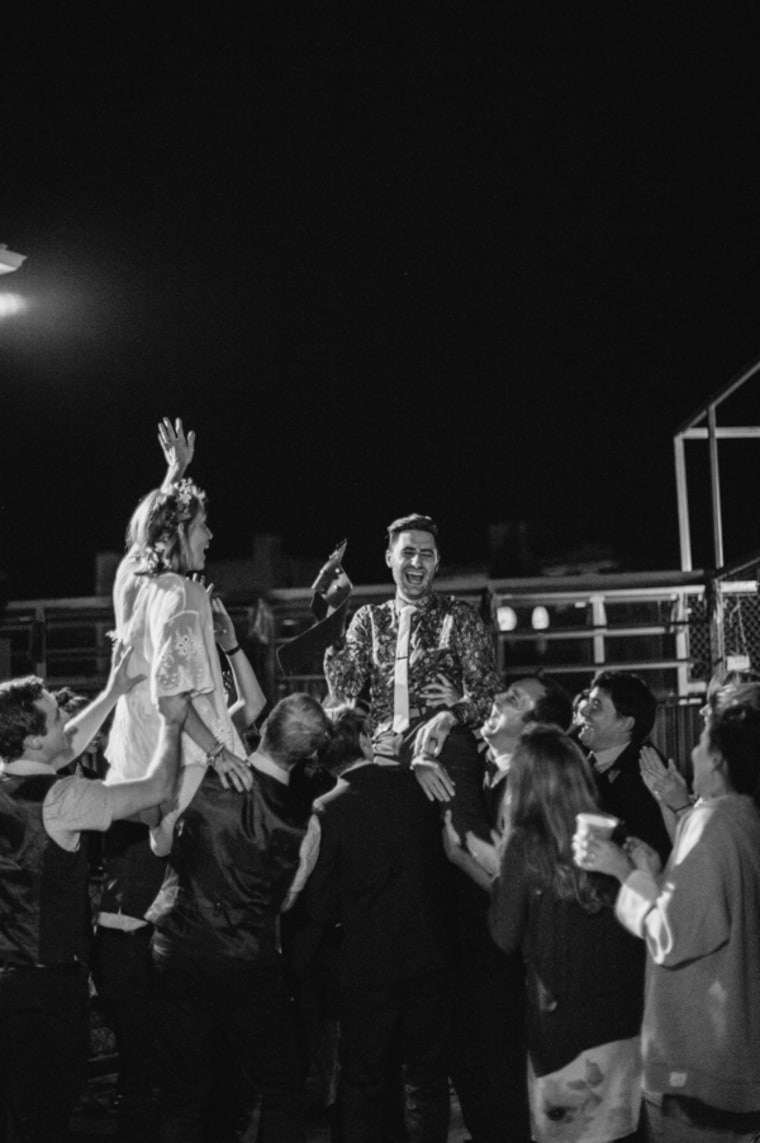 Barber said they've been moved by their family and friends' reactions to their wedding, in part because the couple did exactly what they wanted to do.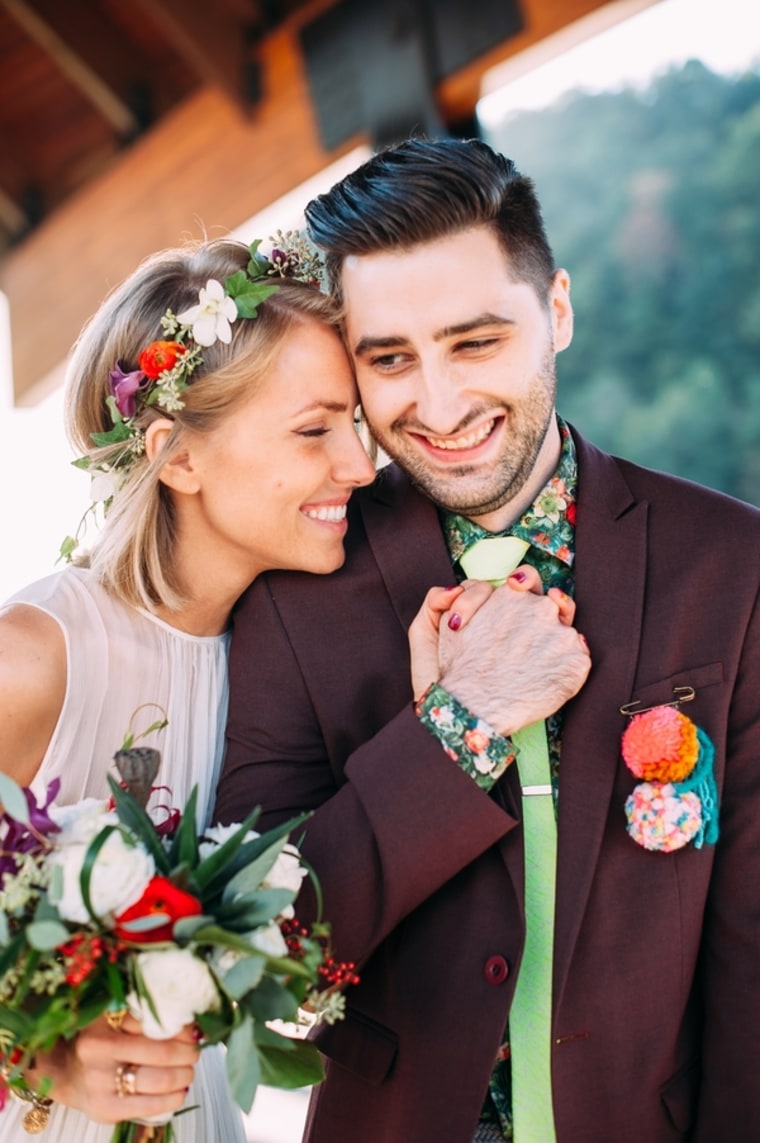 "We were a little nervous about how showy our love is, because we love each other so much, it can be daunting for some people," she added. "But we were like, 'It's our wedding day, so, we'll shout it loud.'"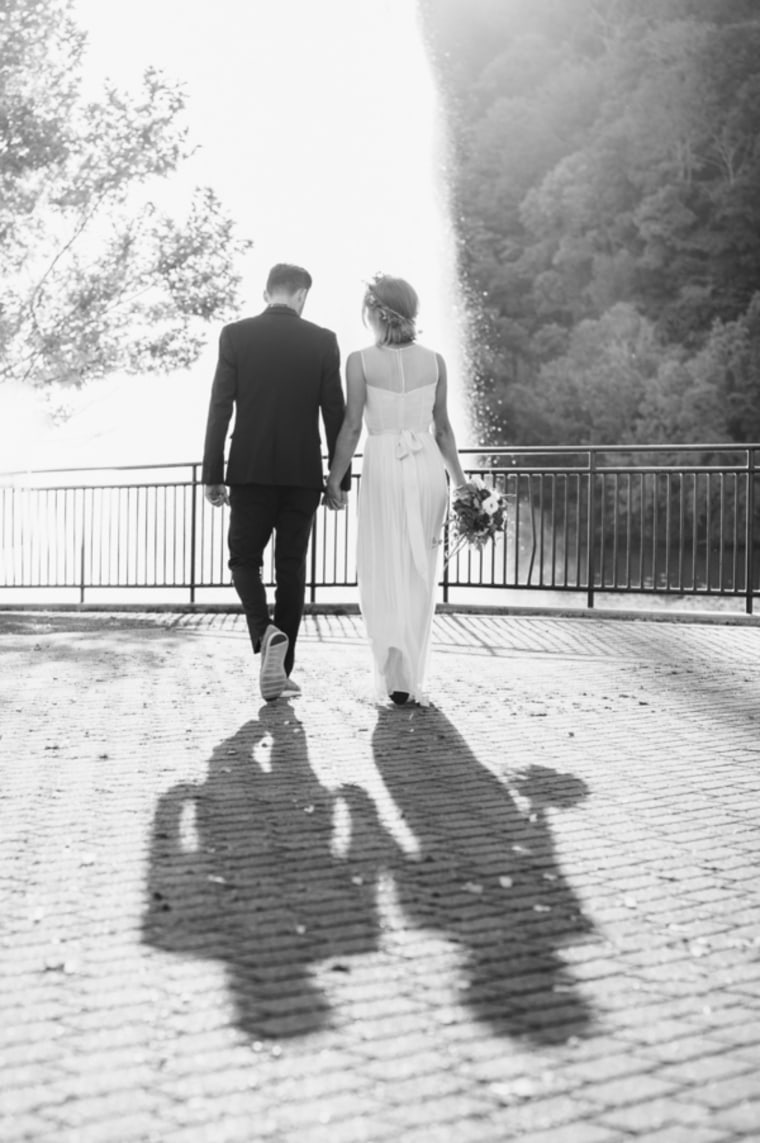 All photos provided by Veronica Varos Photography. Check out more TODAY Real Weddings here. Follow TODAY.com writer Chris Serico on Twitter.