When it comes to hair, split ends might be our biggest nemesis.
We're willing to singe them away with a burning candle or snip them with a makeshift vacuum — you do remember the Flowbee, right? There may be a better option.
The Split-Ender Pro 2 is an at-home tool that'll trim as little as 1/4 of an inch, so that your layered 'do lives on without a costly and time-consuming haircut.
If the idea of cutting your hair at home sounds too scary to try, fret not; that's why I'm here! As someone who cannot stand getting my hair trimmed, I'm the target market for such a tool and willing to test out anything that will save me a trip to the salon. Ask my hubby, who recently had an intervention when he caught me cutting my own bangs in the bathroom.
I was excited to dive in and open the Split-Ender Pro 2, which comes with a charger and a shiny black travel bag. You know, in case you want to trim your hair while visiting Disneyland. Once powered on, the blade spins so quickly you'd think it was powering a rocket ship. OK, now I was feeling frightened!
But if there's one man to trust, it's the tool's founder, Victor Talavera, and his enviable mane. I'm not worthy! (Yes, that was a "Wayne's World" reference. That's still current, right?)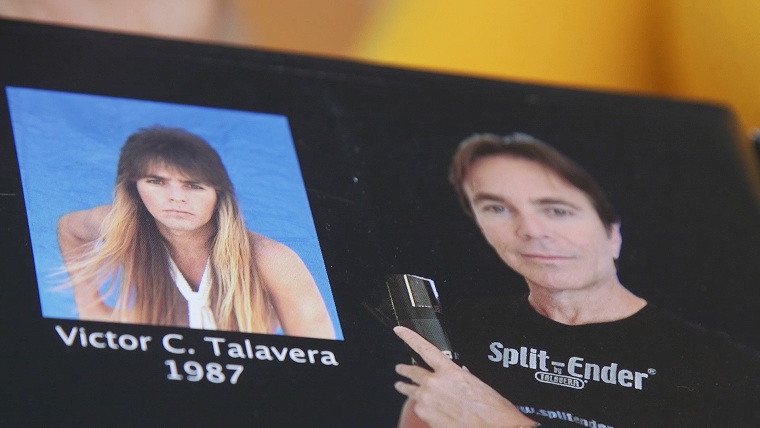 A quick glance at the instructions informs me that there's a locking mechanism on the underbelly of the device, which, once disengaged, opens the tool's jaws like a friendly alligator. The thick plastic teeth of the brush are meant to keep hair tangle-free and guide it into the cutting mechanism.
The gadget guides hair around a curve and chops any ends sticking up, even if said end is halfway down the length of your hair. This is great for any frizzy-haired ladies, because split ends along the length cause the offending pouf.
Important note: The "directional switch" — the little green arrow on the handle of the device — needs to point toward the floor at all times. This will ensure the blade rotates in the correct direction no matter which side you're cutting or how you're holding the device in your hands. I don't know what would happen if you goofed here, so let's not take any chances!
Alright, let's give it a try ...
It's go time! But before I could saddle in, there are a few rules to follow:
Hair needs to be clean and free from conditioners and oils for the device to glide smoothly down the hair shaft.
Curly hair needs to be straightened beforehand.
I sectioned my hair and was raring to go — that is, until I heard the device whirring loudly and started to sweat. Was I really ready for that first clamp? Do I really trust a rotating blade near my delicate hair? This could be disastrous!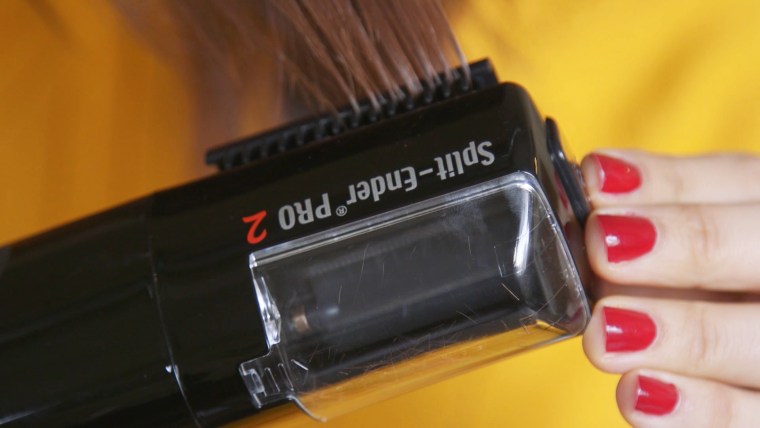 On my first go, the Split-Ender Pro 2 glided smoothly down the length of my hair without chopping it off. Phew! This gave me some renewed faith. Sorry I was doubting you, Victor!
I looked into the reservoir and could see how many tiny split-end hairs were snipped from just one swipe. Impressive!
I continued to go over the section two more times (2-3 swipes are recommended for the best results), and felt how silky, smooth and soft my hair was afterward. I continued working on my left side, learning lessons along the way. Most of all: Don't feed too much hair into the teeth. A 1- to 2-inch section seems to work best. The thicker the piece, the less it'll cut since the mechanism needs to catch split ends around the barrel. My best advice is to work your way through slowly.
The greatest satisfaction? Seeing all of my split ends in the reservoir after each swipe! The pieces look nearly identical, as if I had painstakingly trimmed each by hand.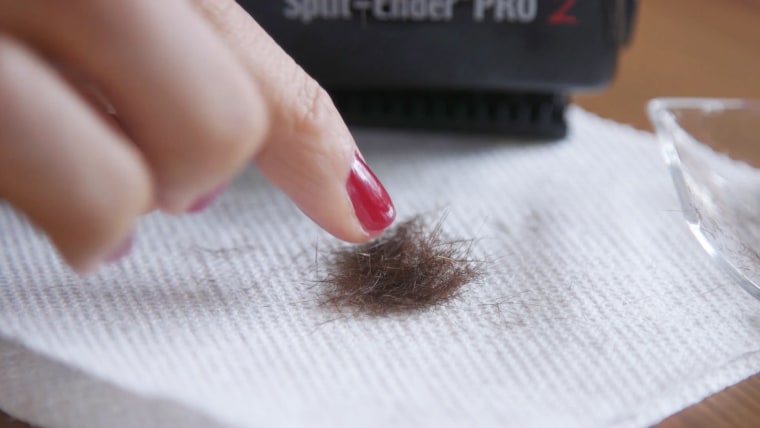 I seemed to be having a good experience so far, but was it a fluke? I had to ask a few experts for their take.
"If the blades are sharp then the cuts will be clean," said cosmetic chemist Ni'Kita Wilson. "But it has a lot to do with user compliance. If the hair is rugged or pulled then it can result in jagged tips."
Matt Fugate, celebrity hairstylist for Kérastase, was a bit more skeptical. No hair type, texture, section or strand is the same, so using a tool to cut hair that treats it all the same is asking for failure, he told TODAY Style. "The ends may begin clean, but as you are cutting dry hair, the blade will dull instantly and start 'chewing' the ends instead of cutting them," he explained.
Given this warning, you'll definitely want to keep an eye out for a dull blade. And it's probably wise to store the device outside of a humid bathroom so the blade isn't compromised by rust.
The results
I could tell instantly my right side (without the Split-Ender Pro 2) looked dull and frizzy in comparison. After running my fingers through both, I was shocked by the difference. My hair was softer and smoother on the left, and was more manageable without frizzies sticking out, too.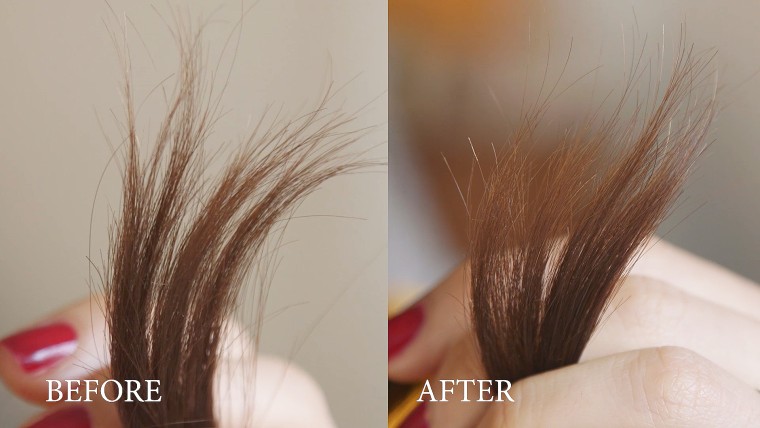 Overall, I'm giving the Split-Ender Pro 2 a nine out of 10. I really love that it works no matter the hairstyle, since it's cutting only 1/4 of an inch at a time. (Don't forget to compensate for the second and third passes!)
This could be especially useful if you have color-treated hair, since the ends get drier, faster. If you're afraid of losing length at a more traditional haircut, this might help you as well. As we all know from experience, your idea of an inch isn't necessarily your hairdresser's definition.
And I strangely love the weird satisfaction of peeking into the see-through blade chamber after each pass.
Now, onto the right side of my hair!
Although we only tested this one (you've been warned) there are actually a ton of split end trimming products on the market right now.