Two-time Olympian Johnny Weir, who announced Wednesday on TODAY that he is officially retiring from the sport of figure skating and will join NBC Olympics as an analyst for the Sochi Games, has long been one of the most stylish athletes on the ice. 
In his new capacity as an in-house expert, we asked him to channel the Olympic judging panel and "score" a selection of his past looks — all of which he designed himself — going back to 2004.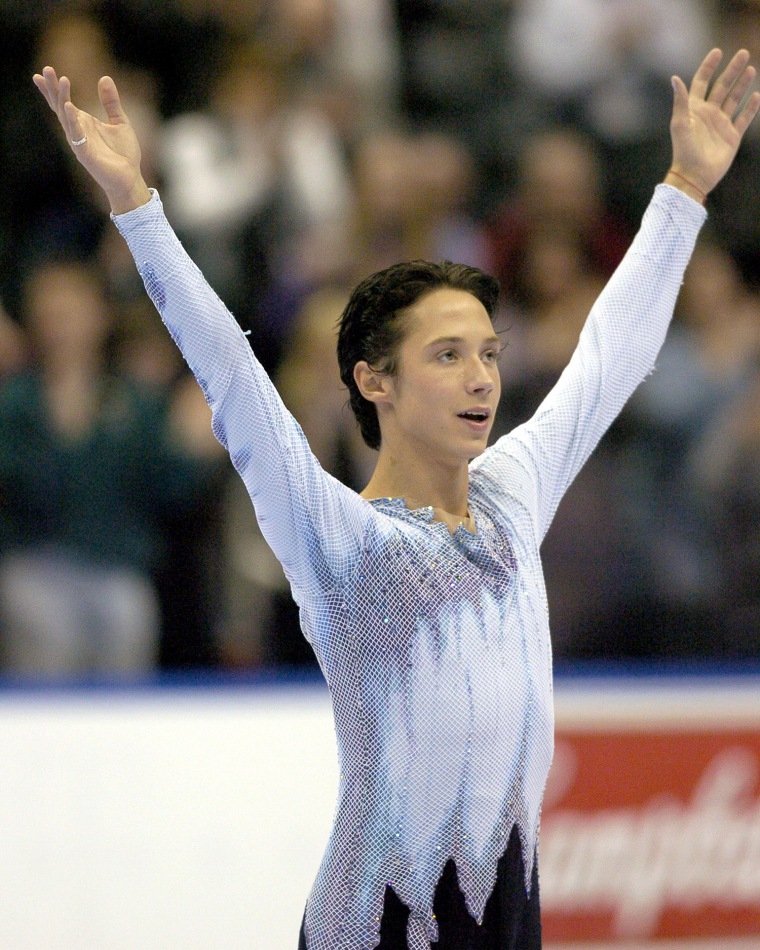 Men's Championship; Atlanta, Georgia; January, 2004
Weir Style Score: 7/10

"This was my first national title," Weir says, of the shimmery tunic he designed to look like icicles. "I was 19 years old. I was really beautiful. And you know, 19 years old, your skin is flawless, you're thin, you're strong, you have, like, 8-packs from doing nothing. This was one of the best moments of my life...The moment gets a 10. And my costume, it was kind of in a period when I wasn't all out there — I was still holding back a little bit. So this one I'll give a solid 7."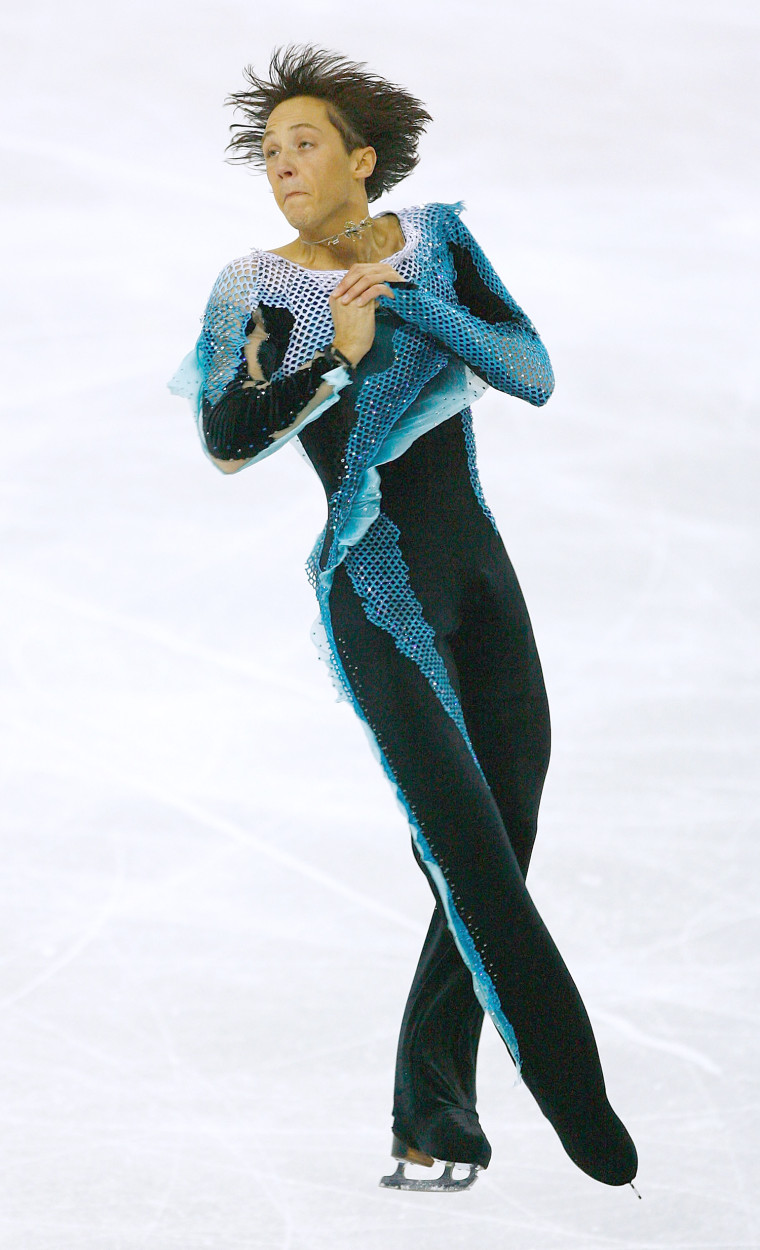 Winter Olympics; Turin, Italy; February, 2006
Weir Style Score: 9/10

"I can't even look at my face," Weir says of this pic, snapped at the Winter Olympics in 2006. "Photographers that show up at the Olympics aren't used to shooting figure skating so they don't realize that you will never get a good shot of an ice skater mid-air. So my long wild hair is everywhere. My face has been morphed by the force into some kind of potato face."
Despite his expression, Weir gives his costume here "a really good 9," noting the colors and detail. "When you skate to piano music, sometimes it's hard to make it an interesting costume, but I wanted to make it very ethereal and almost watery."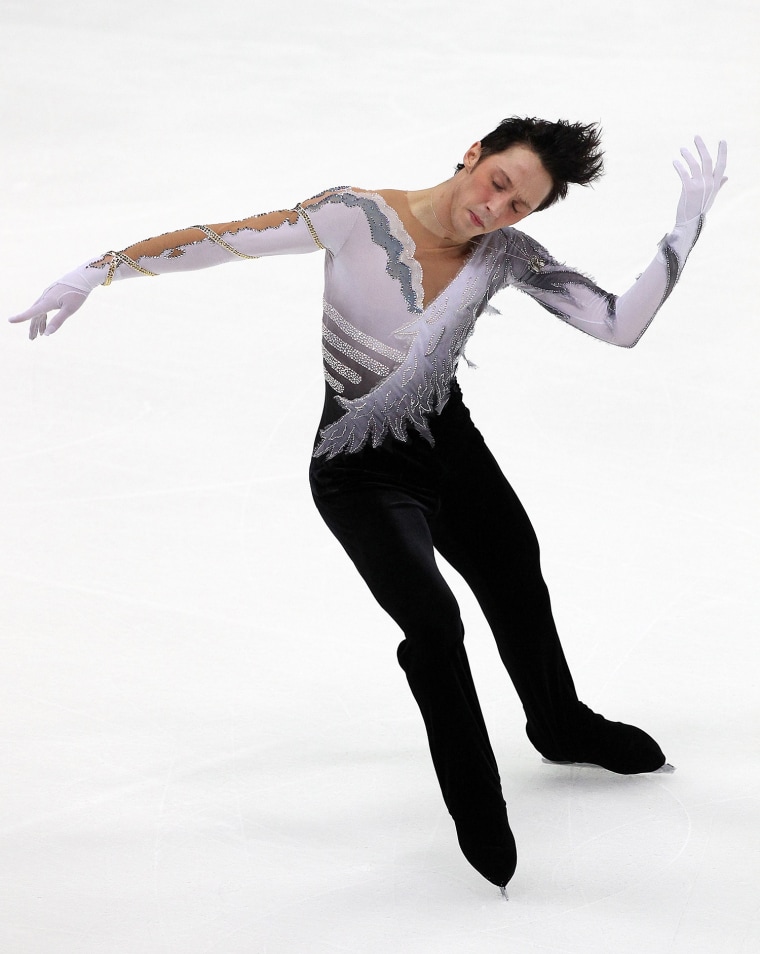 ISU Grand Prix of Figure Skating; Nagano, Japan; November, 2009
Weir Style Score: 10/10

"I was terribly sick that week," Weir remembers. "I couldn't even cover up my dark eyes and my red cheeks with my makeup. But my costume was for 'Fallen Angel,' and this is what I ultimately wore for the Olympic Games, and that was the moment of my competitive career...it's something I'll never forget."
Weir says he originally didn't think this costume was "Olympic enough," so he changed it between this competition and his performance at the Vancouver Games. "I just found it almost too pure...My coach had an issue with the sparkly ribs because she thought angels should be a little bit fat — they don't have ribs, like a cherub, almost — and I was like, nope, because it's called 'Fallen Angel,' I have to have fallen, I've lost all my sustenance, so I need my sparkly ribs. She finally signed off on it, and after I skated once in a different costume, I realized this was the costume that would make my moment...This one I give a 10, just for what it represents in my memories."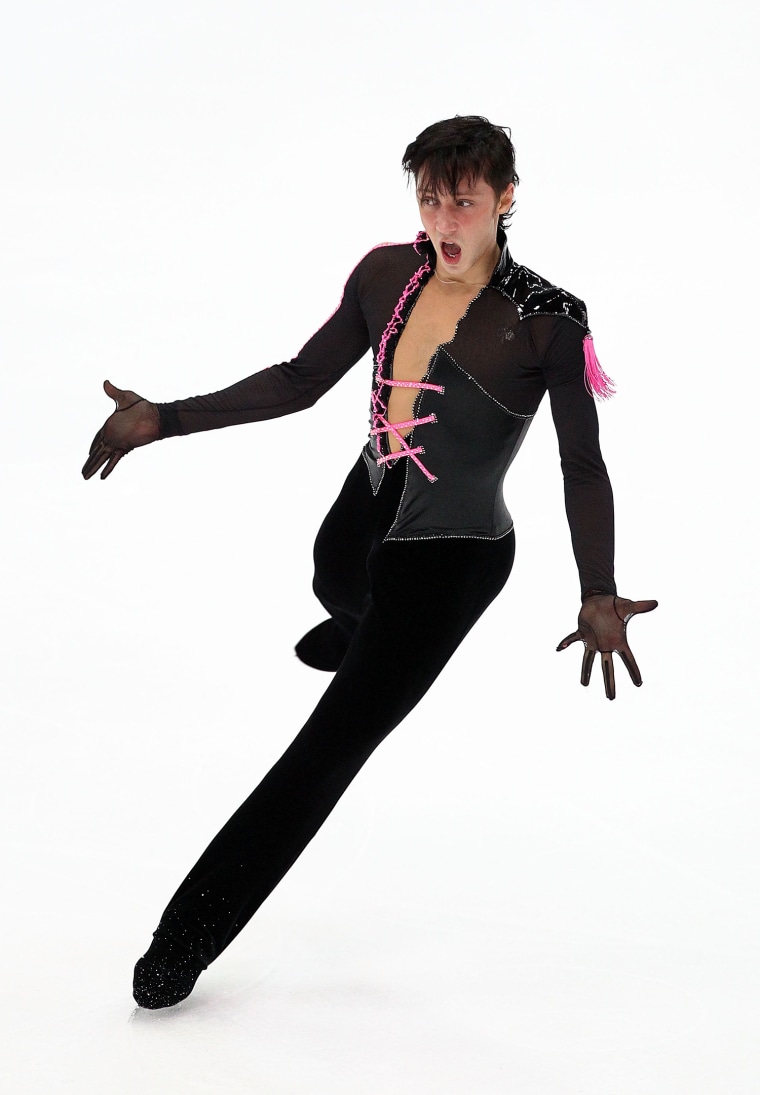 Grand Prix of Figure Skating; Nagano, Japan; November 2009, 
Weir Style Score: 10/10

"This one, a lot of people were afraid of, my coaches included, and my choreographer, because I was wearing pink and it's for the Olympic season," he said. "But this is so glamorous, I look so svelte." This outfit also entered the Olympic lexicon, Weir says, as people like Scott Hamilton began using his phrase "rocking the tassel" after the pink tassel he sported on the ice. "I give this one a 10 as well, because it was flawless," he says. "From the pink ruffle to the neoprene corset, it's everything."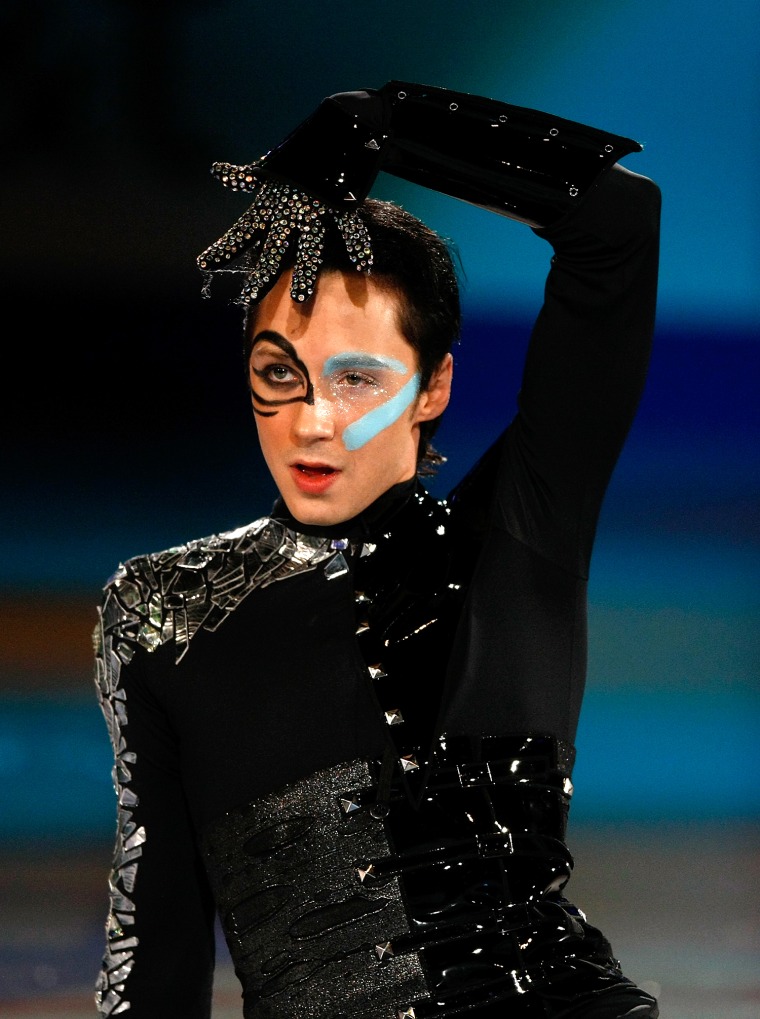 U.S. Figure Skating Championships; January, 2010; Spokane, Wash.
Weir Style Score: 10/10

"So, 'Poker Face' is kind of an iconic number for me," Weir says. "And this costume helped me get there —broken mirrorball disco queen. I changed the makeup every time. 'Poker Face' had many different costumes because I had to skate it for so long, and I was bored doing the same thing over and over."
Weir chose every element, from the hair to the makeup to the glove, and the fabric. "I created a moment," he says. "The costumes, they look crazy for the moment, but they create my image, they create what I'm doing on my ice. This one's beautiful."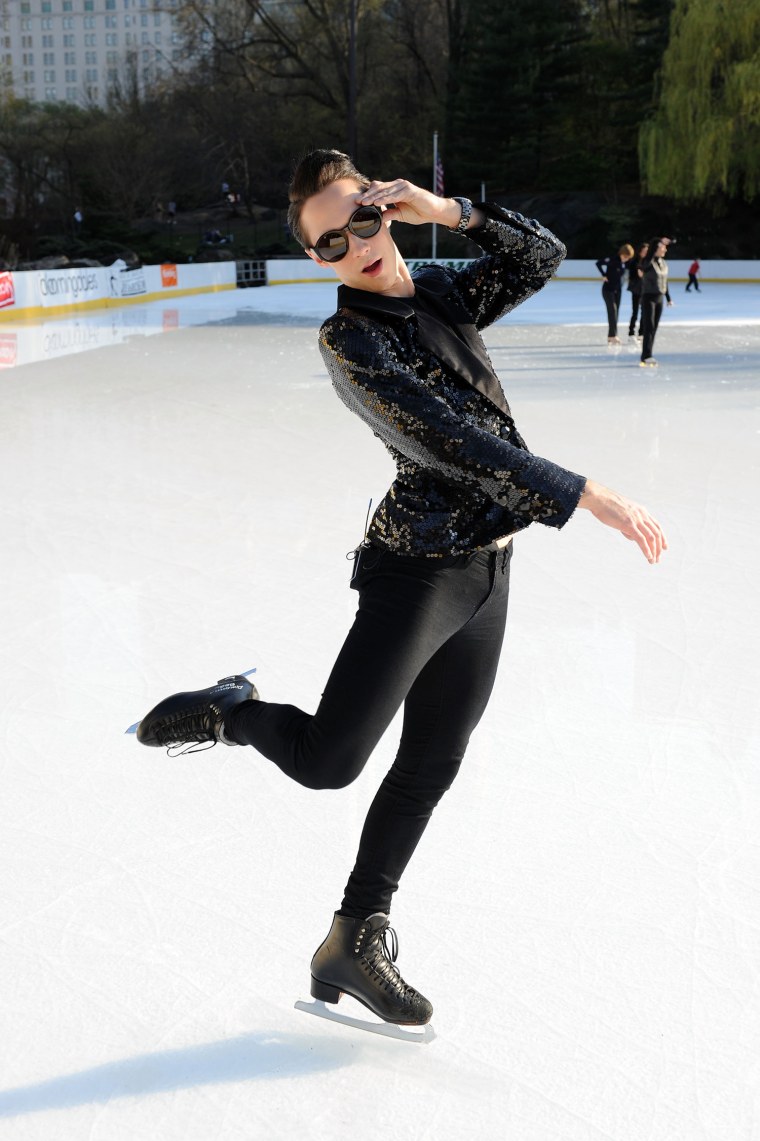 Skating with the Stars benefit gala; New York City; April, 2010
Weir Style Score: 10/10

"This is vintage Valentino, the jacket, and (Jean-Paul) Gaultier pants, and Balenciaga glasses. I wore this after the Olympics for a skating event in Harlem, and I looked flawless. This is a day look — not a costume. This is my casual look."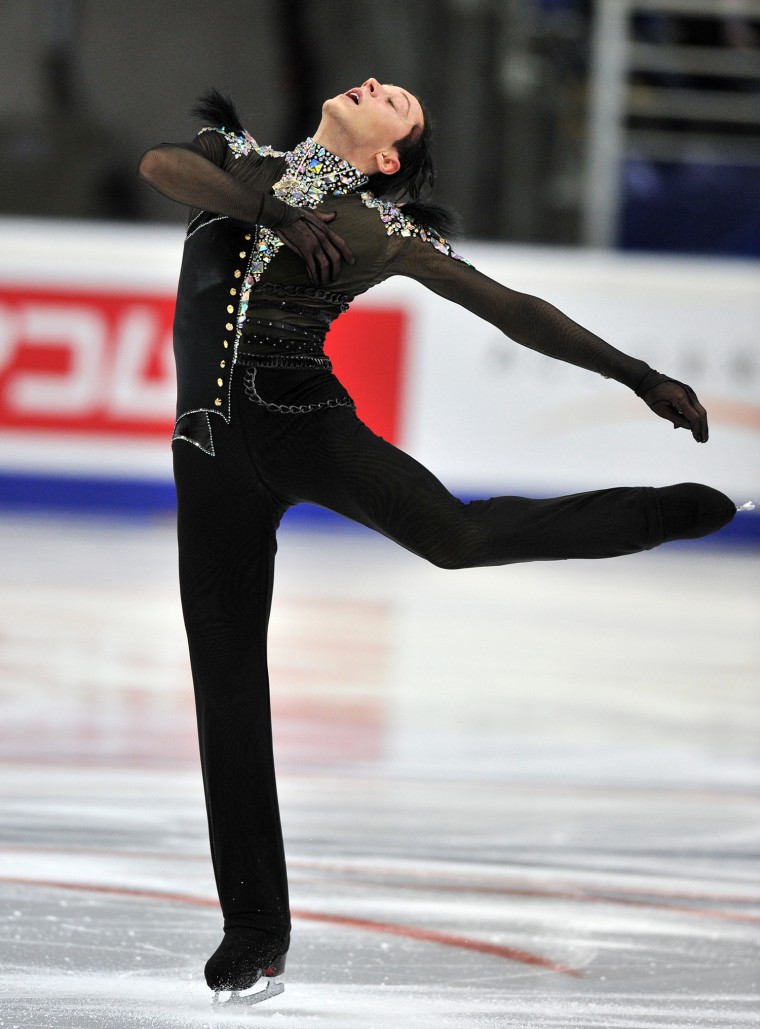 Russia's Cup; Moscow, Russia; November, 2012
Weir Style Score: 10/10

"This was for my return to competition last year," Weir says. "Lady Gaga gave me the orchestrated version of 'Poker Face' to skate to, because you can't find it and she's the only one that owns the music. So it was very special for me to skate 'Poker Face' in a competitive realm because we aren't allowed to use lyrics. For the costume, I chose bits and pieces from every Lady Gaga number I've ever done... I've got acid-washed ostrich feathers on my shoulders, full-on Swarovski crusting, I've got my belt. This is definitely a 10."