With the hefty cost of wedding flowers, food, décor, and a gown, more couples are opting to extend the life of their investment by donating their leftovers to hospitals and nursing homes that can continue to enjoy them long past last call at a reception.
"It's a logical step for us to make sure our leftover food gets to a place that can use it," Columbus, Ohio-based lawyer Genevieve Reiner told TODAY.com of her decision to donate food after her Sept. 1 wedding.

Reiner and her fiancé Todd Mills enlisted catering company Two Caterers for their tradition of transporting leftover food from weddings to organizations like the local Ronald McDonald House or YWCA. "We've worked very closely with our caterers in crafting a menu that uses all local ingredients," said Reiner. "Just throwing it all away would go against what we are doing."

"Even if couples don't instruct us to donate their leftover food, we still do as long as it's safe," Angela Petro, owner of Two Caterers explained to TODAY.com. "We don't charge for this service and have sustainable food practices, so it's really a no brainer for us."
Petro says that she always informs couples interested in donating their food about the limitations of what can be consumed by recipients of the leftovers. "There are guidelines. Not everything can be donated. We have to make sure hot foods have been held at the correct temperature for the correct amount of time. Same thing applies with cold food."
She adds that the wedding venue plays a factor in food storage. If a couple is getting married in an open field or farm where refrigeration and storage facilities are not optimal, it can affect the safety of food and ability for it to be donated. "If the food is exceeding the safety zone, it cannot be donated," said Petro. "We educate the bride and groom from the beginning, and make it clear that even though your heart is in the right place, it can't all be donated."
The requirements for donating flowers require a little less maintenance. Organizations such as Floranthropy in Seattle, Wash. and Random Acts of Flowers in Knoxville, Tenn. collect floral arrangements from weddings and shuttle them to retirement homes and hospice care centers for others to enjoy.
"This is the only free thing in your whole wedding," Larsen Jay, founder and executive director of Random Acts of Flowers told TODAY.com. "You spend so much time and put so much effort into it and the flowers really go on to brighten someone else's day."
He adds that the flowers from one medium-sized wedding can go on to serve 30-50 people who are sick in local hospitals. Jay and his network of 130 volunteers collect flowers from venues where couples have prearranged a donation and bring the items back to a warehouse facility to rearrange and repurpose the arrangements to become more suited for individual patients.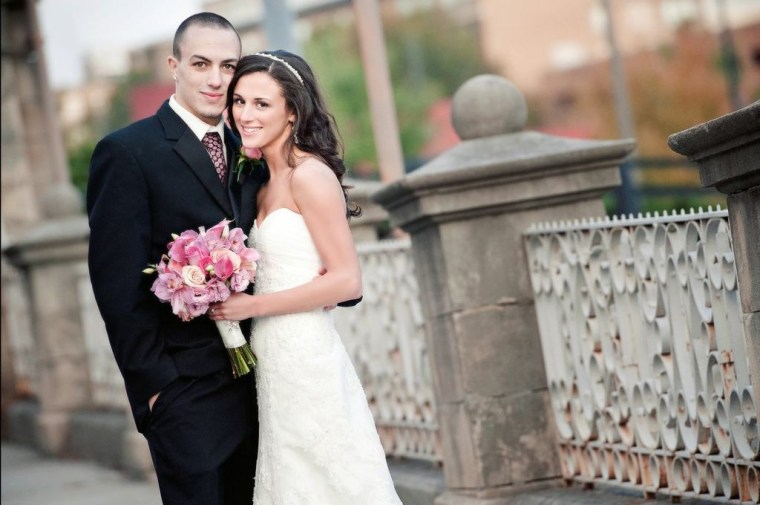 Nicole Denton, a director of digital communications based in Knoxville, Tenn., used Random Acts of Flowers to donate her centerpieces after her November 2010 wedding.
"The only thing I kept was my bouquet and my husband's boutonnière," Denton told TODAY.com. "You spend a ton of money on flowers, look at them for three hours and never again. I'm glad they were used in a way that made someone else happy."
Floranthropy, a floral donation center in Seattle, was started by Tracy Sutton in 2011 after she tried to donate her own wedding flowers to a hospital as a way to honor her mother who had passed away, and found that there were no organizations in the area to help facilitate the donation. Sutton charges a small fee for the pick up and delivery service (the cost of mileage), but adds that flowers are tax deductible and those donating will receive a tax receipt.
And then, of course, there is the dress. Most brides opt to hang on to their wedding gown for sentimental purposes, storing it in a climate-controlled facility or box. But others find that passing it on to the right charity suits their needs (and perhaps storage space) much better.
Brianne Crowley-Chandler, a stay-at-home-mom in Los Angeles, donated her wedding dress to Makingmemories.org, an organization which re-sells bridal gowns to benefit breast cancer research. For Crowley-Chandler, the act seemed rational.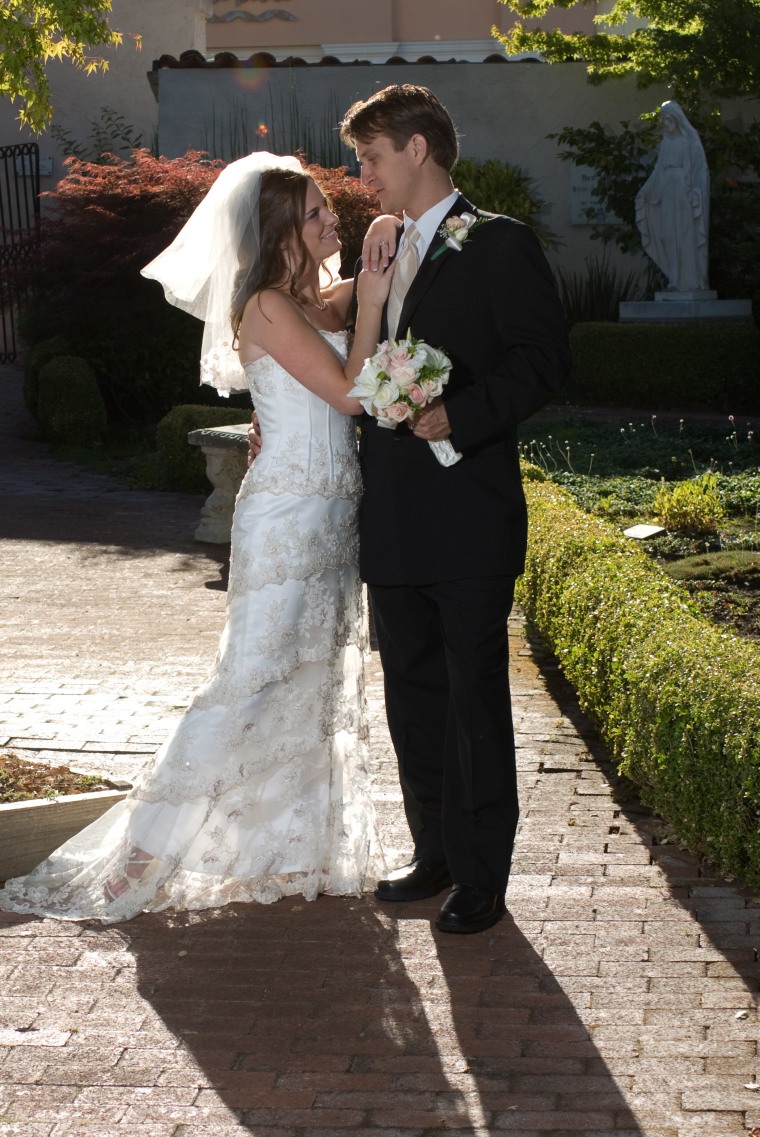 "I hadn't planned on donating my dress, but I also hadn't planned on keeping it," said Crowley-Chandler. "My main thought was, 'how can this dress be recycled to either be used by someone who is in need or be used to make something else?'"
She adds that she was sad for a few hours after dropping it off at the organization, but knowing it went to benefit a good cause far outweighed her emotions.
Vendors like Petro claim that the practice of couples donating their wedding items has grown exponentially in the past five years and that more companies are now equipped to either handle the donation or provide local resources that can. But, Petro advises, it's still important to plan ahead and be clear about your wishes when donating any item from your wedding.
"There are certain details like trays and pans not being disposable or able to be donated," she said. "Be specific. Like everything with planning your wedding, the more the bride and groom can specify what they want, the better for the vendor."
Looking to donate? Do a local Google search in your area to see if there are available organizations. Other good resources include the I Do Foundation and BridesABC.org.
TODAY style editor Bobbie Thomas got married at Kathie Lee Gifford's home on May 31. See the TODAY family celebrate in style!