By Jeesoo Park, TODAY contributor
In 2011, the energizing "Tango Tangerine" shade dominated celebrity red carpets, clothing displays and even makeup trends. Now Pantone – the leading authority on the hues used in paint, fabrics and manufacturing – has a new Color of the Year for 2013: a clear, radiant "Emerald", reminiscent of rare gemstones and lush jungle tones.
Why go green? Leatrice Eiseman, executive director of the Pantone Color Institute, the research division of Pantone Inc., selected emerald from a symbolic standpoint, citing social, economic, and political factors.
"One of the attributes of emerald is that it is the color of prosperity," Eiseman told TODAY.com. "We are now in a political year where we have seen a lot of arguments going on about concerns with the economy, and we're all hoping for a brighter future and a glimpse of prosperity... It is still something people aspire to have."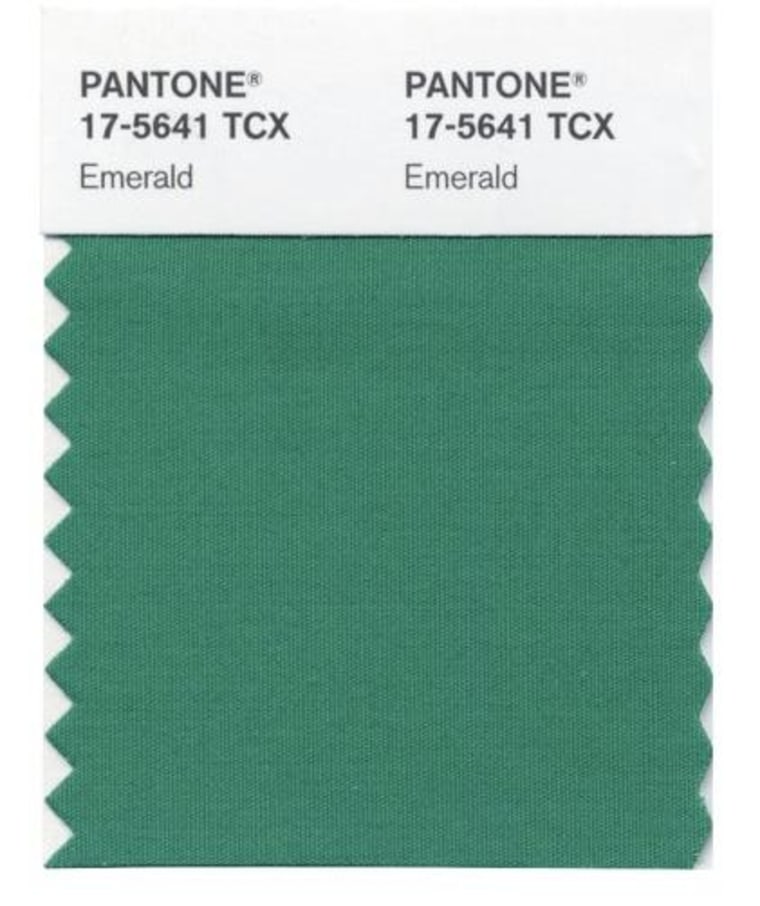 Emerald is also known to represent unity, clarity, and rejuvenation – "all things we need in our current complex world," according to a Pantone press release. It is the first shade of green to be chosen since the Color of the Year (COY) began in 2000.
The color was top secret up until its official announcement on Thursday, but the COY selection is a process that actually begins as early as the spring prior to the big reveal. Discreet color forecast meetings are held at the New Jersey-based Pantone headquarters throughout the year, until finally its dedicated committee makes a decision based on their own personal travels, observations, and visions for the future.
Eiseman explained that it became very clear early on that emerald was the top choice. But what about gray, the shade that sparked a nationwide book frenzy and even a lipstick trend?
"Gray was not even a contender," insists Eiseman, adding that the muted shade "is not evocative of what people are telling us they long for."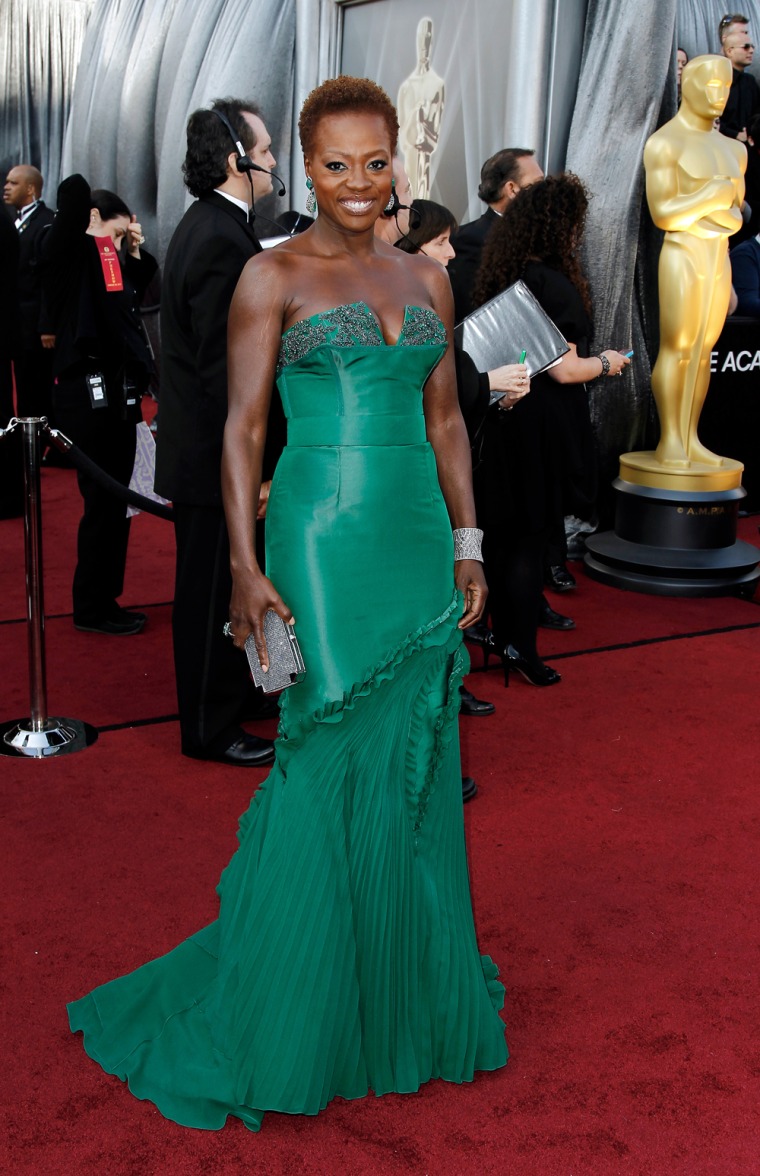 From an aesthetic standpoint, Eiseman notes pop culture, celebrity influence, awards shows, and set design as significant factors. From Kermit the Frog in the most recent "Muppets" movie to the award-winning sets in "The King's Speech" to actress Viola Davis' Vera Wang gown at the 2012 Academy Awards, shades of green have been ubiquitous in recent years.
"I have to say – Kermit may finally think it's easy being green!" laughed Eiseman.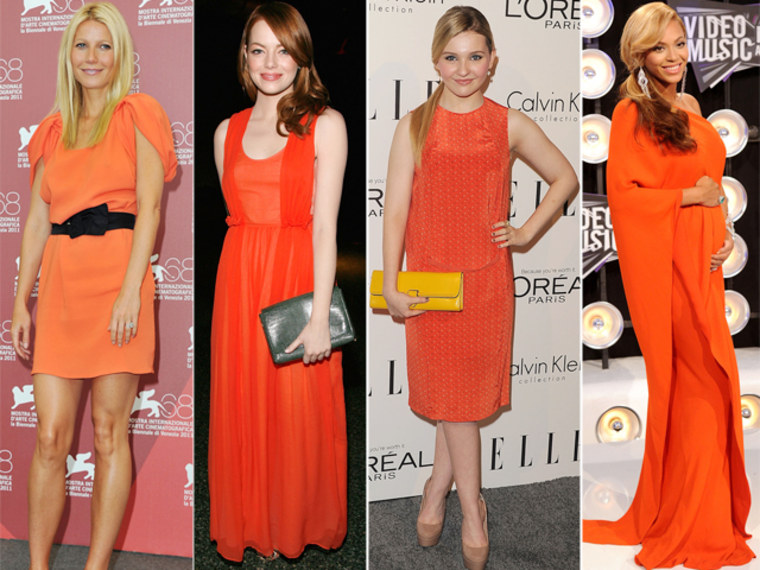 The hue was prevalent at on the runway this fall. During Fashion Week Spring 2013 collections of designers such as Marni, Vivienne Tam, Zac Posen, and Roland Mouret were all infused by the vivid color. And when it comes to menswear, Michael Kors' spring line also incorporated vibrant shots of emerald. According to Eiseman, that's how you know a color is going to be big – when it manages to trickle down from womenswear into menswear.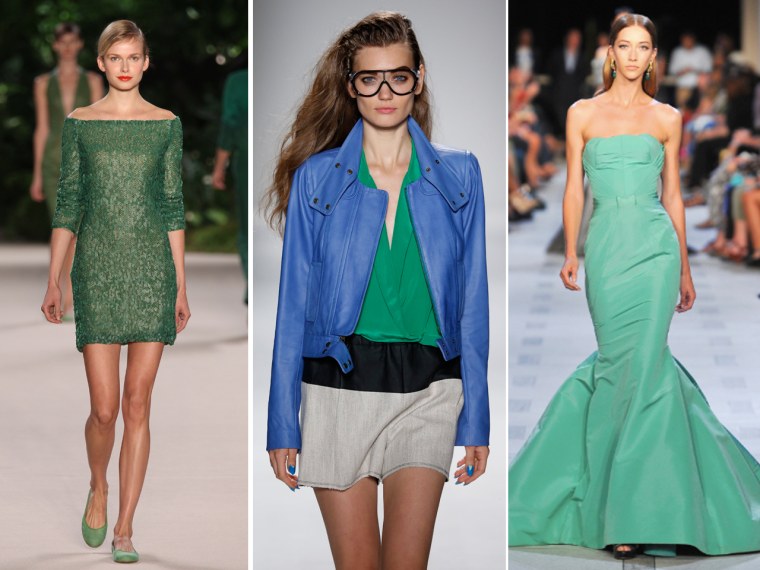 For those consumers who prefer to infuse this particular shade of green into their lives with a little more subtlety, Pantone will be collaborating with Sephora on a makeup line in March, featuring eye shadow, nail polishes, and accessories. And when it comes to interior design, Pantone is working with JCPenney Home on a first-ever line of Pantone bedding and bath products, including emerald-accented bedding, pillows, and bath towels, available in February.
So it looks like come next year, emerald will be everywhere. Are you fan of the hue? What do you think should have been Pantone's Color of the Year? Let us know!
More from TODAY Style:
The 20 best beauty gifts for everyone on your list
Are (lipstick) shades of grey really here to stay?
The 11 prettiest dresses of the year