It's only fitting that newlyweds Julianne Yuh, 26, and Tim Han, 25, celebrated their honeymoon at the World Cup this month — four years ago, during their first real conversation, their love of soccer was the only thing they could agree on.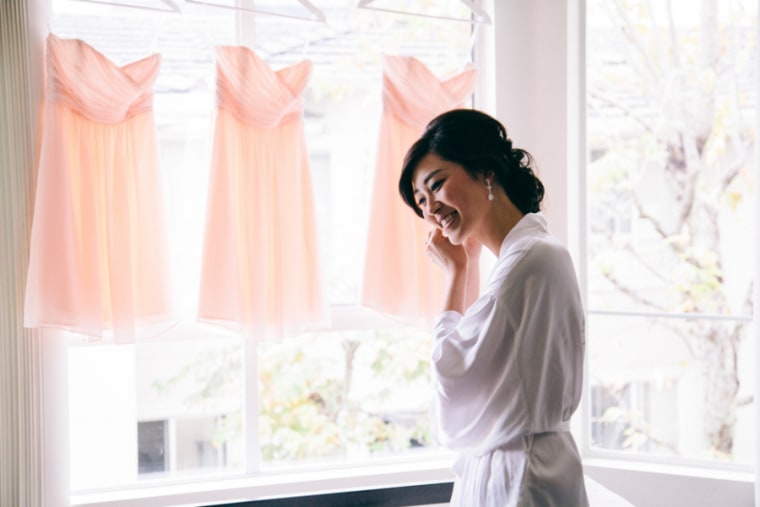 Though the two had attended the same, very large high school in Los Angeles, they didn't officially meet until their mutual friend Lorisa's college graduation ceremony in San Diego. Or, rather, they met because of her graduation — which Tim attended as part of a plan to win Julianne's heart, hatched before he'd ever met her.

"I was just browsing Lorisa's Facebook and I ran into Julianne's picture there," Tim confessed to TODAY.com. "And I was like, 'Wow, she's really pretty. I have to meet this girl.'"
Tim knew he needed to act fast. "So I drove 5 hours to San Diego, to the graduation," he recalls. "I guess I came off kinda aggressive."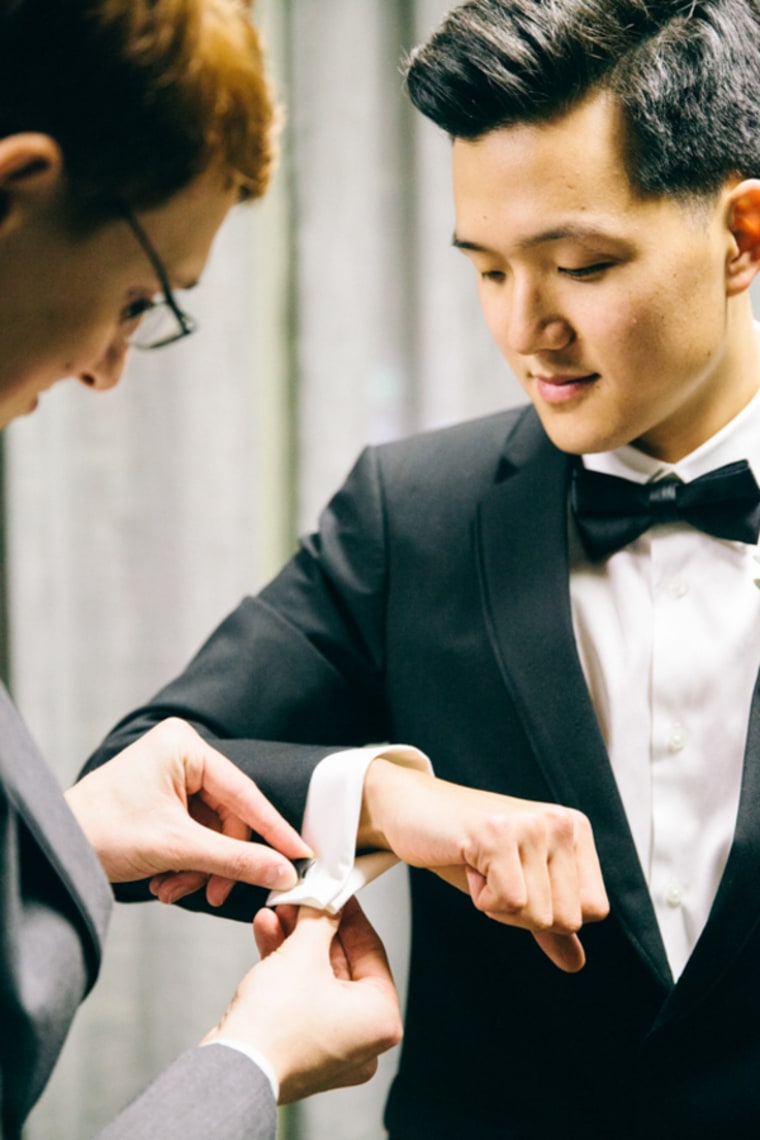 Tim's initial interest didn't impress Julianne.
"He'd texted Lorisa with something along the lines of 'Your friend is cute,'" she remembers. "I'm thinking, 'Who does this guy think he is?'"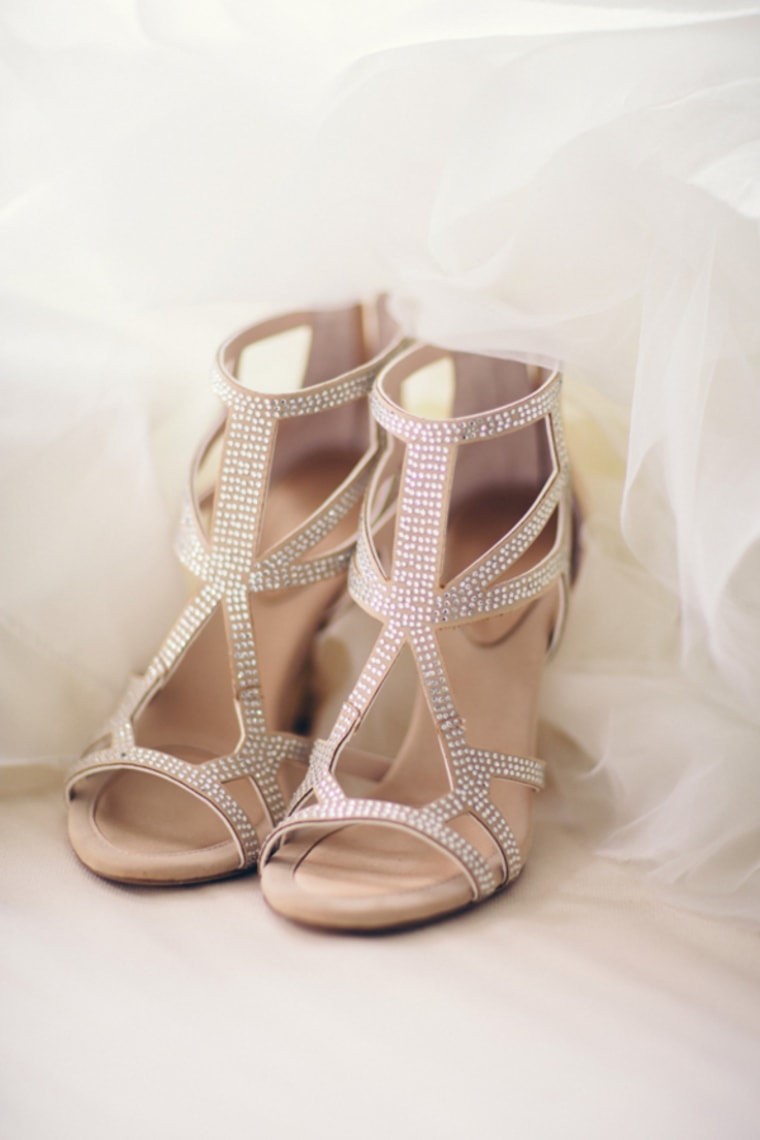 If Julianne already felt Tim was a bit forward, it didn't help that he insisted they carpool to the ceremony together.
"I assumed he was unrealistic, maybe vain," she says.
"I was nervous," Tim insists, "but I think most guys overcompensate."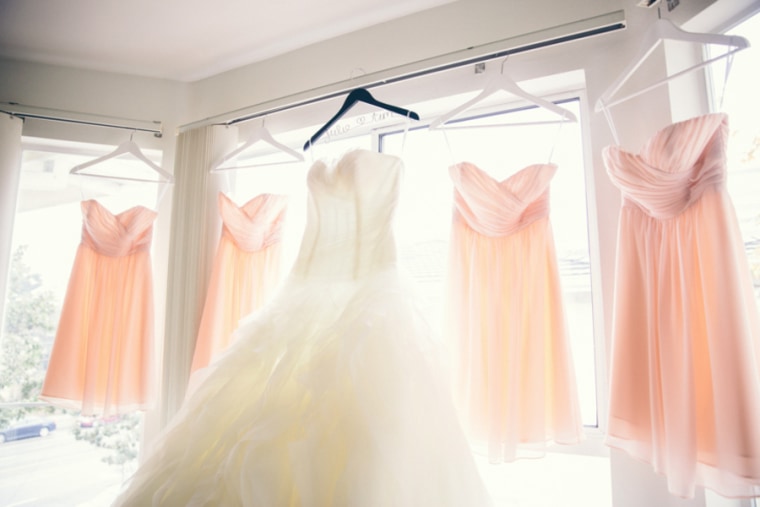 One reason why Tim was so nervous? He already had a hunch that Julianne might be "the one."
"We talked on the phone, because I had to ask her where Lorisa's apartment was, and I really liked her voice," he says. "I thought to myself, 'She could be someone I could spend a lot of time talking to.'" They went to the graduation together, and ended up having lunch afterwards.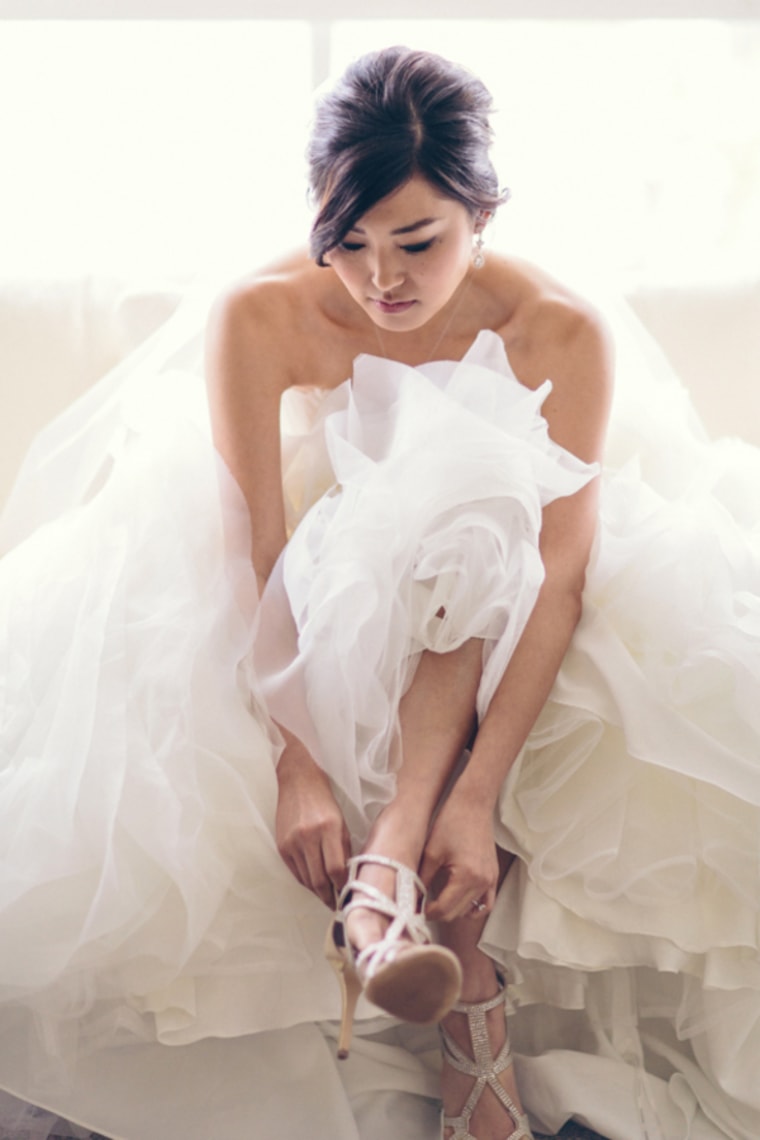 Though he know he was coming on strong, he says he didn't feel he had a choice.
"I have one chance with this girl," he remembers thinking. "The only connection I have is this graduation. It's possible we'd never talk again. After hearing about the type of person she is, I really wanted to have my chance with her."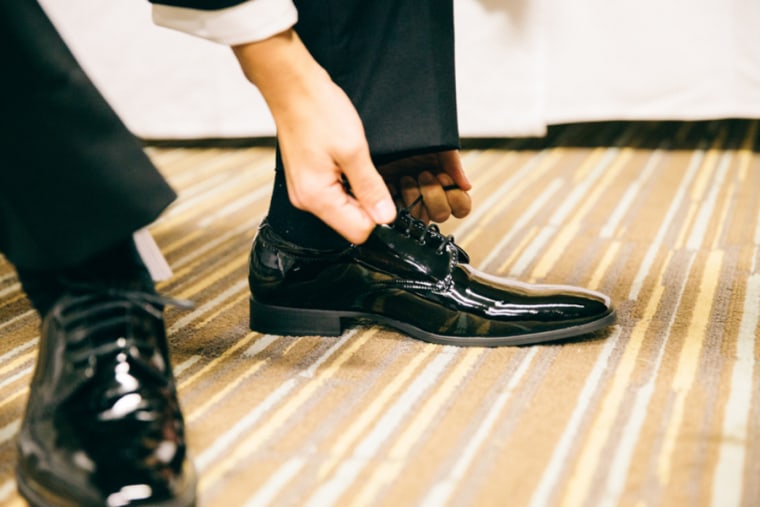 While Julianne remained skeptical, Tim realized that if he was going to get the girl, using the 2010 World Cup was his best move.
"He used that as a platform for us to hang out," Julianne recalls. So she joined him for the Korea vs. Argentina game, and he began to win her over.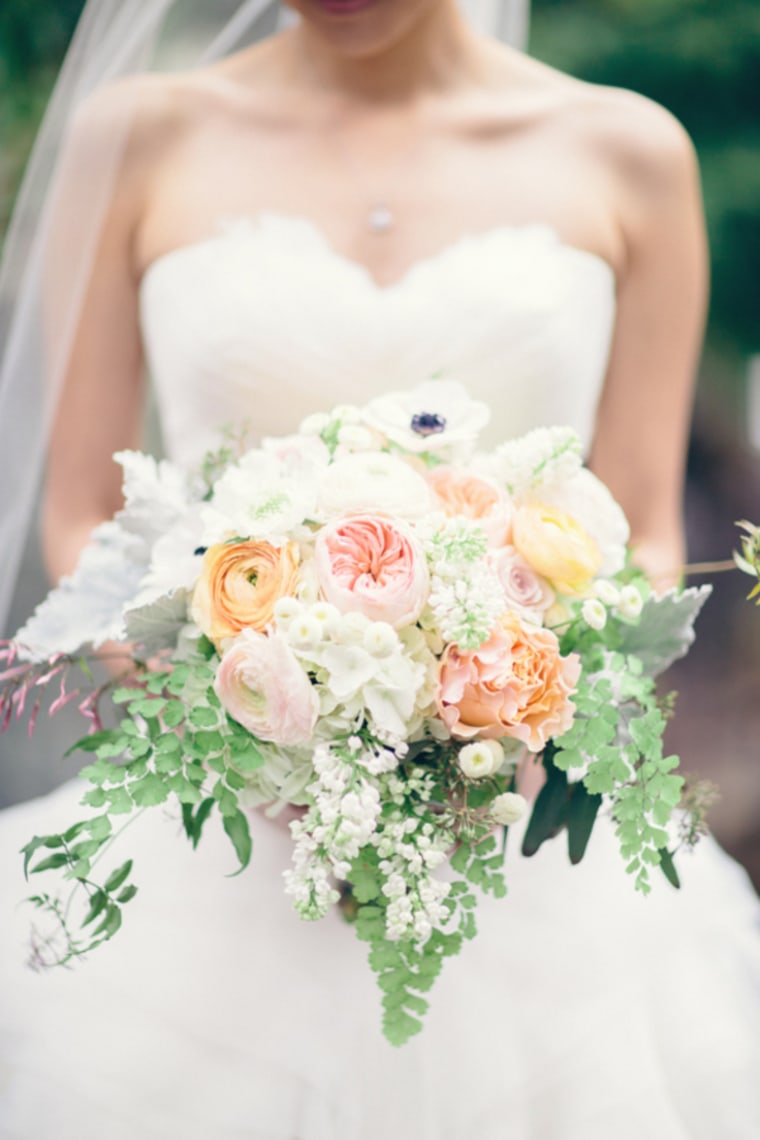 "And it was a great game," she adds.

To which Tim chimed in: "I think she finally started liking me."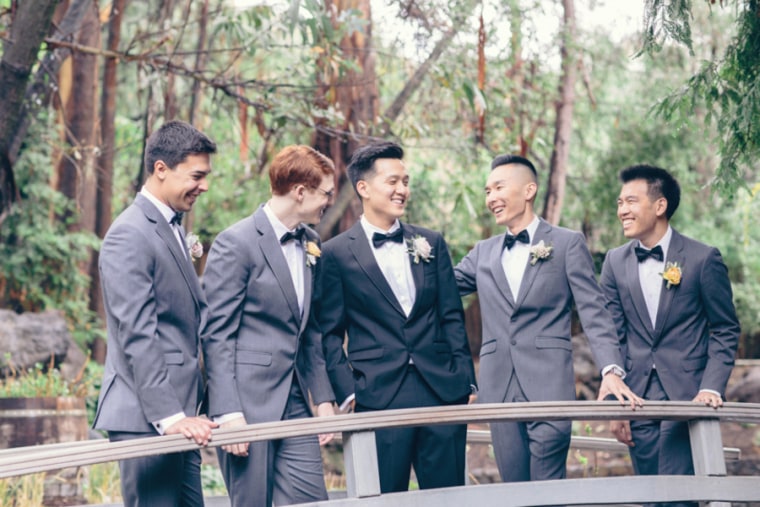 Indeed, Julianne found him almost immediately fascinating.
"He grew up in Paraguay, but was born in the States and didn't come back in junior high," she says. "I found him really interesting...He's a mature person who considers things not a lot of people our age consider: the future, his family."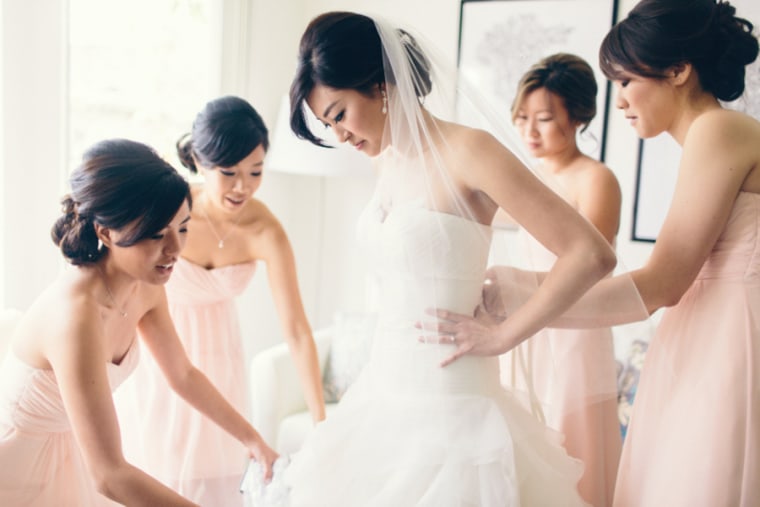 After the game, the two ended up spending the entire day together, and within weeks, Tim could see himself settling down with Julianne.
"I said to my best man, 'She could be my wife,'" he remembers. "It just took some time for me to confirm that feeling."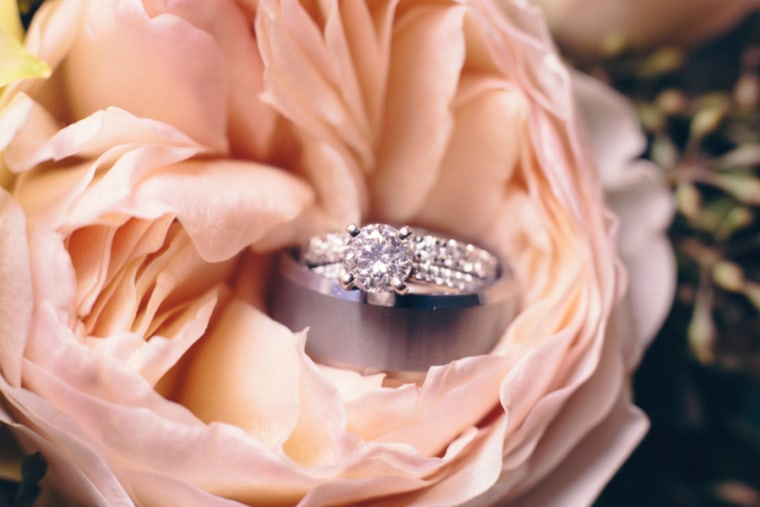 Tim proposed two and a half years later on a snowboarding trip to Yosemite, much to Julianne's great surprise. While the two had talked about getting married and had even gone so far as to look at rings together, both had thought it best to wait until Tim was done with law school at UCLA.
And then, Tim changed his mind. "May as well get engaged," he concluded, "even if it's going to be a long engagement."
He bought a ring and suggested they go on vacation in Yosemite.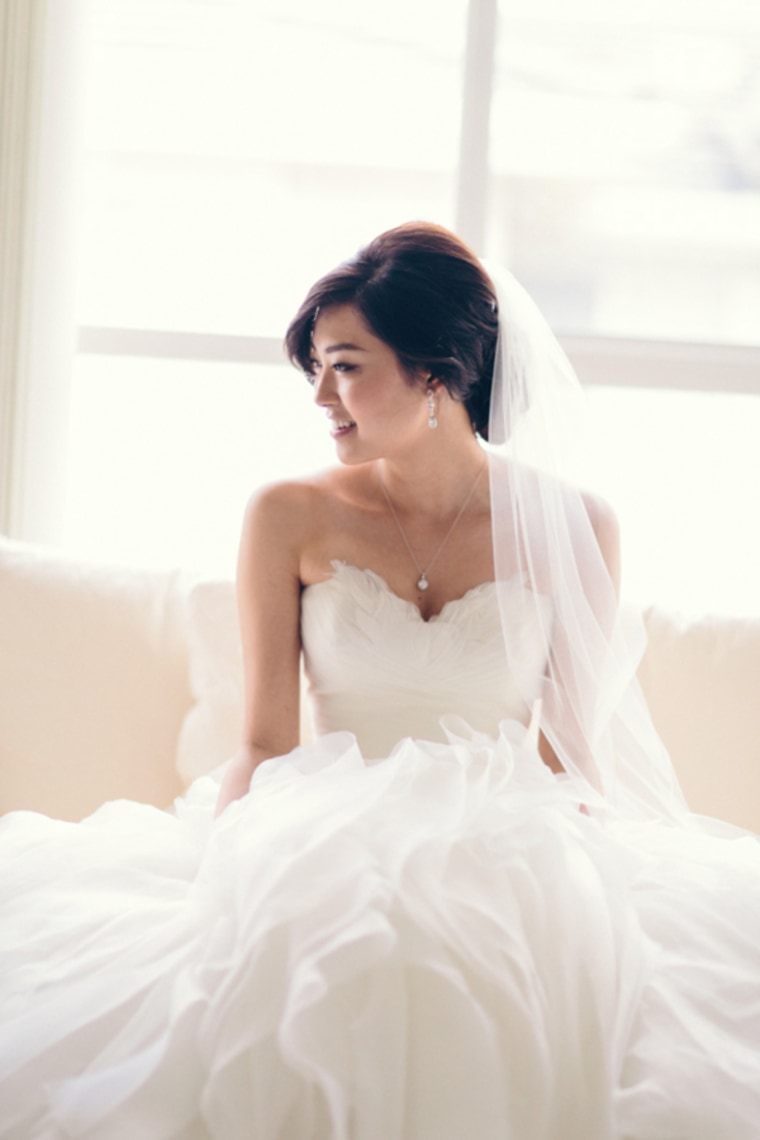 "It was funny because we were actually on our way to go snowshoeing," Julianne says, of the proposal. "I didn't really see the appeal of it, but he just really wanted to go snowshoeing. Of course, that's where he thought he might propose...It was a winter wonderland."
Tim stopped the car and they went for a long walk through a snowy meadow, over a bridge, and stopped beside a waterfall. The two were both speechless at how beautiful it was. "It was freezing cold and I couldn't feel my fingers," she says, "but it was so enchanting."
Suddenly, Tim couldn't stop smiling — and then he dropped to one knee. "I started crying, but no tears came out because it was so cold the air had dried them," Julianne remembers.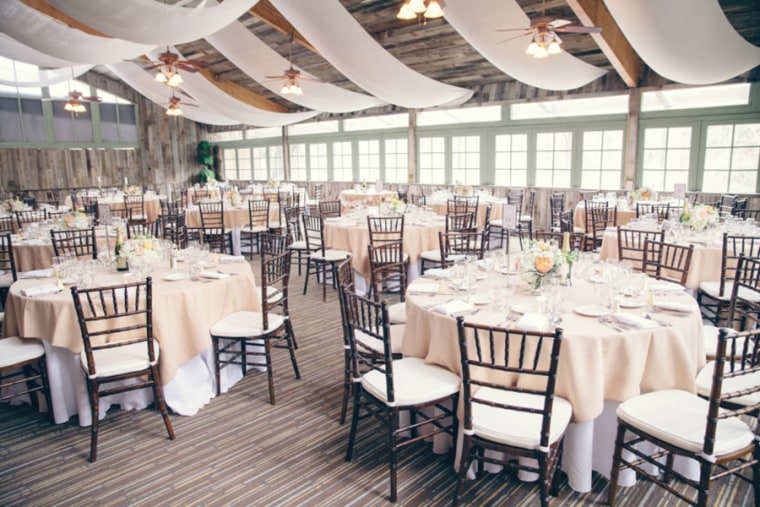 The moment was perfect and unrehearsed, just as Tim had hoped it would be — he'd been carrying the ring throughout the trip "because I wanted to ask spontaneously."
The couple capped off the night with a romantic dinner at Yosemite Lodge, warmed by a roaring fire place. Again, it was perfect.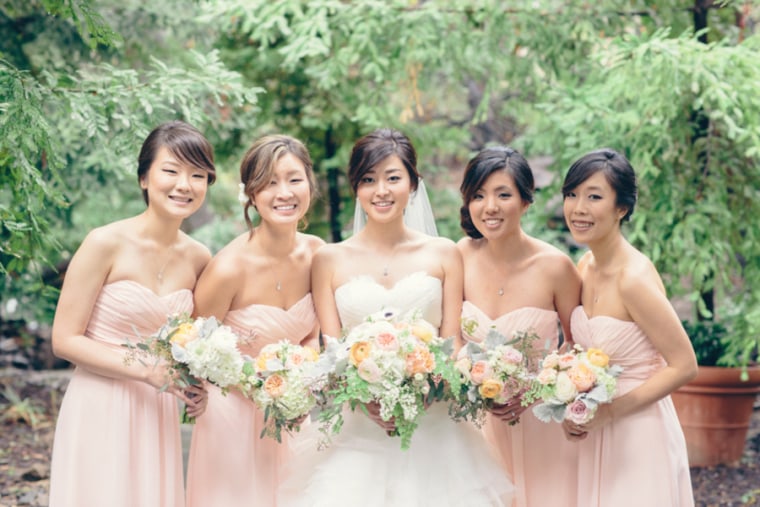 They gave themselves a year and three months to plan their spring wedding at Calamigos Ranch in Malibu, California.
"We waited until was my last semester of law school," Tim explains, "because we didn't have a wedding planner and I wanted to have more free time to help out."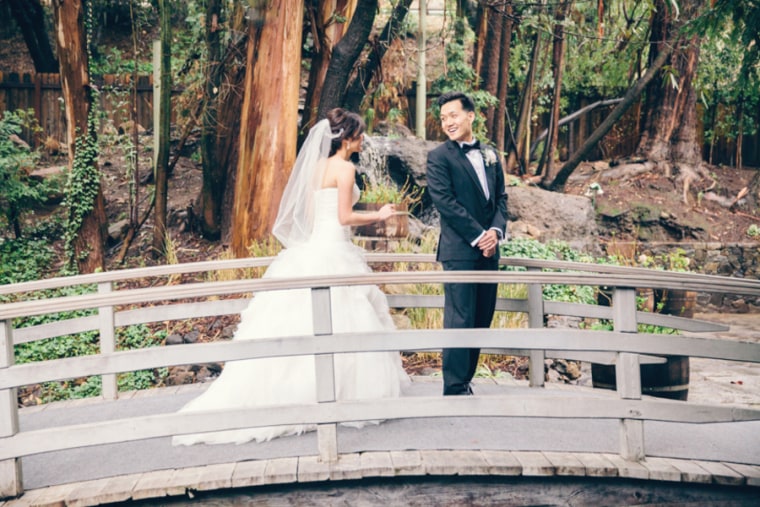 Tim helped his bride-to-be stay focused on the important stuff. "It can be really stressful," she acknowledges. "But Tim's so smart, and throughout he'd ask me, 'What's rule number one?' And I'd say, 'To get married.'"
"Goal number one was just to get married, and that helped put things in perspective," Tim adds.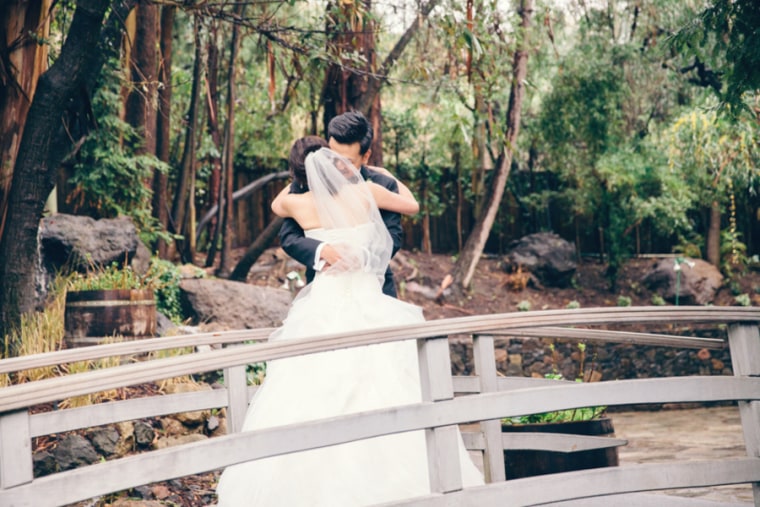 When it came to choosing a venue, they sought out a location that reflected their easy, elegant sensibilities. "There are so many beautiful places, but we wanted to feel at home in that place," Julianne says. "Tim's a very outdoorsy guy, nature was his best friend growing up in South America, so it was pretty clear we wanted to get married outdoors, in a garden."
They chose Calamigos Ranch's outdoor ceremony space, and held their reception indoors, in a space decorated with leather couches and fireplaces.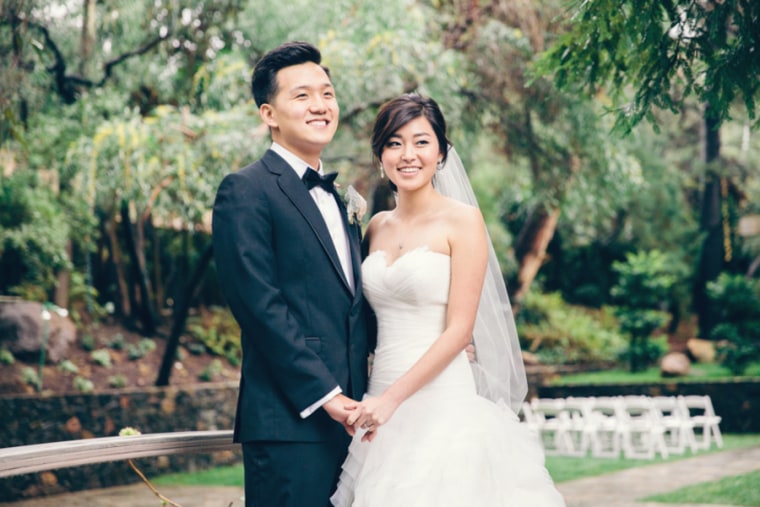 Simple elegance was the goal, and the rose-toned color palette and soft, airy linens lent a subtle contrast to the otherwise rustic setting. The couple's cute wedding favors — pyramid-shaped tea infusers — doubled as name cards, while the color of the tea leaves signaled the waiters what dish each of their 125 guests had requested: prime rib or salmon.
In every detail, from the ceiling draping to their tiered strawberry and cream cake topped with real flowers, Julianne sought an organic feel. "It was a garden, so there's only so much you can do to decorate a garden," she says. "It felt natural, like you could have picked the flowers from outdoors, not too put together."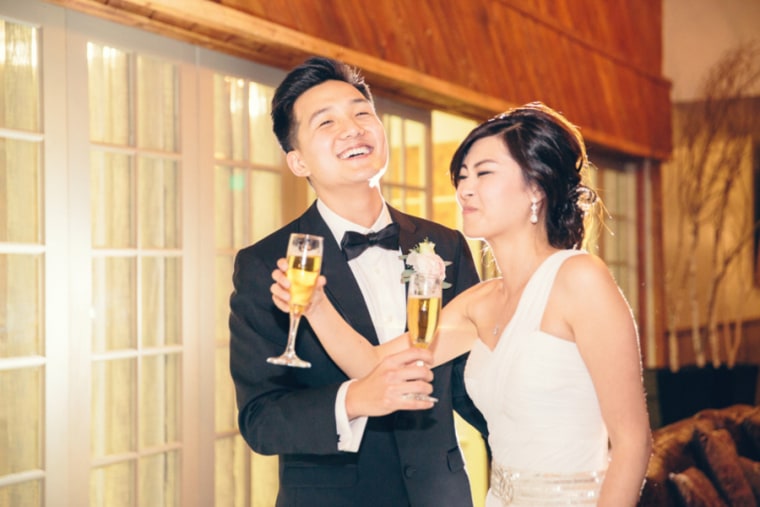 Unfortunately, though, the couple's actual wedding ceremony wasn't in the garden — Julianne and Tim were married indoors on March 2, 2014, during of one of the season's only rainstorms. But the shock turned out to have a silver lining.
"A bridesmaid broke the news to me," Julianne remembers. "Tim was worried about me because I wanted to get married outside, but Tim loves the rain and after I met him I really started to like rain, too. Some of our most special memories have been in the rain, like our first kiss. I wouldn't have changed it."
"It was really nice being married by the fireplace," Tim agrees. "Then the weather cleared up and it was so green."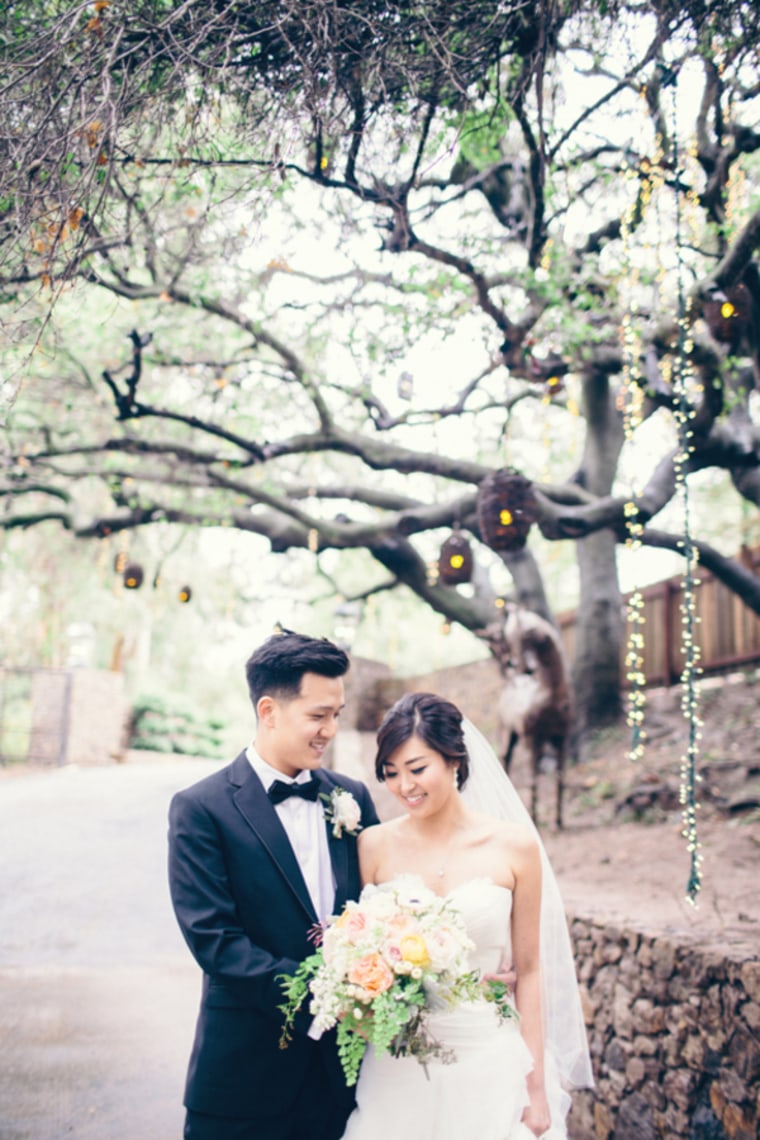 Rain or shine, for Tim, nothing beat seeing his bride in white, walking down that aisle.
"She looked stunning," he says. "From afar, the dress looked elegant and not so ornate, but when you got close you could see there were feathers. It was really representative of her, this contrast and the small intricate details."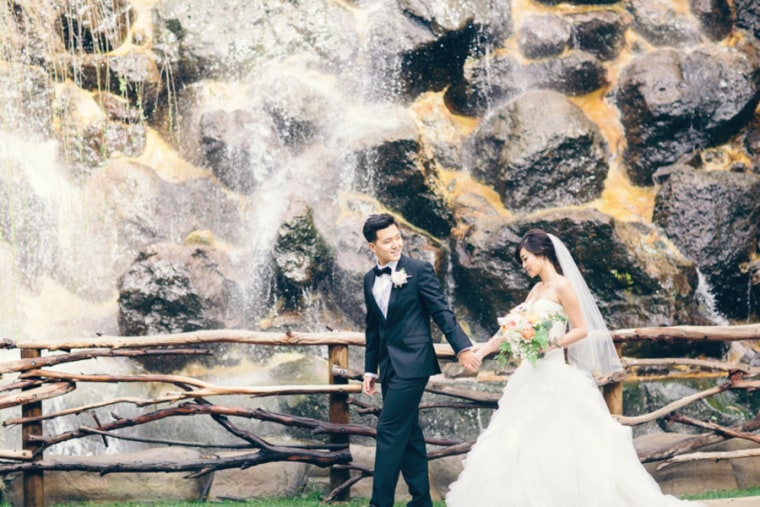 The organza gown, with its feathered sweetheart neckline and fit-and-flare silhouette, was the second she'd tried on, and initially, she'd been skeptical.
"I was like, 'No way, this is too easy,'" she remembers. "But I loved this dress because it had an organic feel to it and it wasn't overly structured. Even the veil I chose was very thin. I didn't want to be swimming in too much fabric."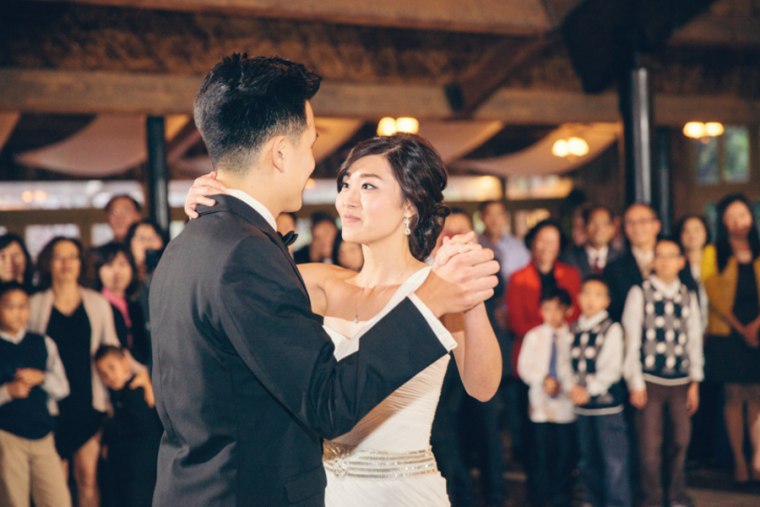 At the couple's reception, they aimed for an intimate, dinner-party atmosphere, recruiting friends to be involved, from the DJ to the emcee.

"It was the same with our officiant," Julianne says. "He was a pastor from our church and his youngest boy was our ring-bearer. Our flower girls were some of the kids from the Sunday school class we teach."
They kept things small by design. "We're Korean-Americans and Korean-American weddings tend be huge," the bride adds, "but we found it important to keep things small. We knew everyone. And we got to talk to every table. "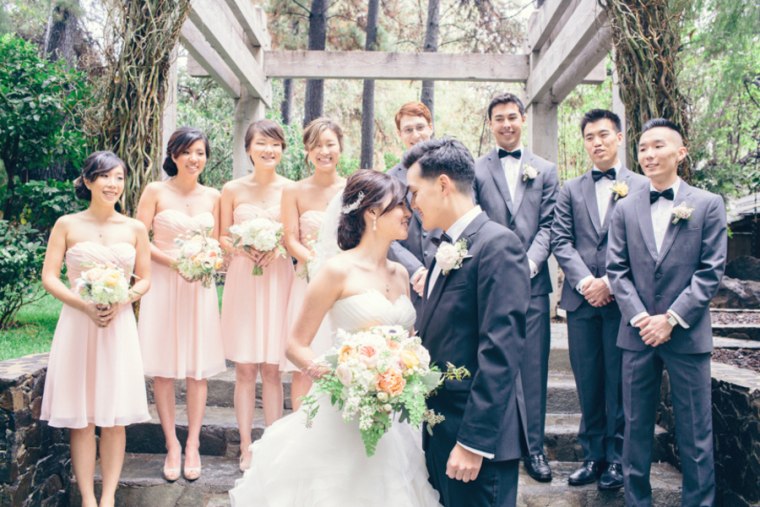 The two did incorporate at least one Korean tradition, as their mothers dressed in traditional Korean dress — or Hanbok — for the ceremony. (They later changed for the reception, which was full of what Julianne calls "electrifying dancing.")
Her favorite memories of the day, though, are the quiet moments she spent with Tim, from the sweetheart table they shared, to the time they were able to sneak away from the crowd to talk and soak in the fact that they'd just tied the knot.
"That was one of the moments I cherish most," Julianne says. "Most of my memories of that day are of me and Tim, chatting away and joking."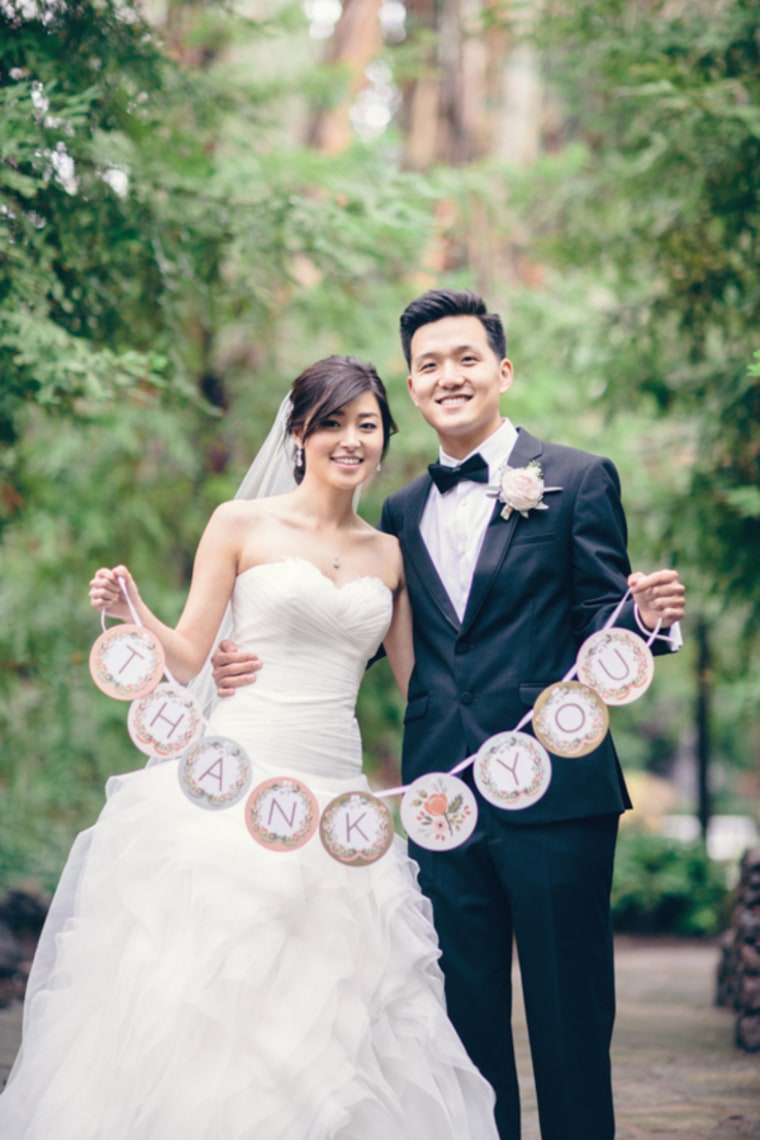 The Sunday wedding wrapped up early, but not because husband and wife had a flight to catch the next day. Instead, the pair waited months to enjoy their honeymoon — which they wouldn't have had any other way. It had been obvious to both where their two-week honeymoon would need to be: in Brazil, at the 2014 World Cup.
"It's pretty awesome that our first date — our first date and I didn't even know it — was watching the World Cup," Julianne laughs. "We've really came full circle."
Tim knew Julianne was the one from the very beginning...and he eventually found a way for her to see it too.
All photos provided by Jennifer Fujikawa Photography. Check out more TODAY real weddings here.