Washing our hair is something most of us do without thinking twice about it ... kind of like brushing our teeth. It's just part of our daily routine.
But it might not be as simple as we thought. As it turns out, the way you wash your hair can be the difference between a good hair day and a bad one.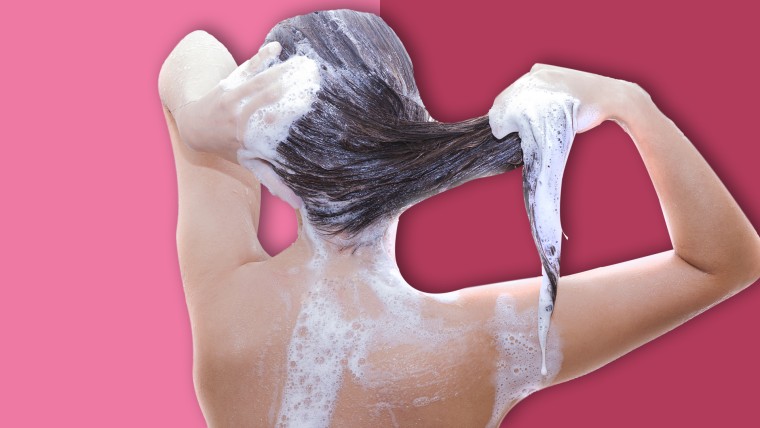 TODAY Style spoke to celebrity hairstylists and hair professionals to find out the best tips, tricks and secrets when it comes to washing hair. Their answers might surprise you!
1. It starts with knowing your hair type.
"After doing hair for 15 years, I find most people still have a hard time with this very fundamental task," said hairstylist Neil Grupp, who has worked with supermodel Bella Hadid.
Grupp says the first step is figuring out what type of hair you have.
"Do a ponytail test and see if the diameter of the pony is smaller than a quarter. That means you have fine hair. And a quarter or more means you have medium to thick hair," said Grupp.
From there, it's about finding the right shampoo and conditioner for your hair type. For fine hair, he recommends using a product that won't weigh the hair down, but give it strength and volume.
"Fine hair has 50 percent less protein than medium or thick hair, which means it's weak and needs to be strengthened," said Grupp.
For medium to thick hair, look for a product with moisture that will soften the texture.
2. There is no one-size-fits-all method.
How often you wash your hair depends on your hair and scalp. "There isn't a one-size-fits-all prescription for a shampoo or washing schedule," said colorist Cara Craig, who works at Suite Caroline Salon in New York City.
Ryan Pearl, a celebrity colorist at Cutler Salon in New York City, explained that the more you shampoo, the more oxidation occurs, which means your color can change. He suggests only washing color-treated hair when absolutely necessary.
3. But what if I love the gym?
You don't need to wash your hair with shampoo immediately after a workout.
"When you sweat, you've just washed your hair in salt. If you wash it again, that's too much cleansing," said Susan Monahan of Warren Tricomi salon in Greenwich, Connecticut. "Shine and natural frizz control come from your natural oils being able to stay on your hair."
Monahan suggests rinsing the scalp with warm to hot water and adding a bit of conditioner at the ends. It will get rid of the salt residue without stripping hair of moisture.
Convinced you still need a little help? Shampoo isn't necessarily the answer.
"If you love the gym and can't handle washing only twice a week, try a cleansing cream. It's a less abrasive option," said Matt Swinney, global creative director of L'ANZA Healing Haircare.
4. Pay attention to what you're using to wash.
Craig is a fan of low-detergent shampoos, but she mentions that they might not work for everyone.
"My general rule is to use a shampoo or cleanser that is high-quality and/or plant-based. Shampoos from the drugstore often contain silicones that can build up on the scalp and make hair limp and dry," said Craig.
Silicone can also cause breakage.
"It is important to make sure your shampoo is gentle yet powerful enough to cleanse the hair while adding moisture back into it," added Sarah Potempa, celebrity hairstylist who works with Lea Michele and creator of The Beachwaver.
When selecting a shampoo look for products that are sulfate-free, paraben-free and/or hydro-chemical-free, Potempa recommends.
5. Blame your pipes.
"Some clients tell me that their blond hair seems to get darker or less bright as time goes on. This could be because of mineral deposits in pipes, product build-up or living around pollution. For this, I recommend a gentle clarifying shampoo as a treatment (once a week at most)," explained Craig.
Pearl also suggests investing in a shower head filter as a long-term solution.
6. The most important step? Rinse!
"I find most people don't rinse their shampoo and conditioner out properly and are left with product build-up. If you think you've rinsed enough, keep rinsing," said Craig.
Cantu global artist, Maria Antoinette, mentions that when people complain of a dry or itchy scalp, it's often because of product build-up. For a quick fix, you can try an apple cider vinegar rinse.
7. ... but don't repeat.
"Do not rinse and repeat. Usually one shampoo is efficient enough to wash away build-up," said Potempa.
Grupp added that all you need to get the job done is typically a quarter-sized amount.
8. Conditioner is meant to be washed out.
While many people think it's best to leave extra conditioner in at the end of a shower, they're wrong. Monahan said that leaving the formula in the hair for three to five minutes before rinsing should do the trick.
"When I first started working with Nicole Kidman and I would come over to blow dry her hair, there was smoke coming out. She finally confessed that she didn't rinse her conditioner out really well," said celebrity hairstylist David Babaii. "The smoke that fills the room every time I blow dry your hair is just that. Conditioner, after a while, builds up and breaks your hair."
9. Don't scrub your conditioner out.
Babaii says that most people scrub their hair to get product out faster, but it actually does more damage than good.
"Put your hair back and let the water flow down and rinse your hair versus scrubbing it," said Babaii. "It's actually faster because then it's all gliding off and closing your cuticles."
If you have time, try combing the conditioner through the hair to prevent knots, sugggested Grupp. If you can't comb through, Grupp said that's an indicator to use more.
10. What's the perfect water temperature?
"For the best wash, use hot water while you cleanse to open the hair cuticle and use cold water to rinse conditioner to close the cuticle," said Pearl.
It's essential to use cold water to close the cuticle since hot water alone can cause frizz, added Potempa.
11. Shampoo and conditioner aren't intended for the whole head.
"Shampoo is made to clean the scalp, so that should always be your focus in the shower — not shampooing from top to ends. The lather in your shampoo should be strong enough to clear out any residue on the ends when you are washing it out," said Marc Mena, who works with Chrissy Metz, Mindy Kaling and Katie Lee Gifford. "The opposite is true for conditioner. Stay away from conditioning at the scalp and instead focus on mid-length to ends."
12. Switch up your routine.
Just because we've been taught to shampoo and then to condition doesn't mean that order is always best.
"I always recommend to my clients that the first thing they do in the shower is condition the ends, even before they shampoo. Shampoo cleans, but it can also dry the hair out, so you want to protect your ends first. Then, after you shampoo, lightly condition the ends again," explained Mena.
If you notice your hair looking flat, it's not the conditioner to blame — it's probably your technique. Karrie Fonte, of the hair care brand éprouvage, suggests the following:
In the shower, twist your hair to wring out extra water and gently detangle with your fingers.
Section your hair in half like you have two pigtails.
Apply your conditioner or masque starting at the ends and working your way up toward the scalp. Let it sit three to five minutes and rinse thoroughly.
13. Don't stay loyal to one conditioner.
Switching up your conditioner will make sure your hair doesn't get too used to any one product.
"Always have two different bottles of conditioner in your bathroom. Alternate every two weeks to really see benefits," said Monahan.
RELATED: