Fresh off Valentine's Day and the engagement-heavy holidays, a new season is on the horizon: wedding season. Just as blushing spring brides are in their final weeks of prep before the big day, WeddingWire has released its 2015 Newlywed Survey.
The in-depth study includes stats on national and regional wedding costs, average wedding size, use of technology in weddings, and other data from more than 6,000 newlywed couples in the U.S.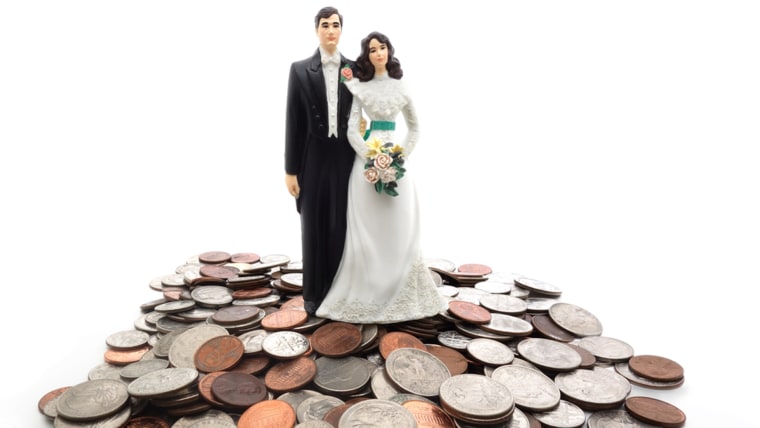 We learned that the national average spent on engagement rings was $4,758, 80 percent of wedding planning was done online; 70 percent asked for parents' permission before proposing; 50 percent of couples create a wedding hashtag; 29 percent of male-female couples had mixed-gender wedding parties; and the national average wedding ceremony/reception cost $28,958.
RELATED: Should you tie the knot? Financial reasons why marriage might be a misstep
But most shocking of all? The results revealed that 74 percent of couples go over their budget, expecting to spend an average of $17,000 and actually spend an average of $29,000.
With so many options and ways to overspend on your wedding, we reached out to WeddingWire editor Kim Forrest for some financial tips.
9 ways to keep your wedding on budget
1. Set your budget before doing anything else.
Couples often fall into the trap of waiting to set a budget and jumping into the "fun stuff," like shopping for attire or booking a venue — and then finding themselves completely overspending early on in the process. "Setting a budget isn't the most fun part of wedding planning, but I can't stress enough how important it is," Forrest told TODAY. "A budget is like a couple's North Star during the planning process — something they should always be referring to. So a couple needs to sit down with those who are contributing financially and come up with a total sum that they're all comfortable spending."
RELATED: Martha Stewart's wedding trends: Mermaid gowns, mismatched bridesmaids
2. Figure out what's important.
It's your big day, so it's OK to splurge a little. "I advise couples to pick one or two parts of their wedding that are really important, and allow themselves a little wiggle room to splurge in those areas," said Forrest. "But, in order to splurge on one or two things, a couple will have to be extra budget-conscious in other areas."
3. Use an online budget tool.
Just like filling up your Pinterest page with ideas for your dream wedding, you should also use the Internet to set a budget. "Using an online budget tool, like WeddingWire's, can be really useful with this," said Forrest. "It helps divide up the couple's total budget, so they know how much money is allotted for each product or service, and calculates spending in real time throughout the planning process."
4. Hire a planner.
A wedding planner might seem like a splurge, but Forrest says that hiring one can actually help you save money in the long run. "A wedding planner is one of the best investments a couple can make for their wedding — especially when it comes to budgeting," she said. "It's a wedding planner's job to keep a couple organized and on track. If spending starts to get out of control, a planner will help rein a couple back in. A wedding planner can also connect couples with vendors that are within the right price range."
RELATED: Maid of Social will live-tweet and Instagram your big day
5. Consider an off-season wedding.
All wedding dates are not created equal, and finding a less popular time can mean big savings. "There are some vendors or venues who will offer discounts during the off season (often the winter in many parts of the country) or on an off day (read: not a Saturday night) when things are not as busy," said Forrest.
6. Whittle down that guest list.
The average cost per guest was at $241 in 2015, compared to $218 in 2014, so having a smaller wedding can make room for extra spending in other areas. "It sounds simple, but cutting down on the guest list — even by just 10 people — can make a big impact," said Forrest. "When making the initial guest list, start small by leaving out kids, your parents' neighbors and plus-ones. Be polite about it, but firm."
RELATED: The new do's and don'ts for modern wedding guests
7. Save on alcohol.
We know you want your guests to have a great time, but offering a limited selection on alcohol can keep costs down. "A wedding venue and catering can compromise about half of a couple's total budget — and alcohol is often a big factor," said Forrest. "Couples can save money by offering wine, beer and a signature cocktail rather than a full, top-shelf bar."
8. Read contracts carefully.
We get it. You're just normal people, not lawyers. But read your contracts thoroughly. "It's important that a couple is clear on how much they owe and when payments are due so that there are no surprises later on," said Forrest. "A couple shouldn't be afraid to ask questions if they're confused about any portion of the contract to make sure everyone is on the same page."
9. Don't forget the extras.
There's always going to be some little item that you don't account for. "Couples often forget that they have to tip many of their vendors," said Forrest, "so I always recommend factoring this into their budget early on to avoid an 'uh oh' the night before the wedding."