The holiday season is in full swing, and that means one thing: festive parties galore!
And while you likely have your holiday party outfits picked out by this point, the the perfect makeup look or just-right hairstyle could still be a question mark. It's a good thing our glam square of Arsen Gurgov and Mally Roncal are here to help!
From a sexy smokey eye to a classic chignon, they've got tips to help you look absolutely gorgeous in a snap.
1. Smokey eye
There's a reason the classic smokey eye is a timeless look. It always looks special for a night out. An eye shadow palette with three different shades and a simple eyeliner are all you need to create this sultry yet sophisticated look.
1. Take a light-colored eye shadow and apply it all over your lid. Start at the lash line and go all the way up past your crease.
2. Take a deeper shade and apply it your crease as well as to the outer "V" of your eye.
3. Apply the darkest shade to your lash line.
4. Line the rims of your eyes with a light liner — try a purple if you're feeling funky — and gently smudge it.
Pro tip: Have you heard that those will small eyes shouldn't try the smokey look? It's a myth! In fact, it can actually make them look bigger when done correctly, explained Roncal.
RELATED: 15 drugstore eye makeup picks celebrity makeup artists buy in bulk
2. Glowy skin
Don't let dry winter skin stop you from getting that gorgeous glow you love during the warmer months. With just a few products, you can create that beautiful, youthful look in seconds.
1. Even out skin using a powder or cream foundation.
2. Apply a highlighter to your brow bone.
3. Apply a highlighter to your cheekbones and to the tip of your nose.
4. Apply the same product to your cupid's bow (the indent just above your top lip).
Pro tip: This adds depth to your look. You can also create the appearance of fuller lips by applying it all around your mouth.
5. Finish off with your favorite shade of lipstick. May we suggest a bold red lip?
RELATED: How to highlight with the strobing makeup trend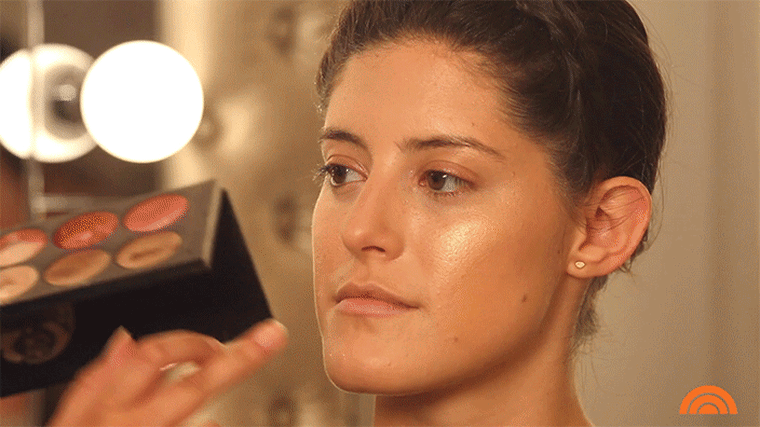 3. Chignon
Forget about top knots! This holiday season it's all about chic chignons. While this hairstyle might look fancy and complicated, it's actually quite easy to create.
1. Curl the hair.
2. Create a deep side part.
3. Pull the hair into a ponytail on one side.
Pro tip: Use a clear rubber band so it blends in with your hair.
4. Split the ponytail in half and tie it in two knots.
5. Pull the hair width-wise to loosen and voila!
Pro tip: If you have long hair, make a second ponytail lower down and repeat steps 4 and 5.
RELATED: 5 holiday hairstyles you can create in minutes — seriously!
4. Voluminous curls
If you love the look of big, bouncy curls, we've got good news for you. You can get this glamorous look in minutes thanks to velcro rollers.
1. Roll the hair into velcro rollers. The more you use, the smaller the curls will be.
Pro tip: Don't have time blow dry the hair first? No problem! It will still look gorgeous.
2. Blast the rollers with your blow dryer on high heat.
3. Let the rollers cool and remove.