It's official: Limited Too is making a comeback! Girls of the '90s, we can rejoice in all our "tween" glory as we think about the (potential) return of plastic blow-up chairs, butterfly clips and all things that glittered. Fingers crossed, Spice Girl lollipops and bedroom doorbells make a comeback as well.
While the heyday of the mall may be over, the TODAY.com team is taking a trip down memory lane and sharing some of their fondest memories about essential brands of the time.
From piercings at Claire's to to scandalous outfits at Wet Seal, here are some of our favorite chain stores from the '80s and '90s.
RELATED: TODAY fans share hilariously retro hair through the decades
Limited Too: Always there for life's awkward moments.
"This was the place I got my first bra! Probably before I even really needed one, now that I think about it. Growing up in Maine, and having limited options at our only mall in the state, the Limited Too was the ultimate fashion brand for the tweens," said Rachel Becker of TODAY.com and NBC Brand Partnerships.
It also helped stir the pot with mom.
"I want to think of stories, but all I could remember about Limited Too was getting in a fight with my mom because I wanted to buy their underwear/training bra and my mom thought it was too 'mature' for me (I think I was in fifth or sixth grade?)," mentioned TODAY editor Liz Murray.
Life wasn't complete for us tweens without our plastic furniture.
"I thought I was the coolest thing when my babysitter said she was getting rid of furniture and asked if my sister and I wanted her couch. I didn't care that it was the middle of summer and my legs stuck to the seat. I sat in it ALL DAY," said associate lifestyle editor Brooke Sassman.
Switching to the "cooler" Abercrombie & Fitch was a tough choice.
"Limited Too was nothing short of a little girl's fashion paradise back in the day. I'll even admit that I wore it up until seventh grade (on my first day). Unfortunately, [it was] the day I switched schools and realized that Abercrombie was the new, trendy thing," added Sassman.
Bebe was THE spot for tight-fitting treasures.
"When I was in high school, black pants and tube tops ruled. And while I loved Express, Abercrombie & Fitch, and BCBG, Bebe was the best place to shop for these treasures. My friends and I would pile into the dressing rooms to try on clothes and only the tightest-fitting would do. In fact, I think I still have a picture of my friend and I trying on the same top in different colors — pretty sure we bought both and decided to share them!" said TODAY.com contributor Rachel Greenberg.
And who can get forget ear piercings at Claire's?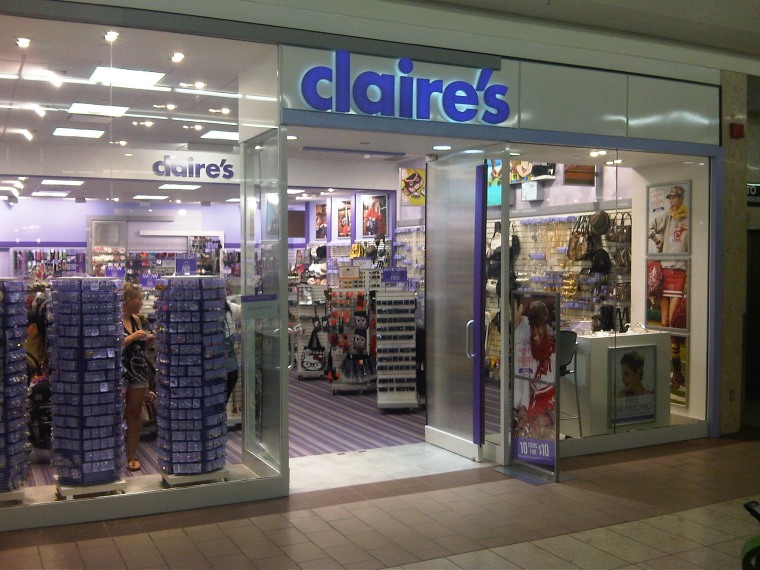 I remember "getting my ears pierced at Claire's. TWICE!" reminisced executive producer of TODAY digital, Ashley Parrish.
Or their groovy fingernail stickers that, let's face it, were impossible to put on.
"I spent sooo many Friday nights at the Clarie's store at Southglenn Mall in Colorado. I would sit on the floor, carefully choosing which packet of fake fingernails I would put on that night (and that would fall out by the morning). I'd intensely scan its earrings section — and I visited to get my ears pierced there not once, not twice, but THREE times (the ear holes kept closing up!). It was a major hotspot when I was in elementary school, and I still visit now and then to pick up a pair of faux pearl earrings," wrote TODAY home editor Amy Eley.
RELATED: Lip Smackers will forever live in our Lisa Frank-colored hearts
Delia's staples are too good to throw away, even years later.
(Lucky for us, it's also coming back next month!)
"I have a skirt in my closet that I ordered from Delia's (catalogue) in the mid '90s. Heather gray cotton spandex with a ruffled edge and elastic waist and I still wear it (occasionally — for taking the kids to the splash park kind of thing), because it's so comfy and easy. Judge away!" wrote supervising multimedia producer Carissa Ray.
Wet Seal was controversial, but we loved it.
"I used to occasionally go and buy things at Wet Seal with 'my own money' and I would go home and my mom would make me immediately return it. Let's just say, most of their clothes were not safe for middle school!" added Becker.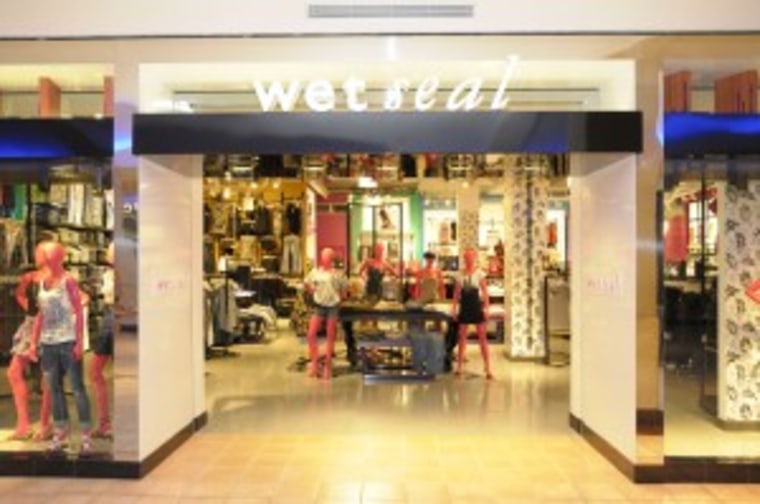 Where else would you find that perfect top for the school dance?
"I remember Wet Seal as the epitome of seventh grade fashion, especially for school dances. I bought my first tube top at the local Wet Seal when I was 13 or 14 ... and it absolutely failed to hold up! It lived in my dresser for years, until I outgrew it/was suddenly embarrassed that I had bought it in my middle school's colors," wrote TODAY Parents intern Emma Davis.
We still have the Modell's jingle stuck in our heads.
"I still get happy when I hear the opening of the Modell's jingle. The store is local to the northeast, and the song is played at Yankee Stadium (another nostalgic location for me)," said TODAY digital editorial manager Ian Sager. "I'm one of three very active boys, and we made tons of trips to the store for cleats, shin guards, basketballs, baseballs, gloves, bathing suits, baseball bats, Frisbees. You name it, we bought it. The stores all smell the same (one half new sneakers, one half fresh sports equipment). It's the smell of my childhood and I'm really happy the store is still around."
Deb Shops was the place to channel our inner "Friends" character.
"For a TV-obsessed middle schooler in the mid-'90s, DEB was the perfect go-to for wallet-friendly takes on Rachel Green's denim vests, Angela Chase-worthy flannel and Kelly Taylor's floral frocks," said TODAY pop culture editor Erin Clements.
And, of course, we could always count on Spencer's Gifts to complete our pranks.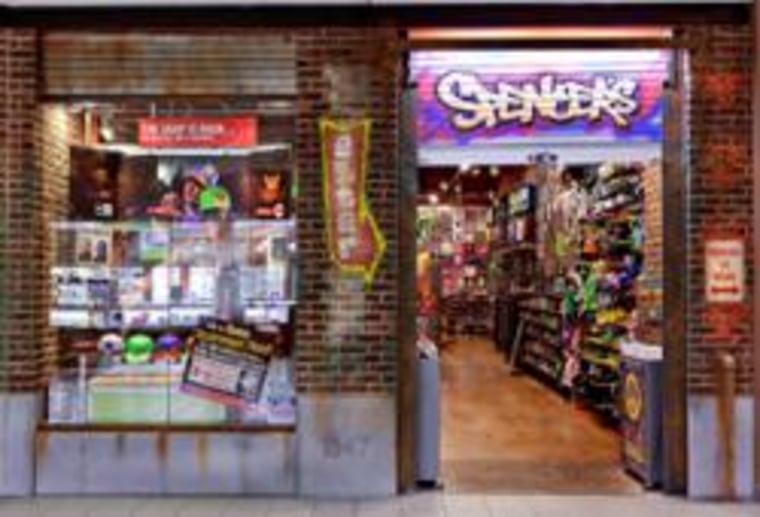 "Oh, Spencer's Gifts at Quail Springs Mall in Oklahoma City, circa early 1980s. Great memories going there for the 'perfect' funny birthday gifts — whoopee cushions, pens with invisible ink, rainbow suspenders — so Mork & Mindy!" shared TODAY editor Kavita White.