It's been a packed week on the plaza, so the Ambush Makeover team had plenty of fans raising their hands in the hopes of getting picked for a morning of pampering.
Celebrity hairstylist Louis Licari and TODAY Style Squad member Jill Martin found two amazing moms who were hoping for a change, and the Ambush team made it happen. They transformed these ladies with spring-worthy styles. The glamorous new looks left their families speechless!
Suzanne Wall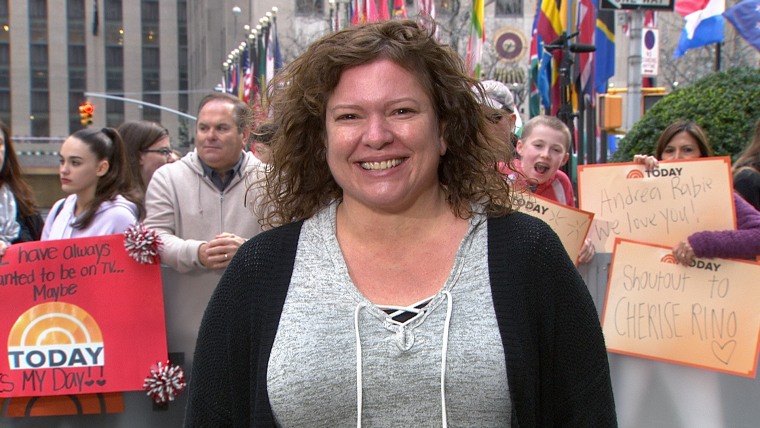 Suzanne Wall, 49, came to the plaza with a big crew hoping to get this deserving mom a makeover! She just celebrated her 30th wedding anniversary and really wanted a new look because she's been rocking the same hairstyle for 20 years.
RELATED: 'Are you kidding me?!' Mom's Ambush Makeover leaves daughters speechless
After she had been picked, one daughter said she was so happy because, "My mom's such a giving woman." When the family members saw the finished product they couldn't have been happier!
Licari lightened Wall's locks with sun-kissed golden highlights, while hairstylist Arsen Gurgov chopped off a few inches for the perfect mid-length haircut that flattered her face shape and added volume to her finer textured hair.
Martin completed the look with separates every woman should have in her closet, topping it off with a statement-making jacket and necklace.
Here's how you can get Wall's look.
Sleek Ponte Jacket, $30, Chico's
Long Scoop Tank, $49, Clara Sunwoo
Audrina Tassel Necklace, $55, Chico's
Bootcut Jeans, $74, Macy's
Mimi Joyner
Mimi Joyner, 46, was surprised to be plucked from the crowd for a makeover, but she was excited about the opportunity. She told TODAY, "I feel like I just won the lottery!"
Her husband, Mark, was supportive and sweet, telling us, "I'm a little nervous because my wife is already beautiful."
Well, after seeing his wife's new look, Mark was in shock!
Gurgov created a side-swept romantic cut for Joyner, and Licari lightened her hair to the perfect auburn hue for her complexion.
When it came time to dress Joyner, Martin said it was a no-brainer. This effortless turquoise sheath dress was the first thing she tried on, and it fit like a glove!
RELATED: 'I thought it was Amal Clooney!': Ambush Makeover wows Kathie Lee
Check out Joyner's look below. Congratulations to both beautiful women on their makeovers!
Floral Sheath Dress, $144, Lord & Taylor