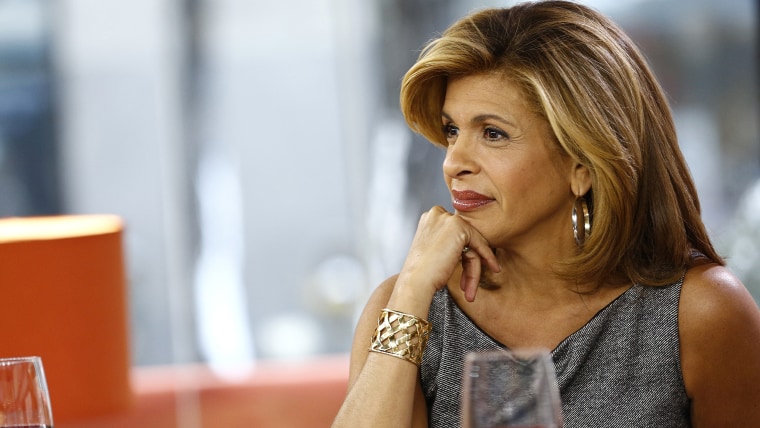 TODAY 4th hour co-anchor Hoda Kotb is 6 years cancer-free. As part of TODAY's "Love Your Selfie" series, she writes about how she came to terms with her post-cancer body image.
When I think about surviving cancer and dealing with body image after the fact, I realize now: You can't really prepare yourself for it, for how you are going to feel.
The breast cancer I had required an extensive eight hour surgery, which included a mastectomy and reconstruction. I had a hip-to-hip incision as well as more incisions on my chest. Let me tell you: it looks like a roadmap.
There are two phases post surgery. There's the "OMG, they got it" reaction and you are just so happy they got the cancer. You are so grateful, and you think, "I don't care what my body looks like, I am just happy to be here." I still feel that deep in my soul every day. This is the body I have and I'll take it.
But I'd be lying if I didn't say there is a second phase, a window of time where you don't even want to look at yourself. It's jarring. I remember a moment in the hospital when a nurse said she needed to help bathe me and I had to be standing up, in front of a mirror. I told her, 'Please, just turn me around. I'd rather not see it.'
Then, when your body heals, you start to feel better. You realize that you don't care about the scars. You are just happy to have this body, a healthy body, no matter the lumps and bumps and problems.
And even though I now consider myself about 90 percent, as far as feeling emotionally and physically recovered and body confident, I am not at 100 percent. Don't get me wrong: I am very grateful for everything I have. I am fortunate to have had great doctors and to know that I am 6 years cancer free. I am happy about that. But I still pull and tug on things I wear, like bathing suits or when I'm wearing gym clothes. The actual scars are there… that's forever a part of me.
Will I ever feel 100 percent, and slay that last 10 percent? That's hard to say. I think in life you sort out a lot of things but you can't solve everything. You carry some of the things you can't untangle and that's perfectly fine. I think about people who live through terrible tragedies and what they carry. I think about the guys who lived through WW2 and what they carry. You can go to ten shrinks and you still have the pain so what do you do? You live your life and you carry it with you.  
I remember after my surgery and the cancer was out, my sister said that I immediately looked healthier. I think sometimes when you have something inside of you that's poisonous and terrible, until it's out you don't realize you got the light back in your eyes, the color in your face. And really, you didn't even realize it was gone. You were just walking around that way and didn't know it.
Someone told me I looked good. In terms of body image, that always feels good. I don't care what you're going through, if someone says you look great in that dress — it's affirming. Soon after the mastectomy and reconstruction, there was this one guy I met who couldn't keep his eyes off my chest. I thought that it was so great that he appreciated my post-op rack!
Ultimately, I don't think there is an 'ah-ha' moment where you think, "I'm back!" You gradually learn to accept your body after cancer. I have always been pretty happy inside. My outsides come and go, whether it's because of gray hairs or scars. All that stuff is going to be there, but I feel if I am comfortable with who I am on the inside, I will always be OK.
In my experience, the best way to not let your post-cancer looks affect how you feel is by taking the spotlight off yourself. When I feel crummy about how I look or whatever I am going through, I remind myself there is always someone else going through a more difficult time.
There's a poignant story about a little 8-year-old girl who was in a car accident and lost the use of her legs. She was in a bad way and her devastated parents had her in a private room in the hospital because she was miserable and depressed. Her doctor begged the parents to let her share a room with another patient, and they finally moved her, even though she was adamant that she didn't want to. So, she's in the shared room with another kid and he asked her, "Can you help me and push the button to call the nurse?" The girl is totally exasperated and tells the boy, "How am I supposed to do that? I lost the use of my legs." And the boy tells her: "I lost the use of my legs and arms." So she hoisted herself up to a wheelchair and rolled over to his bedside and pushed the button for him.
So, I guess my point is that someone has always got it worse. I know that goes beyond body image and how I feel about myself, but it is the same concept. If I am worried about my scars then I am going to be looking at myself. If I am worried about the person next to me who needs something, I am not thinking about me, my scars, or my problems. I am thinking about him.
That's probably the best advice I have: If you are worried about how you look and how you feel, just take the focus off yourself. Turn the spotlight somewhere else and in the process, you'll realize that you feel so much better. 
Hoda Kotb's essay was told with the help of TODAY.com's Kyle Michael Miller and Kavita Varma-White