Marjie Erickson worked her entire senior year at Evanston Township High School to alter the school's dress code, but even she was admittedly amazed to learn it had changed so completely heading into this fall semester.
The high school in Evanston, Illinois, went from banning leggings, tank tops, hoodies, hats and spaghetti straps to allowing them this school year — all in the name of body positivity and inclusion.
"I was so surprised and honestly kind of honored that it was changed, and changed so completely,'' Erickson told TODAY. "They didn't pick and choose pieces of what we said we wanted. It really stuck to new policies and the new enforcement."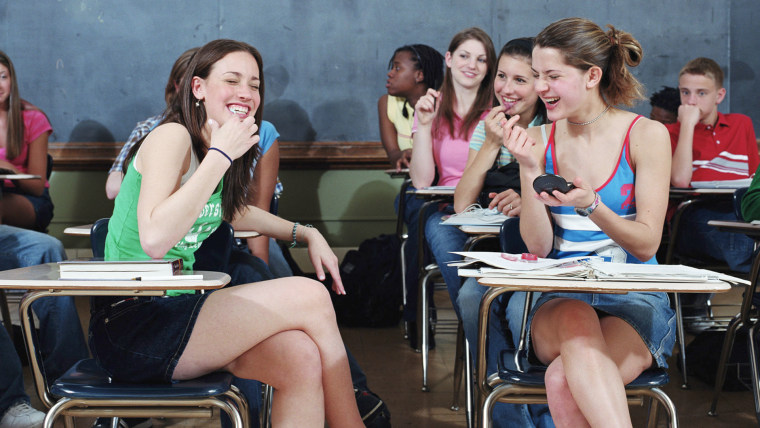 The school emphasized that its new dress code "is written in a manner that does not reinforce stereotypes and does not reinforce or increase marginalization or oppression of any group based on race, sex, gender identity, gender expression, sexual orientation, ethnicity, religion, cultural observance, household income or body type/size."
"It's so progressive and so inclusive,'' Erickson said.
The changes stand in stark contrast to dress codes like the one at a South Carolina high school discouraging female students from wearing leggings unless they are a size 2 or 0.
Erickson, 18, who is now a freshman at Tulane University in New Orleans, Louisiana, felt the previous dress code had been enforced unequally, with female students of color and girls with more mature bodies receiving more violations.
"We are striving to enhance the school-wide learning environment by honoring students for who they are," Evanston Township High School District Superintendent Eric Witherspoon told TODAY in a statement.
"We want them to know that each of them, as a unique individual, belongs here and feels welcome and safe here at school," he said.
Erickson's fight to change the dress code began in the first week of school last year when it was announced that no tank tops, shorts, short skirts and other clothing would be allowed for girls despite 90-degree weather.
She created a survey asking students how they felt when incurring dress code violations, and discovered that some groups were targeted more frequently.
Erickson then worked with the school's administration, particularly assistant principal Marcus Campbell, to create a new policy and push for a change.
Staff members are now being trained to use body-positive language in explaining the code. Also, "shaming" by staff members — defined as measuring straps or skirt lengths, or accusing students of "distracting" others with their clothing — is also prohibited.
The school took the language for its new code from guidelines created by the Oregon chapter of the National Organization For Women.
"Our new dress code supports our students so they can express their individuality and personal identity when making decisions about how they dress for school,'' Witherspoon said in his statement. "At the same time, our dress code provides them with reasonable guidelines to maintain a positive school environment. We want students and their parents to be able to make their own choices around their clothing and style in compliance with our dress code."
Erickson has seen some criticism from adults that the code allows for certain clothing they feel is disrespectful to teachers and doesn't prepare students for dressing in the workplace in the future.
"That's not giving students credit,'' she said. "I had a job at an association that was business casual, and I would change out of my shorts and T-shirt from school into something work appropriate.
"We're learning how to be in our bodies in school and in other spaces, and if you're automatically shamed, that's not helping you with anything."
Follow TODAY.com writer Scott Stump on Twitter.