Children's sneakers are generally reserved for recess shenanigans, scooter races and well, comfort. But now, new styles come with a hidden wedge heel, giving little ones a lift similar to the designs popular with fashion-savvy adults, according to Footwear News.

The trend in high top wedge sneakers hit last year when designers like Isabel Marant and Marc Jacobs started selling the style, and fashionistas scooped up the shoes, wearing them with everything from sweatpants to skinny jeans. The trend trickled down to contemporary labels like Ash and Zara and is now being marketed to a children and tween audience in sizes starting as small as a 13 (which generally fits a 5-year-old.)
Skechers has a hot pink version with a Velcro strap and purple shoelaces that look like they belong on "Club Kid" Barbie. Michael Michael Kors is making a wedge sneaker with mirrored details that are a little "Mad Max"-meets-the-schoolyard, and Kenneth Cole Reaction's black and teal sneakers look like a skateboarding shoe from the late '80s (but with a 2-inch lift).
As stylish as these high-heeled shoes are, the practicality and safety of them comes into question, with several moms stating that they would rather their little ones' feet stay flat on the ground.
"It's one thing to let a little girl walk around the living room in your heels for a few minutes — it's another to buy her shoes for everyday use that could potentially mess up her still-developing feet," Emili Vesilind, a Washington, D.C.-based mom of two, told TODAY.com.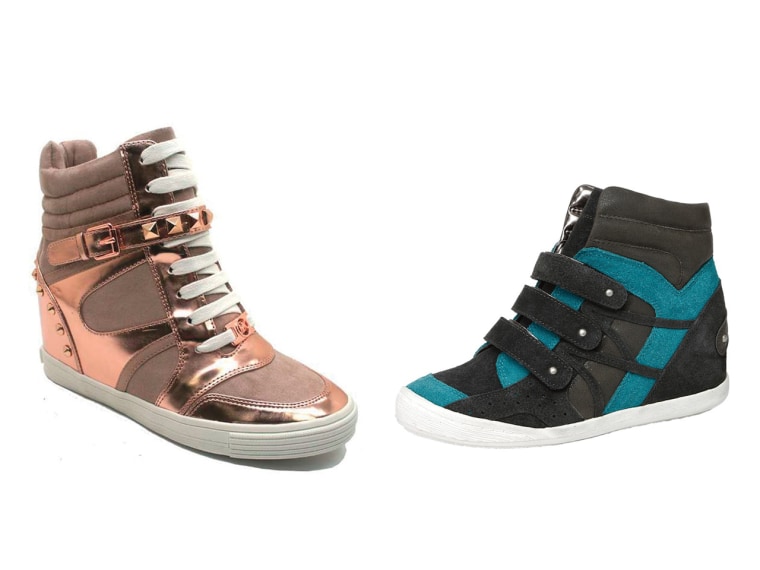 Fashion fans agree. "Tweens shouldn't be wearing heels," wrote Jada Wong of Styleite. "They should be wearing sneakers!"
According to Dr. A. Gabriel Schifman, a pediatric emergency medicine specialist in Dallas, the sneaker-heel combo may look as safe as a regular sneaker, which is not the case – particularly with children.
"There is an added risk for girls who are wearing these shoes and have not yet achieved skeletal maturity," Dr. Schifman explained to TODAY.com. "By raising the heel, stress is put on the forefoot which can alter the shape of the bones and the way they grow. It can also shorten the Achilles tendon which can cause problems down the road in terms of pain and the child's gait."
He adds that ankle injuries in children can be more severe than with adults due to their developing bones. "When a child rolls or twists their ankle, there is a higher risk of them fracturing it, where as an adult might just end up with a sprain."
Potential health risks aside, some moms are also concerned with the message a more grown up style sends their tween daughters. "I'm not looking for my daughter to be sexy at 3 years old or 14 years old," said Julee Kaplan, a New Canaan, Conn. mother of two.
Online, many people seem more passionate about the actual look of the shoe, rather than health or safety issues.
"Wedge sneakers have to be the ugliest thing to step foot on this planet," writes one critic on Twitter.
"I don't get the point of wedge sneakers. If no one can see you wearing heels, why not just wear Converse and save the hurting?" asks another.
These kicks were a hit with adults, so they just might be the "it" shoe at elementary and junior high schools next season. Although not everyone is down with the trend.
"I think any shoe that impedes a kid's ability to climb a tree in five seconds flat is a sad thing," said Vesilind. "I'll be steering my daughter to Chuck Taylors."
What do you think of the trend? Let us know!
More from TODAY Style:
Fans furious over sexy look for 'Anne of Green Gables'
Too stylish, too soon? Kid fashion blogs draw critics
Suit up! Menswear makes a Hollywood statement