If you're trying to find a handsome man — or just one who brushes his teeth on a regular basis — head west.
The best-looking guys in the country are living in Seattle, according to a new survey from Grooming Lounge, which sells personal care items for men. But before you start packing your bags, know this: The survey was based on how much money men in various cities spend on those aforementioned personal care items. And while splurging on mouthwash and shampoo is certainly admirable, it doesn't make you Brad Pitt. (Not that we're complaining about men with great hygiene. Keep it up, guys.)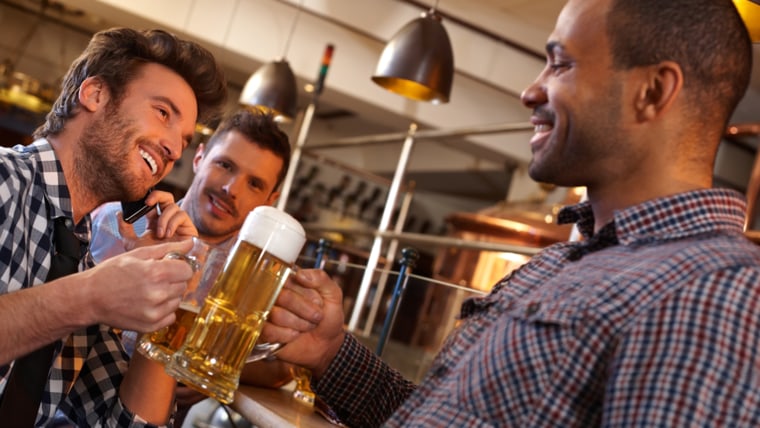 Mike Gilman, CEO of Grooming Lounge, points out that good hygiene goes hand in hand with good looks.
"You can be a handsome guy but if you don't take care of yourself, it's hard for that to shine through," he told TODAY.com. "People who spend time and money and effort on taking care of themselves, they end up looking a little better, a little more handsome. Just like when people get dressed up, they tend to look a little nicer."
RELATED: This is the happiest city in the U.S.
Right behind Seattle on the list are San Francisco, Washington, D.C., Boston and Denver.
"That surprised me," Gilman said. "I would have thought New York City or Los Angeles would have been at the top. And D.C., where we're based, gets a bad rap for being an unattractive city, so I was surprised to see how high D.C. was."
The data came from SimplyMap, an application that collects geographic research for companies.
Men in Seattle reported spending an average of $3,413 every year on personal care items. While it might be a surprise to some, researchers noted that Seattle has an abundance of barbers and spas.
RELATED: How to tell your spouse they need better grooming
We suggest taking the survey with a grain of salt, but Gilman points out there's some truth to the link between good grooming and handsome men.
"There's something to be said for the effort people take to put themselves together, which goes a long way toward feeling handsome," he said.
Here's the full list:
1. Seattle, Wash.
2. San Francisco, Calif.
3. Washington, D.C.
4. Boston, Mass.
5. Denver, Colo.
6. New York, N.Y.
7. Austin, Texas
8. Nashville, Tenn.
9. Atlanta, Ga.
10. Minneapolis, Minn.
11. San Diego, Calif.
12. Chicago, Ill.
13. Boulder, Colo.
14. Portland, Ore.
15. Philadelphia, Pa.
16. Los Angeles, Calif.
17. Cincinnati, Ohio
18. Tucson, Ariz.
19. Houston, Texas
20. Phoenix, Ariz.
21. Dallas, Texas
22. Las Vegas, Nev.
23. Baltimore, Md.
25. Cleveland, Ohio
25. Miami, Fla.