While the nation mourns the loss of George H.W. Bush, the former president will be remembered for many things — his time as commander-in-chief, his service in the U.S. Navy, his dedication to his family, but also his choice of bold footwear. In his later years, Bush was known to sport an array of colorful socks with a perfect pattern for each occasion.
"I love a good sock," he once told his granddaughter, TODAY correspondent Jenna Bush Hager in an interview, declaring himself a "sock man."
After being diagnosed in 2007 with vascular parkinsonism, a form of Parkinson's disease, which later affected his ability to walk, the former president relied on using wheelchairs and scooters for mobility. Because of this, as described in his daughter Doro Bush Koch's book "My Father, The President," his ankles were always visible.
"Brandishing colorful socks is simply his way of making the best of his mobility situation and still finding the joy in life," she wrote.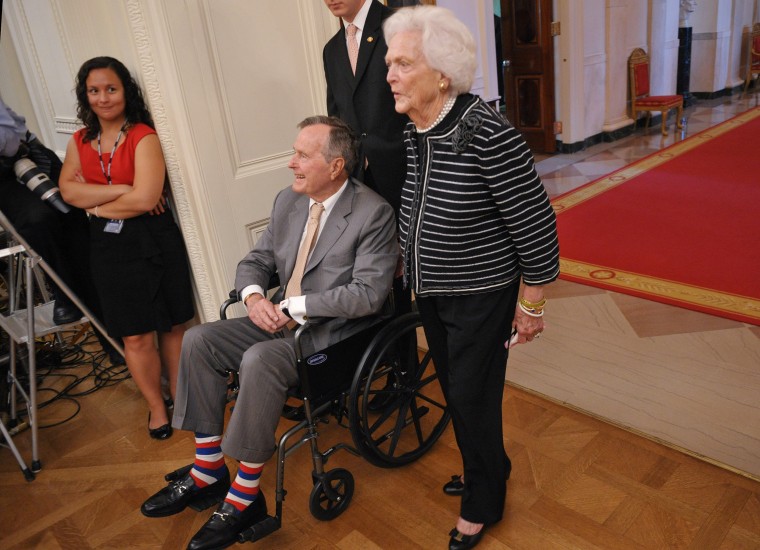 In 2013 at a presidential library dedication for his son, George W. Bush, he sported a pair of bright pink socks which broke through the sea of neutral footwear.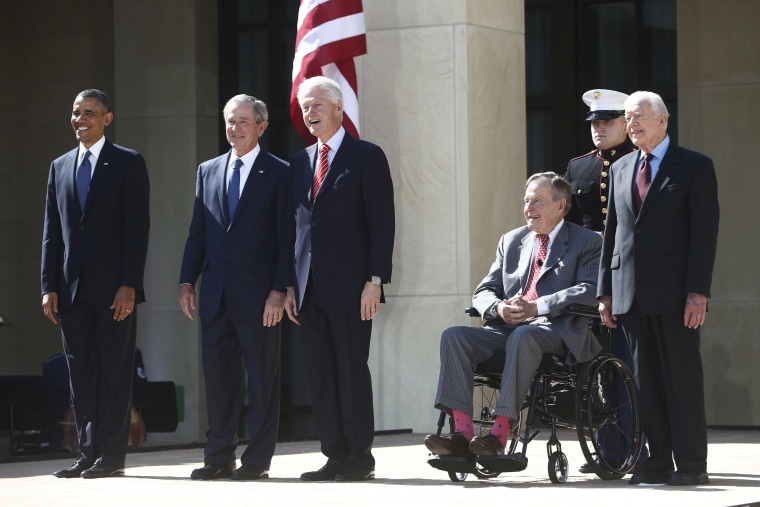 George H.W. Bush even took selfies to a next level when he wore a pair of red socks with his own face on them while accepting an award from the Lyndon B. Johnson Foundation in Houston back in December of that same year.
This was only a few months after he wore a pair of Superman branded socks, cape and all, for his 89th birthday in June.
The late former president's penchant for bold socks inspired those around him. Bill Clinton paid a visit to Bush in April of 2017, bringing his compatriot a few new additions to the sock collection.
Bush was also happy to share spotlight with his service dog, Sully H.W. Bush, sporting a pair of blue socks with the dog's face brandished on them over the summer.
The next generation of Bushes took part in the sock game as well. As Jenna Bush Hager said on her grandfather's 89th birthday, her then-baby daughter Mila would have some "sweet socks to fill."
Even at his late wife's funeral, the former president was able to subtly honor former First Lady Barbara Bush at her services in Houston by donning a pair of socks decorated with books in recognition of her lifelong commitment to family literacy.
As tributes pour in for George H.W. Bush, let's remember and thank the former commander-in-chief for reminding us of the simple joy of a colorful sock.