Here's why Chrissy Teigen wins at pregnancy (and at life): She does what she wants. Yes, she owns her decisions — even when unpopular — and is happy enough to take down trolls who have something to say about those choices.
For example, Teigen has talked openly about her infertility struggles, and the IVF process that led to her pregnancy with hubby John Legend. She even talked publicly about using that process to select the gender of the baby, a girl. Naturally, those comments created a whole storm of controversy in the media — and its notoriously nasty comment sections.
RELATED: Chrissy Teigen opens up about fertility struggles
Well, most recently, Teigen stirred another small controversy relating to her pregnancy ... with her latest maternity outfit. The expecting star dared to step out in a cute and casual outfit of low-slung distressed jeans and (wait for it) a crop top over a lacy bra.
Gasp!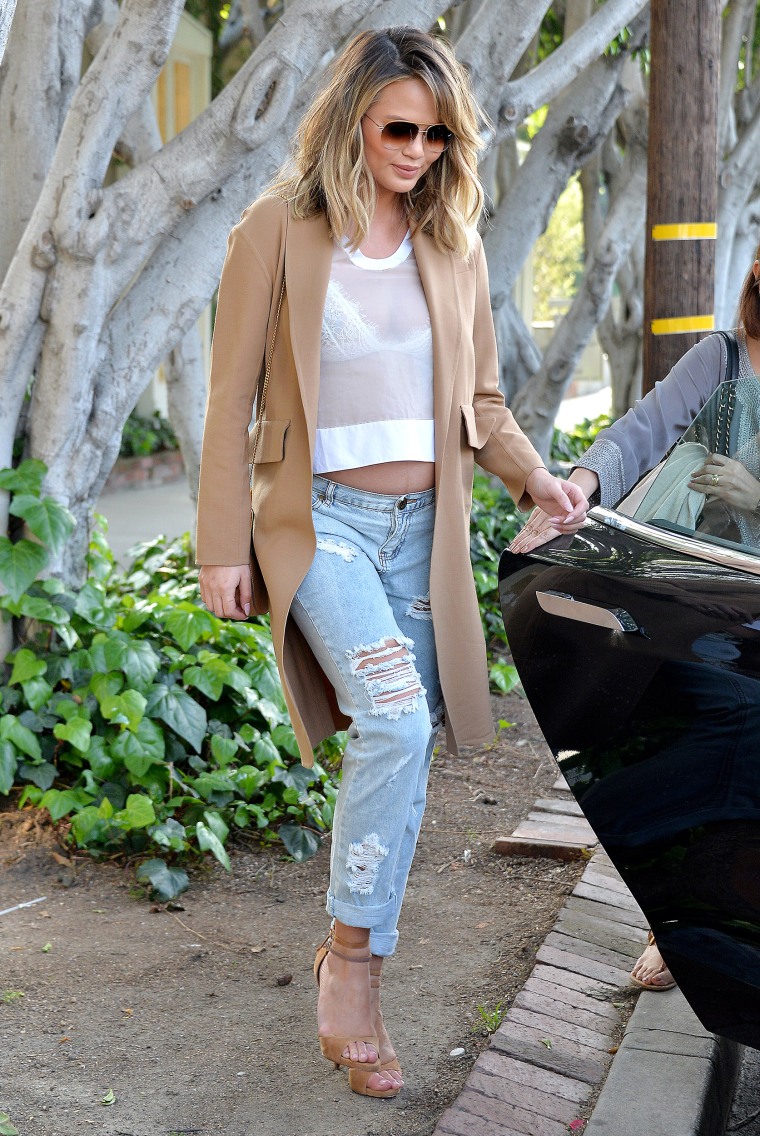 Yes, that's right: The model mama-to-be is due this very spring — and she dared to show her uncovered skin. Obviously, she looked amazing.
But while some of us over here are cheering, some others on the Internet are none too happy about the bump-baring pics, posting vile comments online. They range from body-shaming remarks from people who think her belly's too big for a crop top, to surrogacy accusations from people who think her bump's too small. And to those people — body shamers one and all — I say: Congratulations, you're a jealous hater.
RELATED: Chrissy Teigen's baby shower was a royal event
Body shaming aside, let's start with the facts. Of course, as a professional model, the statuesque Teigen looks good in anything she puts on. And then there's the more important matter that she — like the rest of us — should be able to wear whatever she wants. Pregnancy dressing is hard enough (can I get an amen from anyone who's ever been there?) without strangers' scrutiny.
For contrast, I'm no professional model — and I did not look like she does in my third trimester of pregnancy (nor at any other point in my lifetime).
RELATED: Hot mama! 5 style lessons Blake Lively's maternitywear teaches us all
No, when I carried my twins to full-term in the dog days of summer in Los Angeles, I was barely still able to walk at that stage of pregnancy, given my — ahem — ample size. But I was still eager to express my personal style and feel comfortable. For me, that often meant wearing body-hugging dresses, like a favorite LBD from Old Navy maternity that was as comfortable as it was flattering (no easy feat). That body-con staple also allowed me to showcase some of my favorite accessories (that still fit) and express my style point of view with items like gold-studded sandals and bold statement necklaces.
For Teigen, feeling cute and comfy evidently means rocking a crop top that shows not only her bare bump, but the telltale linea nigra that is an unmistakable sign of pregnancy. It's a pregnancy she wanted badly for years and struggled deeply to conceive. Why wouldn't she be proud — and downright giddy — to strut that bump in front of the world?
RELATED: The hair-raising truth about what pregnancy does to your mane
Of course, hers is one of the most-watched celebrity pregnancies in recent memory, so she knew she'd capture the attention of the cameras with her wardrobe choice. And she probably knew she'd be sparking this very conversation among us media types.
As a huge fan of the pregnant star — I interviewed her about body positivity for TODAY Style right around this time last year — I think she'd be thrilled to know that we're talking about this.
Because in a small way, every time a pregnant woman rocks a crop top and gets a public thumbs up that rises over the noise of body-shaming trolls in comment threads — all women win.
Alesandra Dubin is a Los Angeles-based writer and the founder of the travel and lifestyle blog Homebody in Motion. Follow her on Facebook, Instagram, Google+ and Twitter.