Leah Still, 5, already beat cancer. Now, she's adding another impressive bullet point to her list of accomplishments: designing her very own dress.
Her father, Houston Texans defensive lineman Devon Still, had postponed his wedding with fiancee Asha Joyce after Leah was diagnosed with stage 4 neuroblastoma cancer about two years ago. Now, the couple is set to wed this spring after having been selected by TheKnot.com as recipients of this year's Dream Wedding. The most exciting part? The site is helping Still and Joyce raise money for other families dealing with pediatric cancer by setting up a charity registry.
RELATED: Couple weds midflight so mom with stage 4 cancer can attend
And beginning March 16, the entire country will be able to vote on every aspect of the wedding, from the gown to the decor.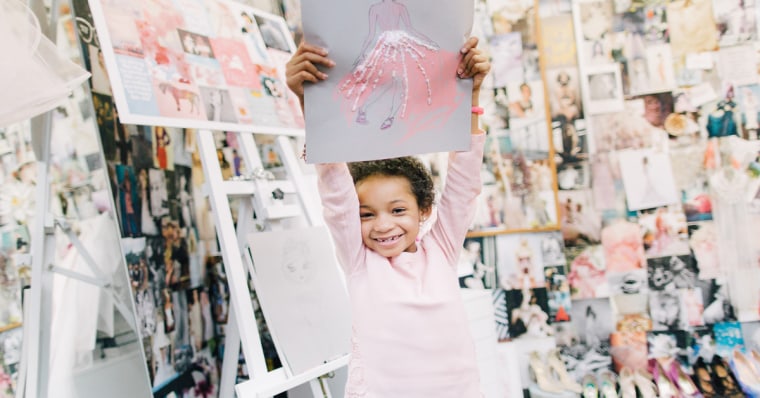 Working with designer Hayley Paige and talking to People magazine about the experience, Leah said that there's one thing her dress will have without a doubt: "Lots and lots of glitter!"
"She's just had the best attitude of fight and then move forward with life," Still, 26, told the magazine. "And look where we are now. I'm getting married to my love and Leah gets to be a part of this wedding. We overcame tragedy and are becoming a family. It's like a fairy tale."
RELATED: Devon Still: Daughter Leah is 'almost at the finish line' of inspiring cancer fight
And as for his own opinion of her dress?
"I knew pink was going to be involved," he said. "She loves princess stuff."
Leah officially "beat cancer" this past January, and her father celebrated the event on social media, topping off years of Instagram documentation of her ups and downs. Over the past few years, she won an ESPY Award for her courage, appeared in the "Truly Brave" video starring Cyndi Lauper and Sara Bareilles and produced by Hoda Kotb, and helped raise more than a million dollars toward cancer research.
"When you sit back and look at everything and hover above, it's important to remember to cherish every moment you have with your child," Devon told the magazine. "My daughter was almost taken away from me, and I've learned that you can't waste time."