For many brides-to-be, the Internet is an endless source of visual inspiration, and websites like Pinterest have proved to be instrumental tools for streamlining ideas to incorporate into the big day.
But a recent story on the Huffington Post posed the question: Are these sites ruining weddings by making them look too similar?
"At first, I felt so inspired! Look at all these great ideas! How unique! How special and memorable my wedding will be!" wrote Rachel Weight, in a piece titled "Are weddings getting too 'Pin-dictable?'"
"But lately I've realized that these Pinterest-y weddings are all starting the look exactly the same," she complained. "There's almost a formula for them."
Weight noted that wedding blogs and online inspiration boards have turned elements like photo booths, chalkboards, café lights (often strewn from trees, with or without paper lanterns), sparklers and mason jars into ubiquitous clichés by circulating the same images over and over. Groomsmen in matching sneakers, pets serving as ring bearers and candy bars (or dessert bars of any kind) also rank high on the list of trends.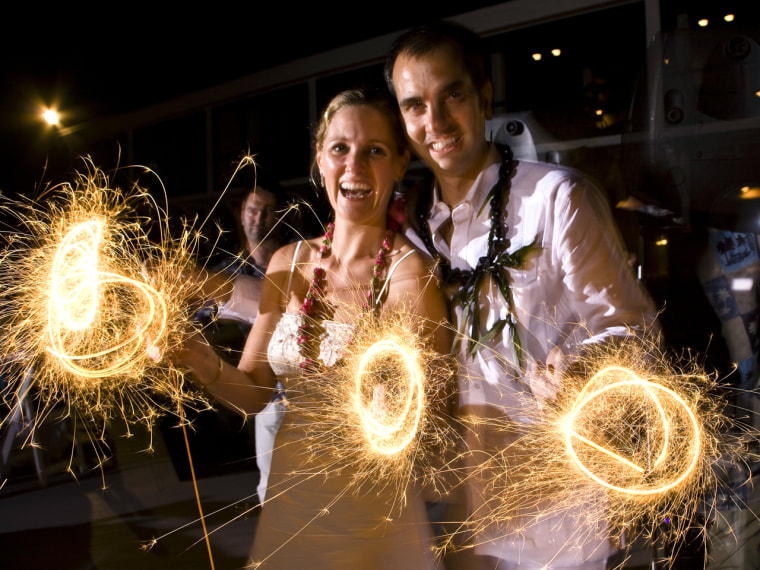 With so many brides-to-be sharing the same ideas and using their boards as reference for florists, planners and other vendors, are wedding planning websites ruining the creativity and individuality of weddings?

"Yes! Make it stop," Elise Loehnen, the L.A based editor-in-chief of shopping website Beso.com, told TODAY.com. "What bums me out is to go to weddings where people have just adopted 'clever' or 'cute' ideas that aren't even remotely relevant to who they are or what the event is about and then sort of stitched them together into a smorgasbord of I-Don't-Get-It details."
Portland-based publicist and bride-to-be CJ Frogozo tried the Pinterest route at the suggestion of co-workers, but quickly abandoned it after realizing that none of the ideas she found felt applicable to her or her fiancé's taste.
"Everything looked the same," she told TODAY. "I couldn't find unique ideas. I started pinning and it started looking the same as other people's boards."
Tired of seeing endless pictures of table numbers held by clothespins, seat assignments written on chalkboards, and "signature drink" displays, Frogozo decided to go in a different direction. She chose wedding vendors that didn't require her to bring in mood boards for reference, and worked with them to create original touches based on the aesthetic, food and flowers that felt most personal to her and her fiancé (case in point: cheeseburgers are being served as the main course at their reception.)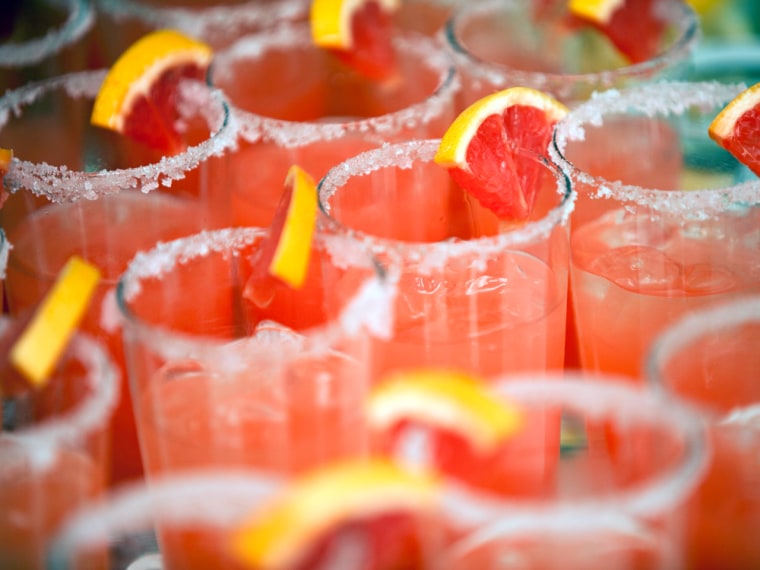 "It's nice that everyone is so Pinterest-friendly these days, but we have to slow down, because people are just regurgitating the same ideas on there, which for the most part are not innovative or inspiring," said L.A based event planner Yifat Oren, who works with celebrities such as Drew Barrymore, Reese Witherspoon and Anne Hathaway.
"The mason jars hanging from trees, the farm and rustic feel, really? Is there really a dresser sitting in the middle of a field? I'm getting tired of weddings that look like garage sales," she said. "Ultimately, if you love something you should do it, but I think that people want something interesting."
Plenty of brides and wedding planners still share inspiration online -- and don't care if their weddings are similar to others'.
"Of course, many wedding clichés exist, from mustaches to mason jars, but I do not believe that Pinterest is to blame," wedding blogger Kate Myhre, who founded Modernlywed.com, told TODAY. "Just like any industry, these clichés started as trendy ideas that were quickly over used and continually reinforced through online media."
She said sites like Pinterest can be a great resource for couples to collect inspiration and visualize wedding elements side by side, helping them pinpoint their personal style.
Ali Pomerantz, a Hollywood-based personal trainer getting married in August, agrees. She's been using Pinterest to plan her nautical-chic wedding and found it's helped her stay organized and inspired.
"There are ideas on there that I wouldn't have thought of myself," she said. "I've found it very helpful and inspiring."
The bottom line is, if a couple getting married has a personal connection to trends like sparklers, fake mustaches and mason jars, then that's all that matters, whether or not the idea is a wedding cliché.
"The details should make sense for the environment and the people who are getting married," Loehnen said, "so that it feels fresh and deeply personal."