Celebrity hairstylist Louis Licari and TODAY contributor Jill Martin switched things up for this week's Ambush Makeover, plucking one lucky lady from the plaza and another straight from her seat in 30 Rock!
First up was Pat Wilson, 66, from York, Pennsylvania. Wilson is an avid Ambush watcher who came to the plaza two years ago but didn't get picked. So this time around, she was ecstatic when the TODAY stylist team chose her for a makeover.
Wilson, whose parents recently passed away, started the first balloon delivery service in Pennsylvania and now works as a corporate event planner. She never wears makeup or cuts her hair, so she wanted to treat herself to something special.
RELATED: J.Law, is that you? Ambush Makeover leaves TODAY fan looking like a movie star
And, wow, did the Ambush team deliver!
"You look gorgeous," Hoda said as she grabbed Pat's hand.
Pat, who stunned in a form-fitting dress, was thrilled with her shorter, layered hairstyle. Pat's friend, Ruth, was equally impressed and said she would have to up her own game!
Up next was Karen Dekime from Manalapan, New Jersey. Today, the 49-year-old broadcast editor (who's been working at NBC for over 25 years) celebrated her 25th wedding anniversary with her husband, Tim.
Dekime was completely unaware of the makeover until she was grabbed from her edit chair this morning.
Tim and a few of Dekime's co-workers couldn't believe her glamorous new look.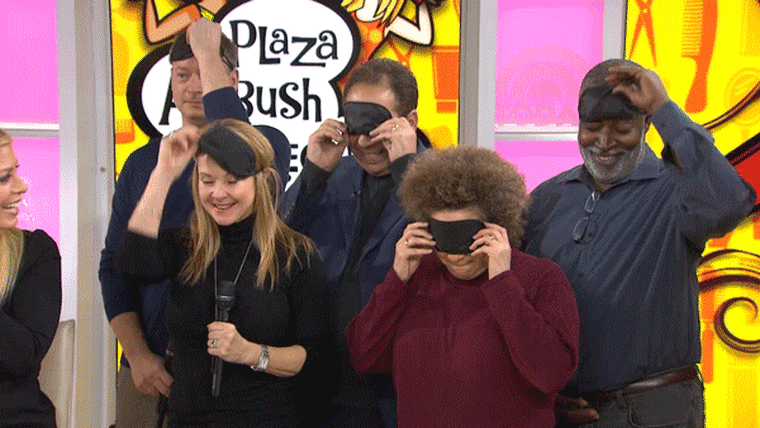 "Oh my gosh! Oh my gosh" she shouted after seeing herself in the full-length mirror on set.
RELATED: Ambush Makeover turns Michigan mom into glamorous gal
She loved her lighter, warmer hair, radiant makeup and fabulous new dress with matching black pumps. It was certainly an elegant ensemble — and perfect for an anniversary dinner celebration.