If someone told you that glowing, flawless skin could be yours if you agreed to look wrinkly first, you'd probably think it was a trick, right? Well, that's exactly what the newest Korean beauty trend claims.
The Hanacure "All-in-One Facial" was developed by a Hollywood-based makeup artist and her entrepreneur partner as a way to simplify pre-makeup face treatments and address any number of skin concerns quickly and efficiently.
The mask also makes you look like a grandma.
The product has gained tons of fans since launching in February, including Drew Barrymore who posted a photo of herself trying the crazy-looking beauty treatment on her Instagram account.
It works by mixing the two-part face mask together to create what they call a "Purifying Compound" that is then painted on with a brush. Within 10 minutes, the mask will dramatically tighten and lift skin.
"You can think of it as tiny micro-sponges in your pores, absorbing all the impurities," the brand's founders told TODAY Style via email.
The mask becomes so tight, they explained, that even small facial movements create tiny cracks that look remarkably like wrinkles. In other words, it feels like peering into the future and seeing a much older version of yourself.
The founders recommend minimizing facial movements (and the subsequent cracks) while wearing the mask to maximize its benefits, but they understand why some users just can't help it.
Three brave TODAY staffers tried the mask out for themselves, and while they couldn't help but laugh at their wrinkly reflections, they had mixed reactions when it came to the mask's effectiveness.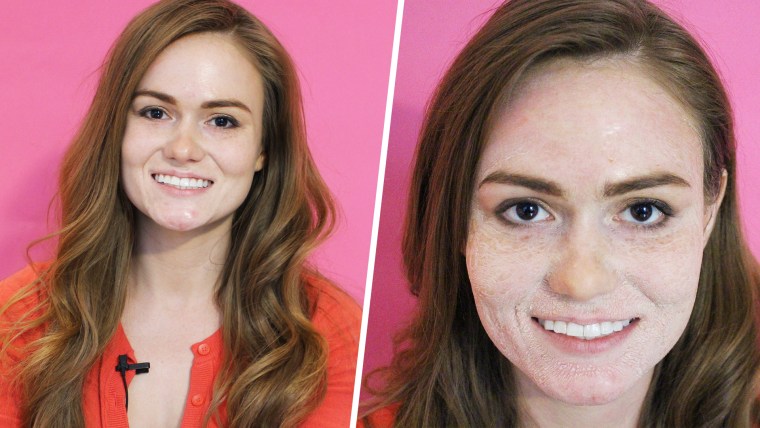 Associate producer Emily Slawek found the mask to be especially harsh on her face. "It may have looked funny, but the pain wasn't worth it," Slawek said. "My skin turned bright red and broke out — it took two days for the redness to go away!"
Needless to say, she's not going to be giving the mask another shot. "It was a fun experiment, but I'll stick to my sheet masks."
Senior editor Robin Kawakami compared her before and after photos to an Ambush Makeover in reverse, and she said she definitely felt the mask getting tighter as it dried.
But a couple of days later, Kawakami said she did notice a difference in her skin. "I would venture to say my skin did feel quite nice a day or two after using the mask," she said. "It felt very soft."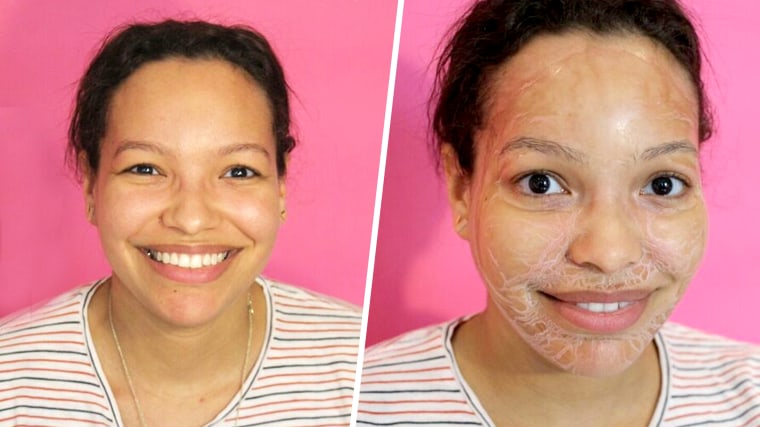 Video distribution producer Jamie Rodgers was shocked to see her face instantly aged by the mask. "Hopefully this is not what I'll look like when I get older," Rodgers joked.
After taking the mask off, she found that her skin was definitely tighter — but maybe a little too dry. "I think it would have been amazing when used right before a really good moisturizer."
Would you try this crazy mask?