Dressing up for Halloween can feel like work, but there's no need to stress! To make things easier, we've brought you a makeup tutorial that just about anyone can recreate. Simply pair with a little black dress from your closet and head to your Halloween party — how easy is that?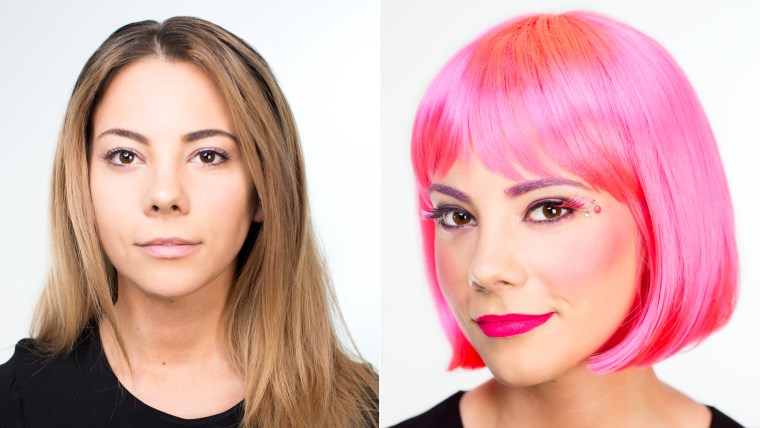 Originally inspired by the character Effie Trinket from "The Hunger Games," this look could also pass for a colorful flapper girl, Strawberry Shortcake, or just a generally hip-and-trendy Halloween party goer. The possibilities are endless, but the choice is up to you.
"Call it what you want, but it's an easy way to get into the Halloween spirit without a lot of investment or effort," Phylicia Jean-Louis, senior makeup artist for Blushington NYC, told TODAY.com. Here are her 12 quick-and-easy steps:
1. Prep skin with a lightweight moisturizer, then apply a skin-matching liquid foundation and set with powder.
2. Cover lids in fuchsia powder.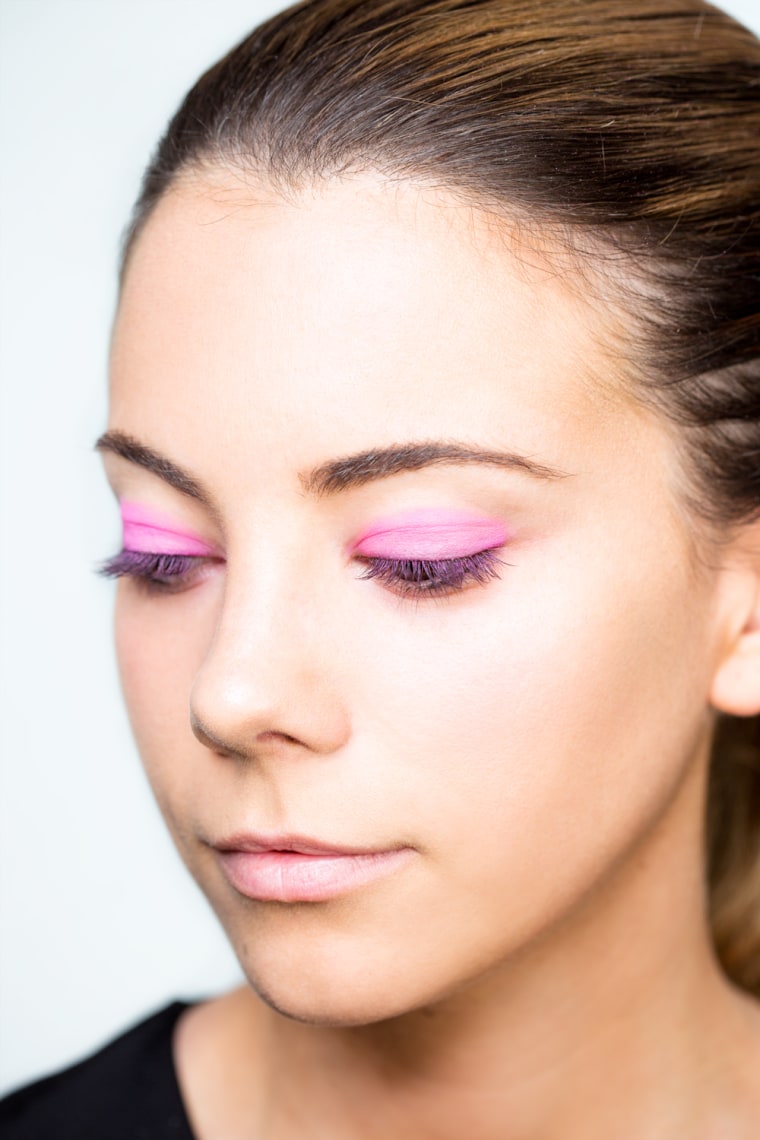 3. Starting at the outer corner of your eye, fill in the area between your eye crease and right below your brow using a dark brown shadow. "Only apply the powder halfway into the eye," advised Jean-Louis.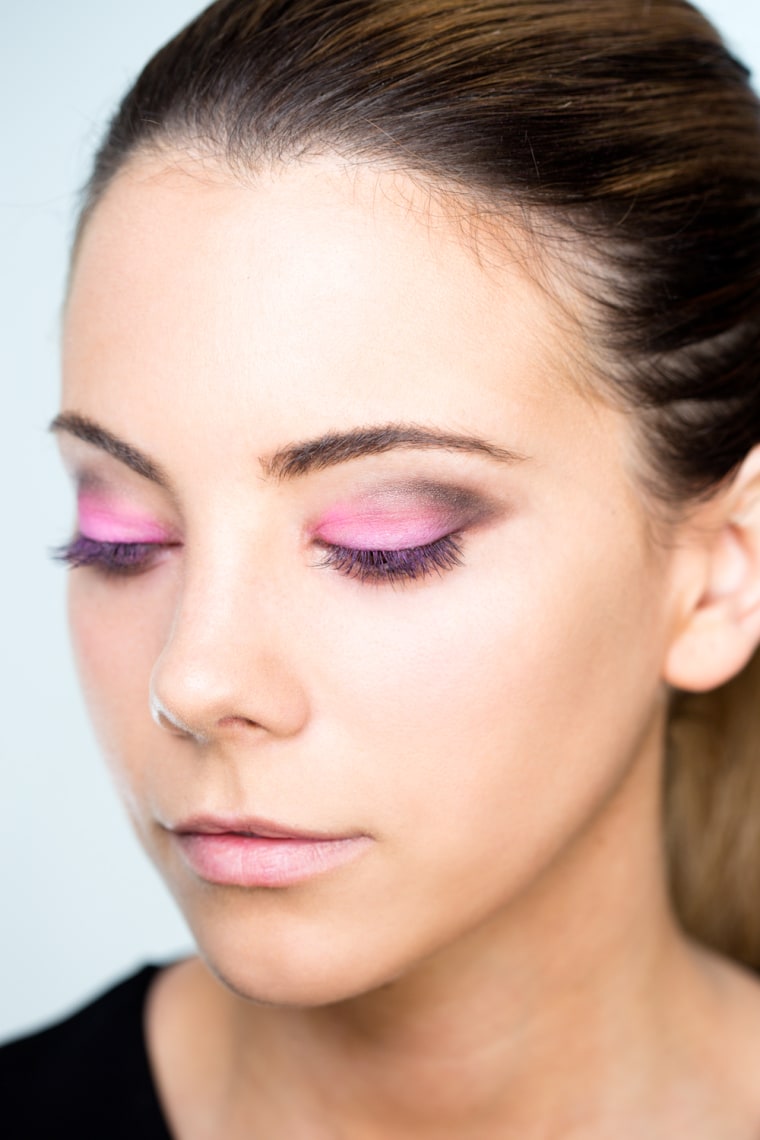 4. Line your upper lashes with a black liner — moving from the inner eye out.
5. Add shadow below your lower lashline using a darker pink powder. Fill in the waterline with a deep burgundy shade.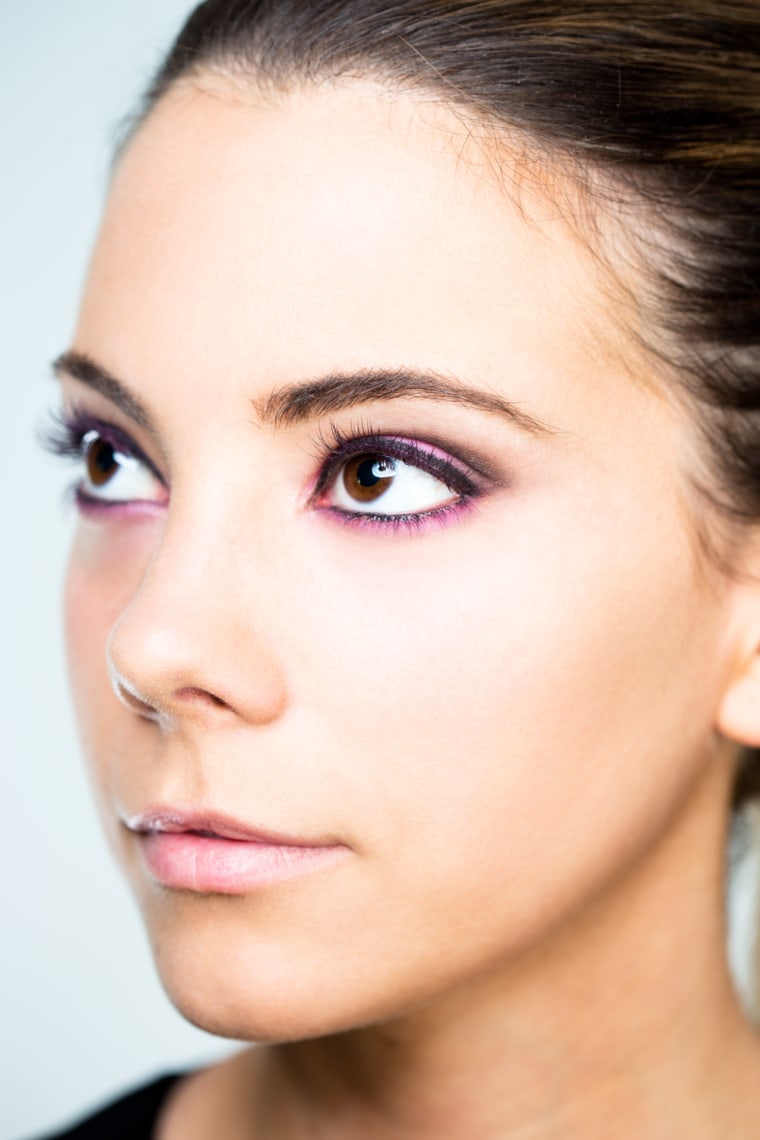 6. Cut a pair of pink lashes in two and apply each half to the outer corners of your eyes using lash glue. "Allow the glue to get tacky by waiting 45 seconds before applying to create a better bond," said Jean-Louis.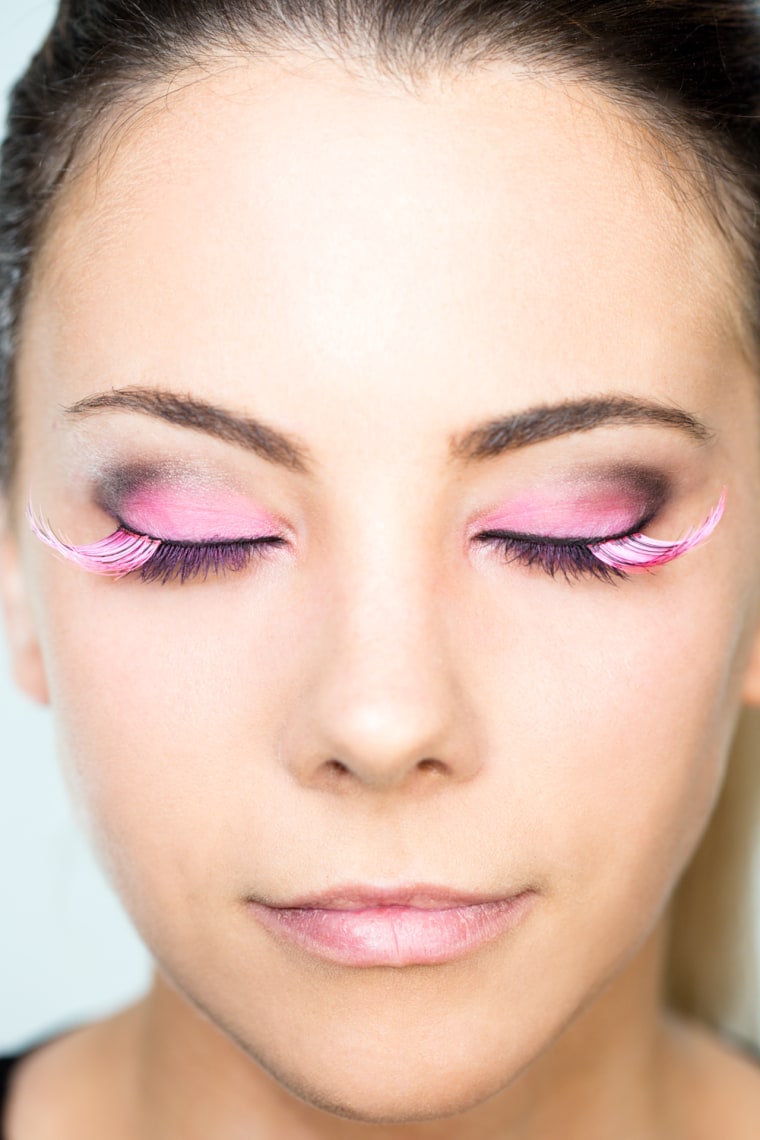 7. Double stack lashes by placing a black lash over the pink one (we used a pair that came with glittered ends for an extra-special effect).
8. Color brows by mixing together two shades of shadow: fuchsia and purple. Dip a brow brush in both powders — picking up an equal amount of pigment — before brushing the combined color over your natural arch.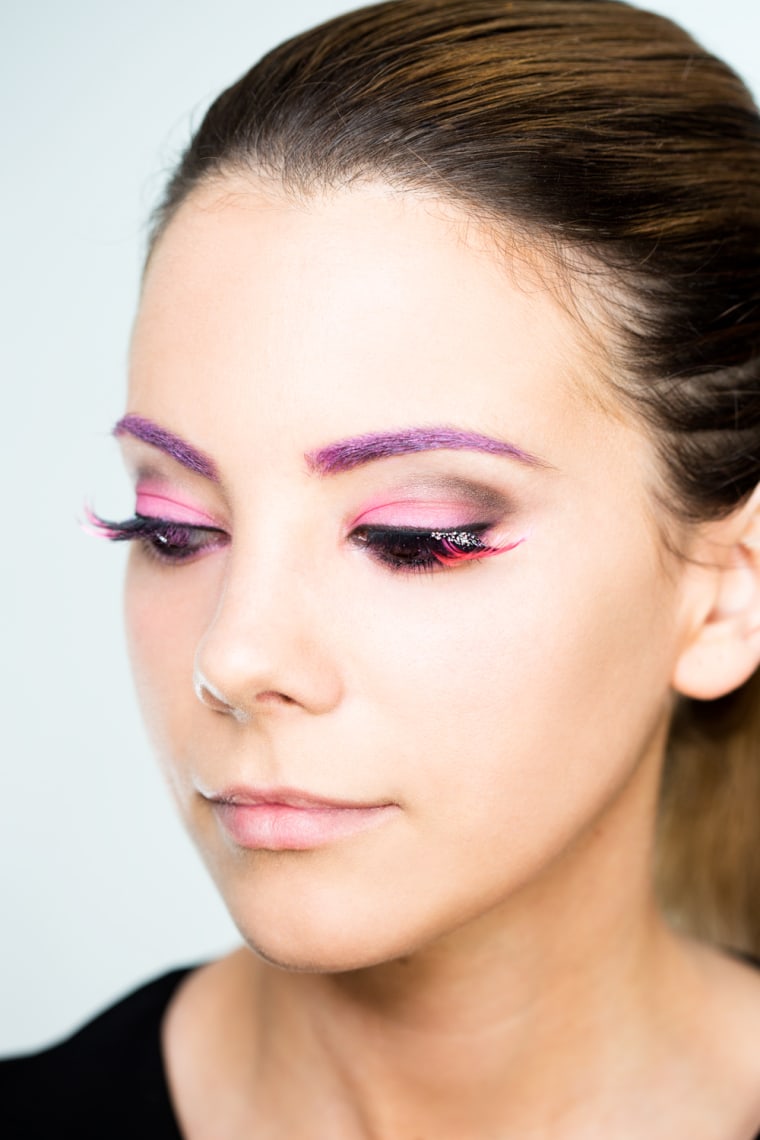 9. Contour your cheeks with fuchsia blush, working downward with your brush from the hairline to the apple of your cheek.
10. Add a few white and pink rhinestones to the outer corners of your eyes.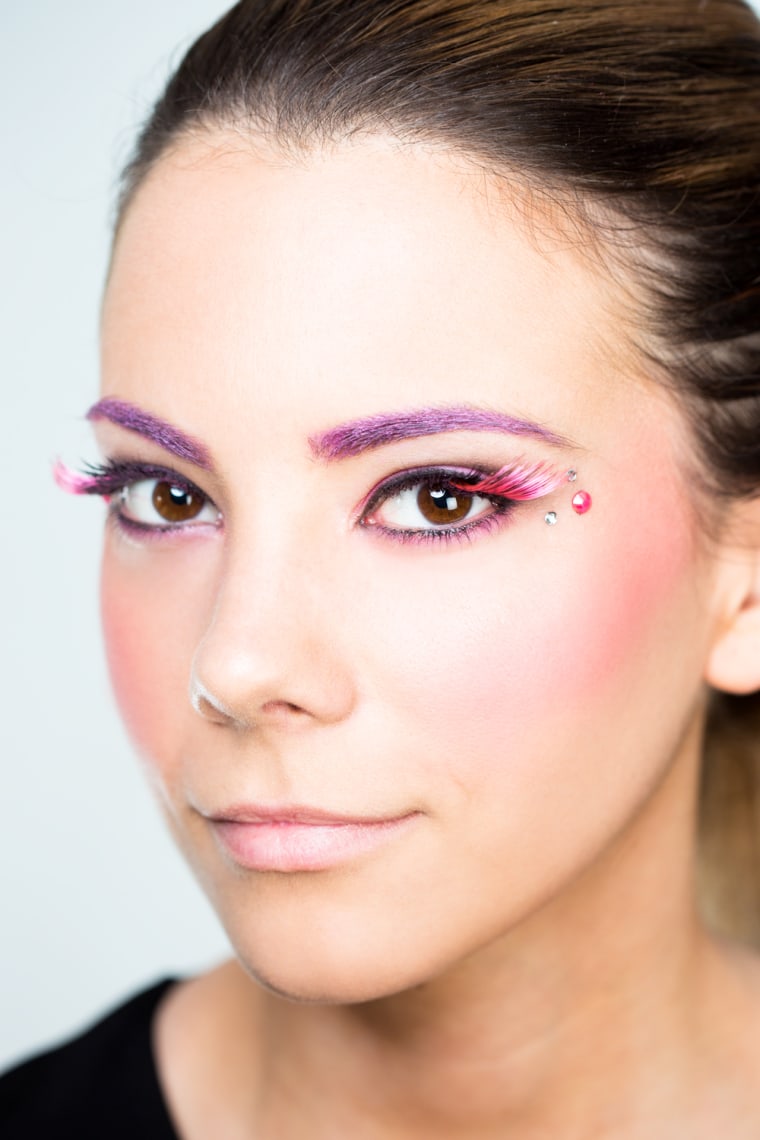 11. Prep your lips with Vaseline before applying the fuchsia liquid lipstick. "All-day lipsticks can be drying so it's important to start with a hydrating base," noted Jean-Louis.
12. Finish off the look with a little black dress and a bright pink wig. "Pull your hair into a stocking cap so you're not adjusting your wig all night," said Jean-Louis.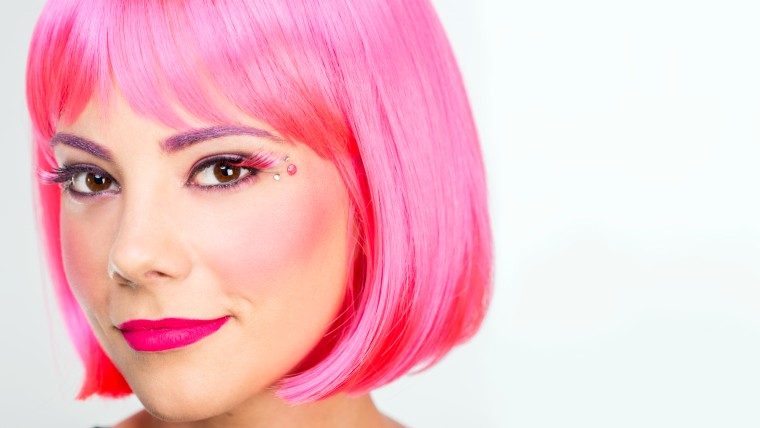 And there you have it. More over, blondes — pink hair is more fun!
Products used:
Eye shadow on lid/under-eye shadow/blush/brows*: Jouer Cheek Tint in Peony ($22, Nordstrom.com)
*Also used on the brows and eye crease: Stila Eyeshadow in Cassis ($18, Nordstrom.com)
Top liner: Stila Smudge Pot in Black ($20, Ulta.com)
Waterliner: Stila Smudge Stick in Deep Burgundy ($22, Sephora.com)
Lips: Stila Stay All Day Liquid Lipstick in Amalfi ($24, Sephora.com)
Rhinestones: Darice Craft Rhinestones ($4.49, Jo-Ann Fabric)
Lashes: Urban Decay False Lashes in Glitter Dip ($15, Nordstrom.com) and RickyCare Backstage Feathered Lashes in Pink ($9.99, Rickys.com)
Wig: Ricky's Dutch Wig in Hot Pink ($29.99, Rickys.com)