While it can be a little tricky to determine your face shape, it is worth the process ... if only to serve as a guide for your next haircut. Once you know whether you have an oval, round, heart-shaped or diamond-shaped face, it makes everything easier.
Here's a quick guide to the most common face shapes:
Oval: Your face is long and narrow (specifically, the length is equal to one and a half times the width).
Heart: Your face is widest at the forehead, narrower at the jawline.
Round: Both your face length and width are equal.
Diamond: You have wider cheeks with a narrow forehead and jawline.
If you're still unsure, take a quick selfie and squint as you look at the photo. What shape do you see when you look at the most extreme points? Or, you can take a tube of lipstick and trace your face as you look in the mirror. What shape does it make?
Once you figure it out, you can move onto the fun part: a new 'do! TODAY Style took four gorgeous women for a cut and color with celebrity hairstylist Paul Labrecque at The Rittenhouse Spa and Club in Philadelphia to get his expert advice.
Round faces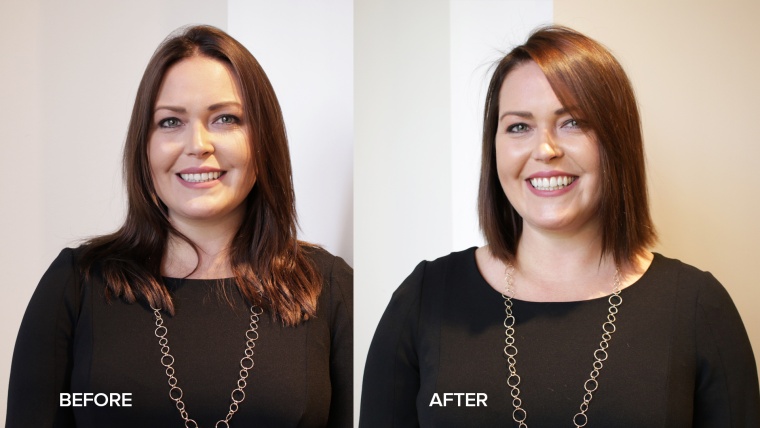 Hairstyles for a round face shape shouldn't be all one length, Labrecque said. Instead, opt for an asymmetrical long bob otherwise known as a "lob."
This was Labrecque's goal when assessing Melissa Scallan. "When she first came in, there was only one layer in her hair that hit right at her jawline and really accentuated her face shape," he said.
Now her trendy lob hits just above her shoulder with shearing throughout. Labrecque also added in vertical layers to create more movement and visually narrow her face and neck. "This is a fun, professional look that can still be quite sexy for the evening," he added.
These haircuts and hairstyles for round faces from celebrities can be inspiration for your next cut. Pictures of Adele, Chrissy Teigen, Selena Gomez and more.
Heart-shaped faces
Amanda Nanakorn has a prominent forehead with an angular jaw, making her face resemble a heart. Labrecque shortened her hair length and clipped the edges to soften angles all around.
If you're a fellow heart-shaped gal, you may want to consider long, sideswept bangs to help visually narrow the width of the forehead and widen the jawline.
Diamond-shaped faces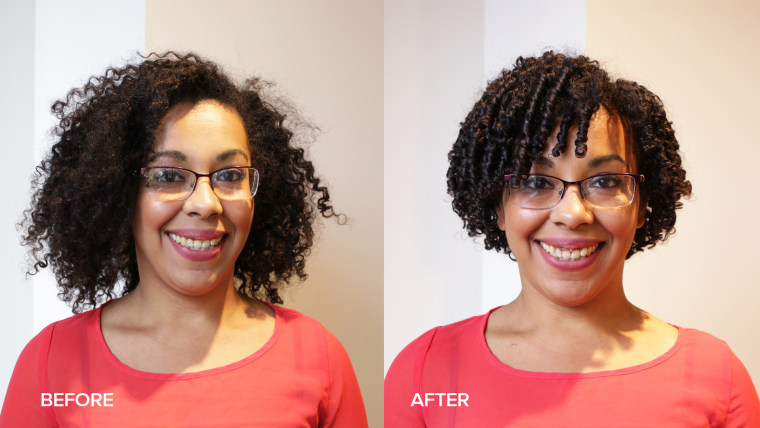 Diamond-shaped faces are widest at the cheeks and become narrower at the forehead and jawline. Chin-length bobs and shoulder-length styles are the most flattering, according to Lebrecque. Niki LaGrone said she was game!
"I decided to bring her lovely curls onto her cheeks while eliminating some of the ends that had no structure," he said, adding that layers above the neck will make her chin appear more prominent.
Oval faces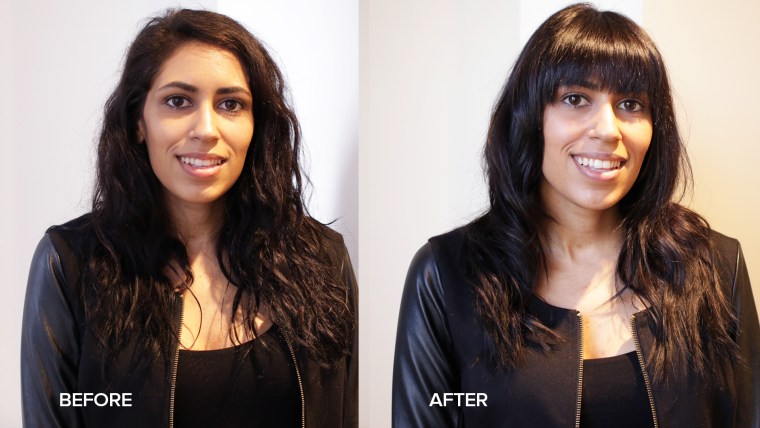 The easiest way to balance a longer face is to add bangs. Ask for fringe that hits between the brow and eyelashes and is slightly longer on the edges, Lebrecque suggested as he demonstrated on Alysha Felty.
"Adding bangs provides a really nice frame, along with creating some layers since her hair is textured," said Labrecque.
Tapered bangs also give you some flexibility: You can wear them swept to the side, or down the middle!
Now you'll be ready to take these tips to the salon!
This story was originally published on Oct. 13, 2017.