It's common knowledge that hairstylists should get a 15 to 20 percent tip, but what's the protocol if you hate the haircut? And, how much should you tip for a quick bang trim? For all those odd, confusing situations, TODAY Style asked salon experts for their solutions to bring clarity and peace of mind. See their top tips below!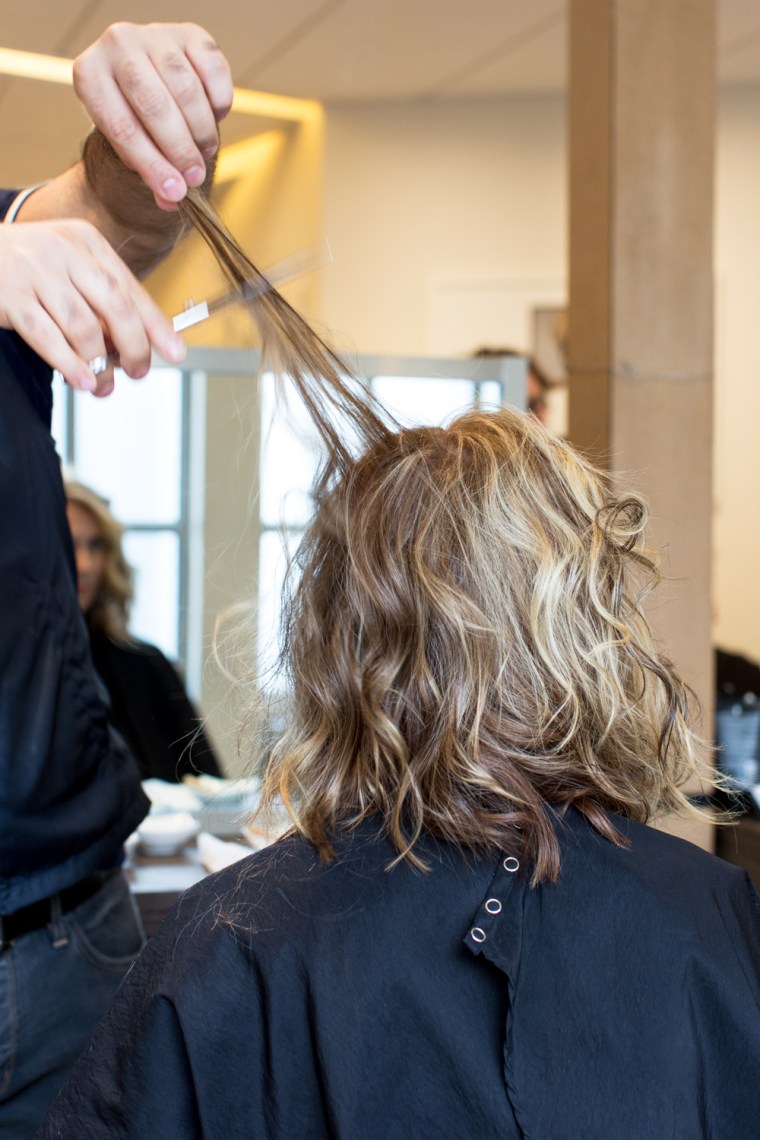 What should I do if I'm unhappy with my cut or color?
Most clients totally panic after the shock of not getting what they imagined, says Lorean Cairns, co-founder and creative director of Fox & Jane salons in New York, California and Colorado. People tend to go home and call the receptionist afterward, demanding a refund or angrily complaining that their hair is "unfixable" or "ruined."
Sometimes the customer might not like the styling, Cairns explained, but would like the cut or color when styled with a different technique."Stay calm. (When it comes to) hair, everything is fixable. Cuts and colors can be tweaked," she said. Most often, the adjustment is simpler than it seems — like adding texture to a haircut or a gloss or toner to color. These fixes take about 30 minutes and are quite common. If you have a good relationship with your salon, but aren't 100 percent happy with the outcome, just calmly state your dissatisfaction and ask to revisit your stylist. "The original stylist is the best person to correct their own work until they get it just right," Cairns said.
When you're getting a correction, do you pay and tip again?
This depends on the situation. If you've decided that the look you're going for doesn't suit you after all, expect to pay again. "You'd be surprised how many times clients dream of going blond or red until they see it against their skin tone. Or, if you decide you should have gotten three inches off instead of a trim, these are not redo situations, but new appointments," said Cairns.
However, if something went wrong and the results don't match the consultation (like if your highlights look orange, not blond), then most salons will give you two weeks to come back for an adjustment at no additional charge, Cairns explained. Tipping in this situation would be entirely up to you, but is never expected on a redo or a fix.
If a hairstylist operates out of their home, do you tip them?
"I recommend a 10 percent tip in this situation," said Cairns. Even though you're not getting a salon experience and there isn't any of the related overhead, the stylist is still providing a service and should be tipped at a more modest rate as a courtesy.
If there's a coat check, do you tip the attendant? How about robe attendants?
Treat this like a coat check at a bar or restaurant, said Adam Broderick of Connecticut's Adam Broderick Salon & Spa. You can tip anywhere from $1 to $3. If a tip is encouraged, there will be signage or a tip box present, and you can tip as you would any other coat check.
How long is reasonable to wait for a late stylist? What if you're running behind yourself?
General leeway is 20 minutes for both parties. Cairns said that a stylist who is running more than 30 minutes late is a real problem — and indicative of an unforeseen issue with the client before you, like a color-corrective service. "Your technician is just as stressed as you are in these situations and wants to stay on time. Try to give them the benefit of the doubt and most times, they will make up for it," she said. If your stylist is perpetually late, however, you may want to find a new salon.
If you're running more than 20 minutes late for your appointment, expect that most salons will have to modify or reschedule. Either way, you should always call to let them know that you're behind schedule. Often times, just giving them a heads up allows them to work on clients in a way that will still allow for the appointment to remain. The key is letting them know in advance, according to Cairns.
Is it rude to talk on your phone or work on your laptop while getting your hair done?
This is not the time to endlessly gab with your BFF about what you plan to do this weekend. However, both Cairns and Broderick agree that it's totally fine to quietly make an occasional call or tap on a smartphone or laptop. "Working on a laptop or smartphone helps clients and we don't consider it obtrusive," Broderick said.
Is it OK to show up with dirty hair since you're getting it washed anyway?
Suds skippers and dry shampoo junkies, rejoice: Showing up with dirty hair is A-OK and even somewhat expected by most pros. "We're here to cleanse the hair and prepare it for service," Broderick said. However, if you haven't washed in over a week or are starting to have odor, it's too dirty. Just give it a quick rinse with water and skip blowing it dry before coming in, Cairns explained.
If given a complimentary drink, when is the best time to actually drink it?
"I know, it's like torture — we offer you a drink and then set it out of arms reach and ask you to sit still," Cairns said with a laugh. Just ask your technician if you can grab your water, coffee or cocktail so that you don't surprise them with a sudden movement. It's often easier to sip during color-processing time or the blowout instead of when your hair is being cut, said Broderick.
What do salon pros wish every client would know?
"Be realistic — hair has limits!" Cairns said. Many clients expect to achieve any result in a couple of hours at the salon, but that's one big fallacy.
Celebrities who make drastic hair changes are often in the salon for multiple sessions, Cairns explained. Something dramatic, like going from brunette to blonde, isn't an instant result so don't expect that one session of balayage will change everything. "If your colorist tells you it'll be a journey, trust that they're trying to protect you and keep your hair healthy," Cairns said.
This story was originally published in 2016.