Ah, haircuts. There's nothing better than that bouncy just-left-the-salon feeling ... and nothing worse than losing precious length in the name of "health." (Ever feel like your hair doesn't actually get any longer?)
But what if you could attend to your split ends without saying goodbye to a hard-earned inch every six to eight weeks? With an up-and-coming technique called "hair dusting," it might be possible.
According to Ally Humphrey, the owner of Noir Hair Gallery in Belmont Geelong, Victoria, Australia, the technique isn't new. Humphrey learned it from a friend and fellow hairdresser about five years ago, and she's seen it making the rounds on Facebook hairdressing groups for several years.
Clients, however, don't always know to ask for it — and since the technique can be challenging to master (and time-consuming even after that), stylists don't always offer it.
RELATED: Dry cut hair trend: Here's why stylists love it and you will, too
Humphrey has had great success with it at Noir, though. "I always offer it when someone wants a trim and wants to keep their hair healthy without sacrificing the length," she told TODAY Style. "My clients love it as they say it keeps the hair looking sleeker, and just like a trim, it helps the hair to grow."
So how does this work, exactly? "What hair dusting does is blunt off the split ends that have traveled up further than the ends of the hair, helping it to stop splitting further (and) making the hair sit flatter and shinier," Humphrey explained.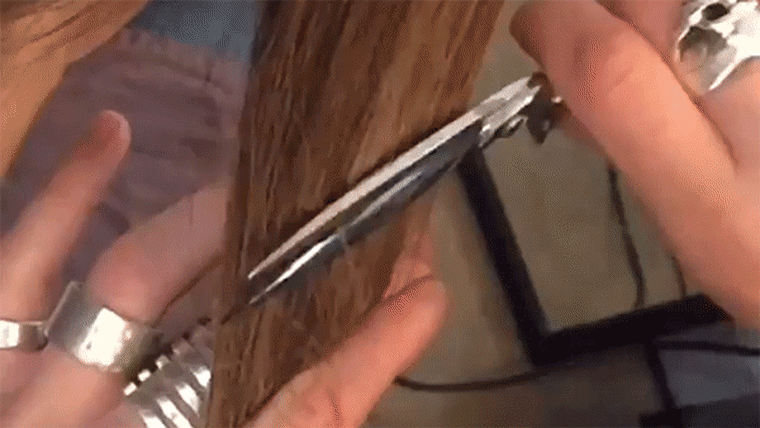 The technique requires "very sharp hairdressing scissors and experience," so Humphrey doesn't recommend trying it at home. But, um, if you really want to go rogue, here's her trick: "I use my fingers to wrap the hair around, then any split ends will stick out while I slowly run my fingers down the hair," she said. "For any professionals out their wanting to try this technique, I would suggested starting slowly ... and make sure the hair is straightened before you start."
It sounds too good to be true, but Humphrey says that when performed by an experienced stylist, there's no real downside — as long as ends of your hair are healthy enough to stay put. "It is always recommend that if your hair is damaged on the ends that you trim them and then perform the dusting technique," she said. "Hair that is split can be very hard to repair, and the split ends on the bottom lengths will just keep splitting higher."
RELATED: Talk about hair-raising! Are vertical haircuts the next salon trend?
Healthy hair without losing length? Yes, please!