Blowdrying. Curling. Straightening. It's no secret that hot tools have become an invaluable resource when it comes to taming otherwise unruly strands.
But could there be too much of a good thing? Experts weigh in on how hot is too hot when it comes to your relationship with heat styling, and offer tips to prevent you (and your hair) from getting burned.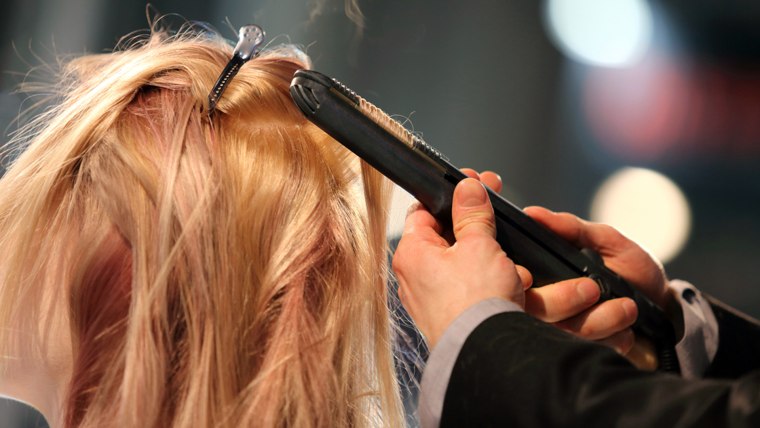 1. Take a day off.
"Hot tool addict? Giving your hair a day or two off is going to save the integrity of your hair. Have fun and try wearing a ponytail, bun, or braid the second day, or use a serum to control frizz and let your hair air dry. The wet look is on trend, but [it is] also a classic look. Try combing a medium-hold gel through your hair and creating a deep-side or strong-center part."
- Sunnie Brook Jones, celebrity hairstylist and Head & Shoulders ambassador
Bonus tip: If you're unsure about trying a new look, Jones recommends taking a day to play around with different styles. Take a few selfies and create your own hair wardrobe for future reference.
2. Hydration counts.
"Styling tools can take a toll on hair, leaving it dry, dull and prone to breakage. It is important to hydrate and protect strands before using heat tools to ensure that your hair stays strong and looks and feels soft and nourished. Put a few drops of oil on wet hair to protect from damage while taming frizz and flyaways."
- Charles Baker Strahan, celebrity hairstylist and Herbal Essence ambassador
3. Protect your hair like you protect your skin.
"Take some precautionary measures to ensure that your hair stays healthy and smooth. A heat protectant is the hair equivalent of sunscreen for the skin. A great bonus is that these products don't just prevent damage, but often boost your hair's shine and beat out frizz. "
- Cynthia Alvarez, celebrity hairstylist to Alicia Keys and Shakira
Bonus tip: Heat-protection serums work best with blow dryers, while sprays should be used with flat irons, according to Alvarez. Different products are designed for dry versus wet hair so be sure to check the label beforehand.
4. Where there's smoke ...
"Heat settings range from 175 to 400. Always consider the thickness of your hair before setting your flat iron temperature. For fine hair, lower temperature settings are best, but no hair [thickness] should use 400 degrees. While you think this gets your hair straight and smooth, you are actually damaging the hair. As professionals, rarely do we use a very high setting, and we are licensed and know how to control temperature and style hair for best quality results."
- Jamika Wilson, celebrity hairstylist to Viola Davis and Keke Palmer
Bonus tip: If it smokes, it's too hot! "You shouldn't put any heat in your hair that is smoking, sizzling or burns your fingers easily," says Wilson. Remember: If it burns your fingers, it's also burning your hair.
5. Some investments are worth it!
"There are a couple ways to get around heat damage if you're a girl addicted to having camera-ready tresses on daily basis. Opt for air dying or try a roller set instead of round brushing. If you have color-treated hair, blow dry about 80 percent, then use a flat iron that is wet-to-dry. Use ceramic tools that straighten while moisturizing the hair. And always splurge on a good hot tool — it's worth it!"
- Ursula Stephen, celebrity hairstylist to Rihanna and Iggy Azalea
Read More: How to get the most asked-about hair on TODAY in 10 minutes
6. Just keep moving.
"The trick to using a heat tool is not to leave it in one spot. Constantly keep it moving. Don't put the heat on too high. It should be just hot enough to curl/straighten your hair, but not hot enough to burn it. Curling irons aren't bad for your hair either [especially since] most people use it every two or three days."
- Edward Tricomi, co-founder and master stylist at Warren Tricomi salons