Think about the last time you shopped for shampoo or hair care items at the drugstore. Have you ever noticed that not all of the options are available in the same place?
One beauty company is questioning why so-called "ethnic" products are separated with a new campaign aimed at "desegregating" the beauty aisle.
SheaMoisture recently released a commercial that demonstrates how beauty products for women of color are often segregated in drugstores, while calling society to take action against this separation with the hashtag #BreakTheWalls.
"We've never understood why great products weren't easily accessible to everyone, and why every beauty that we saw at home, at work or in the streets was not represented in the product solutions in the aisles," Richelieu Dennis, the company's CEO, told TODAY.com.
RELATED: What's in a hairstyle? Women test reactions to straight vs. curly 'dos
The spot asks why "ethnic" sections exist in the first place by speaking directly to its main consumer base.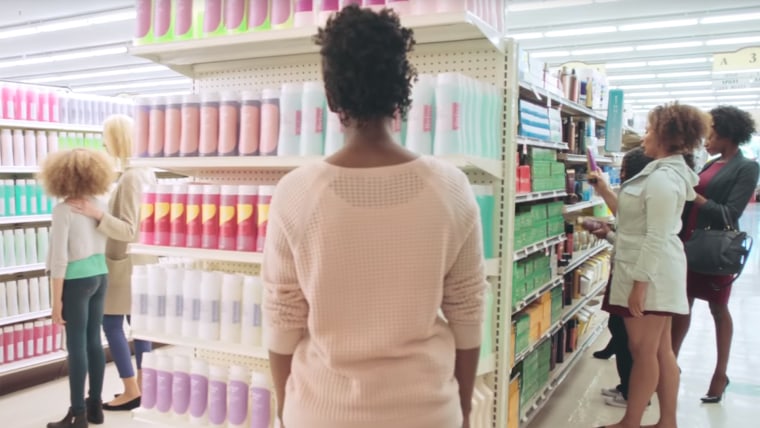 "#BreakTheWalls is their story, told through their voices. Every beauty deserves to be celebrated and to have a brand willing to help tell this story," Dennis continued.
The video portrays the internal monologues of several women as they shop at the store.
"There is a section called 'ethnic.' And there is an aisle called 'beauty.' Do I feel like I'm beautiful? Is 'ethnic' not beautiful?" one woman thinks.
"We just have been conditioned to go to the corner and find our spot where we've been placed," another says.
RELATED: Curly girls learn to love their locks with pro tips
The ad debuted during BET's annual "Black Girls Rock!" award show hosted by "Blackish" star Tracee Ellis Ross. The SheaMoisture campaign was the icing on the cake for some watchers.
While their main consumer is a woman of color, the company has a history of being inclusive in its advertising and social media. Just last year, SheaMoisture received backlash for posting a photo of a white baby, which they promptly defended.
"We came across an image of a little girl with a puzzled expression that we imagine our #SheaFamily has when they run out of product, so we shared it with you. No ad. No agenda. As a certified minority-owned business, we are so proud of our heritage, our community and how far we've come — from a village market in Sierra Leone, to the streets of Harlem, to retailers throughout the U.S. With your support, we've been able to bring change, diversity and variety to retail. We hope you continue to join us in celebrating how the versatility of our products can help people everywhere."
RELATED: Funny comic reveals what all curly girls know all too well
As mentioned in their statement, SheaMoisture is one of many brands that women of all ethnicities and backgrounds (especially those with curly hair) are encouraged to use. The commercial seems to hint at that fact with a blonde, curly-haired girl looking dismayed at the options in the average beauty aisle.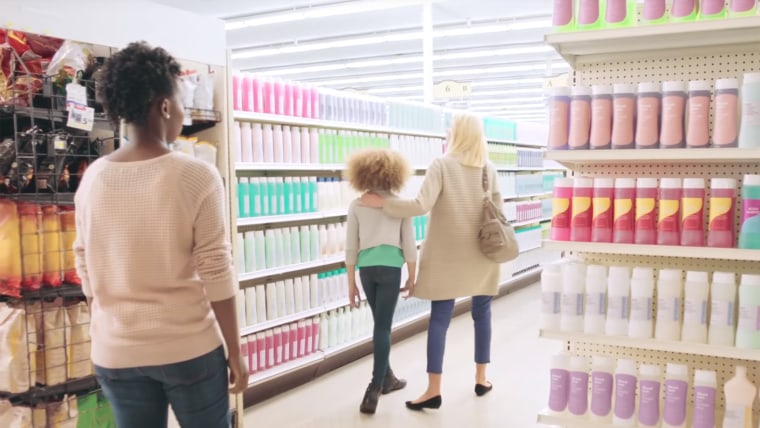 As a member of the Long Hair Community Forum, an online discussion group for hair care, "LadyKate" writes: "I have very fine, fairly thin, light blonde, wavy/curly hair, I use SheaMoisture, and I ADORE it! It makes my hair super soft, it smells amazing, and my hair is way healthier since I started using it. Can't say enough good things!"
RELATED: 5 simple steps to a more polished 'do (no flatiron required)
Another member, "Yummie," said, "I have Asian hair and use the shampoo ... It's very moisturizing ... "
SheaMoisture's recent fixture is asserting that all women — "ethnic" or otherwise — are beautiful and deserve to feel included. Their products can now be found in the beauty aisle where every woman belongs.