Last week, my son, who's 7, had a very specific request. It wasn't for a new set of Ninjago Legos, although those are a persistent demand, or other toys. It didn't involve just one more hour of screen time or a playdate. It actually — gasp — was about his hair.
"Mom, I want to dye it red," he said. "Red like my birthstone."
He's a January baby, so we're talking garnet. Bright, shocking, totally unsubtle, completely in-your-face scarlet. And because I'm not a regular mom, but rather a cool mom, I obliged, bought metallic ruby dye and on Friday night, streaked the front of his dark blonde hair.
"Mom, that looks so cool. It matches my shirt," said my little fashionista. "It looks just like that kid at the bus stop."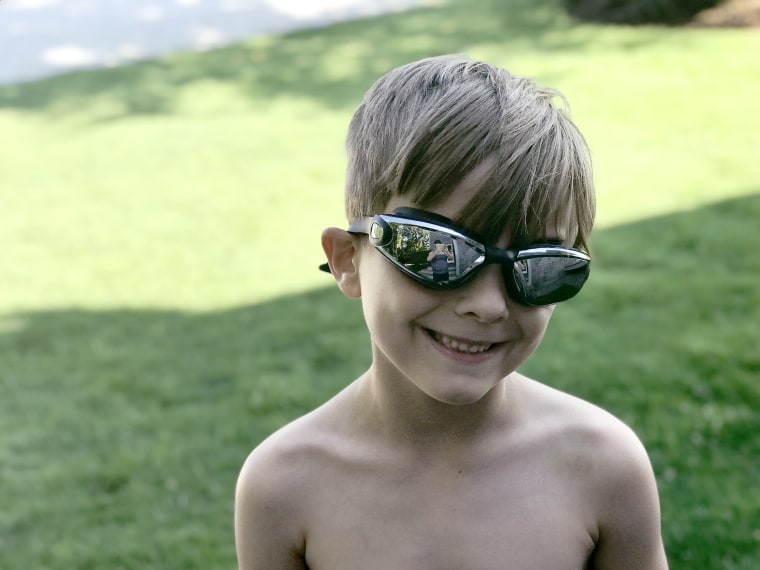 To be clear, I used a permanent hair dye.
Got2b Metallic Permanent Hair Color, M68 Dark Ruby, $10, Walmart
But, I also only highlighted hair that didn't come into direct contact with Alex's scalp (meaning, nothing at the hair root), and made sure none of the mix ever touched his skin. I did each strand by hand, using a paintbrush, and pulled the hair into a little ponytail for 20 minutes to let the color settle. Then, we did a hand-rinse, with a towel protecting his face and neck the entire time.
That means that I did things right — phew!
"The same rules apply for kids' hair as for adults. Don't apply dye to the root of the hair to ensure it does not touch the scalp. Sit in a well-ventilated room. Don't overly process the hair, because it can lead to breakage. And apply an ointment to the skin around the hairline to make sure the dye does not touch the skin in those areas," said Dr. Joshua Zeichner, a New York-based dermatologist and the director of cosmetic and clinical research at Mount Sinai Hospital.
Yes, Alex was inspired by a boy who goes to his summer camp, and who opted for blue highlights. His friend wants platinum tips. They're following the lead of Gwen Stefani's son Kingston, who had a turquoise mohawk, and Pink's daughter Willow, with her rosy hue.
For young kids of elementary-school age, Stephanie Brown, a New York-based hair colorist who works on Kate McKinnon, recommends using semi-permanent shades simply because "they don't last very long and kids change their minds, as we know."
(Word of caution: check with your school district before taking the color plunge. Some do not allow non-natural hues. Remember to do a patch test, and please consult your pediatrician or dermatologist before taking the permanent or semi-permanent route).
Hair chalk and extensions
"Chalk is safe but it gets all over the place, so it's better for older kids. You could do clip-in extensions, which are nice. Or use a colored hairspray," said Brown.
ALEX Spa Hair Chalk Salon, $10, Amazon
You literally use your hair as a canvas, and then wash it right out.
Hair Chalk Comb Temporary Hair Dye Hair Color Brush for Kids, $10, Amazon
Brush these through your kiddo's hair, and you've got an instant makeover.
Hawkko Straight Colored Clip in Hair Extensions, $12, Amazon
These are a great, fun option for the color-fickle.
Bwild Color Spray, Bengal Blue, $8, Amazon
Another great choice that washes out.
Temporary/semi-permanent color
A lot of hair color is advertised is vegan, so what gives?
"The only reason someone would need vegan dye is if they have an objection to using animal based products. Vegan and non-vegan dye will work the same way. Manic Panic is one of the most popular dyes and their products are vegan," said Kelly Noonan, a colorist at Frederic Fekkai salon in New York.
As for popular trendy shades: "Kids tend to gravitate to bold colors. Bright pinks, blues and purples are always popular," said Noonan.
Manic Panic Moon Semi-Permanent Color Cream, Blue, $11, Amazon
This is a brand that Brown likes and recommends.
Lime Crime Unicorn Hair Bubblegum Rose, $16, Amazon
This is vegan and washes out gradually.
Good Dye Young Semi-Permanent Vegan & Cruelty Free Cream Hair Dye, $12, Amazon
Some reviewers have said that this one washes out fairly fast.
Permanent
"I've highlighted my own nieces and nephews as young as nine years old. The only risk is to double-check that it doesn't violate any school dress codes! Many schools have rules about hair color," said Noonan.
Got2b Metallic Permanent Hair Color, M68 Dark Ruby, $10, Walmart
This is the exact product I used on my son. It worked wonderfully for us, and I followed all the precautions listed above.