We love the traditionalist notion of all eyes being on the bride at her wedding — but the groom should also be the best-dressed guy in the room. According to a new book titled "GROOMS: A Professional Stylist's Guide to Wedding Day Apparel for Every Budget," there are plenty of ways for men to step up their style game on the big day; it's simply a matter of paying attention to the details and finding a look that fits (both literally and figuratively).
We spoke to (married!) authors Courtney and Donnell Baldwin to find out their dos and don'ts for every type of groom.
Don't: Wear old shoes
Instead: Master the details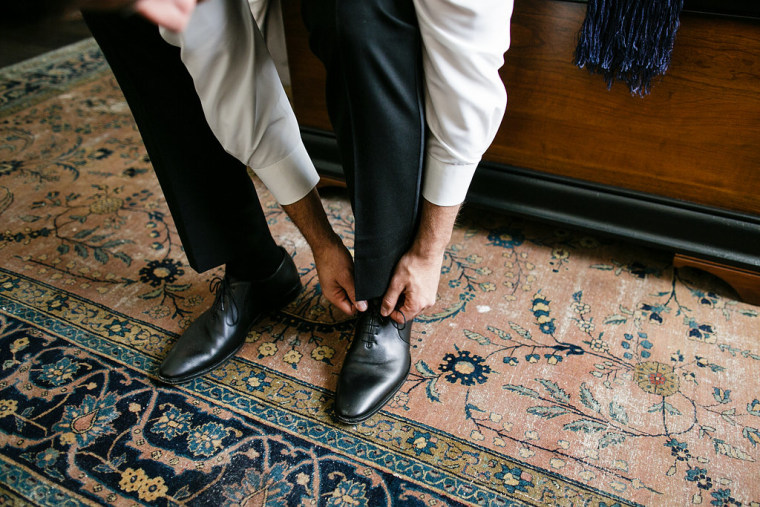 The little things really do matter at your wedding. So forgo the dusty old dress shoes you wear to work and instead choose a carefully selected pair of soles. Donnell says that some very specific, yet often unspoken style rules — like which buttons to button, where the boutonniere belongs and how to tie a bow tie — can really make a big difference. He advises consulting a head-to-toe checklist, like the one available in "GROOMS." "Things like making sure your hair is in place, there's a dimple in your necktie, the boutonniere is on the left lapel, your trouser zipper is up and that your shoes are shined are just some of the tips and check points to consider."
Bonus tip: If you like the look of a bow tie and want to try wearing one, learn how to tie it in advance. There are plenty of instructional tips out there, including this easy-to-follow guide from TODAY Style.
Don't: Be matchy-matchy
Intead: Coordinate with your fiancee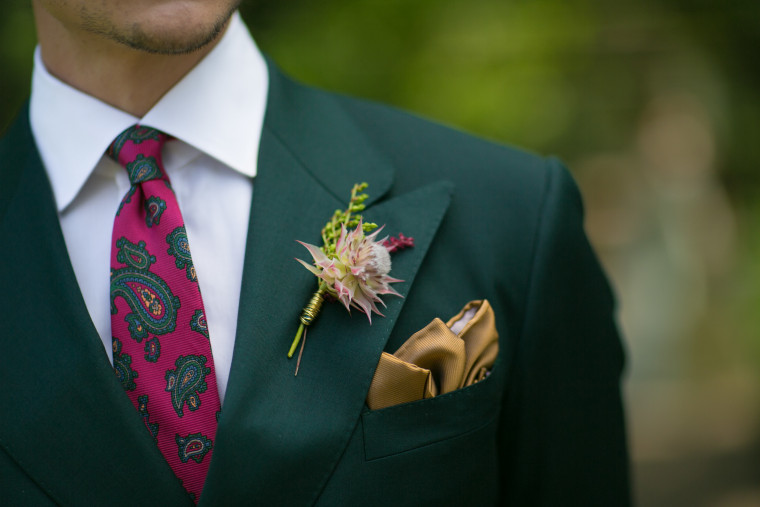 While many guys feel inclined to wear rental vests that perfectly match the bridesmaids' gowns and wedding décor, it's cooler to get creative. Courtney suggests incorporating your wedding theme and colors in the boutonniere, a floral lapel pin or a patterned pocket square rather than selecting pieces that are an exact match. For a budget-friendly fix, try scouring discount retailers like Marshalls and TJ Maxx, where designer accessories are often on sale. But be sure to discuss with the bride to ensure the look is both complementary to her attire and to your wedding venue. "If her gown is elegant with Swarovski crystal beading and a six-foot train, it would be inappropriate for you to wear anything less than formal wear," said Donnell.
Bonus tip: For winter weddings, if the bride is wrapped in a shawl during photos, the groom can wear an overcoat to help capture the spirit of the season.
Don't: Make drastic changes
Instead: Hire a tailor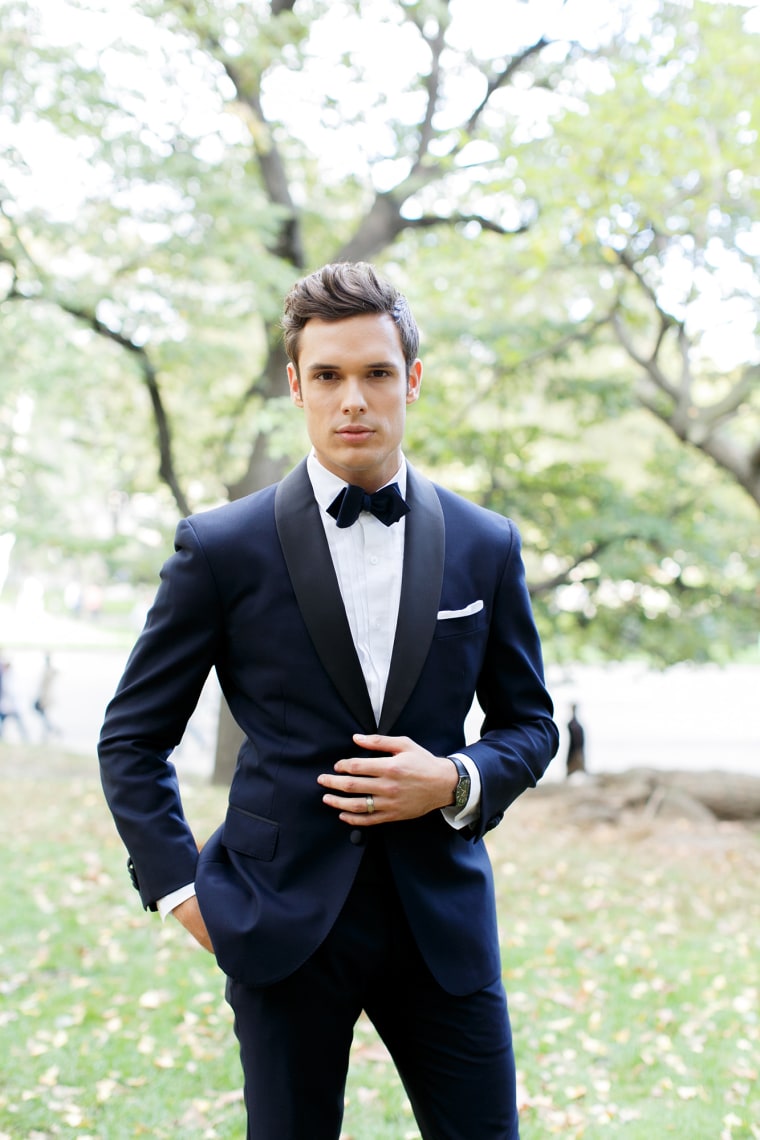 While it's good to enhance your look by cleaning up a bit here and there, Donnell warns against going overboard. In other words, this isn't the time to get a new haircut you've never tried before or shave off the beard you've had for the last 10 years. "Remember, your mate is in love with you! There's no need to reinvent the wheel," he explained. As part of putting your best foot forward, however, it's imperative that you enlist the services of a good tailor. Most brides have at least three fittings to ensure the gown fits impeccably. Men should look just as well tailored look — especially if they're not going the custom route.
Bonus tip: Consider having belt loops removed by your tailor. If the look is properly fitted to your measurements, you won't need a belt at all.
Don't: Assume there aren't options
Do: Identify your style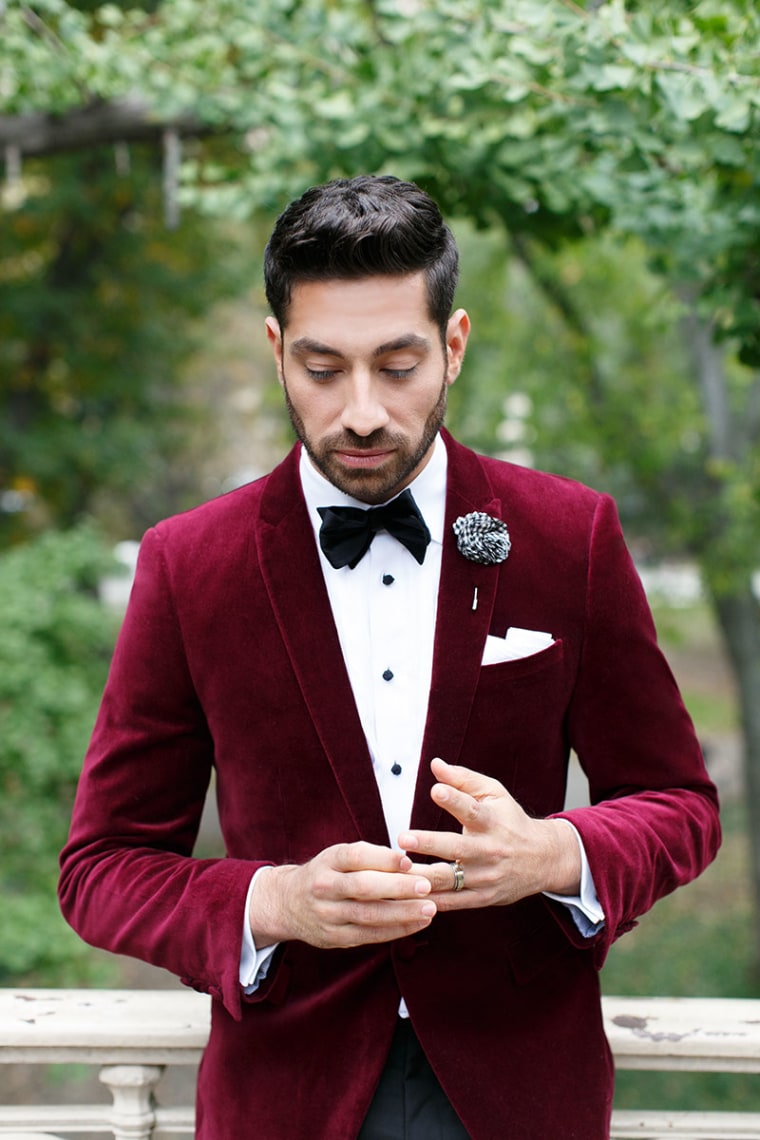 The Baldwins originally wrote "GROOMS" to dispel the myth that there aren't a lot of options for the man of the moment. They insist that it is possible to achieve a stylish and distinctive look on your wedding day — and it should start with understanding what style best fits you best. A number of different elements, from physique and personality, to season and venue of the event can help shape your appearance. "Once you know what you want to achieve, there are plenty of ways to master your look. Guys just need to take the extra step by paying attention to detail and considering fabrics, colors and styles," Courtney said.
Bonus tip: If the bride is planning an outfit change, consider having the groom do one of his own! Even just swapping a jacket can transform the look and display his sartorial savviness.