Talk about great friends!
Greta Gerwig's gal pals weren't afraid to get all matchy-matchy to support her best director nomination for "Lady Bird." Five of the Oscar nominee's buddies wore matching outfits to Vanity Fair's Oscar party, and they're giving us a major case of outfit envy.
Gerwig opted for a stunning black-and-white gown from Christian Dior Couture for the after-party, while her besties each rocked a different piece from Brooklyn brand Dusen Dusen's spring collection. It's safe to say the "blinds" print they selected looked gorgeous on each of them!
The brand's designer, Ellen Van Dusen, told TODAY Style the group of college pals wanted to find something special and bold for the whole group to wear to the event. "I was thrilled when she told me she wanted them to all wear matching outfits," Dusen said.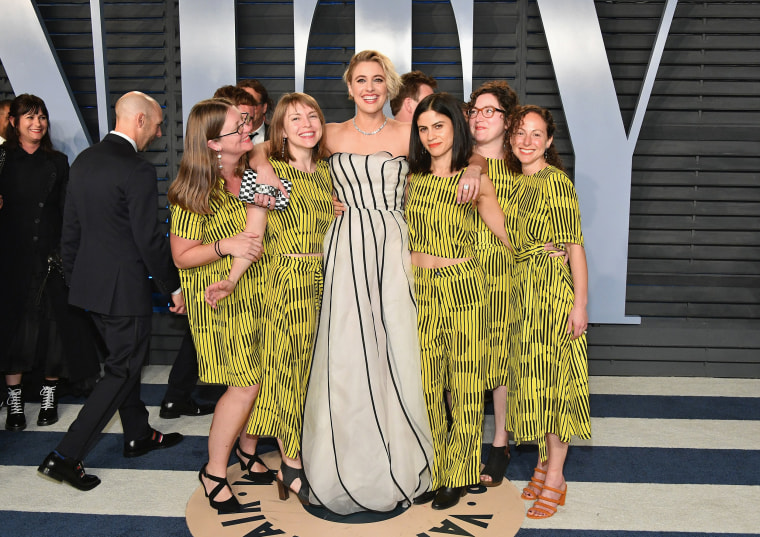 From the oversize tee dress to the mask tee, the unique looks helped each woman maintain her individual sense of style while still presenting a united front.
Most of us shudder at the thought of wearing the same dress as another woman at a formal event, but these supportive ladies turned something taboo into a totally trendy statement. "Showing up somewhere in the same outfit as someone else can be less than ideal, but showing up in the same outfit on purpose with all your best friends is a power move," Dusen said.
Dusen said she loved the opportunity to bring this lovely group of ladies together to support their friend: "There's nothing better in this world than good friends! This is an inspiring group of ladies."