/ Source: TODAY contributor
Blondes may have more fun, but lately gray hair has been getting all the attention in fashion circles, from runways in Paris to red carpets in Los Angeles. And while silver foxes such as Anderson Cooper have long been en vogue, this new, young new breed of silver vixens is proving that going gray is anything but granny.

The silver-haired trend can be traced all the way back to 2006, when a then 24-year-old Kirsten Dunst wore a series of towering powdered gray wigs in Sofia Coppola's "Marie Antoinette."

"I feel like that whole feeling of beautiful fanciness and very decorative Marie Antoinette hair, that sort of went into everyone's consciousness," Jean Godfrey June, beauty director of Lucky magazine, told TODAY.com.

But if "Marie Antoinette"re-introduced women to the idea of powdery gray strands, it was fashion icon and socialite Daphne Guinness who took the concept from the silver screen to silver reality. Guinness debuted her silver-streaked hair at Paris Fashion Week in fall of 2009, looking every bit like Cruella de Vil, albeit a younger, sexier, version.

"Daphne Guinness, her gray was so shocking, and she's so shocking and so cool, it made other people think about doing it. Every celebrity on earth has tried pink streaks or blue, so maybe silver is next."
Sometimes all that glitters can be silver as well as gold, as these celebrities prove by showing off their gray pride.
Guinness has by now abandoned her silver-streaked black hair for silver hair with black streaks, and in her wake, dozens of starlets and trend-setters have followed her example and dyed their blond, brunette, and black hair a resplendent sterling. It-girls such as Kate Moss, Pixie Geldof, Pink, Lady Gaga, and even a then 13-year-old Tavi Gevinson have all dared to go gray long before their hair follicles turned that way naturally.
Fashion designers like Gareth Pugh, Karl Lagerfeld, and Jean Paul Gaultier have all sent models down the runway sporting pale-gray tresses. Most recently, 27 year-old Kelly Osbourne debuted lavender-gray locks at the People's Choice Awards in January (a look she'd already played with in 2010).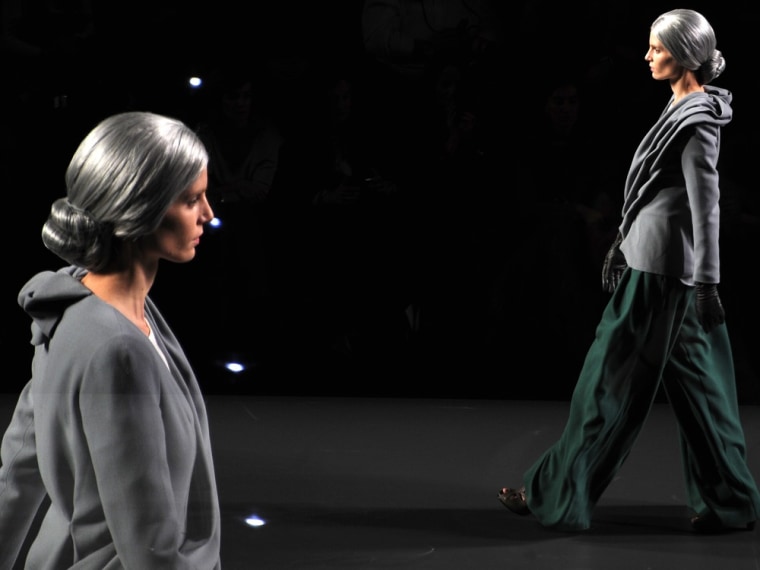 "It's something I've wanted to do my whole life," Osbourne revealed on "The Talk" earlier this month. "I've always wanted to be young and have gray hair."
"There's an aspect to it that's sort of like the beauty equivalent of a Marni sack dress. I'm so gorgeous, I have such beautiful skin, and am young, and you're going to still want me even though I have gray hair," says June.

For women who want to try the look themselves, June has one suggestion.

"Beautiful skin is the key. Then, you can dye your hair whatever you like, including the most taboo."