Here come the brides: First Phyllis Jo Raymond, then Susan Kay Traver, and finally, Julia Cain.
The three generations of women all wore the same lace wedding dress, handed down from mother to daughter, and from mother to daughter again. But believe it or not, there's an even wilder element: The same man, Harold Traver, now 88, walked all three down the aisle.
Or at least, he walked two of them down it, and stood waiting at the altar for the first woman.
Phyllis Jo Raymond purchased the lace gown in Denver in anticipation of her nuptials on May 9, 1953. Then, Susan Kay Traver wore it on April 23, 1983, nixing the original hoop skirt and adding an extra panel of lace. Finally, on March 12, 2016, it was Cain's turn.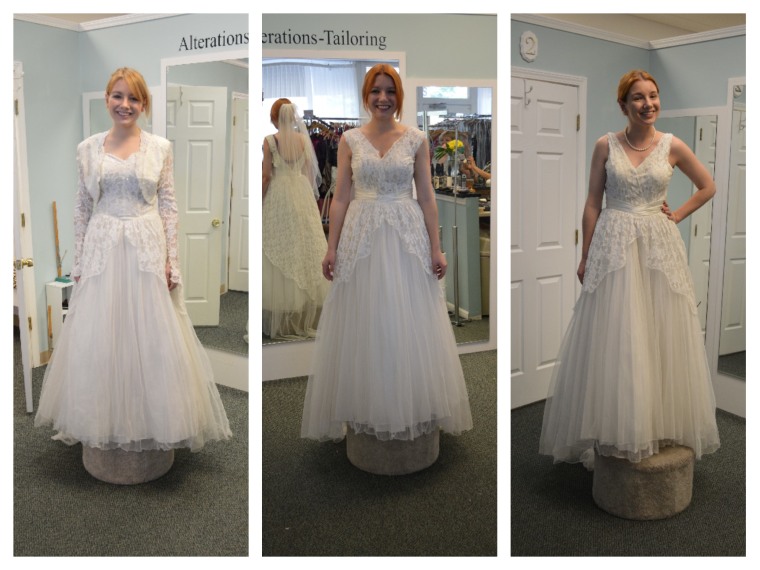 But, of course, her relationship with the history-filled dress began years earlier.
"I was introduced to this dress when I was a teenager," the St. Louis resident and blogger behind OhJuliaAnn.com told TODAY.com in a phone interview. "I was helping my mother clean out my grandma's belongings after she'd passed away, and we stumbled across this dress in my grandfather's attic. It was wrinkled and yellowed and torn, and my mom picked it up and threw it over to me, laughing. She said, 'Try this on!' as we laughed at the super dated dress."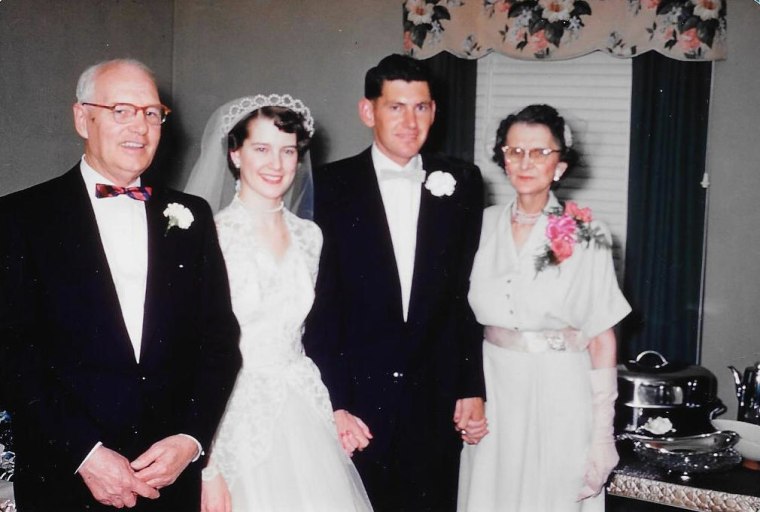 RELATED: See Martha Stewart's wedding trends, from mermaid gowns to mismatched bridesmaids
That's when fate stepped in to throw them a curveball.
"My grandpa walks by, and he says, 'Oh, Suze, I see you've found your wedding dress!' We stopped, and we sort of looked down ... and that's when my mom realized it was her dress," laughed Cain. "She honestly didn't recognize it. It was deflated and sad and wrinkled and a total mess."
How the dress got up in the attic is still a mystery to the family. "It doesn't sound like my grandma, so we're thinking it got put up there by mistake."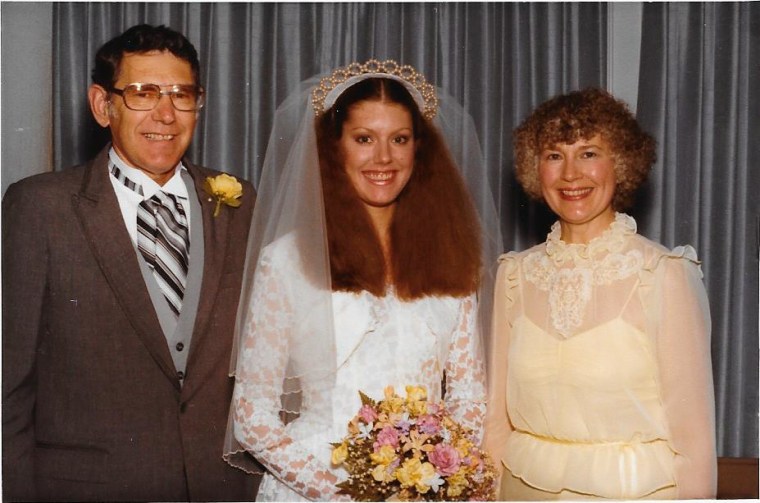 RELATED: Wedding gown worn by two generations found after tornado
The fact of the matter, though, was that the dress hadn't been preserved at all and was nearly ruined. "We'd made fun of it, left and right, and then my mom just sat there looking sheepish. It was the dress!"
Next came a discussion about what to do with the unsightly frock. "We talked a little, and my mom mentioned I could take the lace and turn it into something like a scrapbook or a ring-bearer pillow," Cain explained. "She had mentioned, too, that if I ever wanted to actually wear the dress, I could do that and redo it a little, but that I didn't have to."
But Cain loved the idea. "It just seemed like a perfect combination of traditional and unique," she said. "I thought, 'Wow, I could wear something that would be so important to two of the most important women in my life."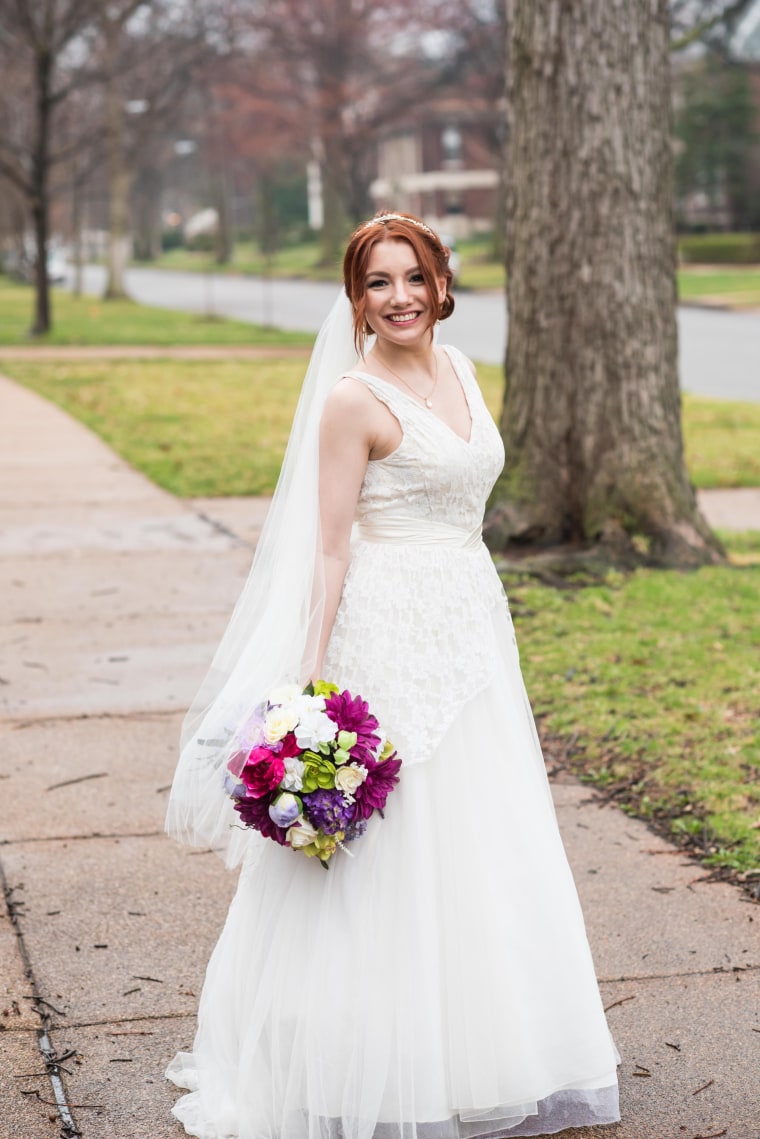 RELATED: Radiant bride will be 11th in her family to wear 120-year-old heirloom wedding dress
The icing on this three-tiered cake? It'd be a whole lot cheaper than buying a brand new dress.
In January 2015, Cain got engaged. Her mother came to visit and brought the dress with her. "And it was just awful and terrible," said Cain. Things looked hopeless until they played around with the sleeves (and the room's lighting, of course, to make it a little more flattering).
Eight months later, after five trips to a dressmaker, and one heavy-duty cleaning session...
"It didn't turn bright white, and it wasn't quite brand-new," conceded Cain. "But it did come back to ivory. And it sort of poofed back up again. We sewed in a crinoline skirt to give It a little more volume, too."
As for the man on her arm when she walked down the aisle?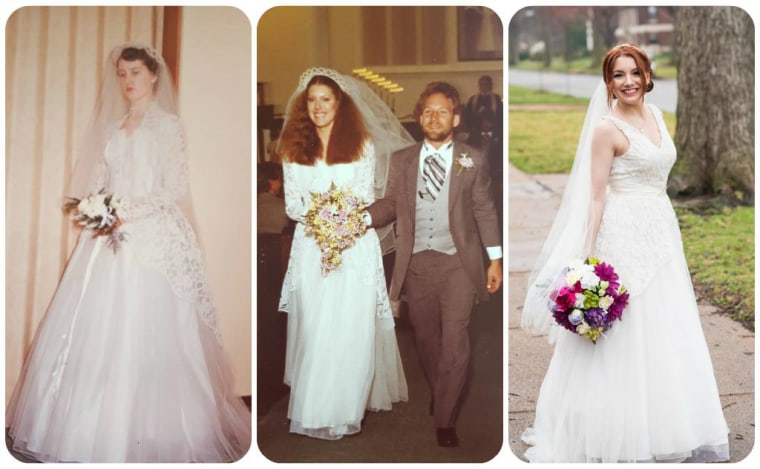 RELATED: Jewelry designer Gabe Bratton turns old wedding gowns into one-of-a-kind creations
"My dad, Ernie, passed away in the 1990s, so I've known for a long time that my grandfather would be there with me on my big day," said Cain. "I'm also the oldest grandchild and the first to get married, so he was just over the moon."
But for Cain, the real excitement of the whole dress saga has to do with the reason she got to wear it in the first place.
"I got to marry the man of my dreams in it," she gushed. "That's what matters more than anything."