It's music's big night, which can only mean one thing: the 2018 Grammy Awards! And what's an awards show without a red carpet? Stay with us as we admire the most-talked-about looks.
Lady Gaga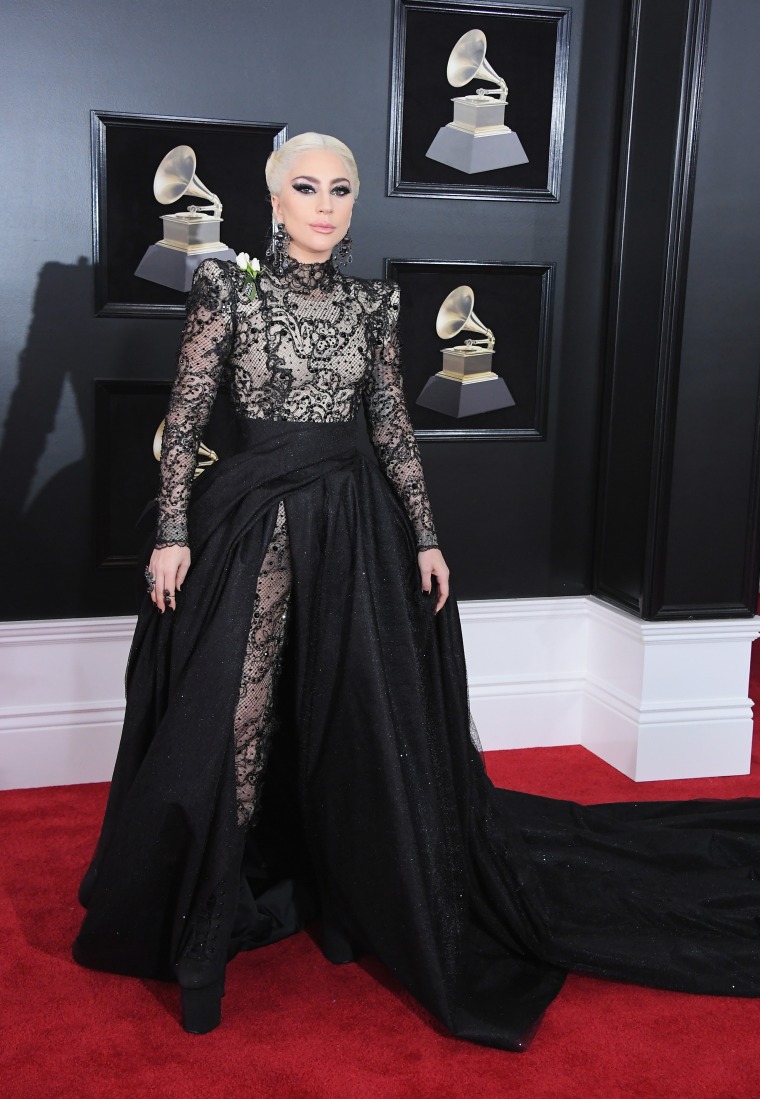 It wouldn't be a Lady Gaga look without monster-sized shoes. This combination of lace-covered pants and ballgown skirt is as elegant as can be.
Pink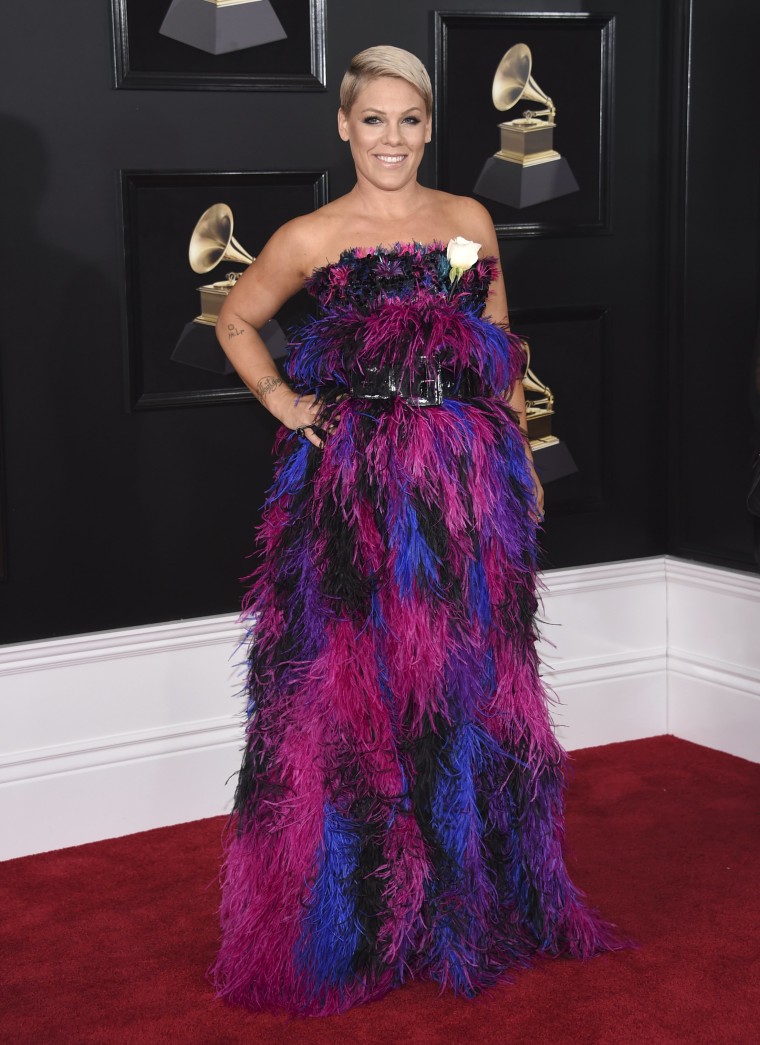 Pink is ready to get the party started in this multicolored feathered frock. She's never looked better!
Kelly Clarkson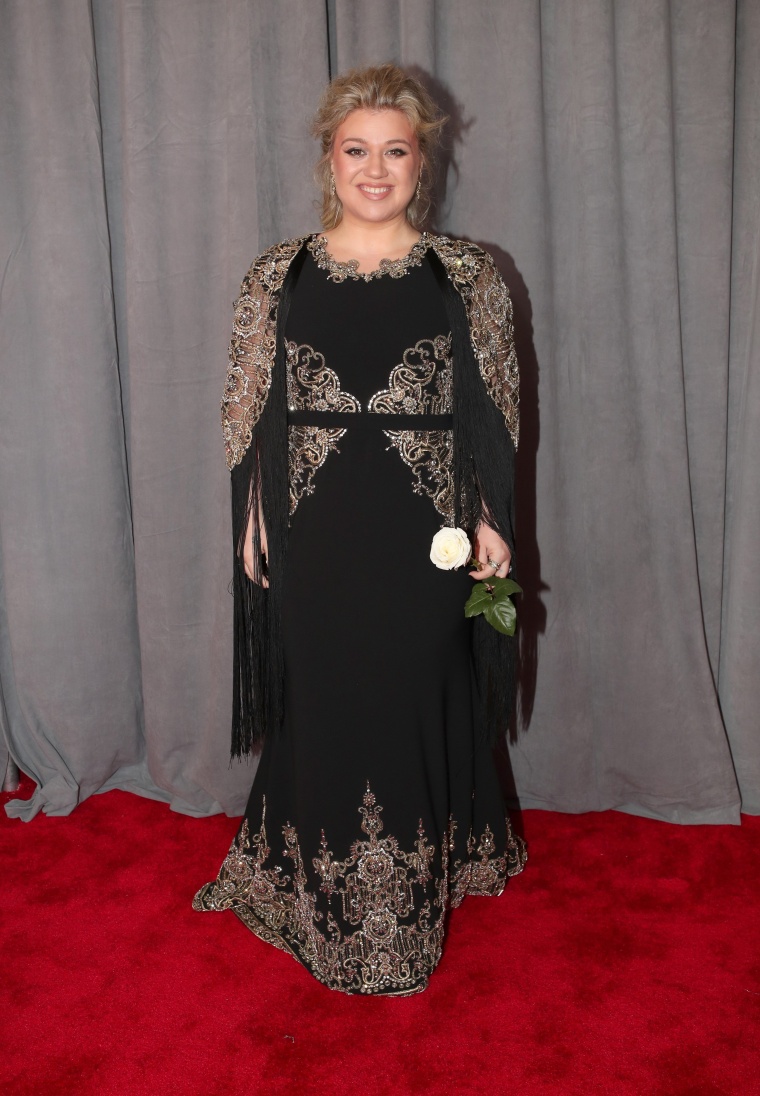 Kelly Clarkson arrived to the Grammy Awards looking like a queen with a gold-covered cape and fun fringe.
Camila Cabello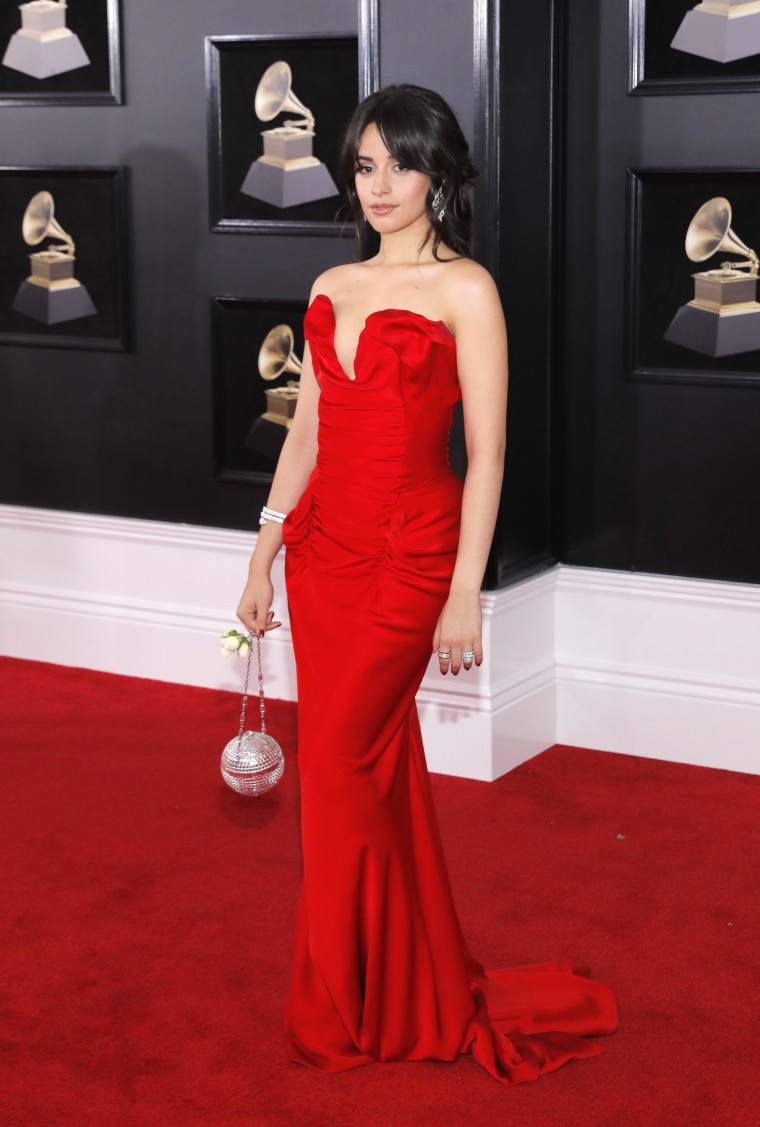 Is that Camila Cabello or Penelope Cruz?! The singer and songwriter looked impossibly glamorous in this red gown. The disco ball-style purse added an extra-special touch.
Hailee Steinfeld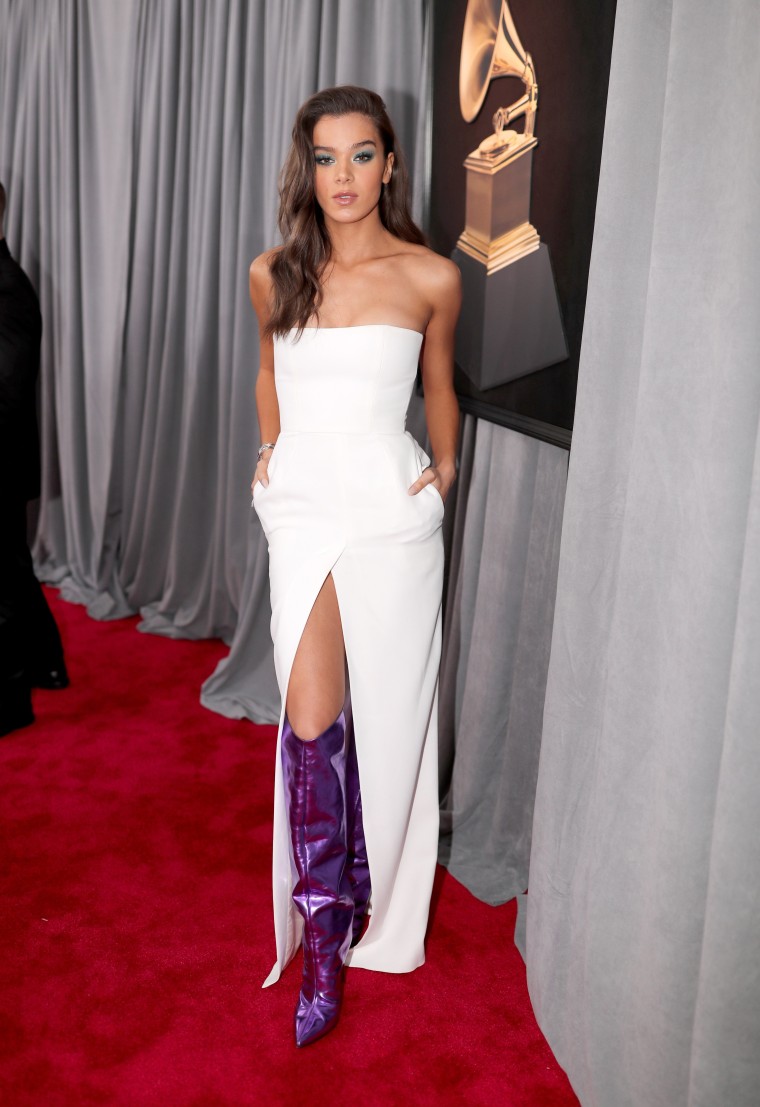 She's a singer, an actress and a bombshell! Hailee Steinfeld went fashion-forward in this white column gown with purple knee-high boots.
Anna Kendrick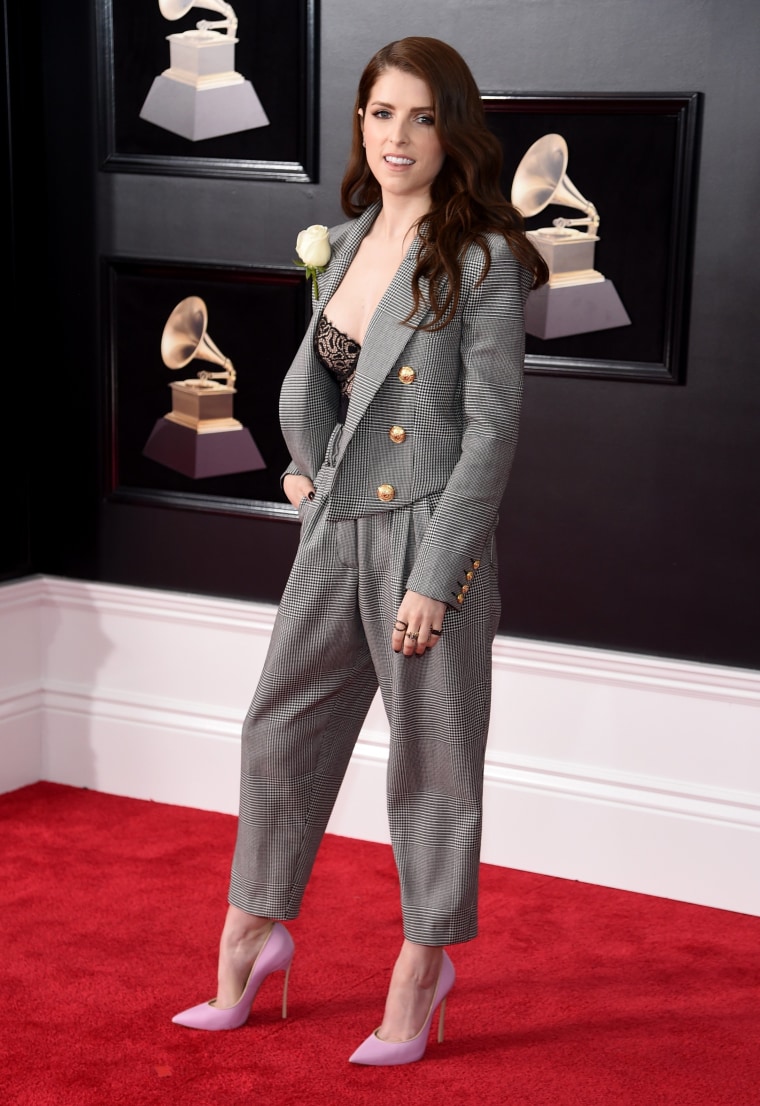 No shirt, no problem! Anna Kendrick nailed this sexy menswear-inspired look with oversized gold buttons and blush pink heels.
Chrissy Teigen and John Legend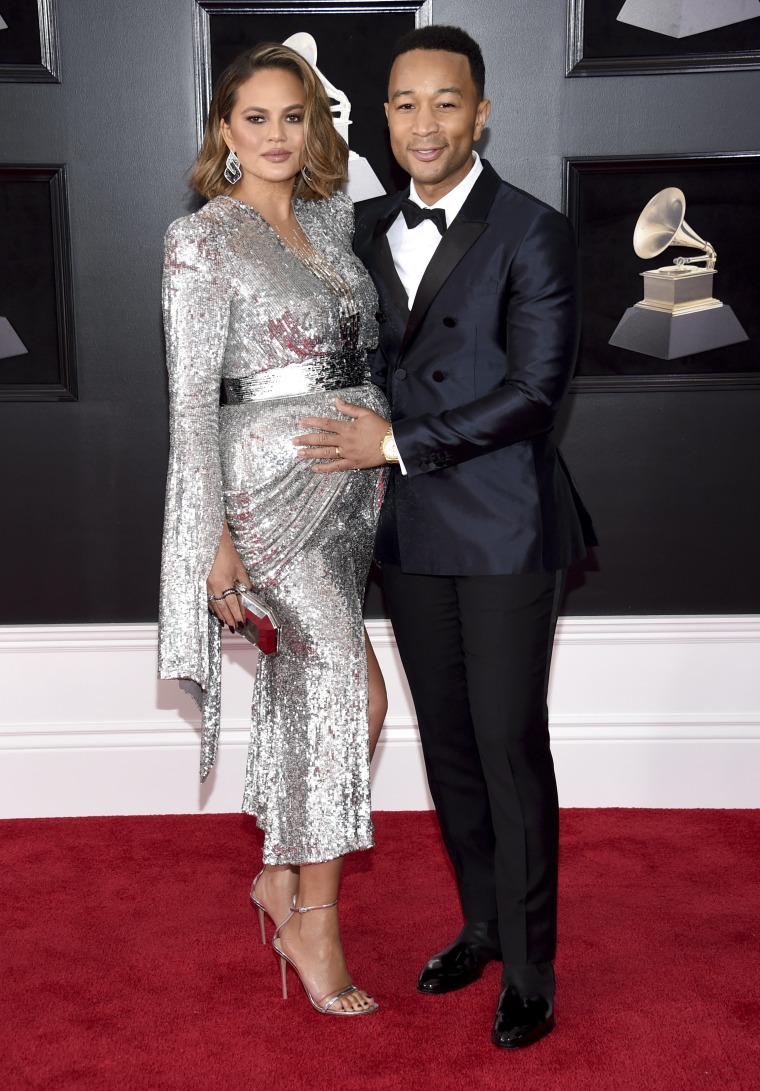 Hot mama! Chrissy Teigen draped her baby bump in shiny silver with oversized sleeves and an empire-waist belt. Not to be outdone, John Legend was looking particularly sleek in this double-breasted navy blazer.
Little Big Town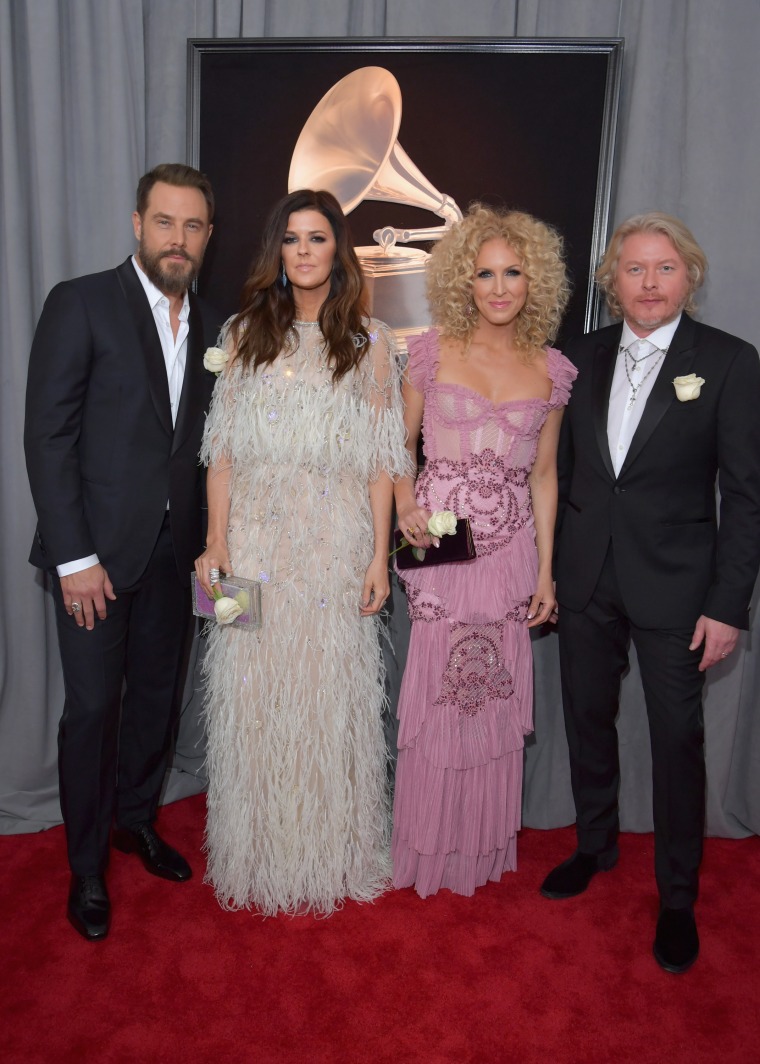 The country music group was out in full force with all four members — Jimi Westbrook, Karen Fairchild, Kimberly Schlapman and Phillip Sweet — posing on the red carpet. With pretty pastels, feathers and sparkles, they certainly came to celebrate.
Miley Cyrus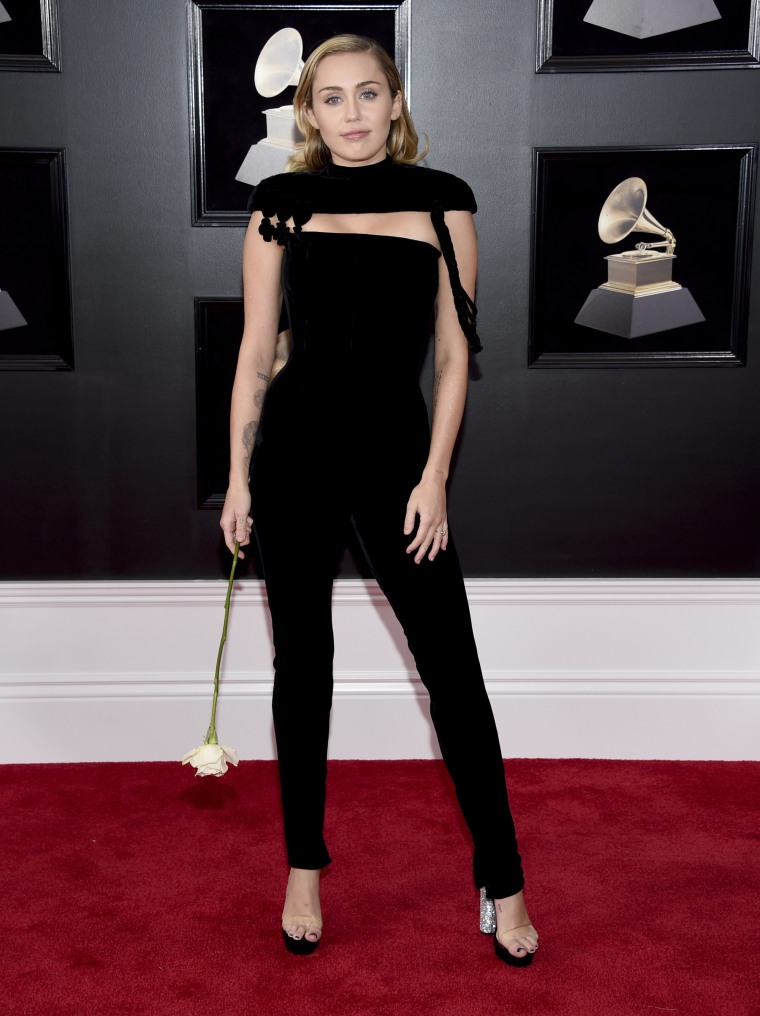 The pop star rocked a black velvet jumpsuit with retro waves and killer platform heels with a glittery touch.
Cardi B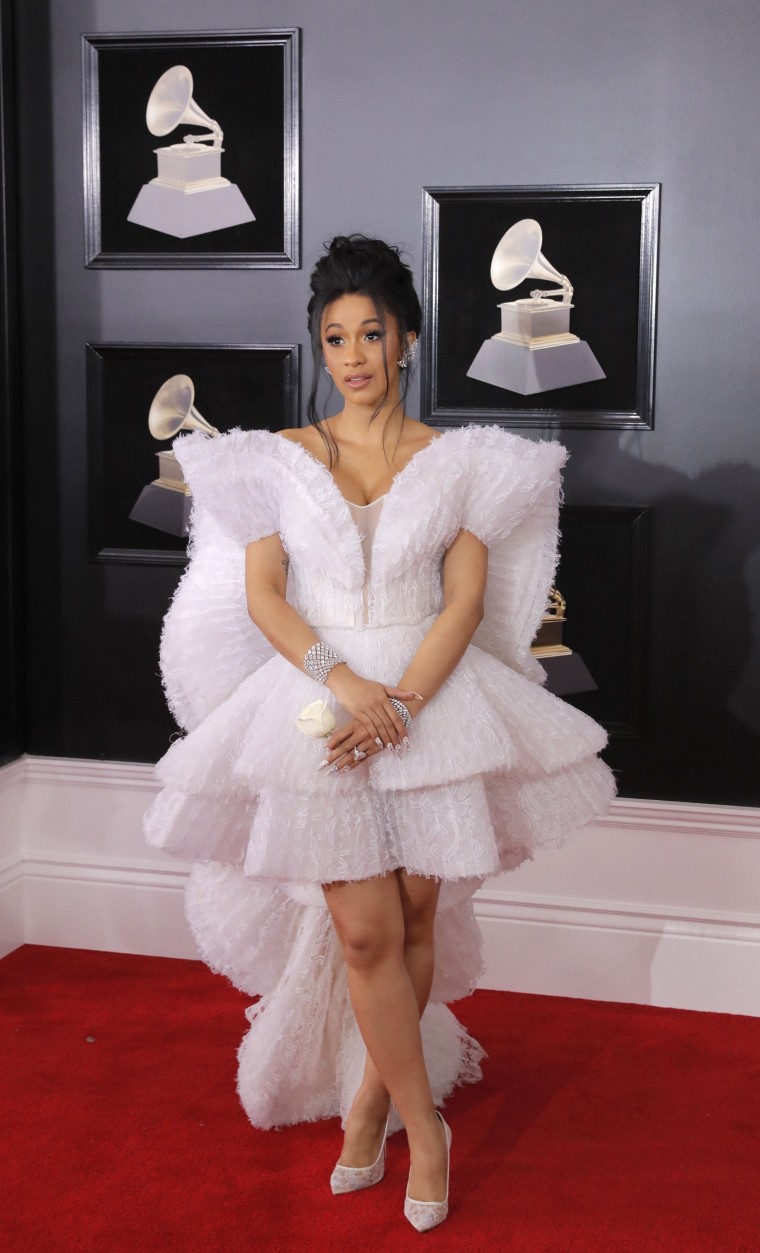 Breakout star and "Bodak Yellow" rapper Cardi B looked like a princess on the red carpet in this billowing white dress that's perfectly paired with a soft updo.
DJ Khaled and Asahd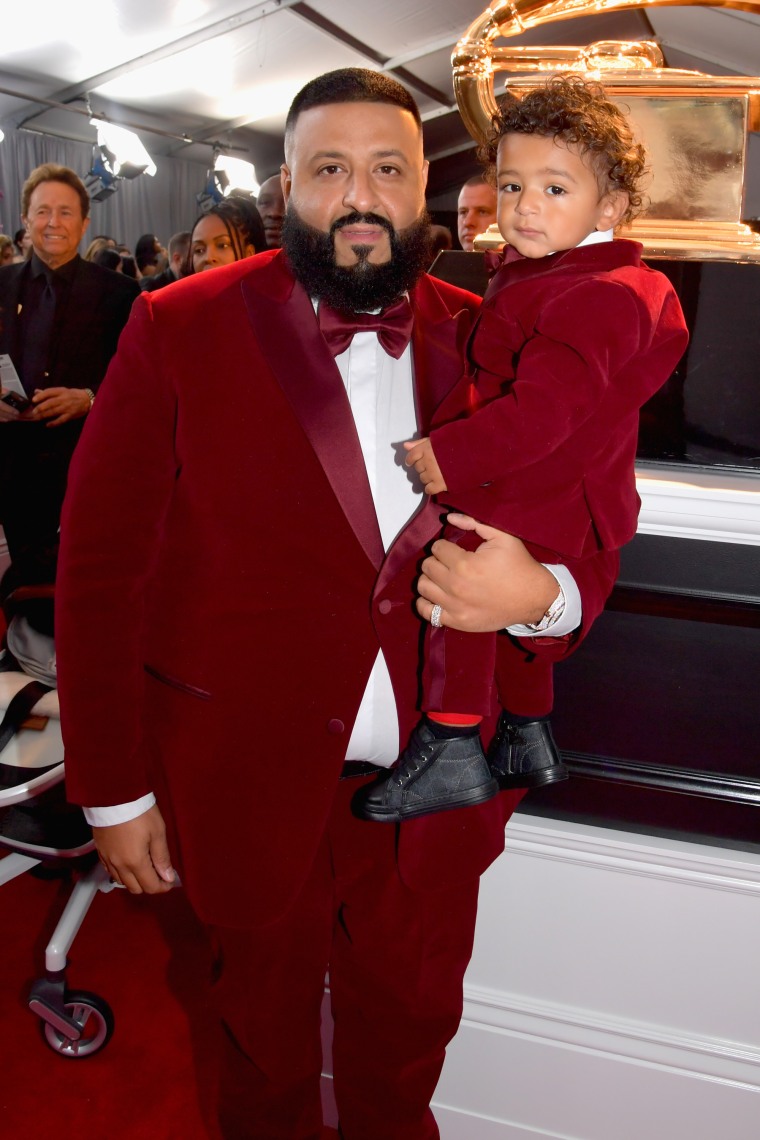 Is this the coolest kid on the planet? It wouldn't be a music event without DJ Khaled and his adorable mini-me Asahd.
Katie Holmes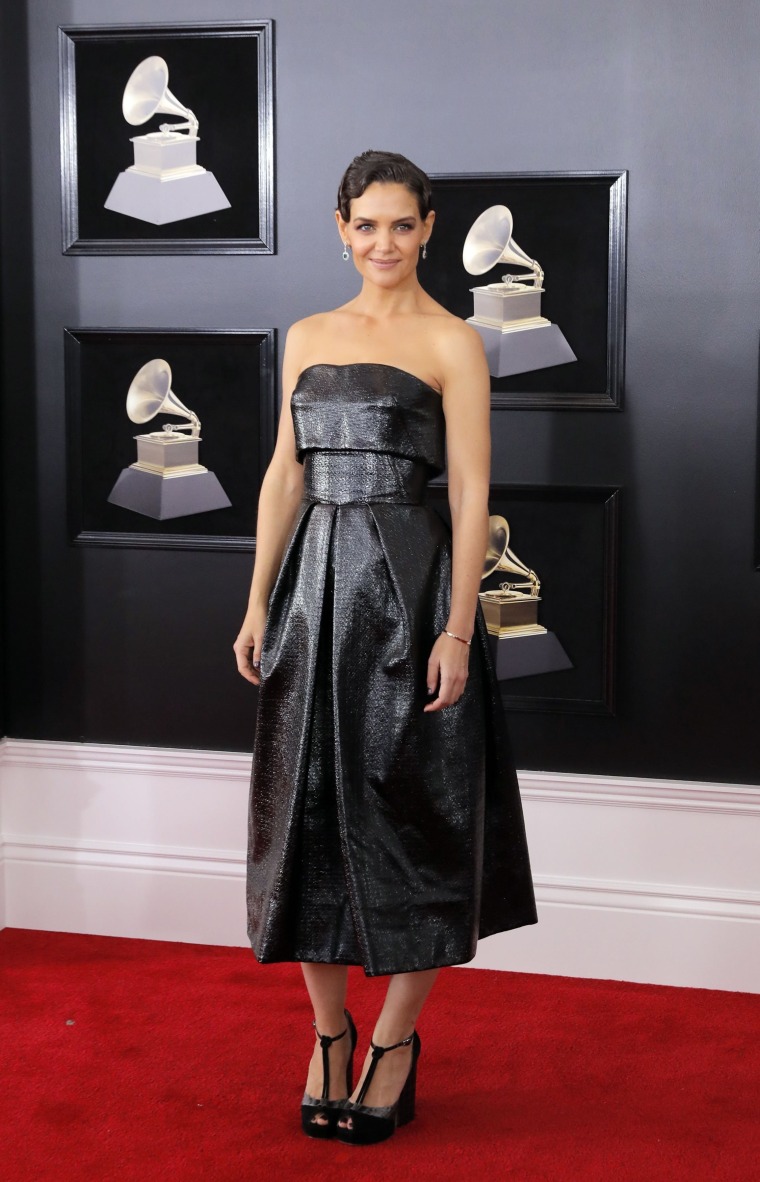 The always-elegant Katie Holmes made a red carpet appearance in this charcoal gray dress with platform Mary Jane shoes. Her retro hairstyle and smokey eye shadow added the perfect touch.
Joy Villa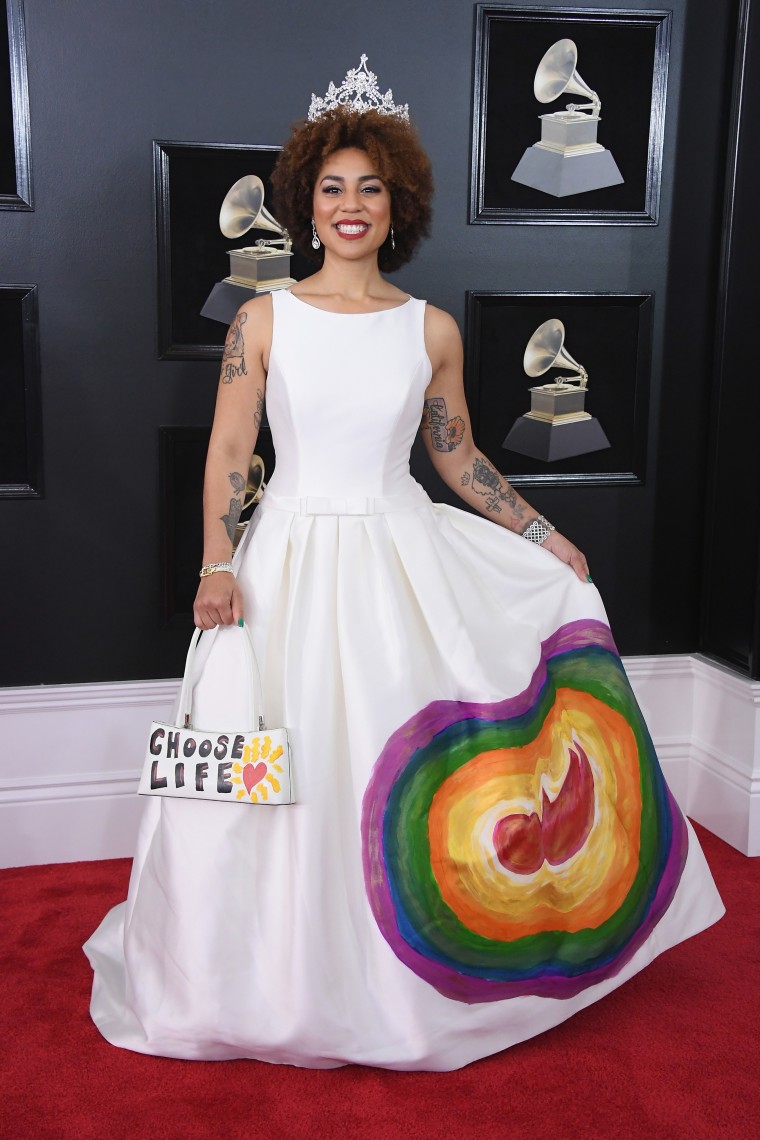 Joy Villa is never afraid to make a statement on the red carpet — having worn a Trump campaign poster as a dress — and her latest look is just as outspoken.
Janelle Monae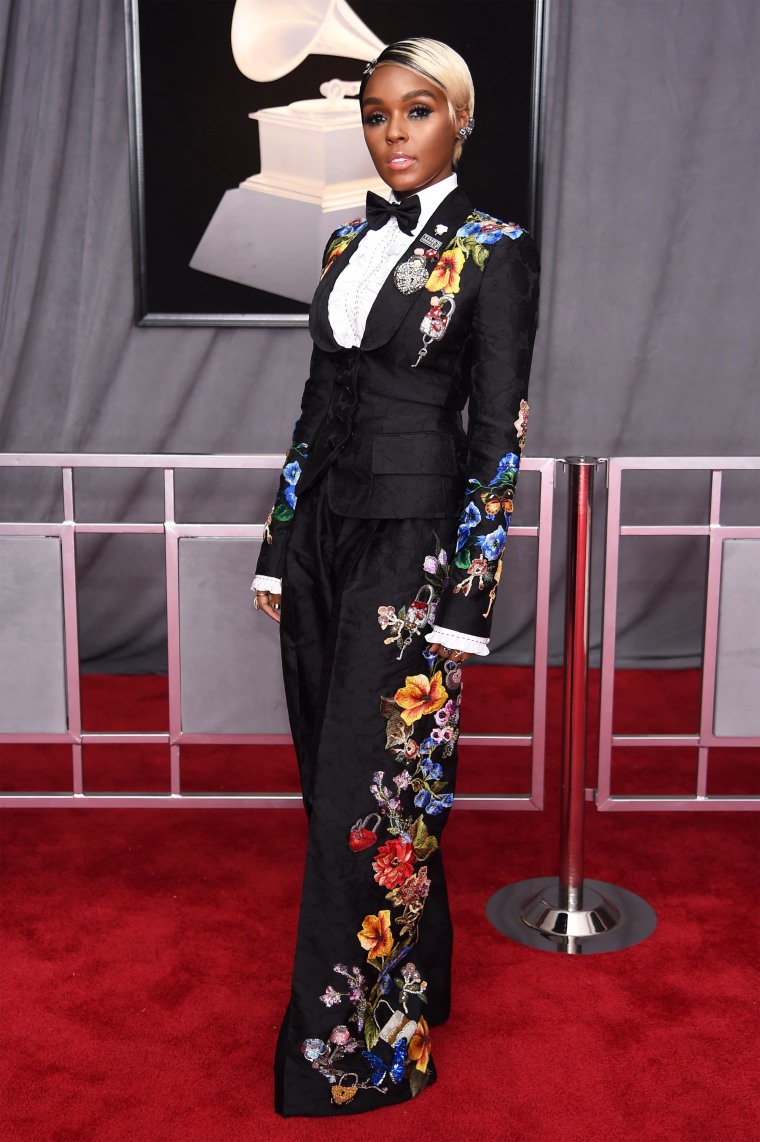 The singer and actress looked fierce in this menswear-inspired look that had a lot of flair thanks to bright floral embroidery.
Sam Smith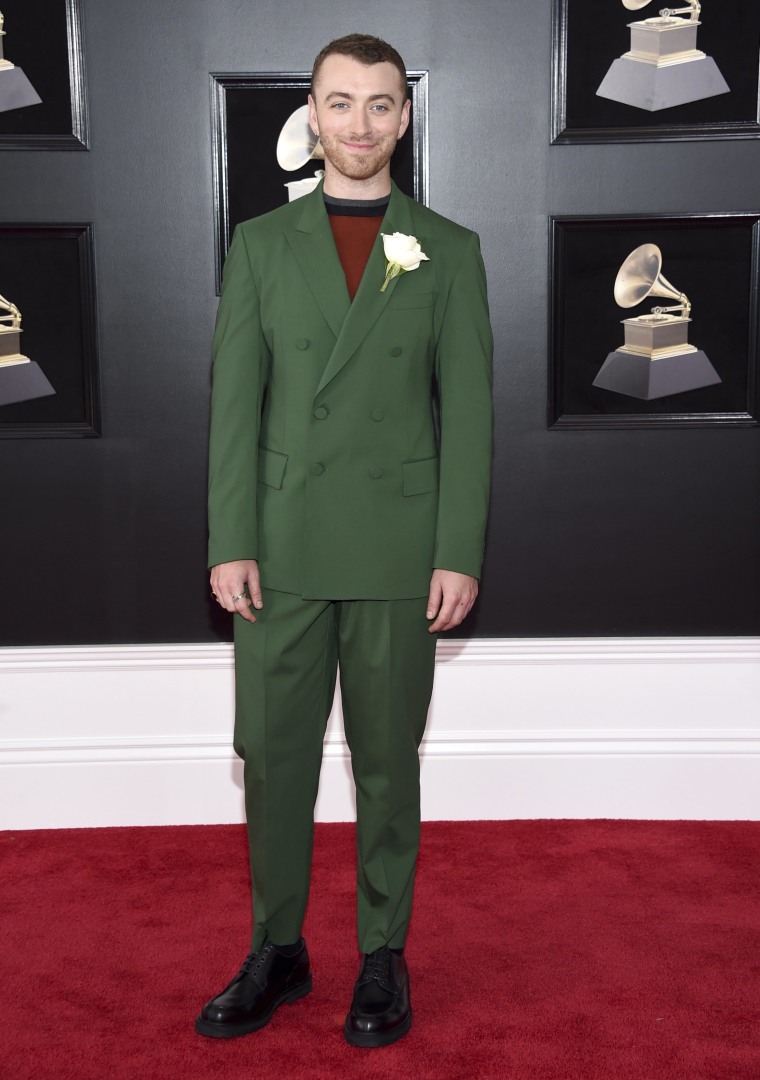 Sam Smith was looking great in green on the red carpet in this stylish double-breasted suit.
Lana Del Rey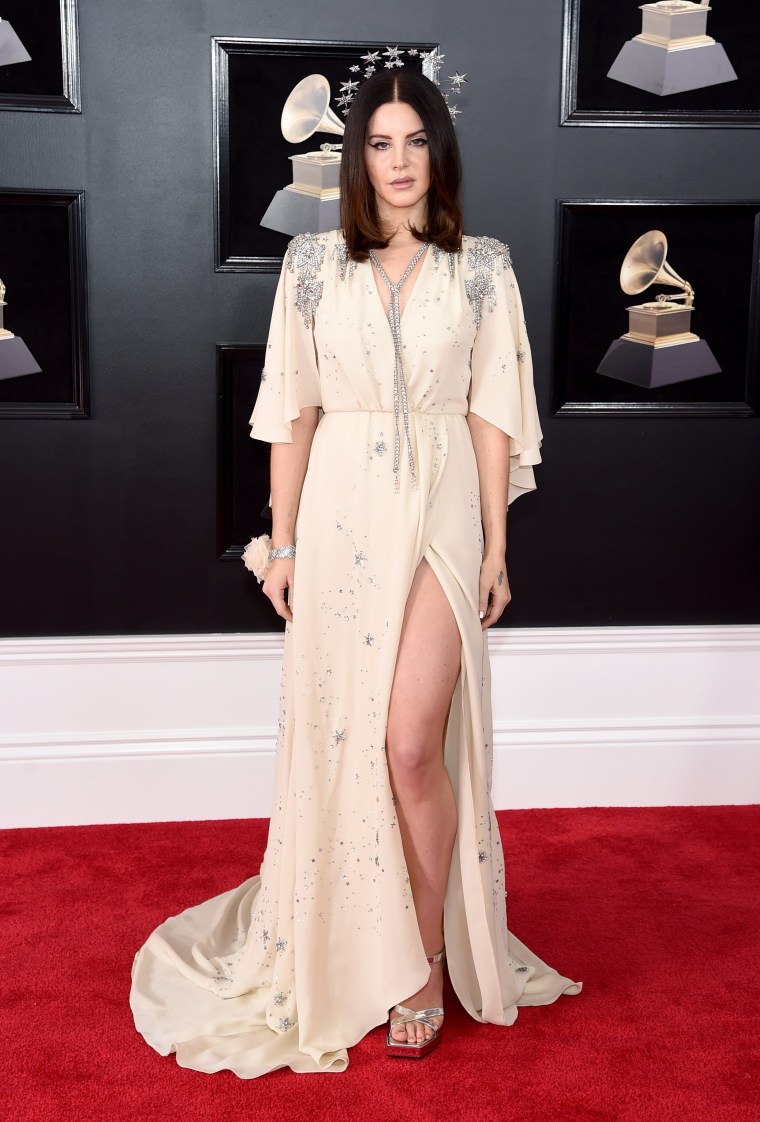 The "Summertime Sadness" singer is embracing a vintage vibe in this star-covered fluttery dress with a thigh-high slit.
Kesha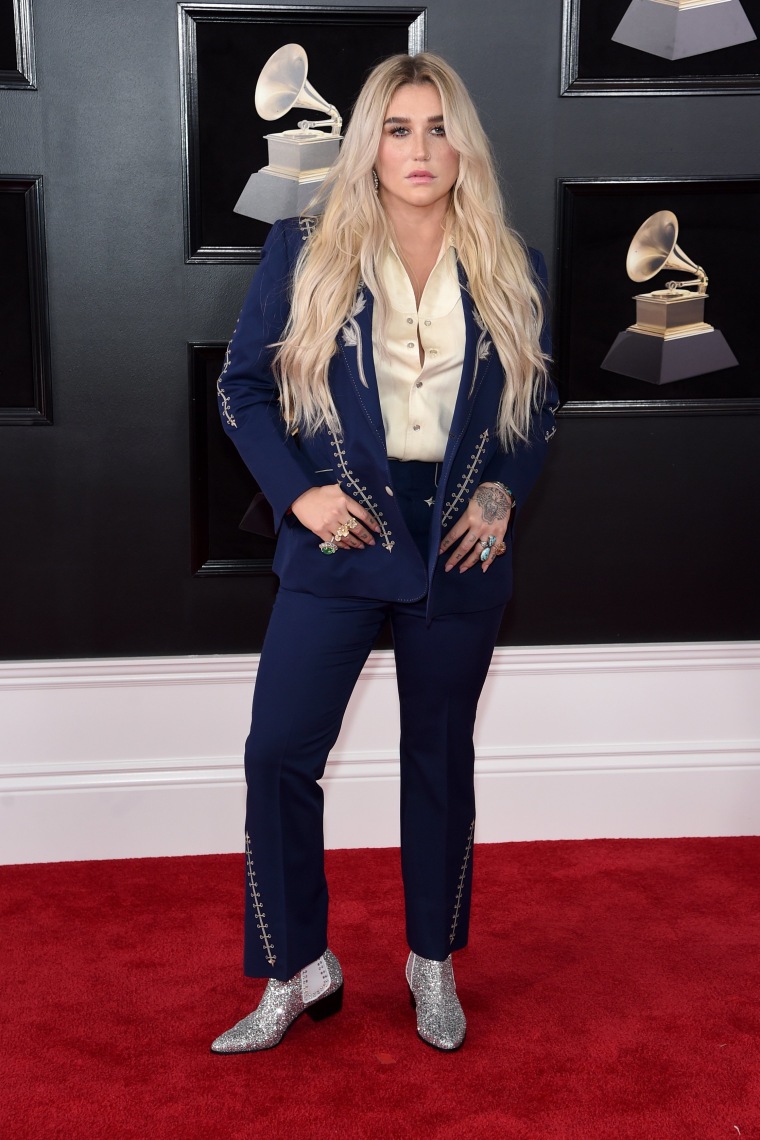 Kesha is stylish in western wear in this blue suit with shiny silver boots.
Sarah Silverman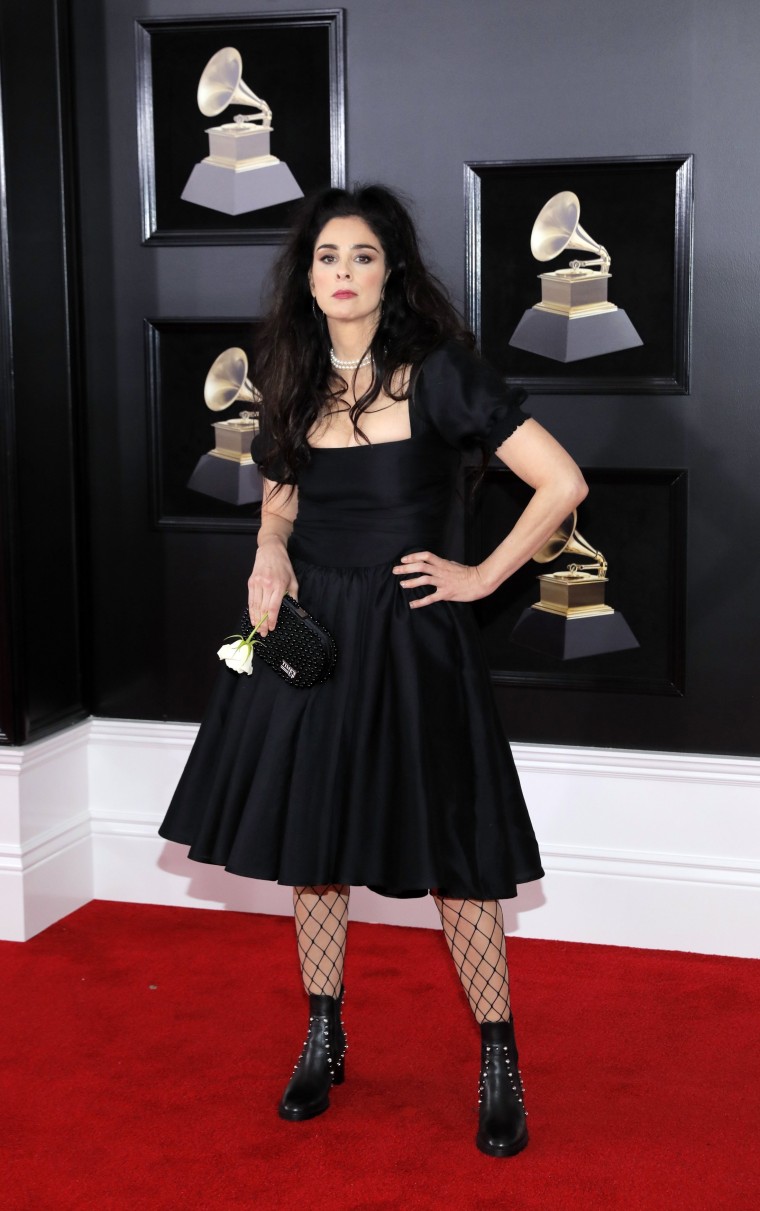 Funny gal Sarah Silverman is a punk princess in this look that perfectly mixes tough and sweet with fishnet tights, leather boots and pearls.
Zayn Malik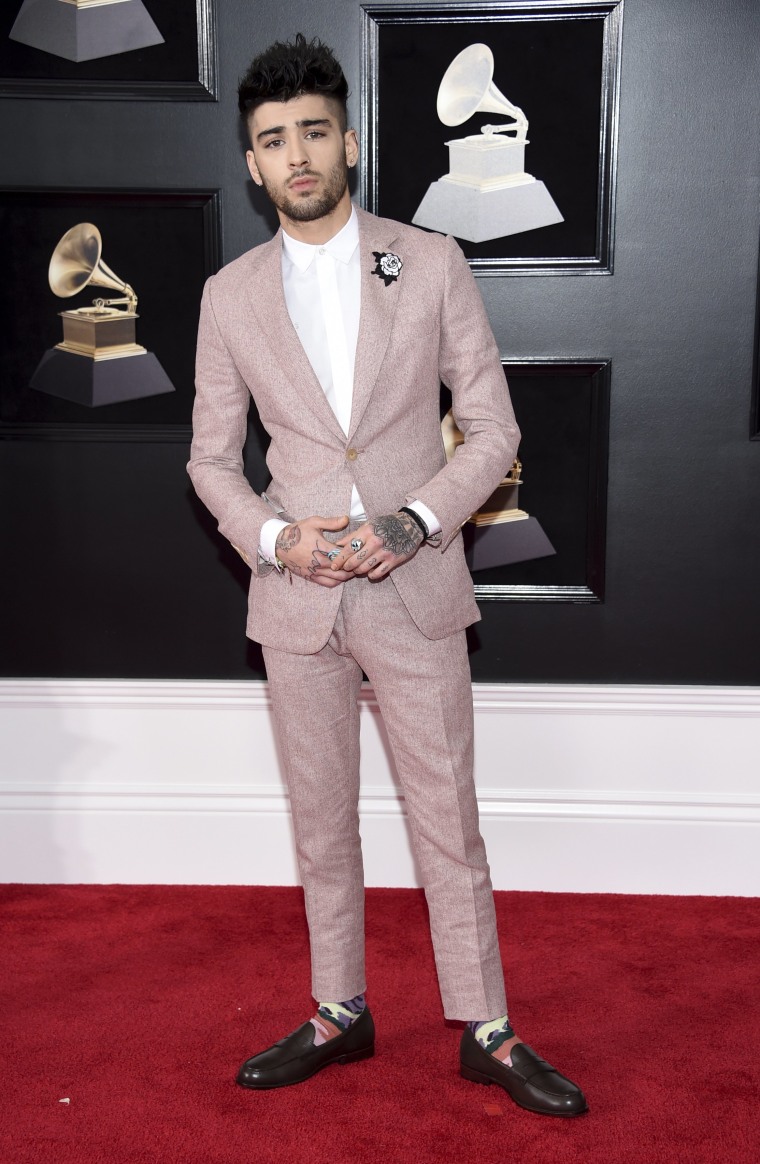 Pink tweed looks seriously stylish on former One Direction member Zayn Malik. He's simply too cool for ties, clearly.
Jenny McCarthy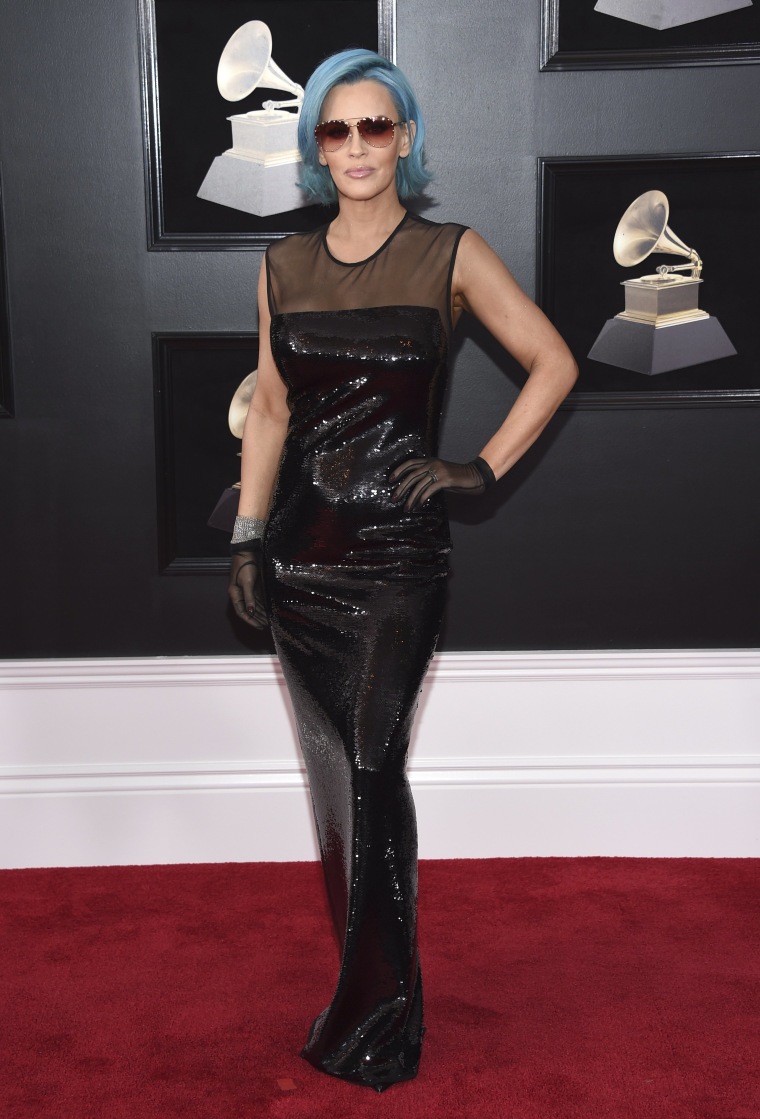 She wears her sunglasses at night — with blue hair! Jenny McCarthy paired her new bold hue with sheer black gloves and a sparkly column gown.
Cyndi Lauper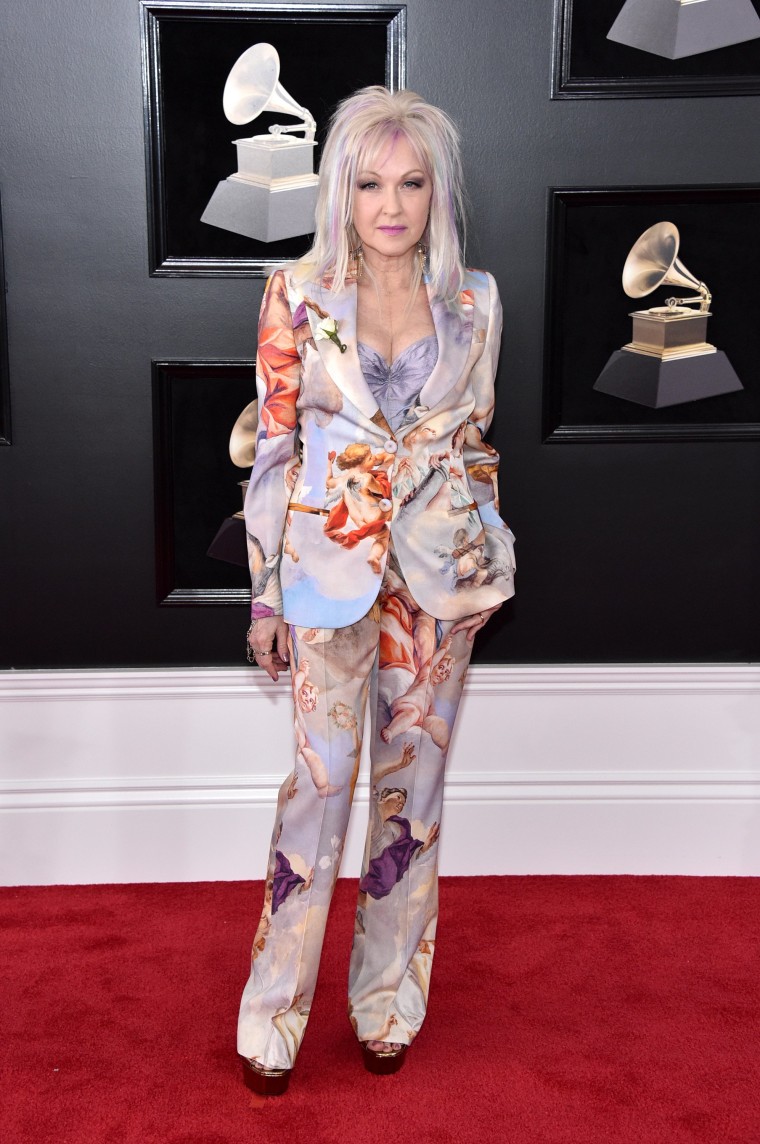 Cyndi Lauper made a bold fashion statement with a suited look that's a literal work of art. She also had some fun with her hair. Look at those blue and purple highlights!
Sting and Shaggy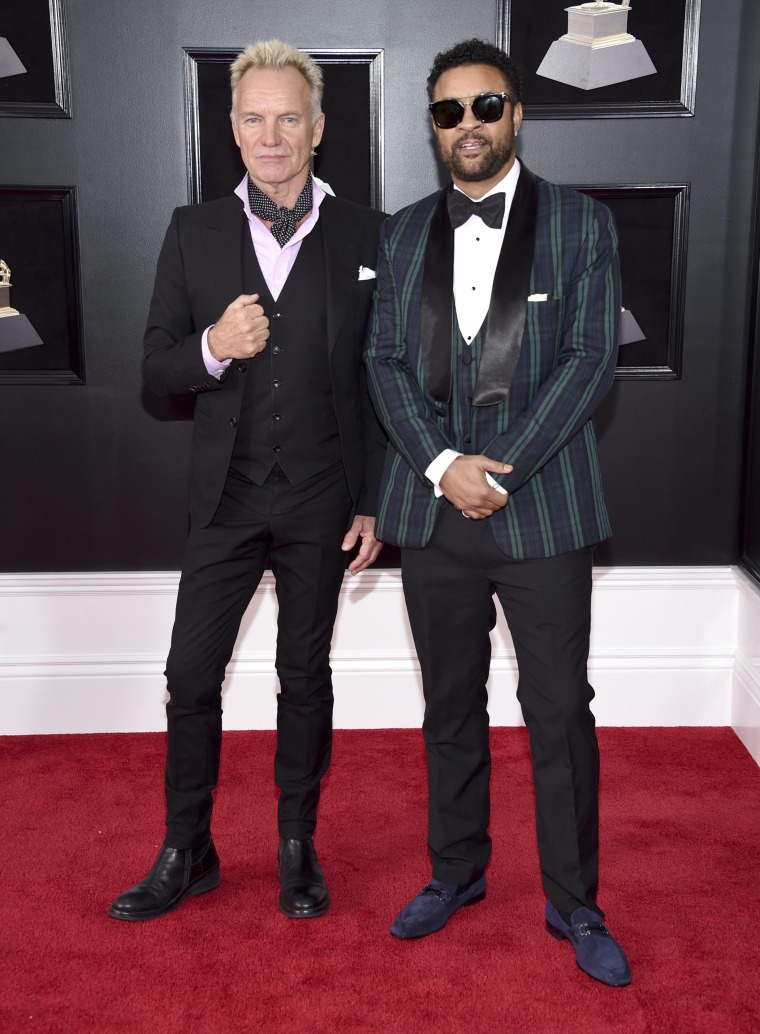 These smartly dressed gentlemen weren't afraid to go bold, with vests, a cravat and a plaid pattern.
Ne-Yo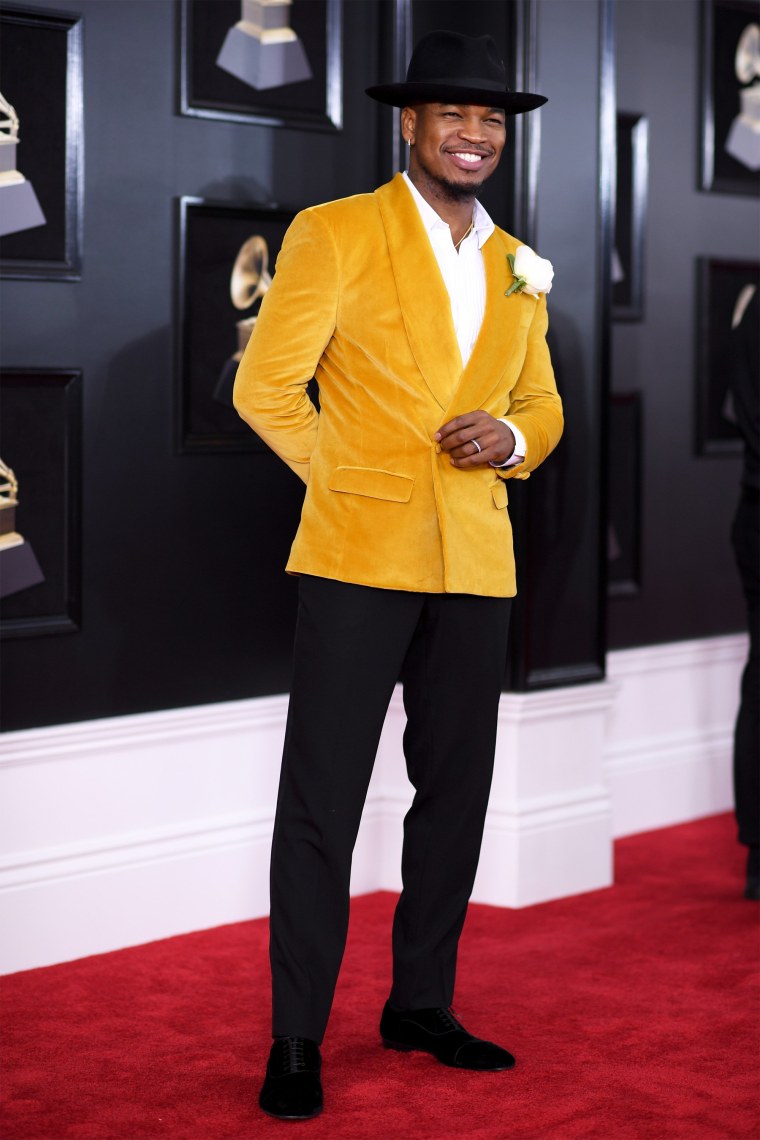 Does it get any more stylish than Ne-Yo on the red carpet in a velvet, mustard-colored blazer? Answer: No.
Gary Clark Jr.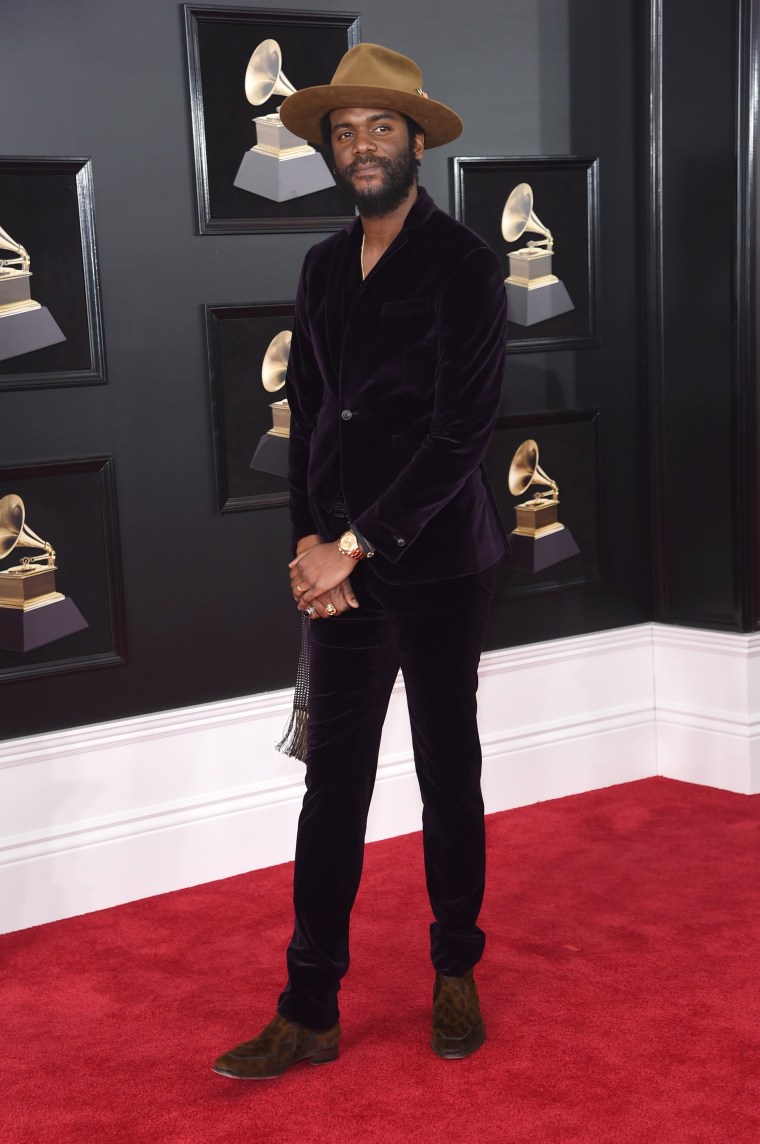 Looking like a true rock star, guitar genius Gary Clark Jr. chose head-to-toe purple velvet with a hat worn just so.
The Chainsmokers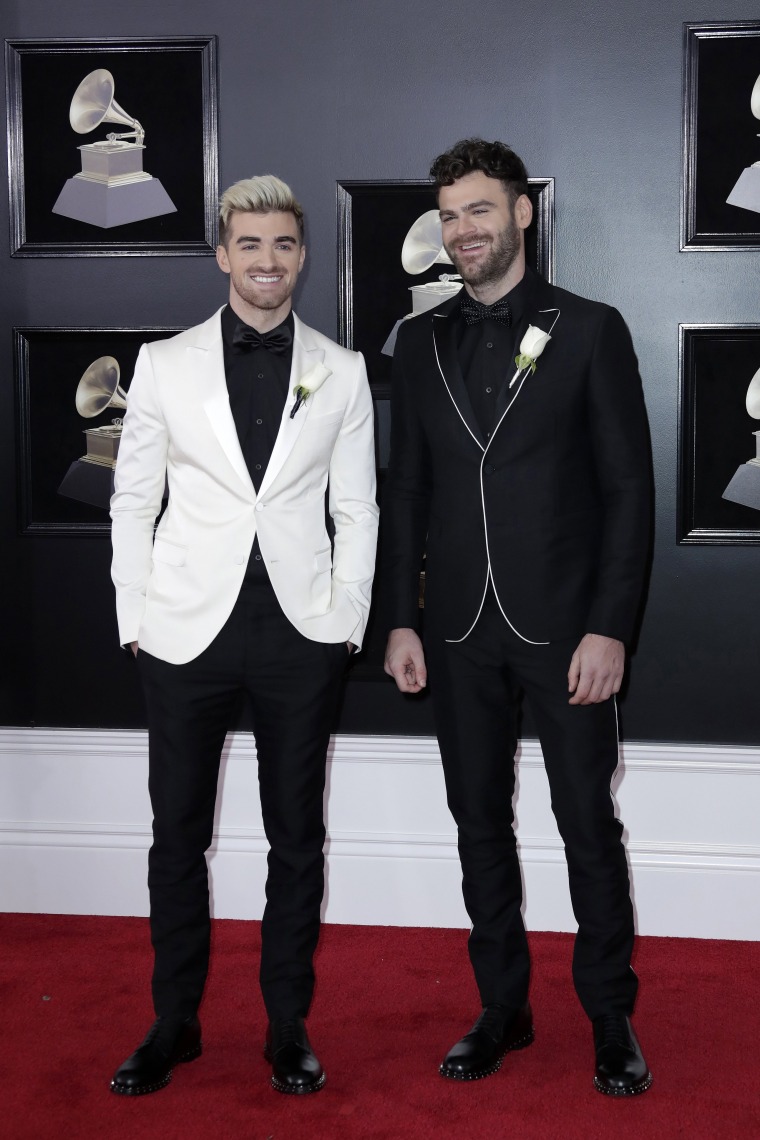 Musical duo The Chainsmokers went for yin-and-yang looks in coordinating black and white outfits. They both proudly wore white flowers to support Time's Up.
Bebe Rexha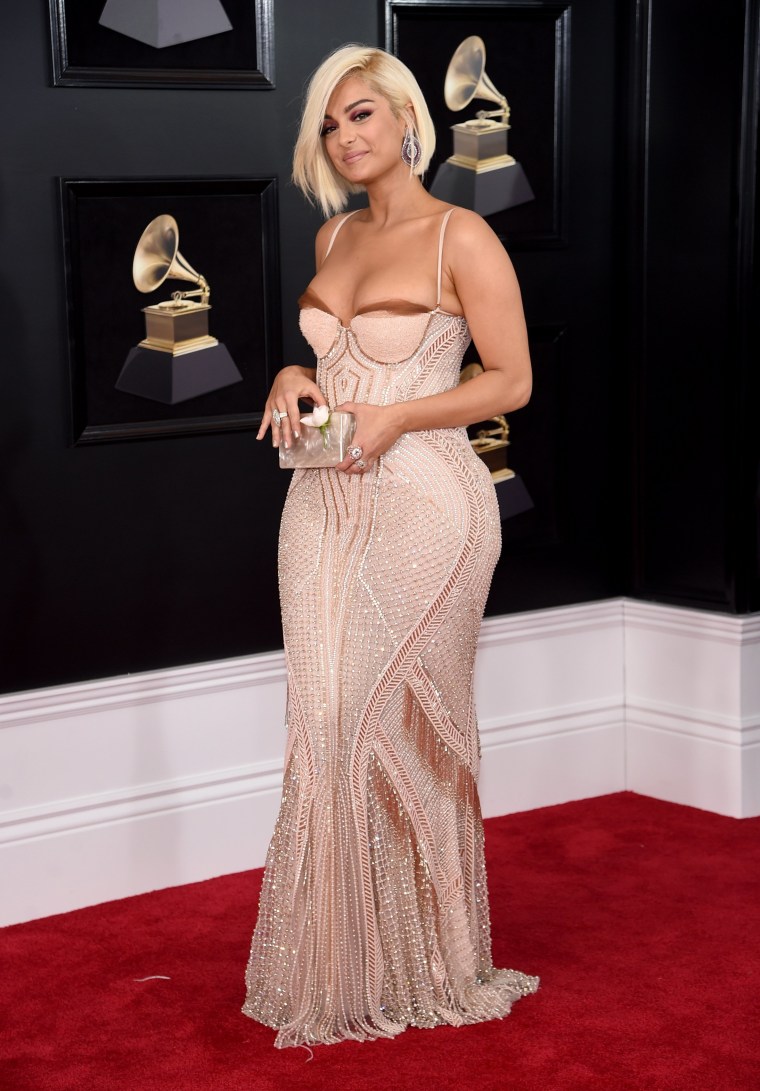 With a sleek bob and slinky dress, Bebe Rexha is all dressed up for the awards show.
Julia Michaels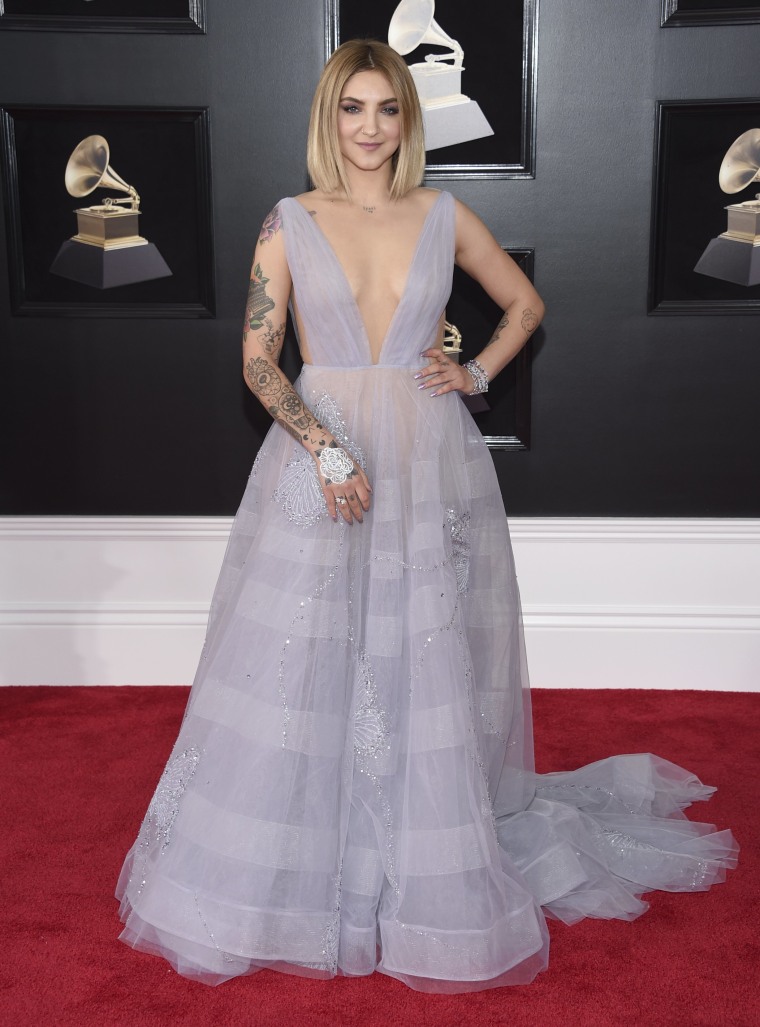 The singer-songwriter wowed on the red carpet in this lavender gown with a deep V-neckline.