Battling cancer is certainly difficult, but a variety of new feel-good fashions have hit the patient market, hoping to help ease a portion of the process. From hip sleeve garments that cover lymphedema arm swelling to chic radiation robes called Radiant Wraps, cancer and chronically ill patients can now face surgery, treatment and recovery in both comfort and style.

"The whole goal is what I call emotional wellness," Lisa Lurie, the 53-year-old CEO and co-founder of Cancer Be Glammed, an online portal of post-op and recovery fashion items for cancer patients, told TODAY.com. "There's a whole emotional component of feeling good about yourself. If you live in that world where you look and feel depressed, you're going to be depressed. It's tough enough to be sick. Why do we have to look sick?"
Cancer Be Glammed connects patients — and their caregivers — to a host of designers and manufacturers who specialize in a wide range of items, including mastectomy bras, hospital tote bags, headscarves, even "survivor-inspired" solutions like chemo beanies or track suits with hidden zippers for easy port access during chemotherapy.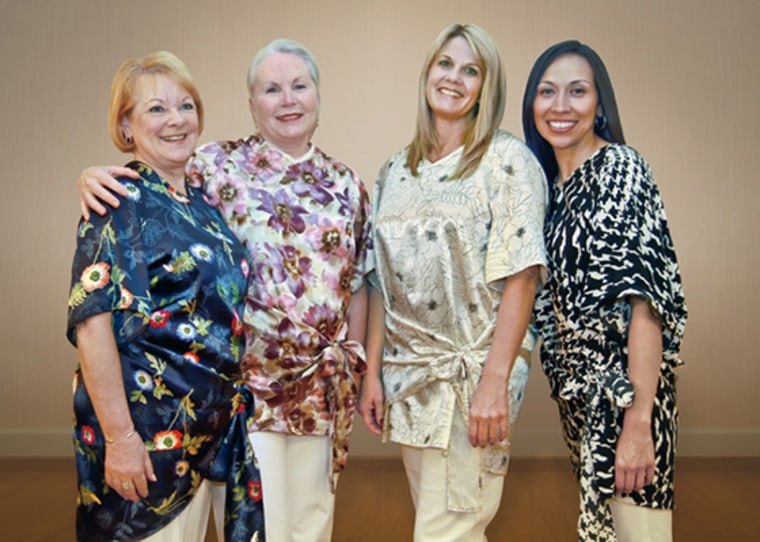 "We vet the products and really do our homework," said Lurie, a breast cancer survivor who says she was "totally unprepared" for her surgery and treatment. "We know that cancer is tiring and don't want patients to look through hundreds of products. We pick the ones that are going to work well. To help them be fashionable, yet practical."
Fashion and function is the mission at Lymphedivas, as well, which manufacturers and sells "medically correct and fashionable compression apparel for the savvy and stylish breast cancer survivor with lymphedema." (Lymphedema is swelling that can be a side-effect of cancer treatments.)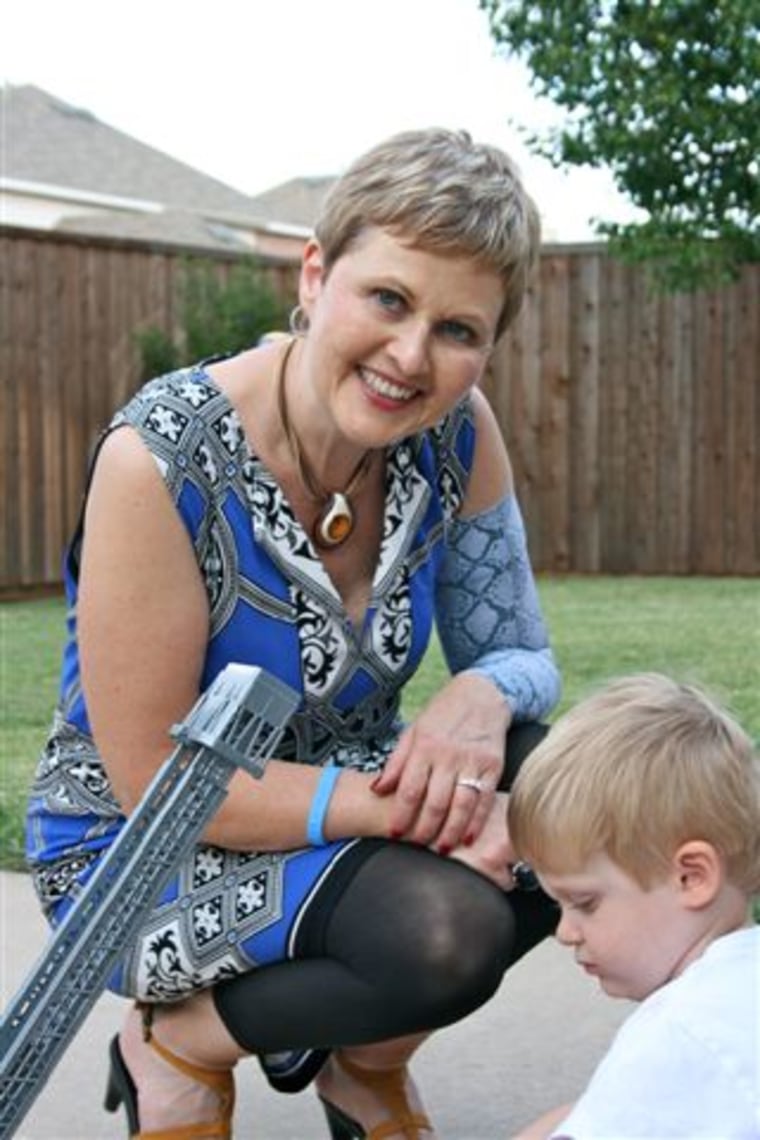 The business was co-founded in 2006 by Rachel Levin Troxell, a breast cancer patient who was unhappy with the "rough textured, heavy, hot, beige, and bandage-like" compression sleeve prescribed by her doctor. Troxell died in 2008 but not before establishing a thriving business, now run by her family.
"She really made an impact on thousands and thousands of people and changed an industry," said 36-year-old Josh Levin, Rachel's brother and president of the company. "Before she started Lymphedivas, [compression sleeves] were all beige and just that Caucasian-esque beige. Now most other companies have at least a mocha color and many of them have black."
Lymphedivas offers much more than just an array of solid colors, though.
"We now have over 85 patterns including lace and paisley and lots of geometric shapes," said Levin. "And we recently started using some of the artists whose work is in the public domain, like Van Gogh."
Reaction to the designer compression sleeves has been very positive, from both a functional and fashionable perspective.
"Patients have absolutely loved it," he said. "It doesn't look like a medical device. It looks like a fashion accessory. It actually gets them to wear it which is something we've been trying to get therapists to think about. Compliance is a big thing."
Lana Blekher, 56, a Dallas real estate agent who was diagnosed with breast cancer in 2008, says she hears from many women who refuse to wear the Ace bandage-style sleeves commonly prescribed by their doctors.
"They don't want to wear a brown sleeve," she said. "But when they see mine, they're like 'Oh my gosh!' I felt miserable wearing the old sleeve but I feel great when I wear these. They match my clothes, like a shoe or a purse. I have about ten of them. My favorite is the dragon tattoo style. I get people stopping and telling me, 'I like your ink. Who's your ink artist?'"
Susan Harden, a Pasadena, Calif.-based clinical psychologist who regularly works with cancer patients, said many people utilize fashion during and after their recovery.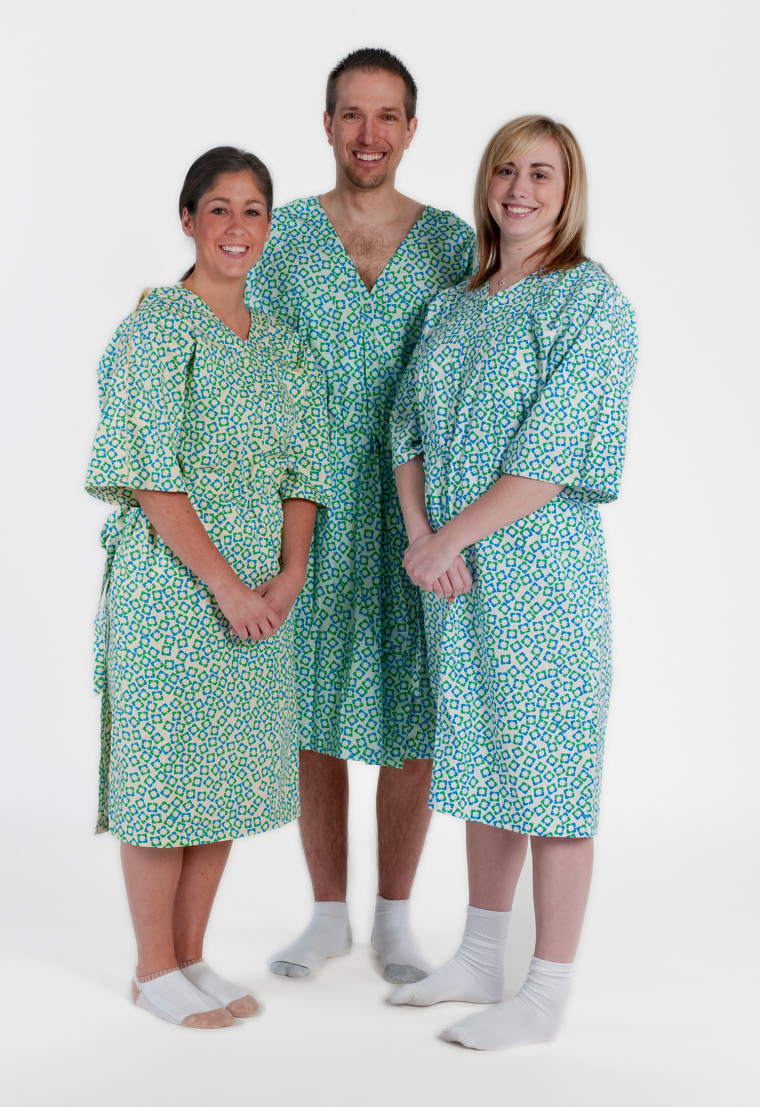 "Hats, lymphedema sleeves, cancer-themed shirts, etc., can all help to empower patients and fight against feelings of victimization from the disease," she told TODAY.com. "It helps people to take ownership of where they are in their experience and to feel strong. They don't have to just endure the effects of cancer and treatment to their body. This can be another way to fight back."
It's a sentiment shared by the Cleveland Clinic, which partnered with iconic designer Diane von Furstenberg in 2010 to redesign their hospital gowns, which now feature an accessible wrap design and a fun, bright graphic print. 
Dr. James Merlino, Chief Patient Experience Officer at the Cleveland Clinic, said they've received positive feedback on the new design. "Gestures like this gives patients the reassurance that we are paying attention to every aspect of their care," Merlino told TODAY.com. "We do know that a positive patient experience does help in the healing process and the gown is an example of that." 
It seems that many designers and manufacturers of specifically cancer-related fashion have a connection to the disease.

"The whole idea of my scarf program came from my grandmother," said Ashley Granata, 32, a Brooklyn-based textile and fashion designer who recently launched a one-for-one scarf business. "When she passed away, I inherited her scarf collection. And I also learned then that she was a breast cancer survivor. She'd gone through this whole ordeal but was able to come through it and go back to her life as a grandmother and wife and mother and friend. That was the inspiration to help empower other patients. I want to give them an item that helps them feel beautiful and gives them some of their power back."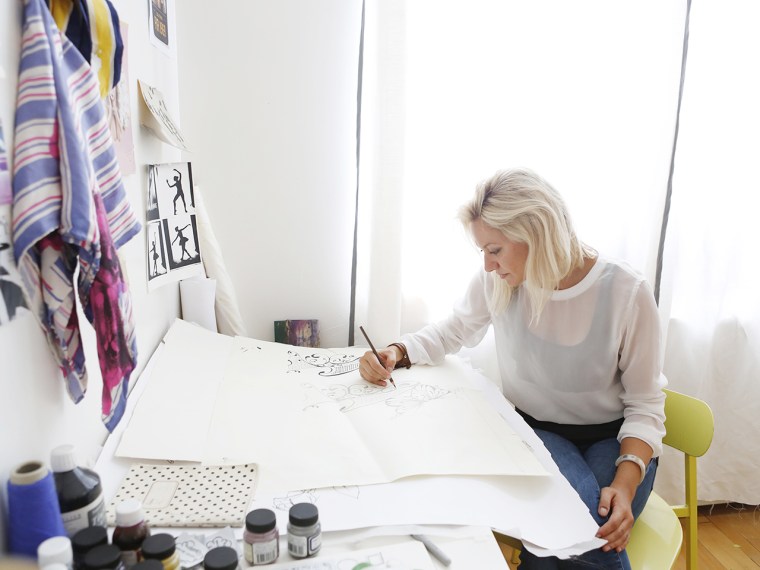 Granata scarves are 35" x 35" and sell for $95 each (her fall line is based on vintage book covers). For every scarf she sells, another is donated either to a specific cancer patient (friends will often buy a scarf and have one sent to a breast cancer buddy) or to a treatment center or hospital.
Alison Strand, a 34-year-old New York breast cancer patient currently in chemo, says losing her hair has been very difficult but the designer scarf she received from a girlfriend made a huge difference.
"A circle of friends threw me a scarf party after I lost my hair," she said. "And one friend had met with Ashley right before my party and passed along an awesome, happy, brightly-colored scarf."
As with many patients, looking good is inextricably tied to feeling better.
"Making an effort to put on makeup and dress normally helps me feel more normal and pretty and strong," she said. "A lot of people resign to sweats and comfy clothes which I totally understand but that doesn't help me. My scarves help. They protect me from feeling vulnerable and make me feel pretty."