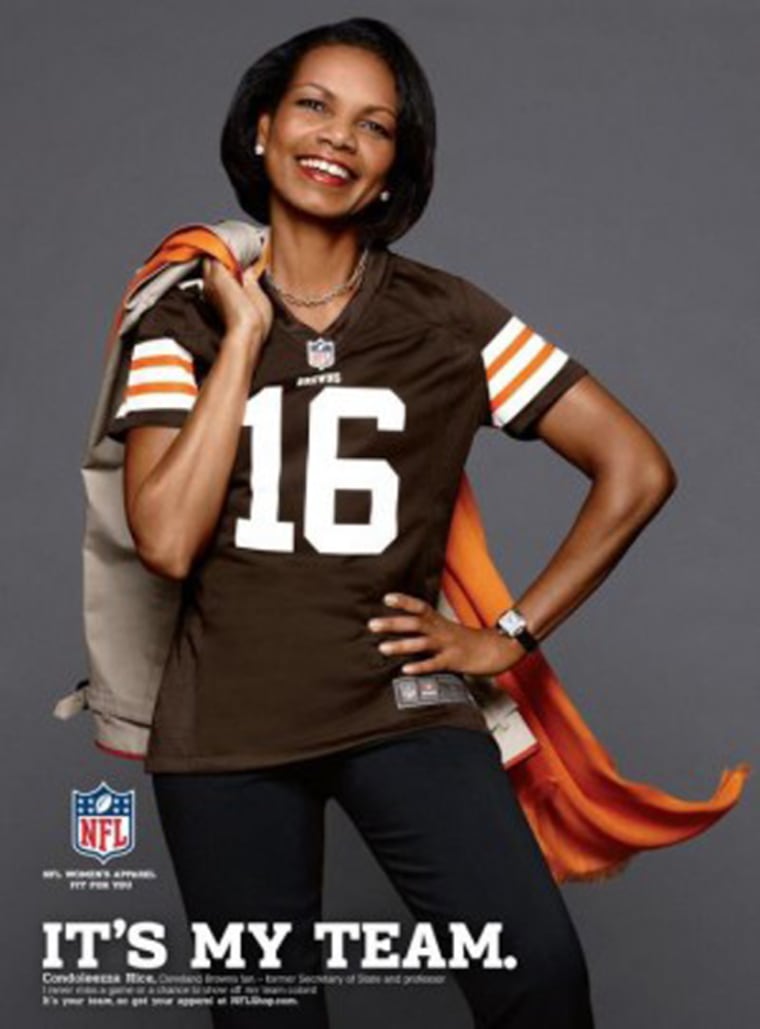 When it was whispered that Condoleezza Rice was being considered as the pick for the Republican vice presidential ticket alongside Mitt Romney, the former Secretary of State denied it strongly. Maybe it wasn't due to lack of interest, but because she's taking time off from the political arena to focus on her new career: modeling.
The NFL has just released images of Rice's modeling debut, in which she shows off a fitted football jersey supporting the Cleveland Browns. The jersey is part of a new womens' wear line of NFL apparel, and Rice claims in the campaign that she "never miss[es] a game or a chance to show off [her] team colors!"
The line is launching just as both the Fashion Week season and football season heat up, two worlds that have become more and more intertwined. And now, ladies who are a fan of both can be fashion-forward at the stadium and beyond. 
Other accomplished women like Serena Williams and Ivanka Trump are also models for the campaign, and the message, "It's my team," is supposed to be one of empowerment, according to Rhiannon Madden, NFL's director of apparel. She told UK's The Daily Mail, "It's your team – not your guy's team." 
In that spirit, Rice posted on her Facebook page: "Supporting the NFL and showing my passion for the Cleveland Browns!" But sports fans aren't so sure that she is the best person to deliver that message. Once her news hit the Twitterverse, one user called the campaign "weird," and another said, "Condi's a Browns fan. I knew she was cray..."
But others voiced support, like one who tweeted: "Condoleezza Rice is in the NFL women's apparel ad! Along with some other great female role models! Hands down, favorite so far." And one Facebook user, Amy Vojta, said on Rice's Facebook page: "I might disagree with your politics, but I totally support your love of the Browns! Go Condi!" Demonstrating that sports fandom really does transcend party lines.
And cultural ones. Fashionistas have their own poster girl in the campaign, in the form of New York Jets owner Woody Johnson's wife, Suzanne Johnson. She's a self-confessed "Hermès girl" and she brought her own accessories to wear for her campaign shoot. She insisted her bag be included, saying it was what she would actually wear to the stadium. 
However random the fashion-football synergy seems, we should've seen something like this coming, especially since women account for nearly half of the NFL fan base. According to NFL.com, the league's vice president of consumer products, Tracey Bleczinski, said: "Forty-five percent of fans are female and that continues to grow. We do have something for everyone, and this campaign aims to communicate that if you are living and wearing football, you can do it every day, year-round."
And did we mention how well it'll go with your Birkin?
More:
Michael Phelps hops in the tub with Louis Vuitton
Worth it? New $50 ponytail bar offers celeb-inspired services