It was a beautiful October morning, and the Plaza was packed with eager fans vying for the chance to get an Ambush Makeover. Our makeover team — celebrity hairstylist Louis Licari and TODAY contributor Jill Martin — had a tough choice, but they found two lucky ladies who couldn't wait to sit back, relax and get a new 'do.
Becky, a 57-year-old mom of three and grandmother of five, is certainly one busy gal. She lives on a farm in Missouri, and that leaves no time for focusing on her personal style. In fact, she hasn't worn a stitch of makeup in over four years. But with her youngest son getting married in the coming weeks, Becky was ready for a big change.
As she came out for her big reveal, friends Debbie and Barb squealed with excitement as they saw the new look.
"Oh gosh! I look good!"exclaimed Becky as she saw herself in the mirror for the first time. She is certainly ready for her son's big day.
RELATED: 'Wow! What a job!' Husband has puppy dog eyes for wife's new look
For Anna, a 48-year-old mom who works at her local church in Kentucky and a devoted TODAY fan, a trip to New York City with her daughter's Girl Scout troop was the perfect excuse to get some hard-earned pampering. With a morning routine that consists of a quick shower and throwing her hair in a ponytail, Anna was ready to let our Ambush team help her shine.
When Anna stepped out for the first time, her daughter Alexis appeared absolutely shocked. Anna's friends were equally as blown away, with some tearing up.
"Oh my gosh! Oh I love it!" said Anna when she got a peek of her new look.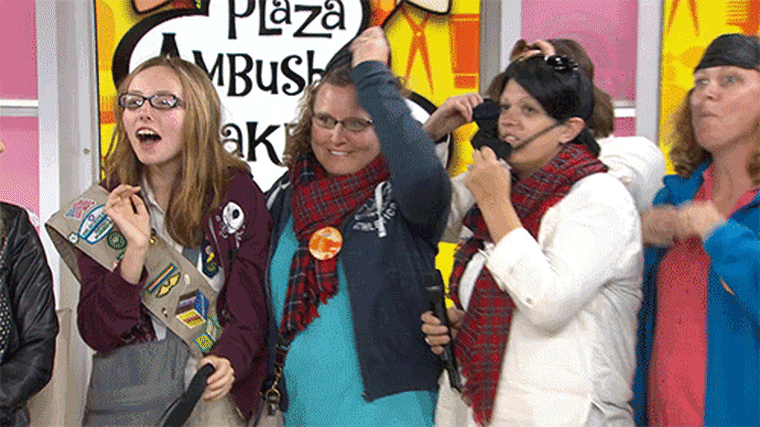 Thanks to our Ambush team, these two ladies are coming back home looking better than ever with their new, glamorous looks.