The 2018 Golden Globes red carpet is one unlike any other. With the Time's Up initiative being represented by an all-black dress code that serves as a symbol of solidarity, celebrities are making a statement without saying a word.
While their message takes precedence, we can't help but admire the unique, creative and beautiful fashions they are wearing.
Reese Witherspoon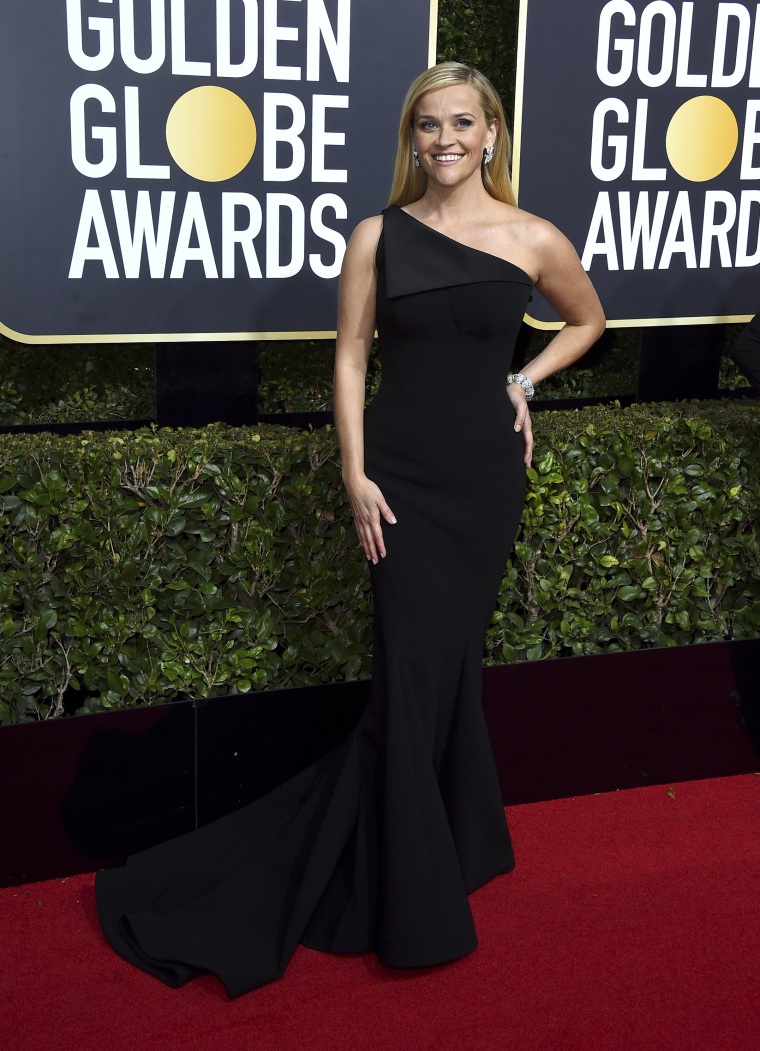 As an outspoken advocate for the Time's Up movement, it's no surprise that Reese Witherspoon was dressed in an all-black outfit that was nevertheless worthy of the red carpet.
Tracee Ellis Ross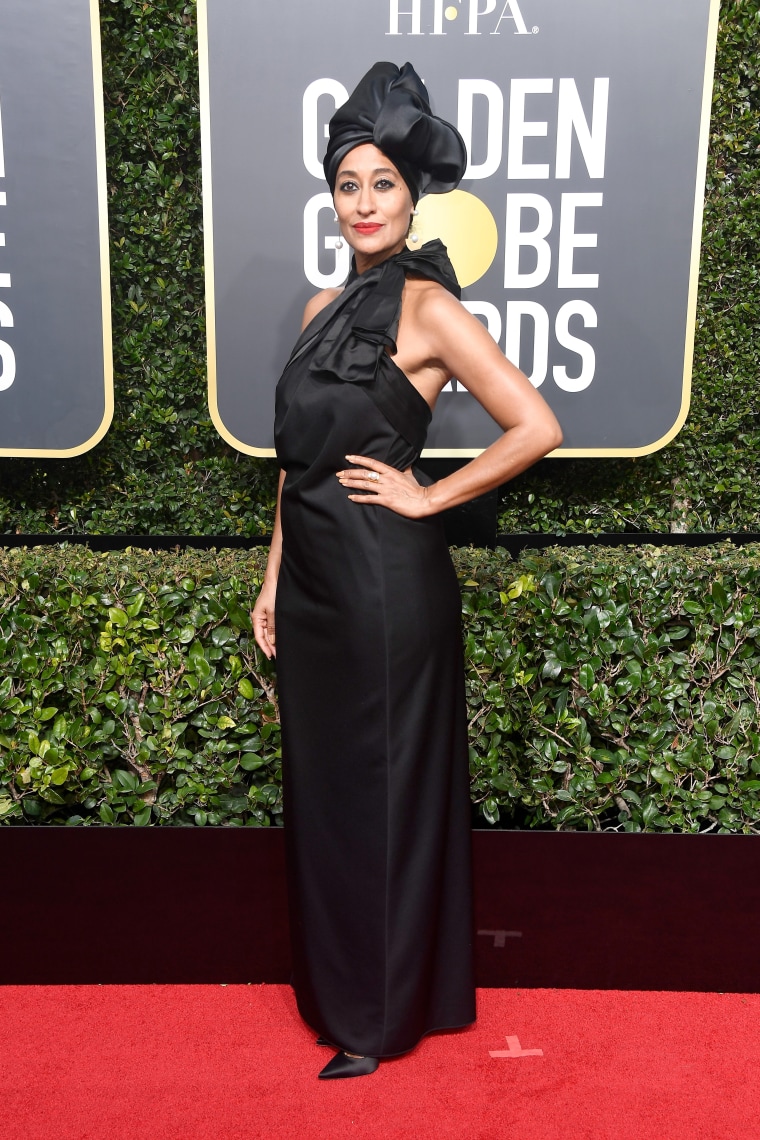 "Black-ish" star Tracee Ellis Ross is using her all-black outfit to deliver a high-fashion moment. The head-to-toe black silk look delivers on all levels for a dramatic red carpet statement.
Mandy Moore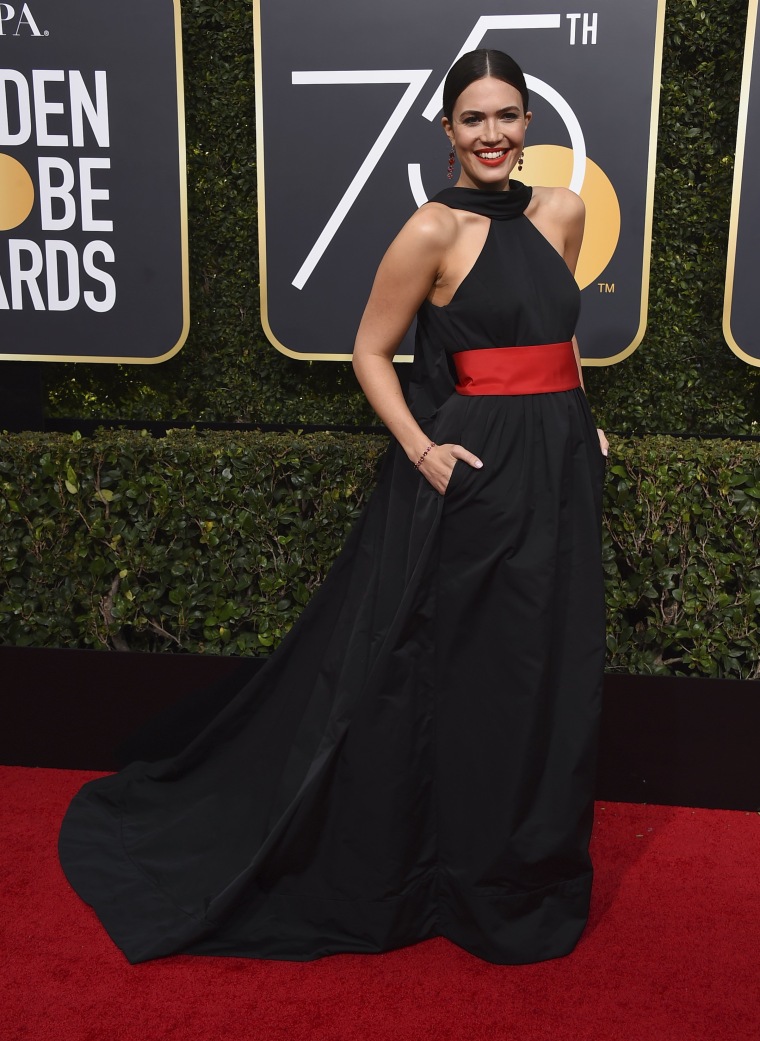 With her megawatt smile and simple red sash, Mandy Moore instantly lit up the red carpet with her arrival.
Kelly Clarkson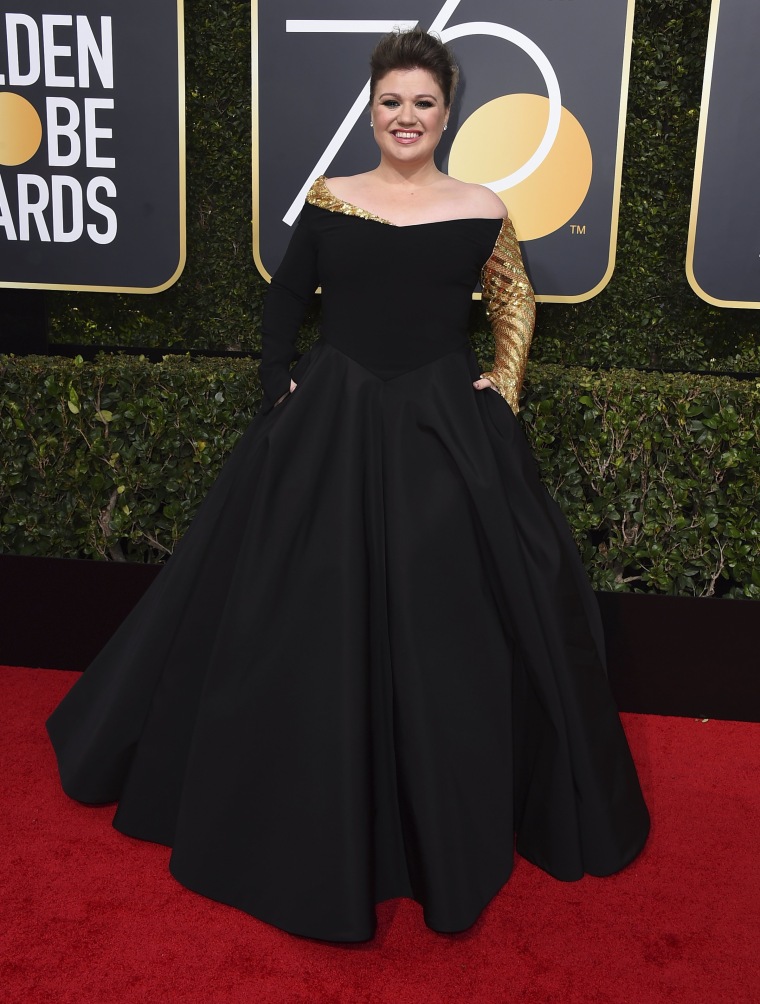 Kelly Clarkson made an entrance on the red carpet in this showstopping ball gown with one gold sleeve and an off-the-shoulder neckline. Black, dramatic and simply perfect.
Jessica Biel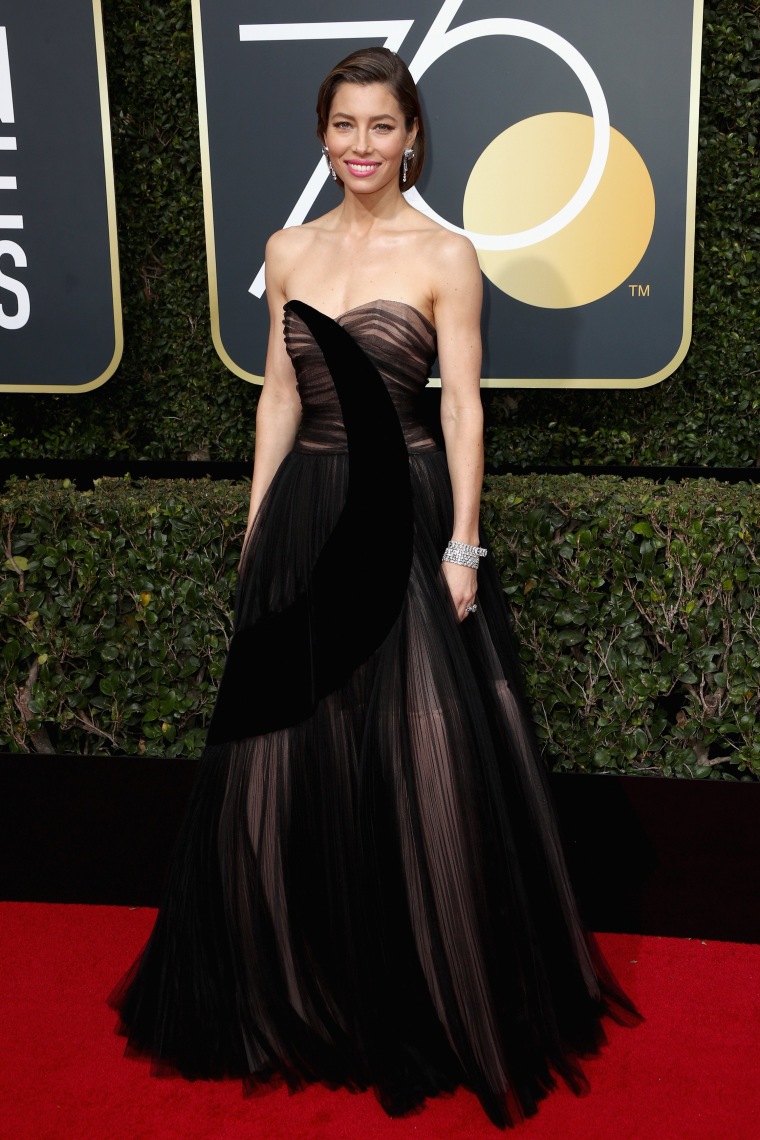 "The Sinner" star looks plucked right out of old Hollywood in this glamorous gown.
Gal Gadot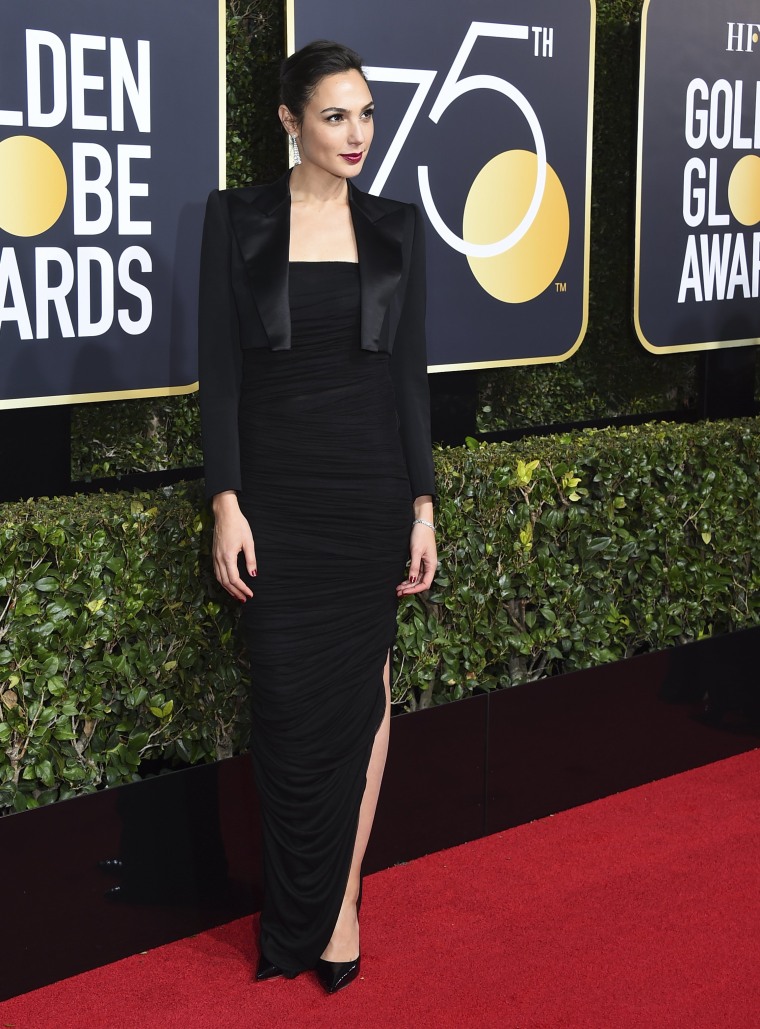 The Israeli actress has become a household name for playing Wonder Woman, and we'd argue her fashion sense is just as heroic. Her ruched dress with a tuxedo-inspired cropped jacket struck the perfect note at the awards show.
Natalie Portman and America Ferrera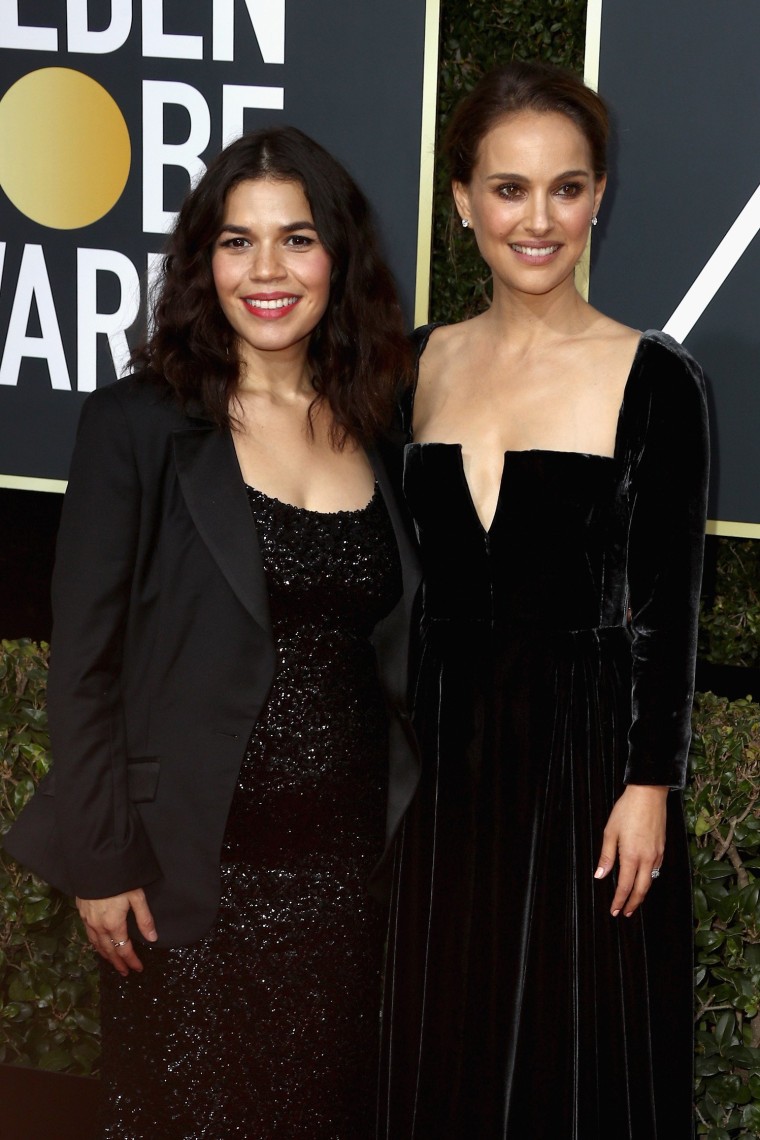 Both of these award-winning actresses have been outspoken in their support of Time's Up, and both chose sophisticated all-black outfits for the moment.
Kerry Washington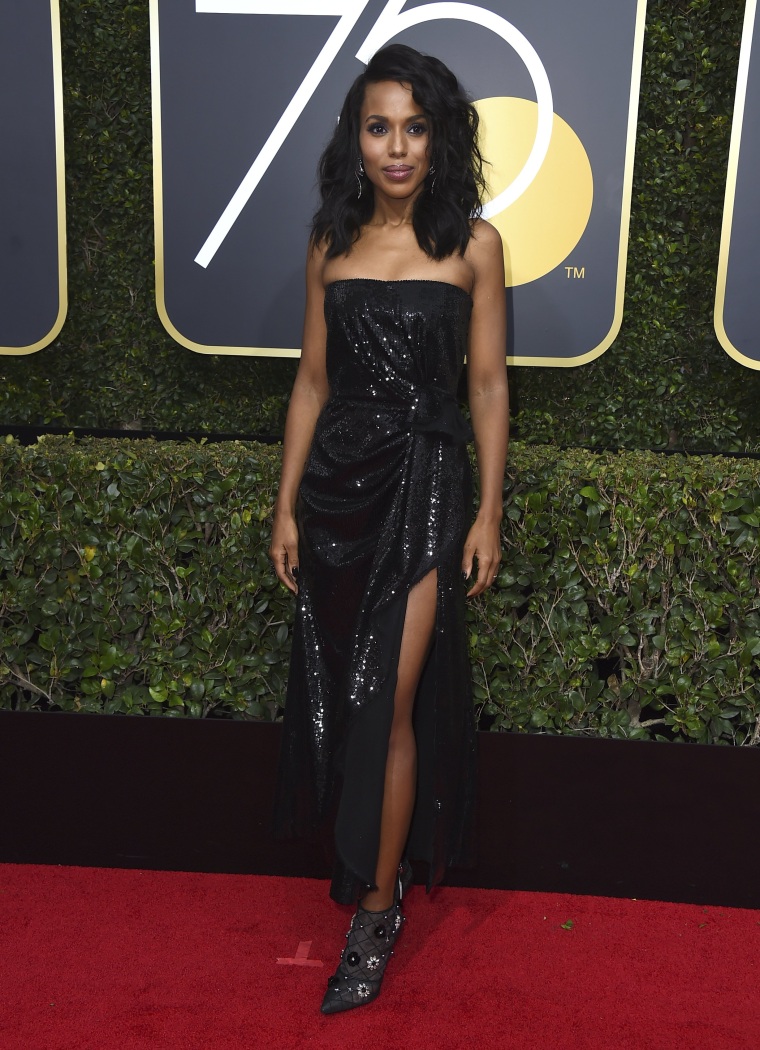 Draped in sequins with stand-out shoes, Kerry Washington continued to be a fashion icon with this latest red carpet look.
Elisabeth Moss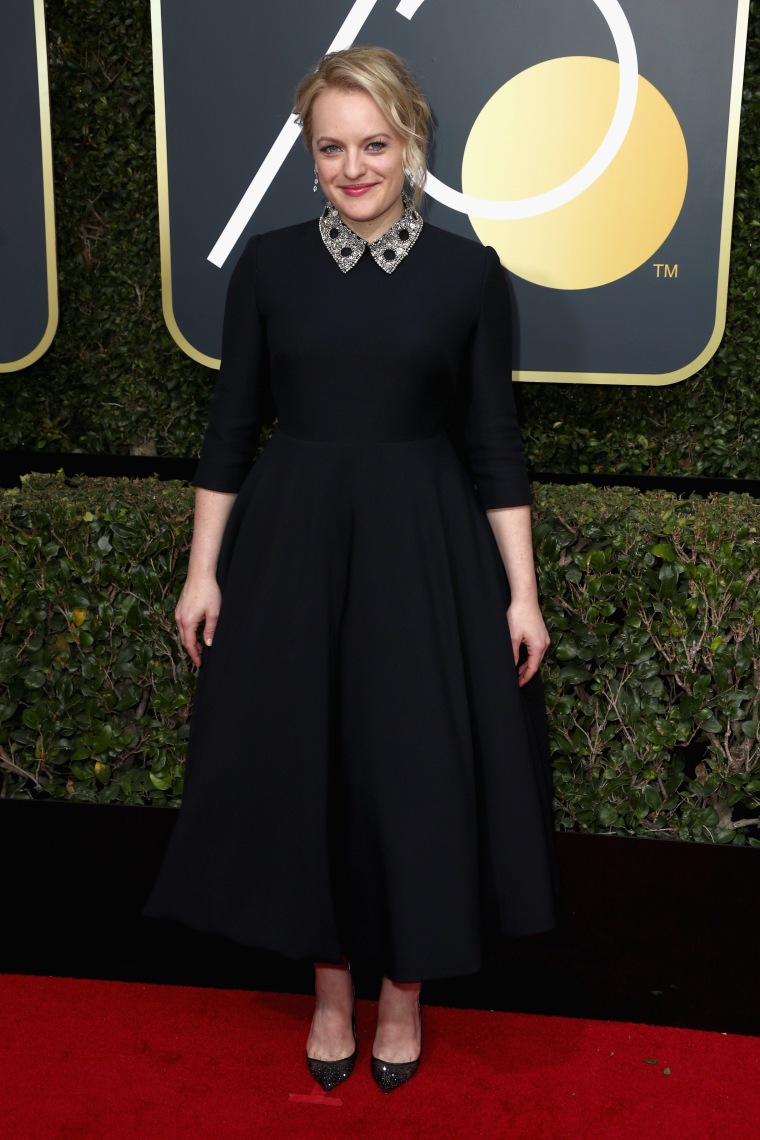 With a touch of sparkle at her collar, Elisabeth Moss brought her warm smile as an accessory on the red carpet.
Debra Messing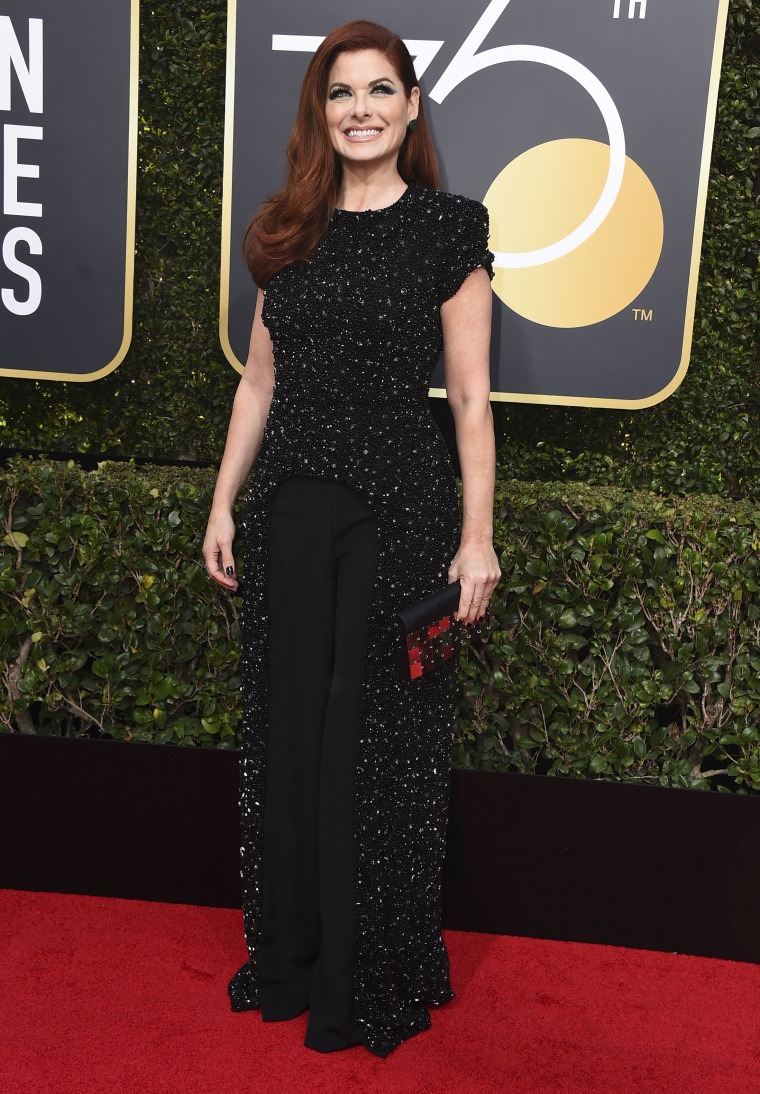 Who says you can't wear pants on the red carpet? "Will and Grace" star Debra Messing paired a glittery tunic with wide-leg trousers for an outfit that looks as comfortable as it is chic.
Viola Davis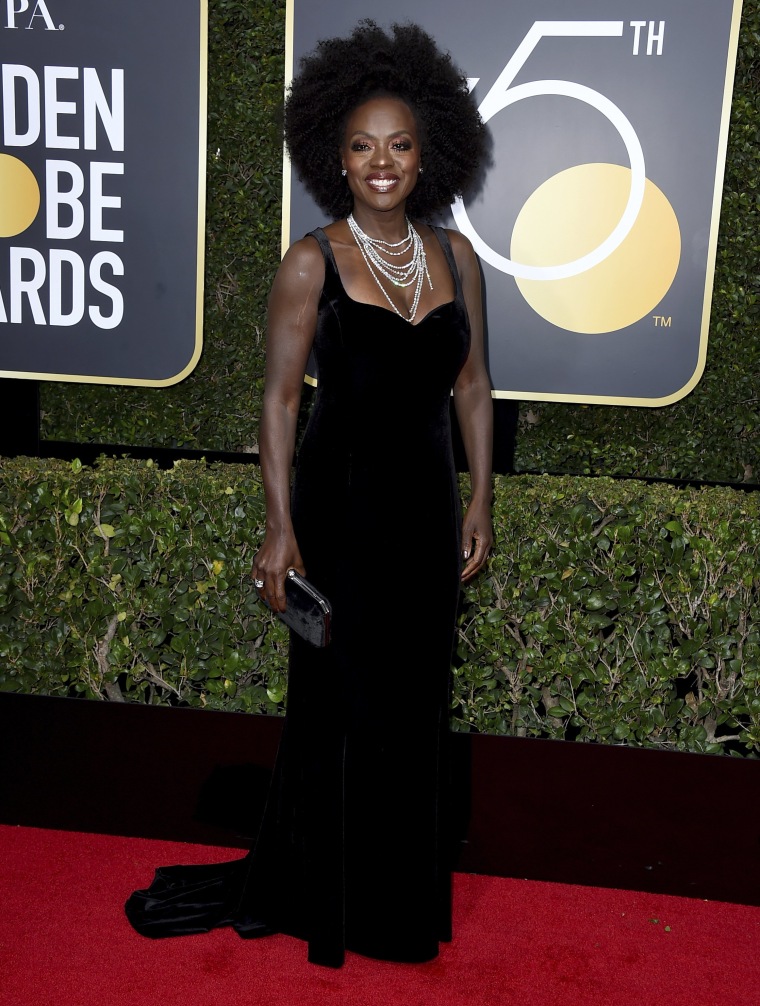 The award-winning actress is Hollywood royalty and she certainly looks it here with a velvet, curve-hugging dress and glimmering jewels.
Saoirse Ronan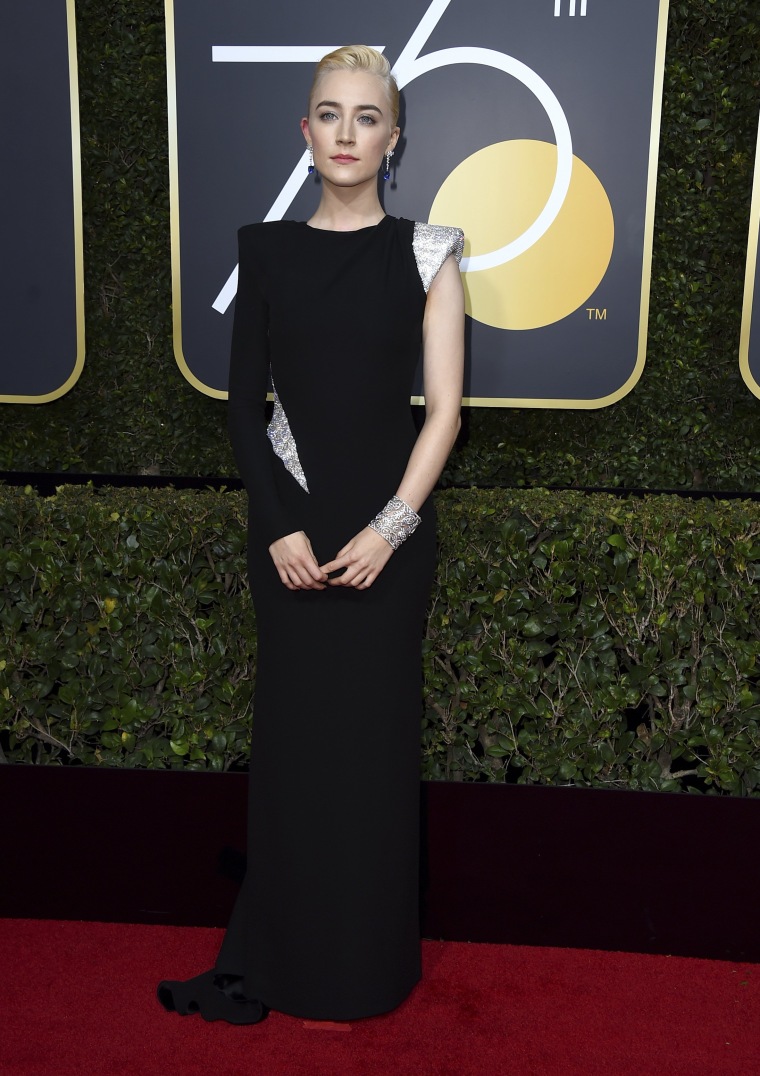 "Lady Bird" star Saoirse Ronan embraced the '80s in this totally awesome, silver-specked look.
Connie Britton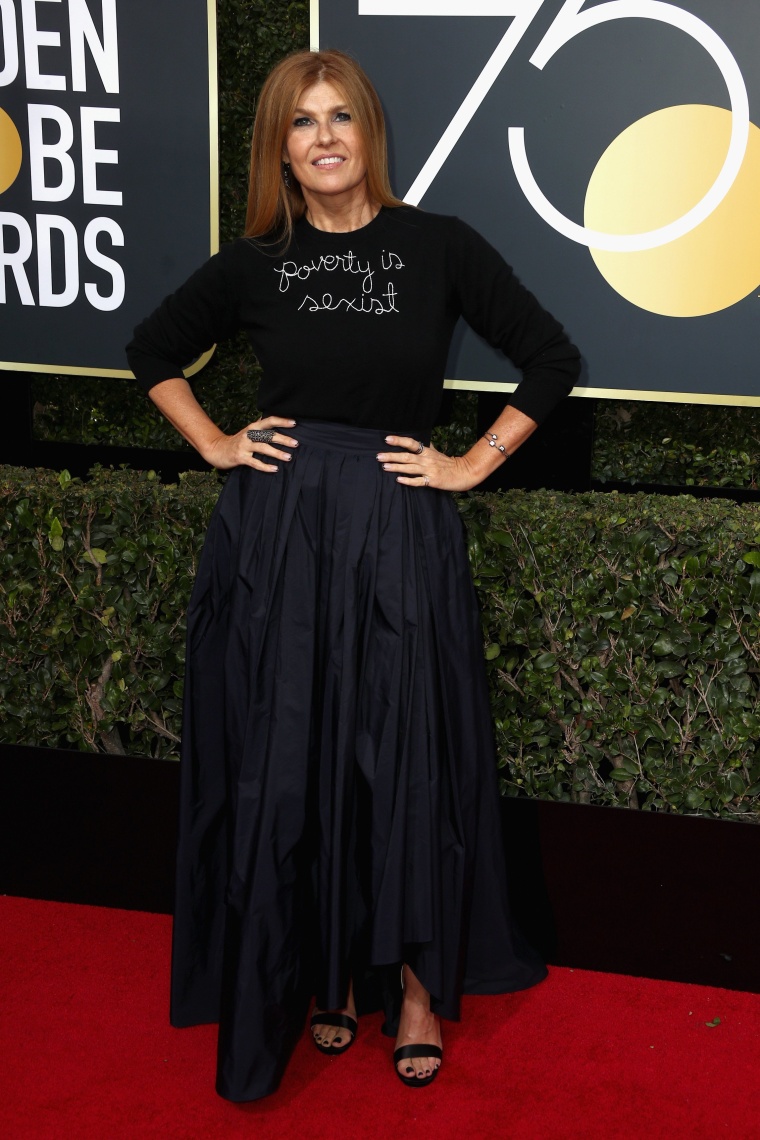 Connie Britton let her shirt do the talking in this take on red carpet separates.
Allison Williams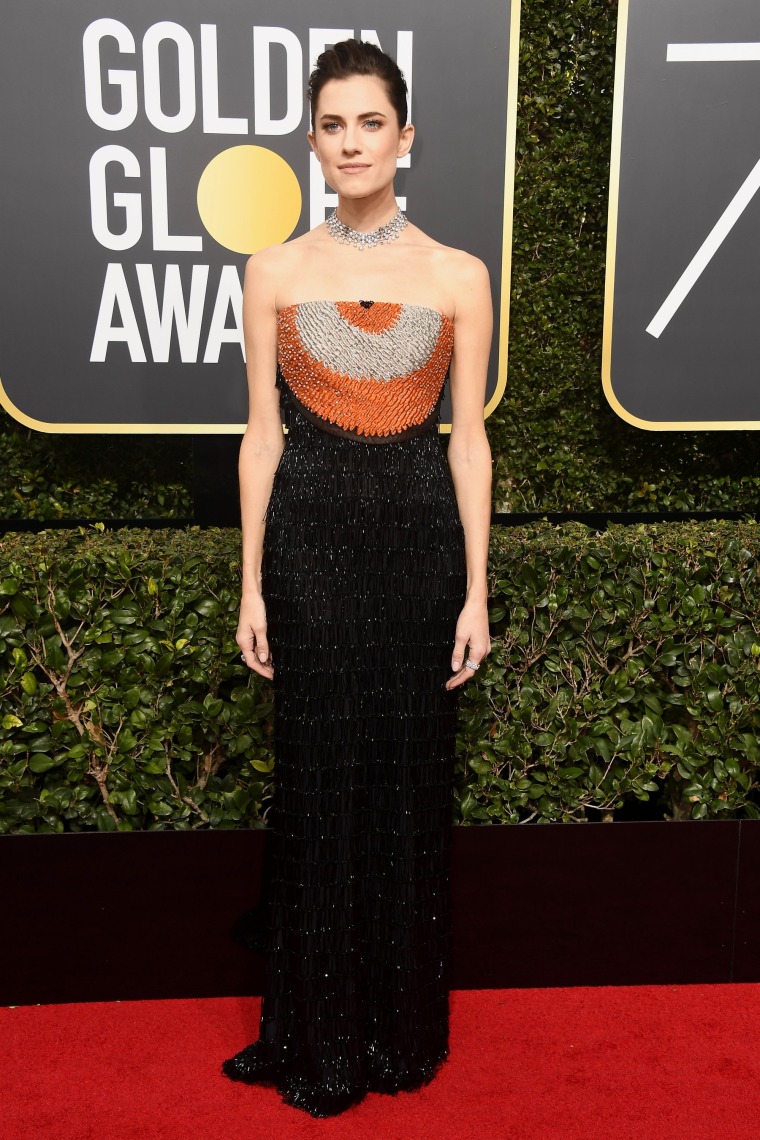 With the slightest pop of color, Allison Williams keeps with the theme while making her own fashionable statement at the awards show.
Jessica Chastain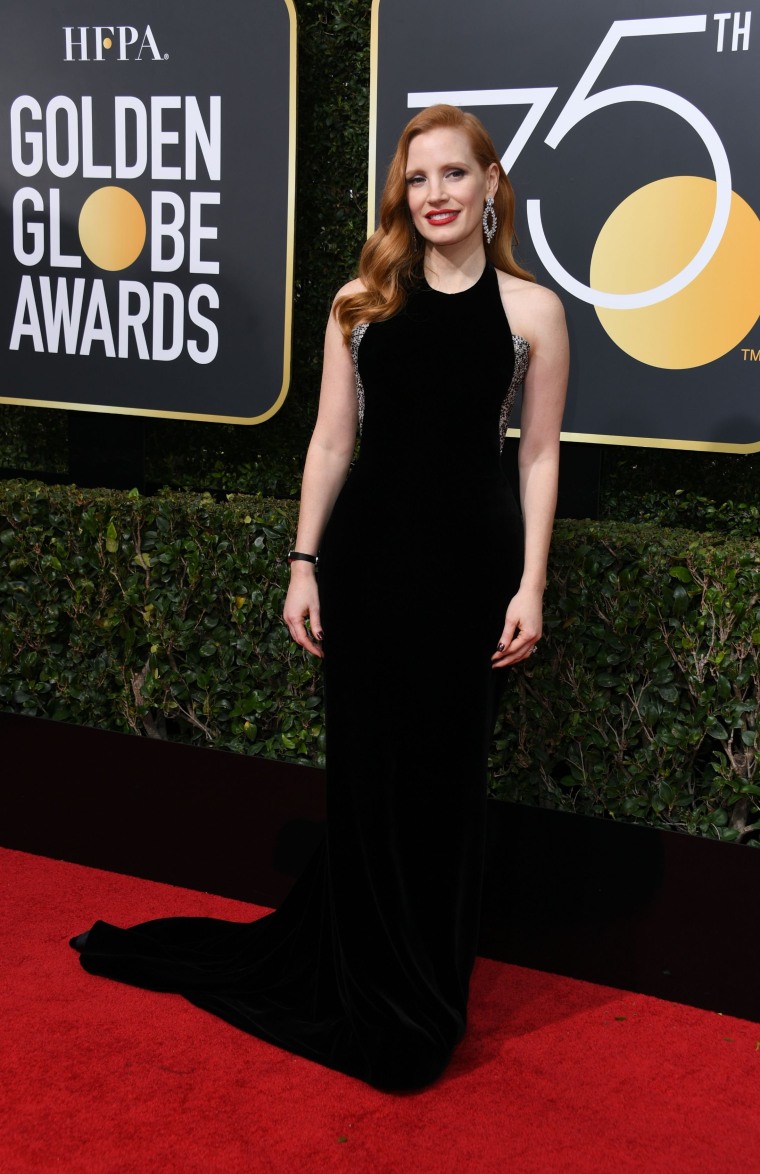 Jessica Chastain added a touch of shimmery silver with this high-necked column gown.
Diane Kruger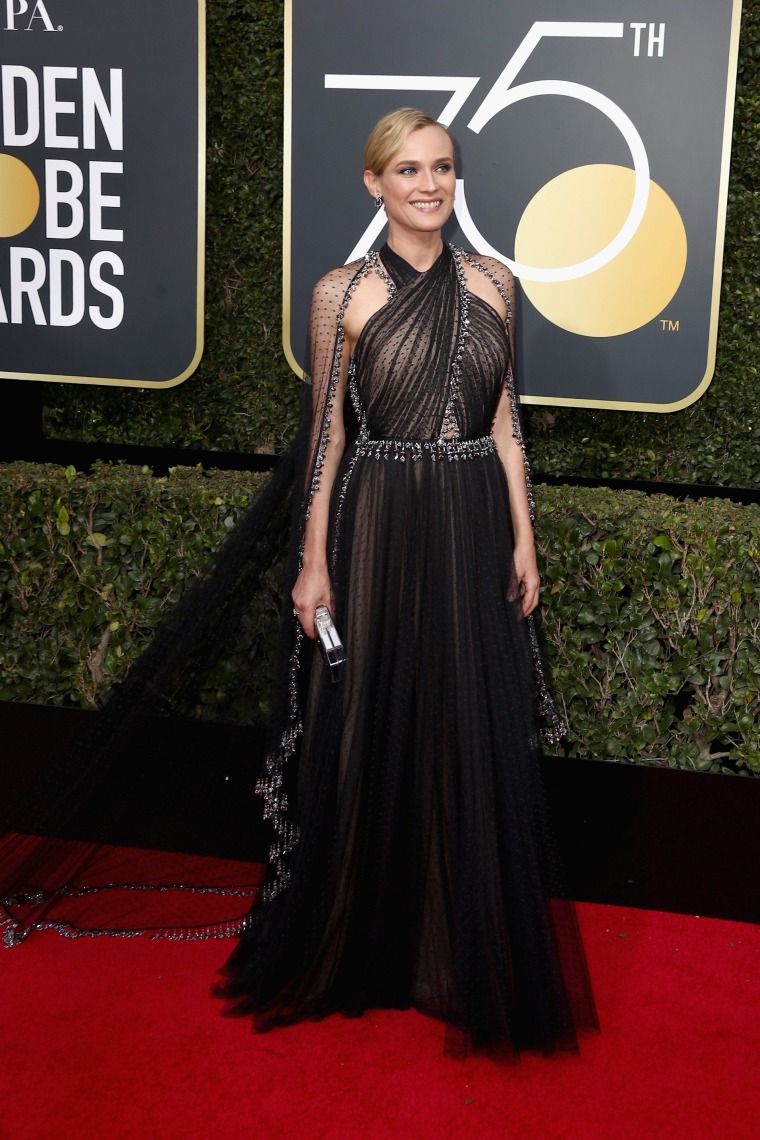 Diane Kruger chose a gem-covered halter dress for her turn on the carpet. The sheer, polka-dotted cape added the perfect touch.
Susan Kelechi Watson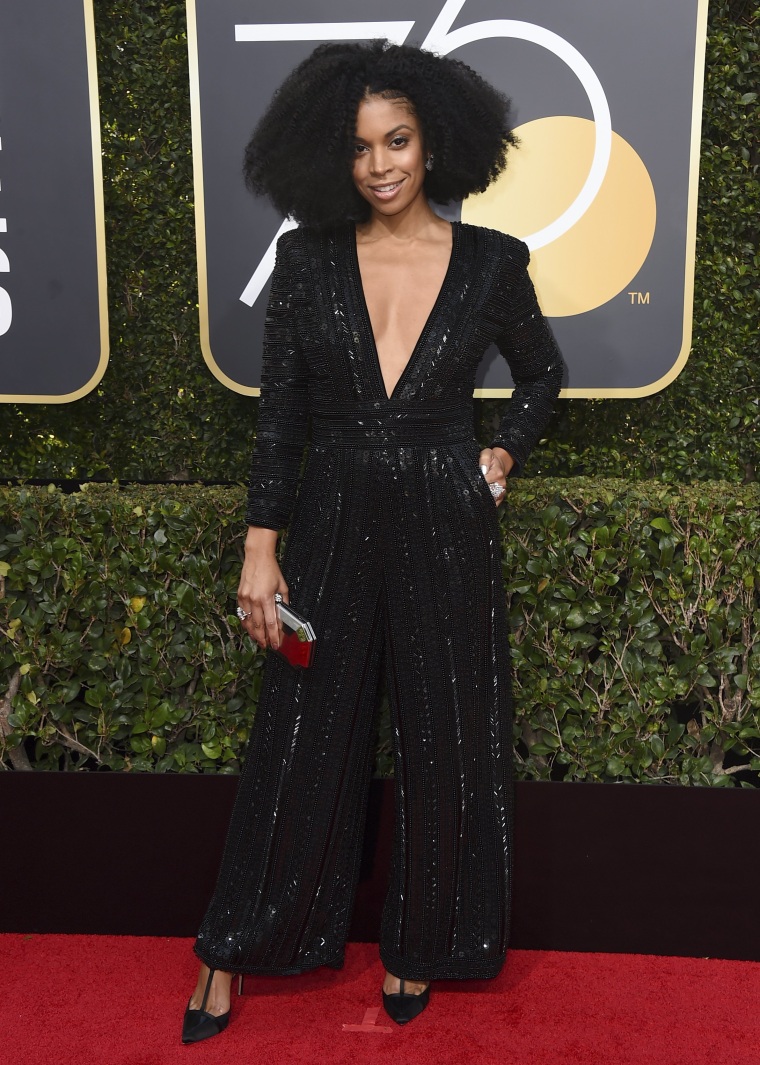 The "This is Us" star strode onto the red carpet in a dazzling wide-leg jumpsuit and natural curls. She looks fantastic!
Laura Dern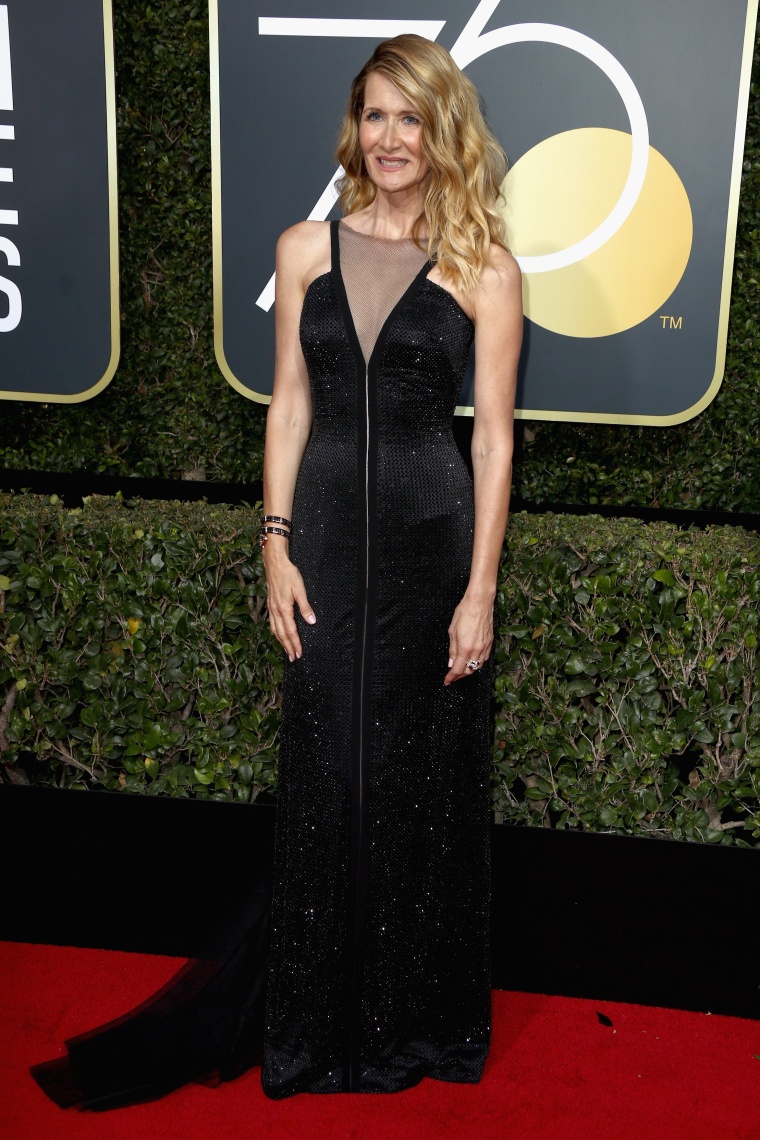 With an illusion neckline and V-neck shape, Laura Dern makes a splash on the red carpet.
Zoe Kravitz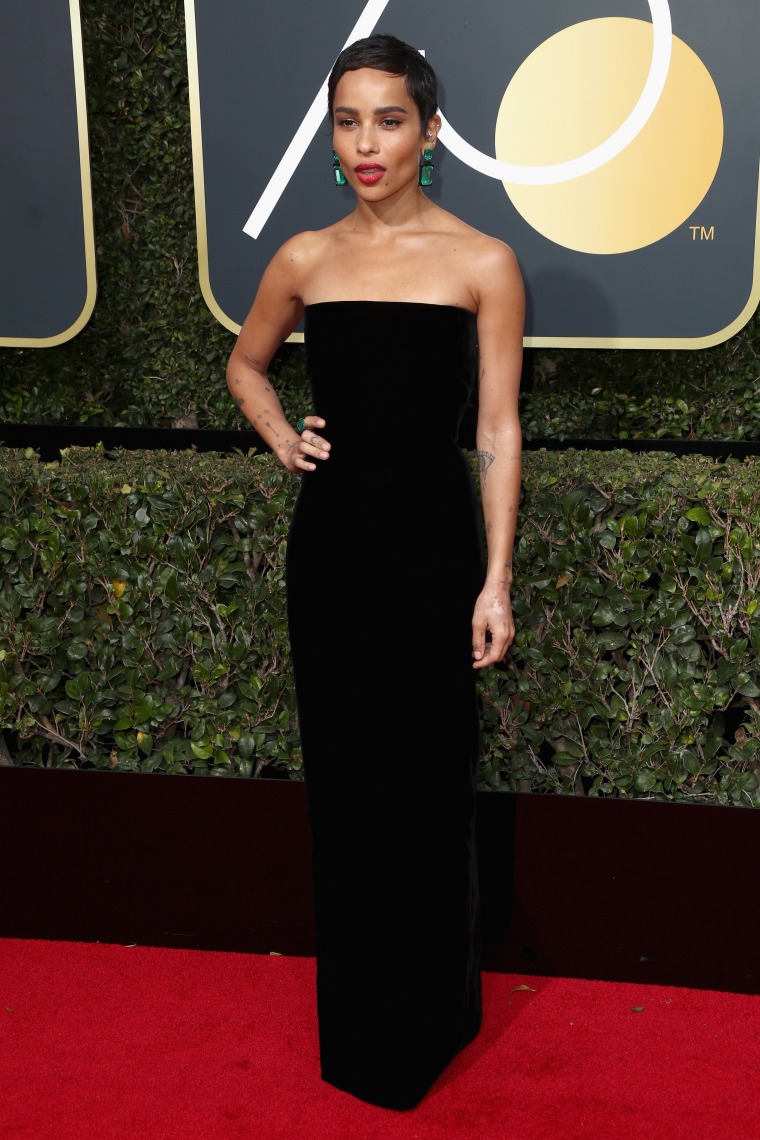 Has simple ever looked so chic? Zoe Kravitz kept it sleek with a strapless black gown and green gemstone earrings.
Margot Robbie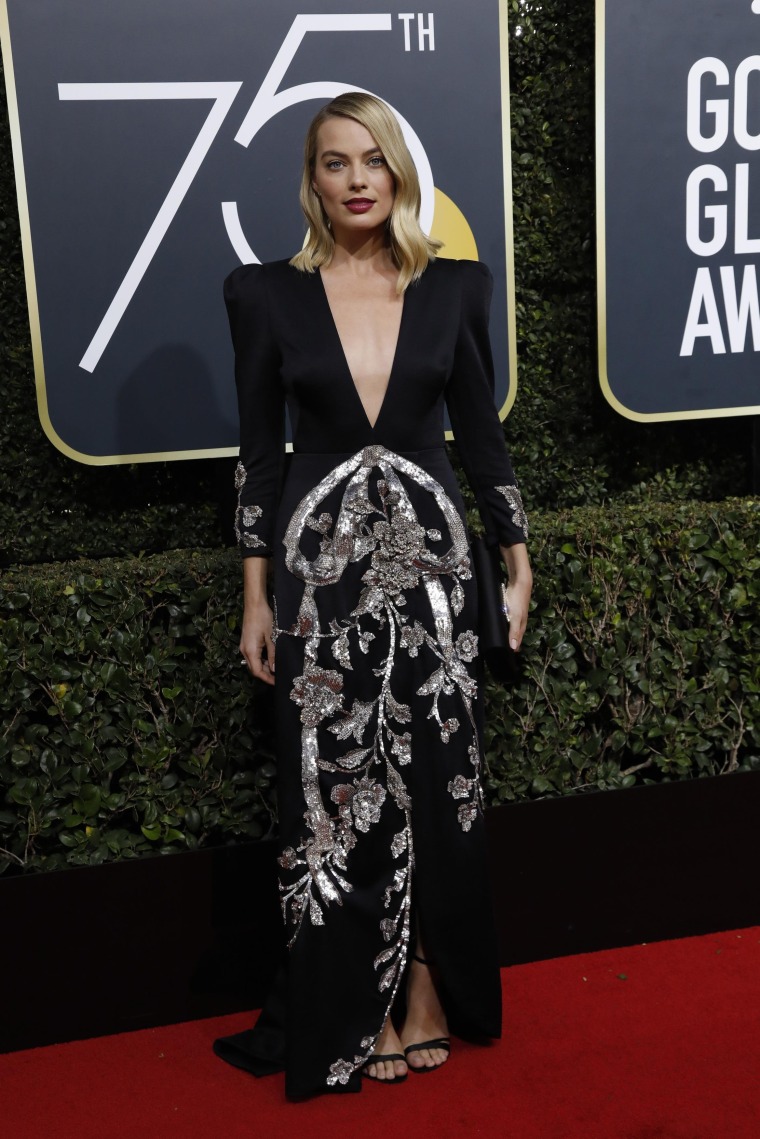 The "I, Tonya" star brought subtle shimmer to the red carpet with this long-sleeved number that featured a perfectly placed silver bow.
Claire Foy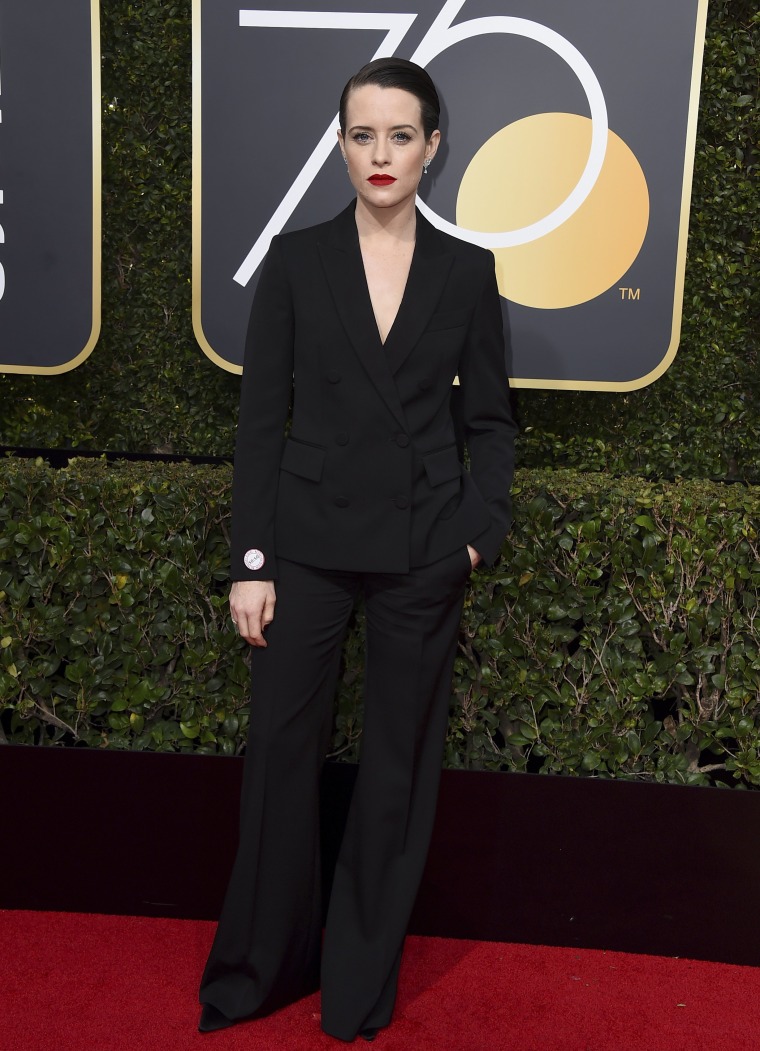 She might play Queen Elizabeth II on "The Crown," but Claire Foy isn't afraid to be king of the red carpet in this play on masculine style. Her vampy red lip adds the perfect pop.
Maggie Gyllenhaal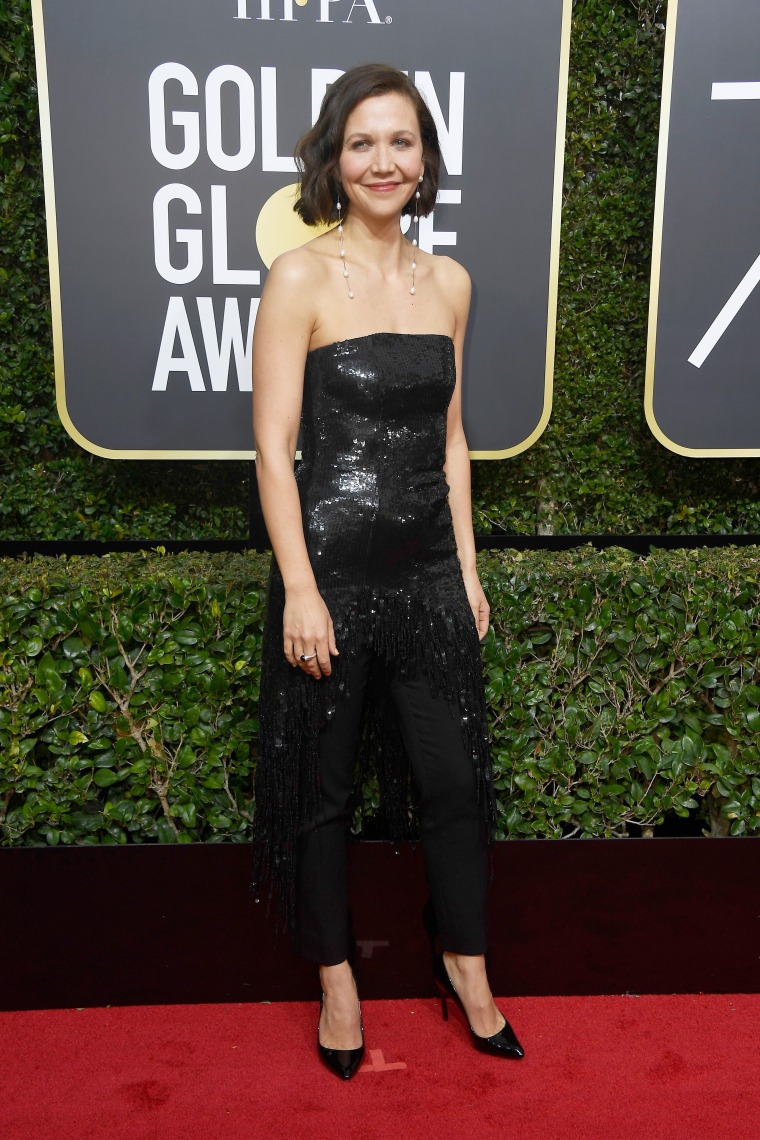 With a sparkly fringed tunic, Maggie Gyllenhaal never fails to wear a one-of-a-kind look.
Alexis Bledel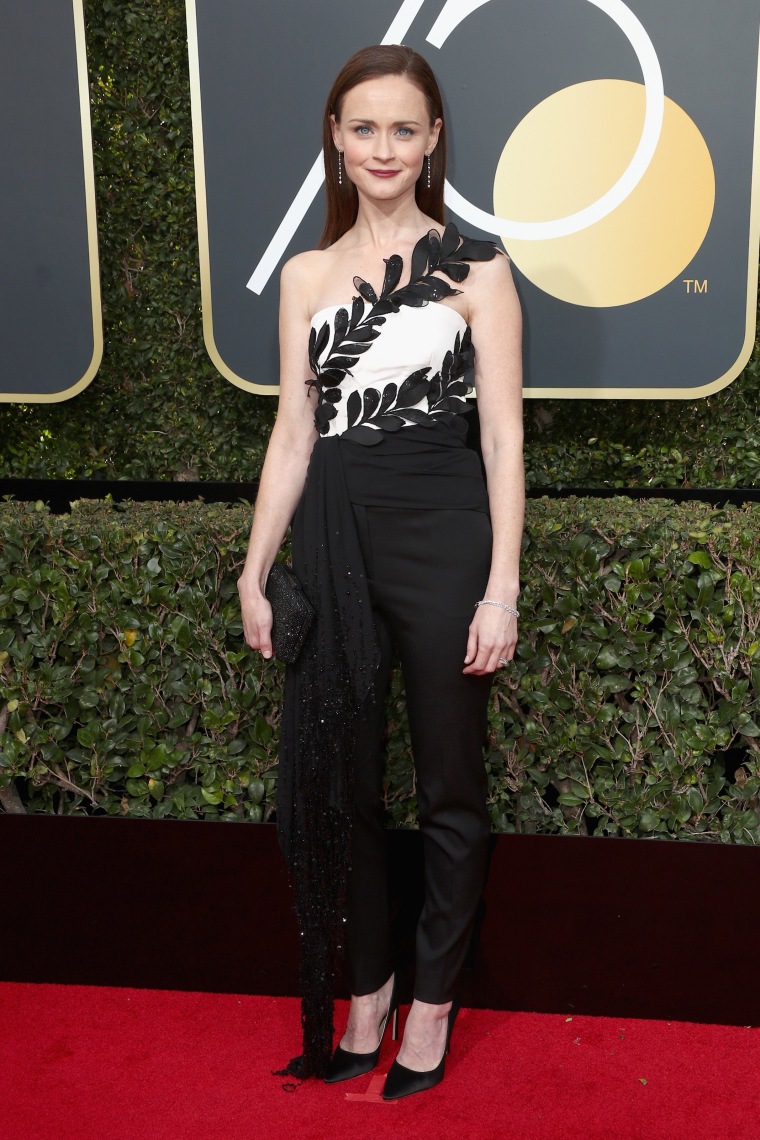 Alexis Bledel took jumpsuits to the next level with this tuxedo-inspired look that blends leaf embellishments, a sparkly sash and black silk pumps into one put-together outfit.
Chrissy Metz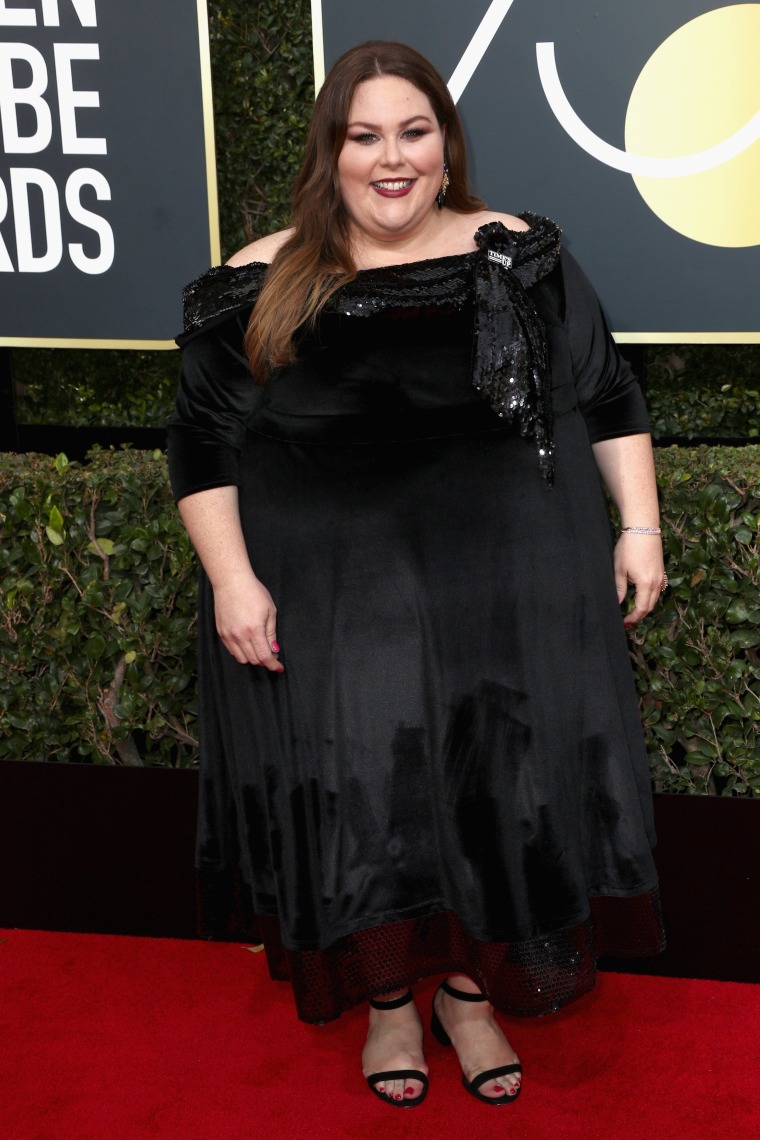 With a sparkly sash at her shoulders and a sheer hem on her tea-length dress, Chrissy Metz proves that mixing textures will look fabulous on the red carpet. Bonus points for her thoughtfully placed Time's Up pin.
Issa Rae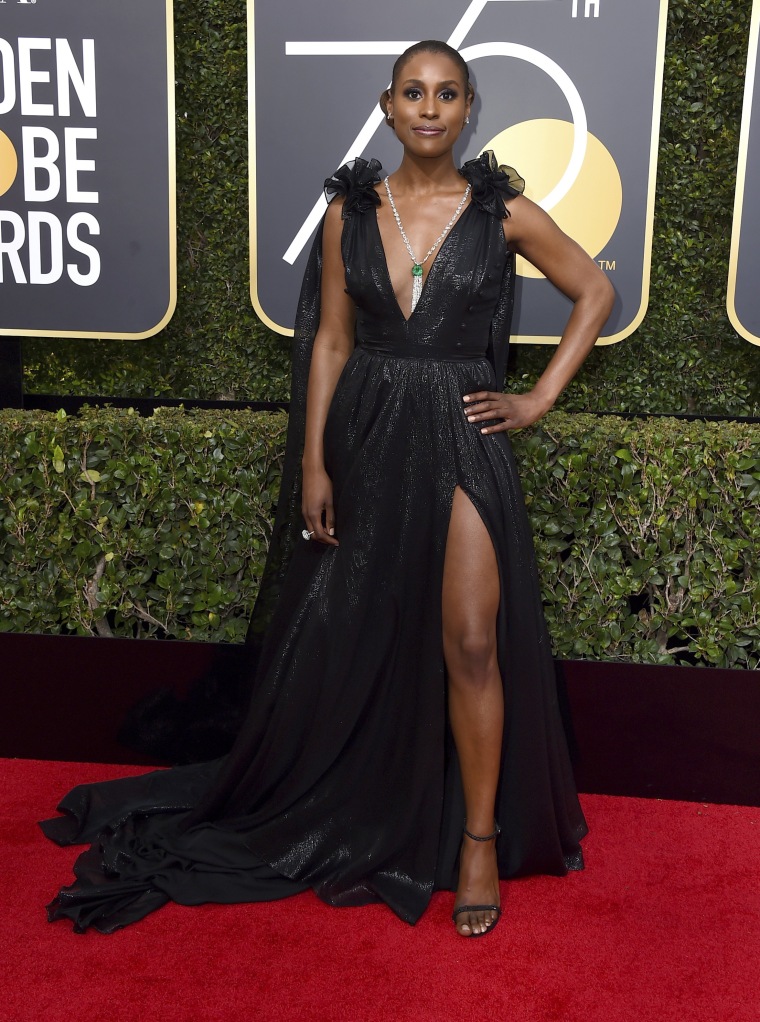 With glitter, glitz, a deep-V neckline and a thigh-high slit, "Insecure" creator and star Issa Rae brought it all to the Golden Globes.
Alison Brie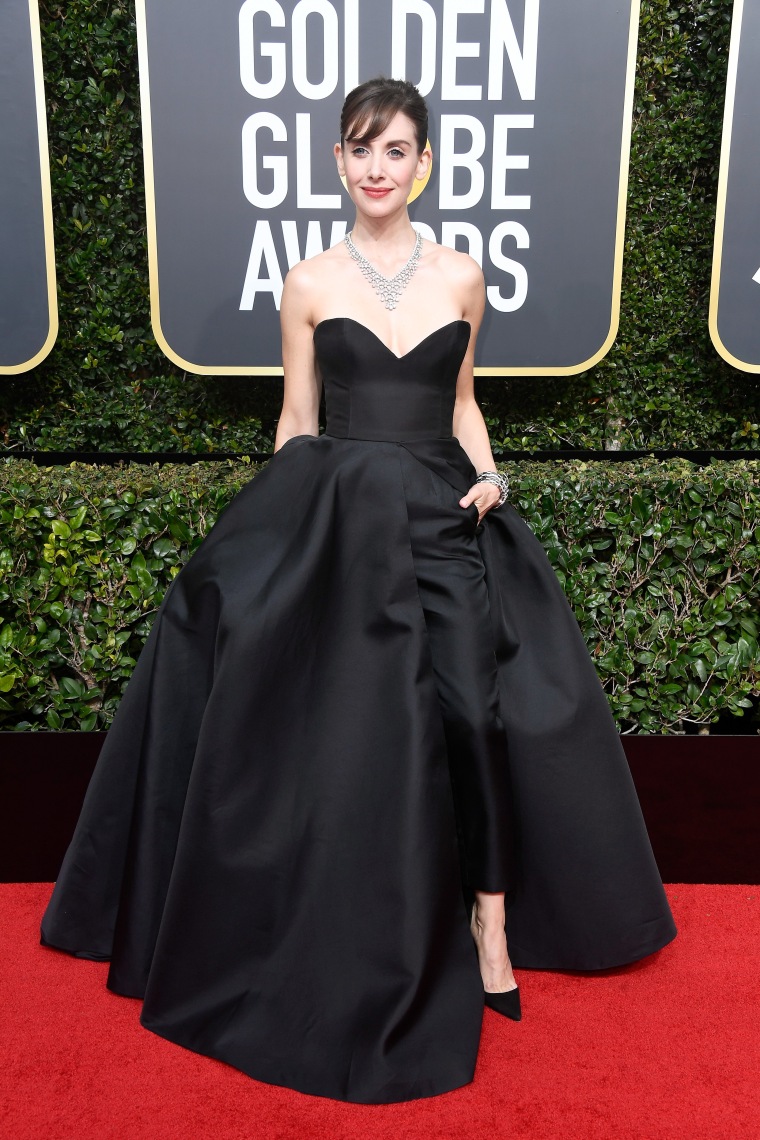 Is that Alison Brie ... or Audrey Hepburn? The "Glow" star wore a classic silhouette but added a fun twist: pants!
Allison Janney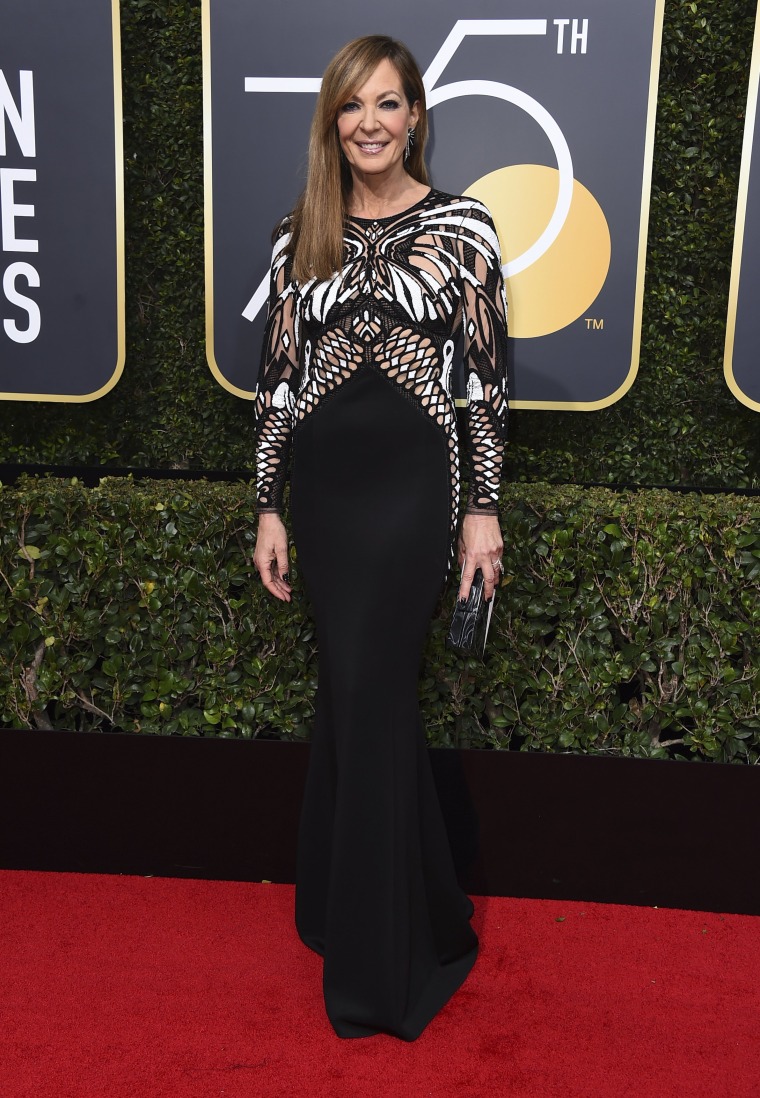 In a black, white and sheer column dress, the "I, Tonya" star chose a gorgeously graphic look for the awards show.
Mary J. Blige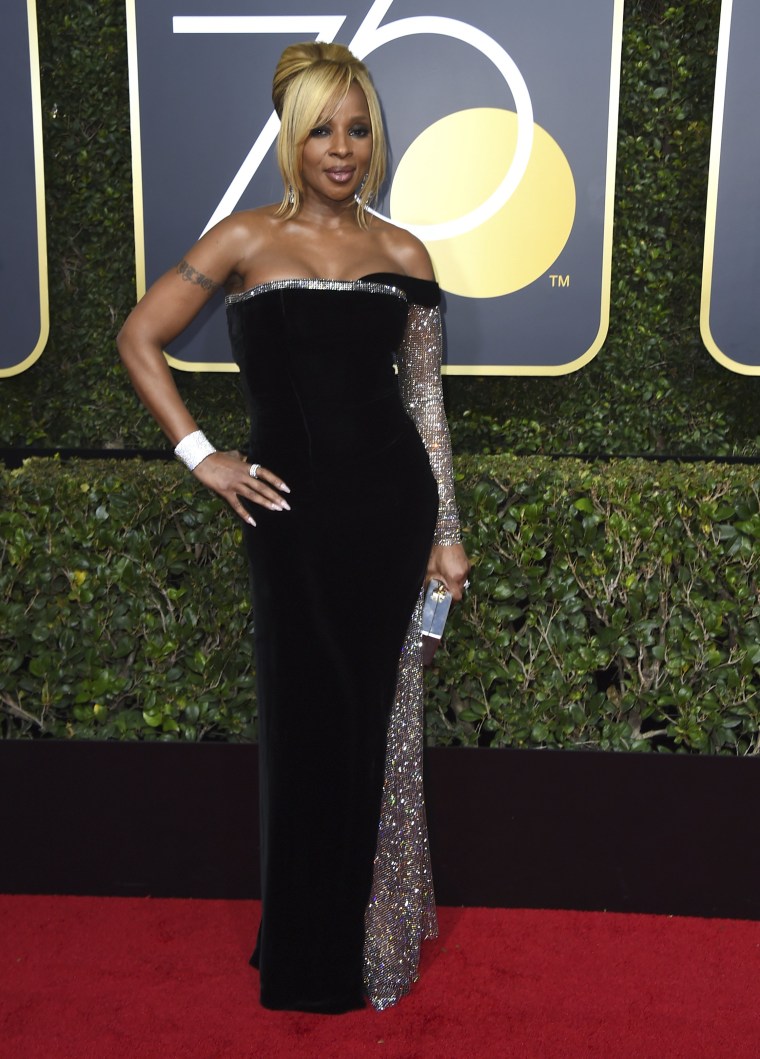 Mary J. Blige accented her black dress with a streak of shiny silver down one side for a look that we won't soon forget.
Kate Hudson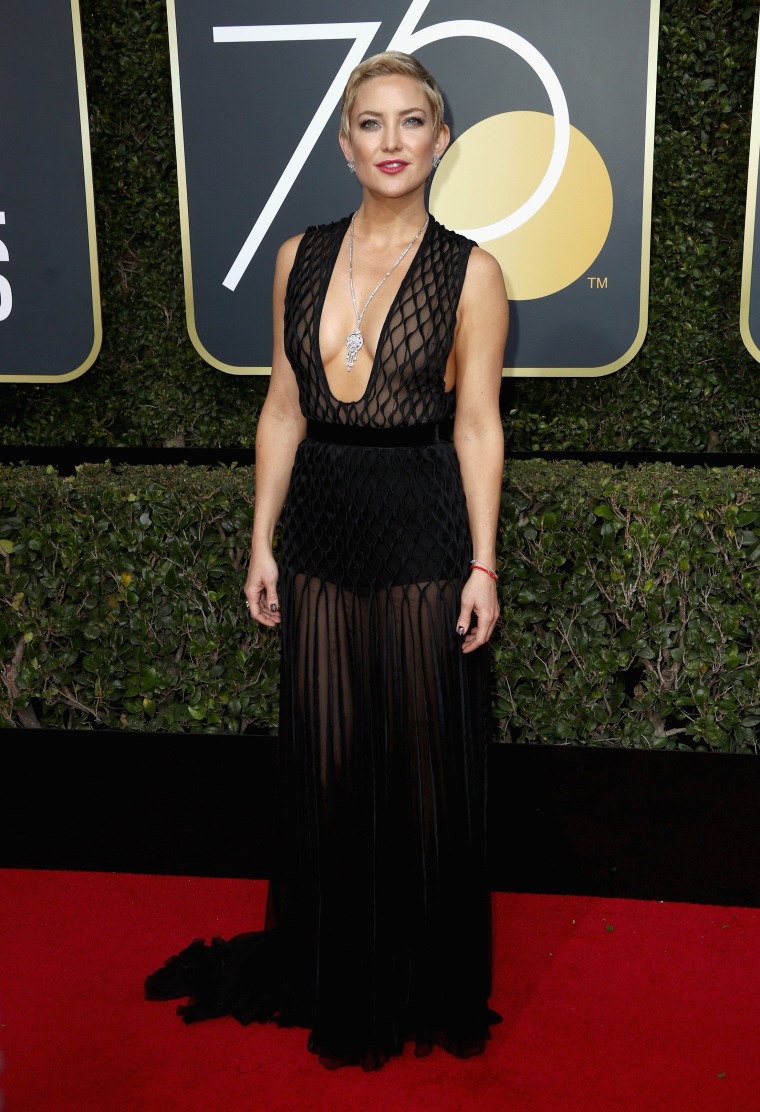 In a sheer, down-to-there dress and ultrashort hairstyle, Kate Hudson proves that she is fashionably fearless.
Angelina Jolie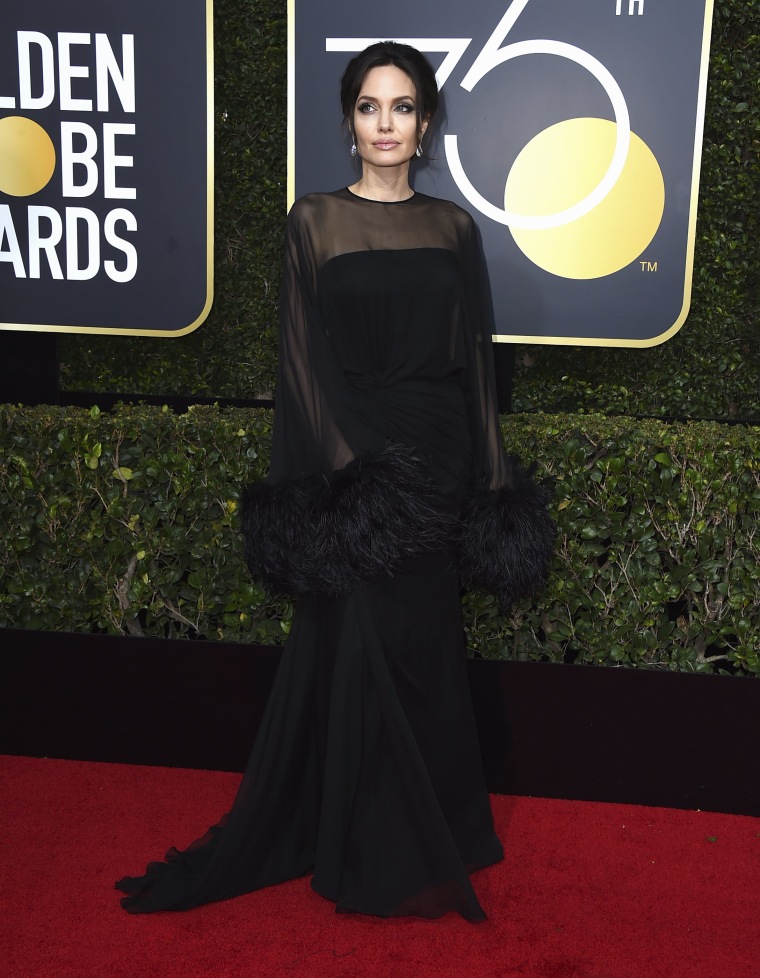 With sheer sleeves and feather-covered cuffs, Angelina Jolie's boudoir-inspired dress is a playful take on the all-black theme.
Millie Bobby Brown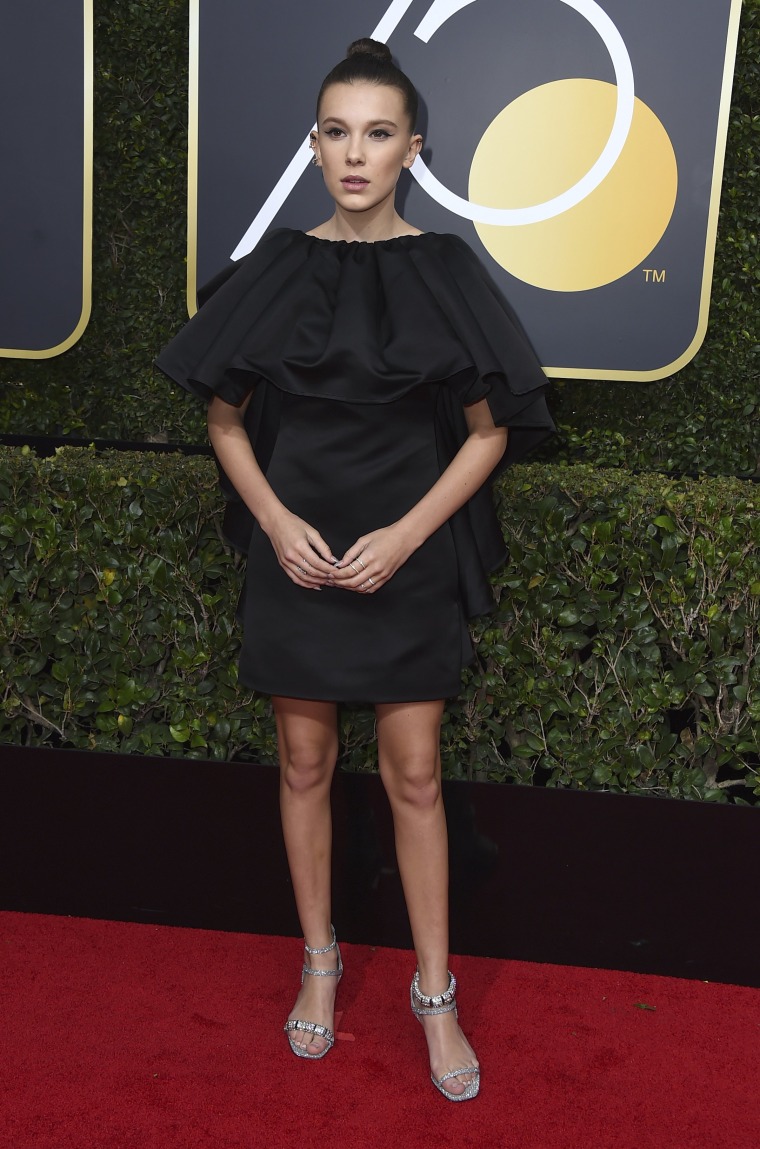 The "Stranger Things" star is becoming a fashion icon before our eyes! Millie Bobby Brown stuck with the all-black theme but added a fashion-forward twist with a giant ruffle at the neckline.
Sarah Paulson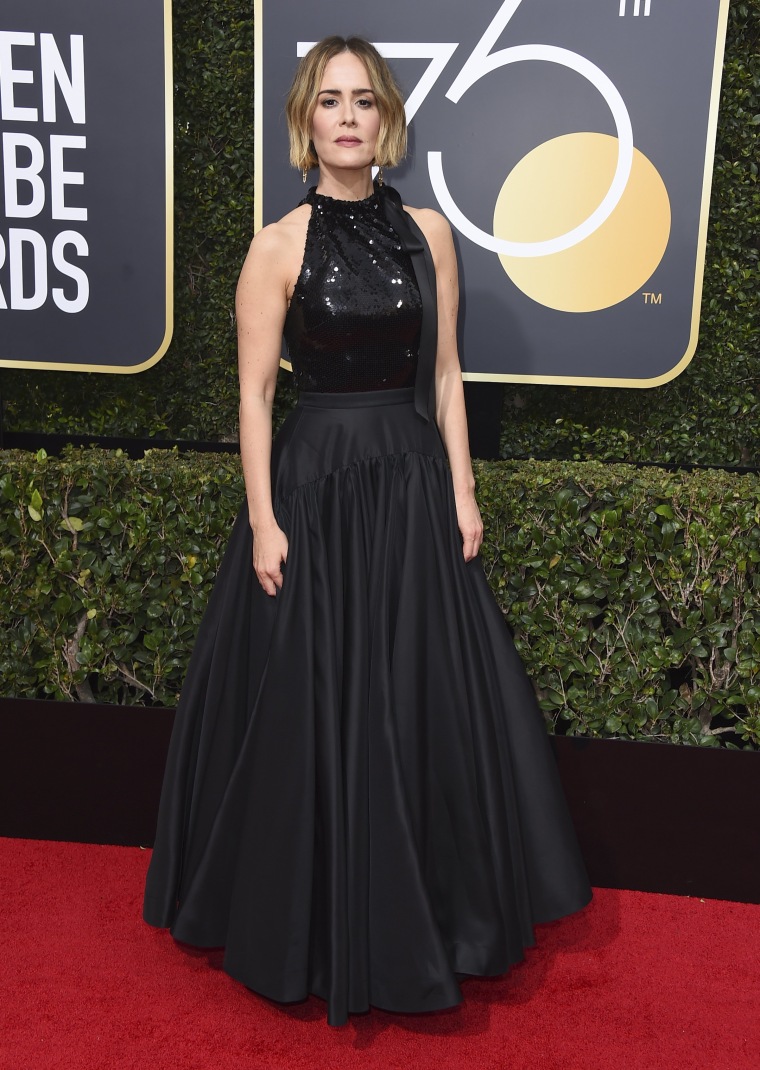 "American Horror Story: Cult" star Sarah Paulson wore a full skirt and sequined top with a well-placed bow for an effortlessly cool look.
Octavia Spencer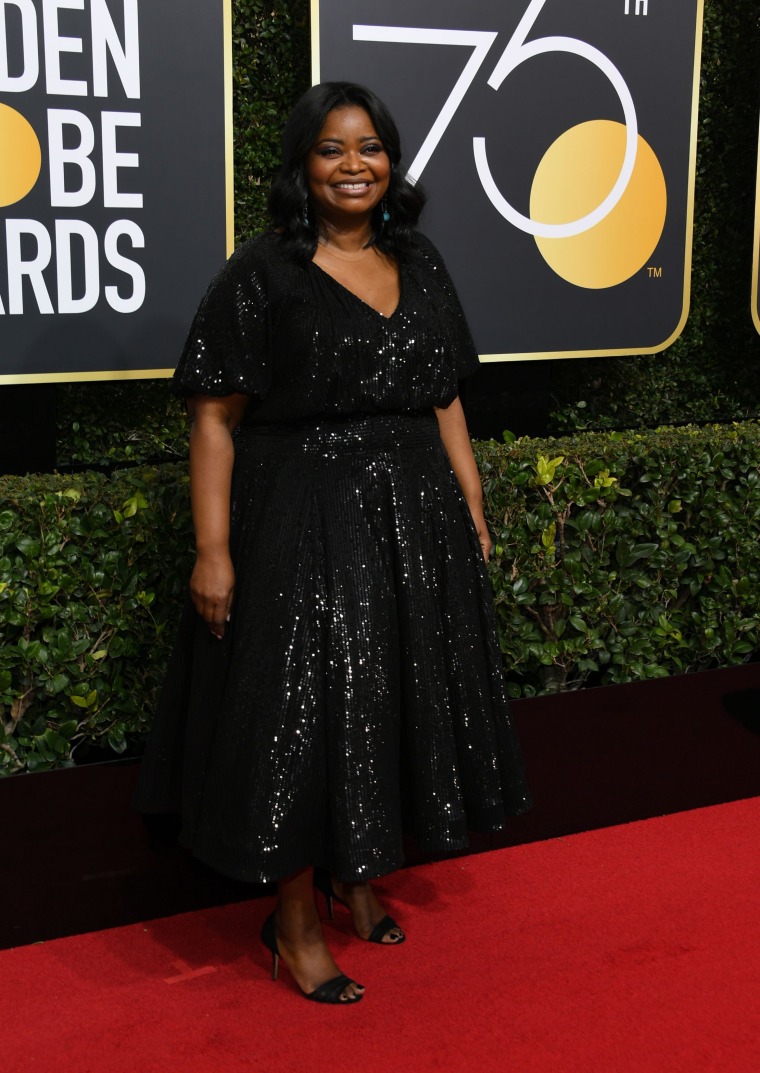 Octavia Spencer shimmered and sparkled on the red carpet — and so did her dress!
Emilia Clarke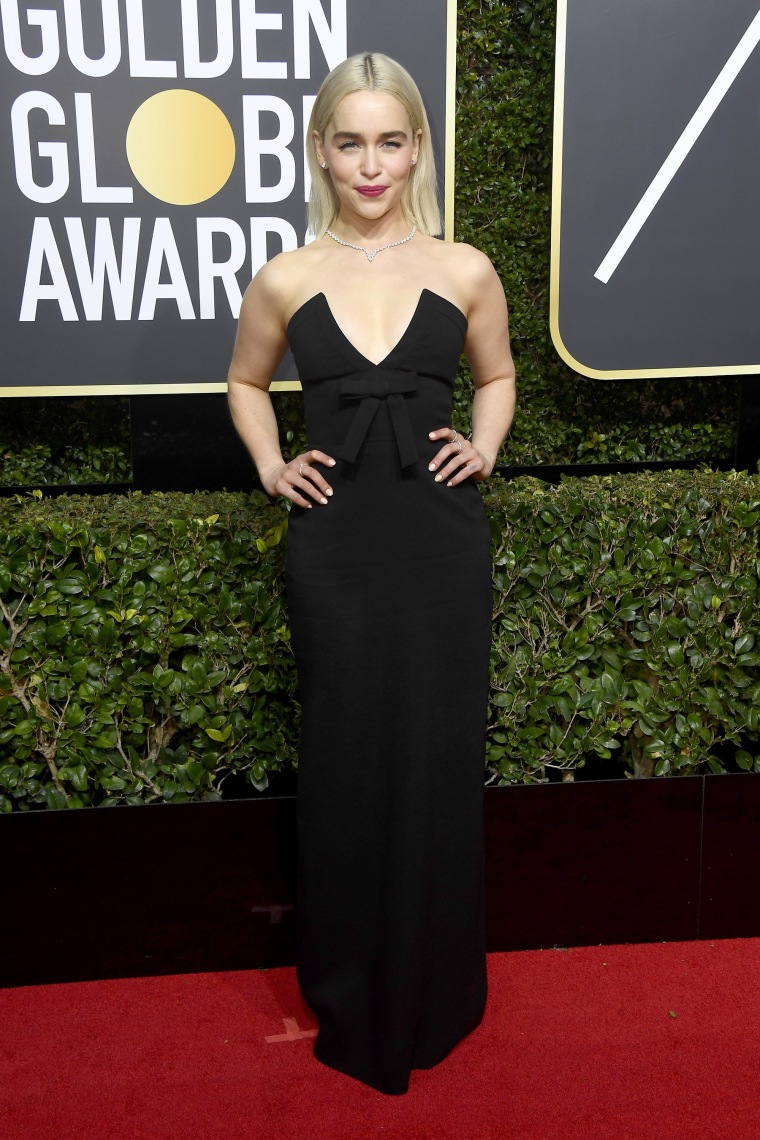 What a difference a neckline can make! The "Game of Thrones" star wore her character's bleach blond hair color and an exaggerated sweetheart neckline for the awards show.
"Stranger Things" cast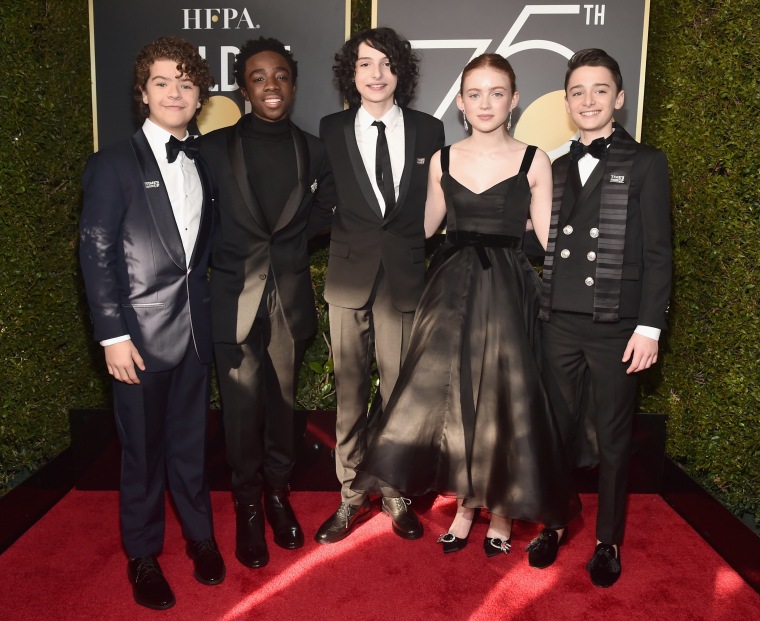 What kind of red carpet would it be without the adorable and talented kids of "Stranger Things"? A less fun red carpet, that's for sure.
Mariah Carey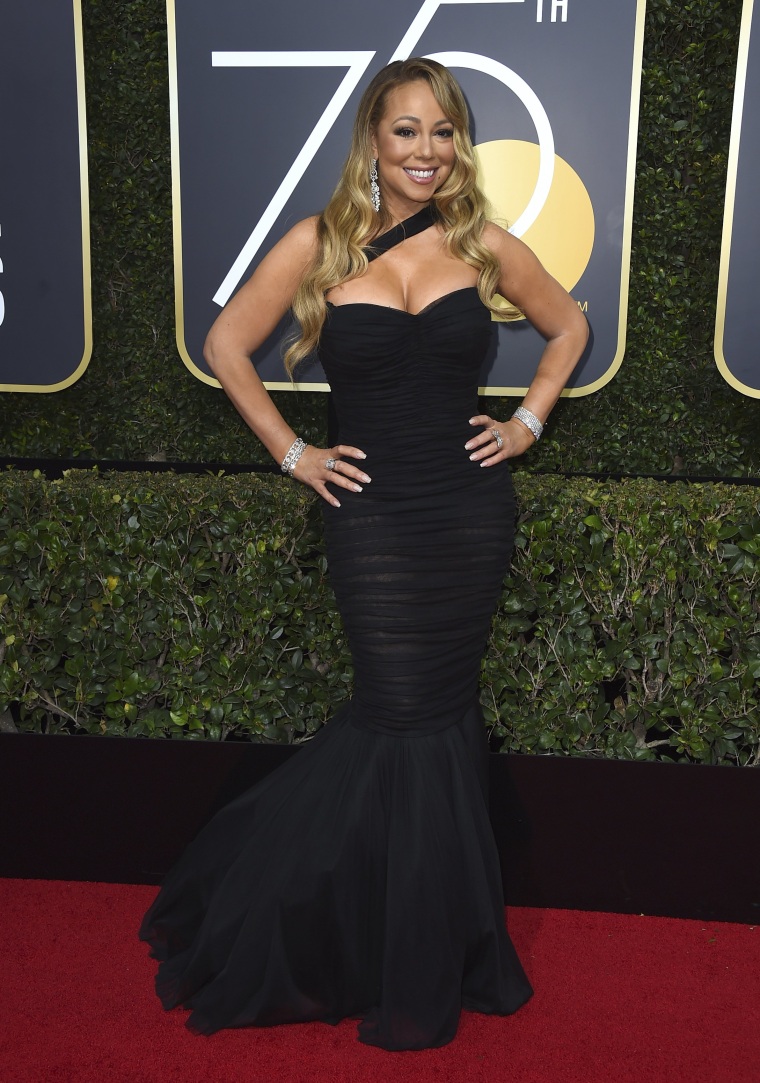 Fresh off her successful New Year's Eve performance, Mariah Carey rocked a mermaid-style tulle dress.
Ann Dowd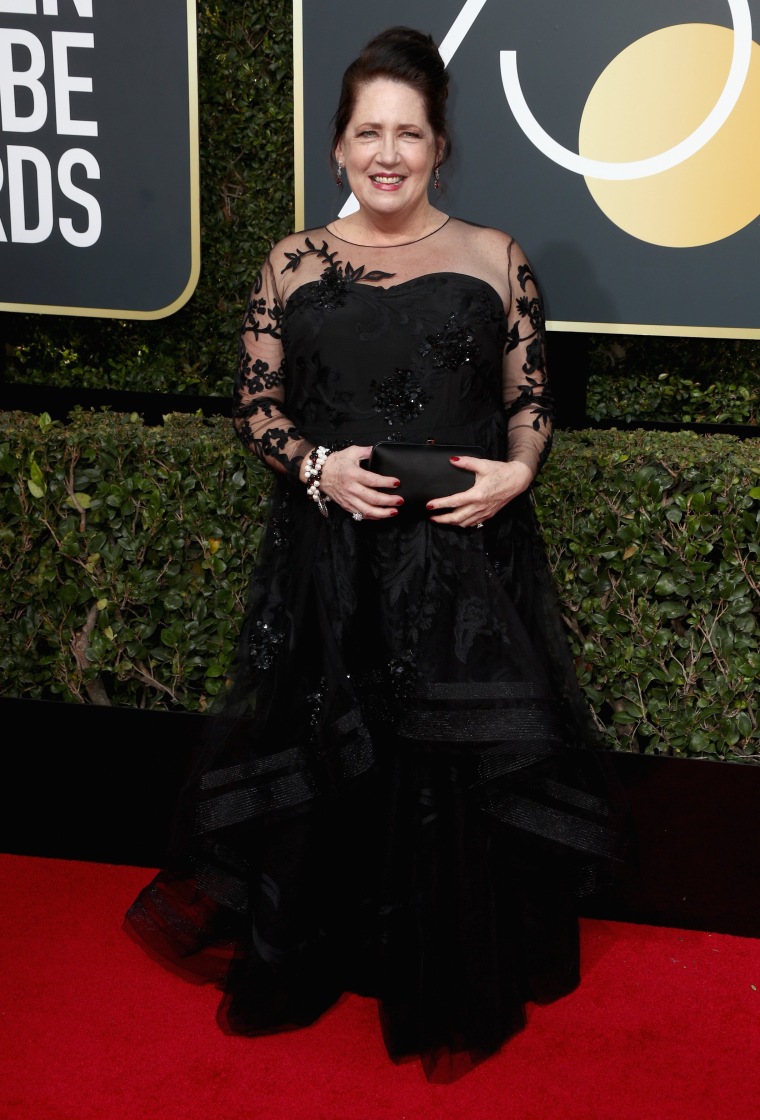 Elegant as always, Ann Dowd of "The Handmaid's Tale" and "The Leftovers" chose an embellished black gown with sheer sleeves and neckline.
Christina Hendricks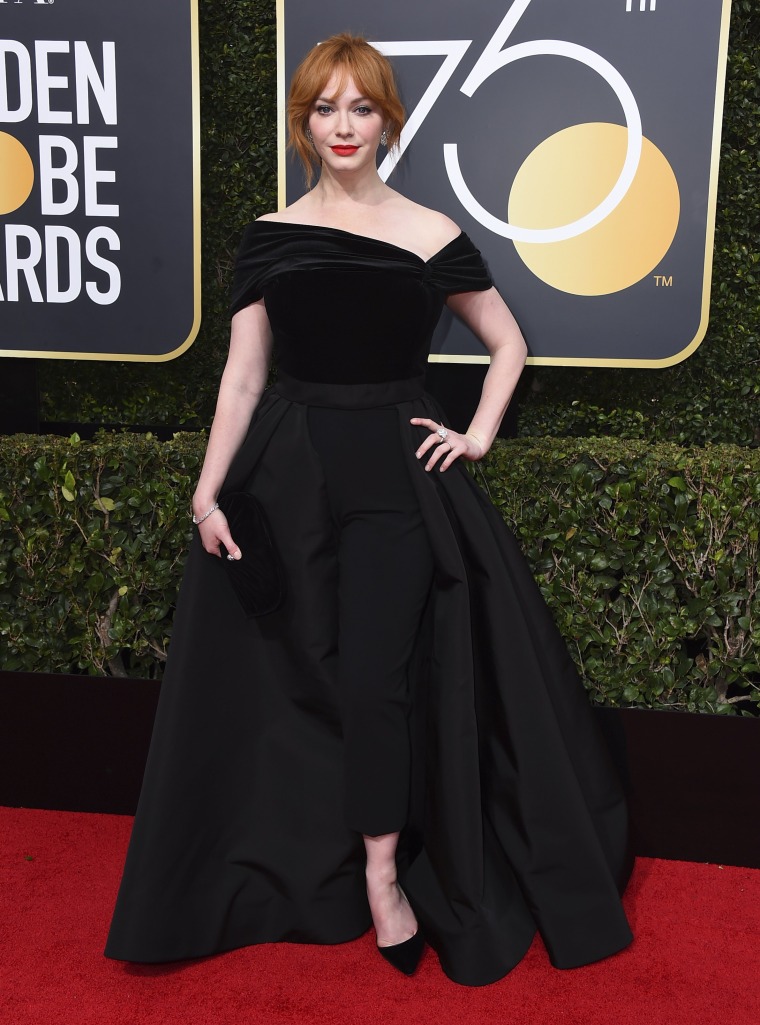 Christina Hendricks' eye-catching gown is so gorgeous, you didn't even notice that it's actually pants! The interesting neckline and mix of fabrics created quite the red carpet stunner.
Dakota Johnson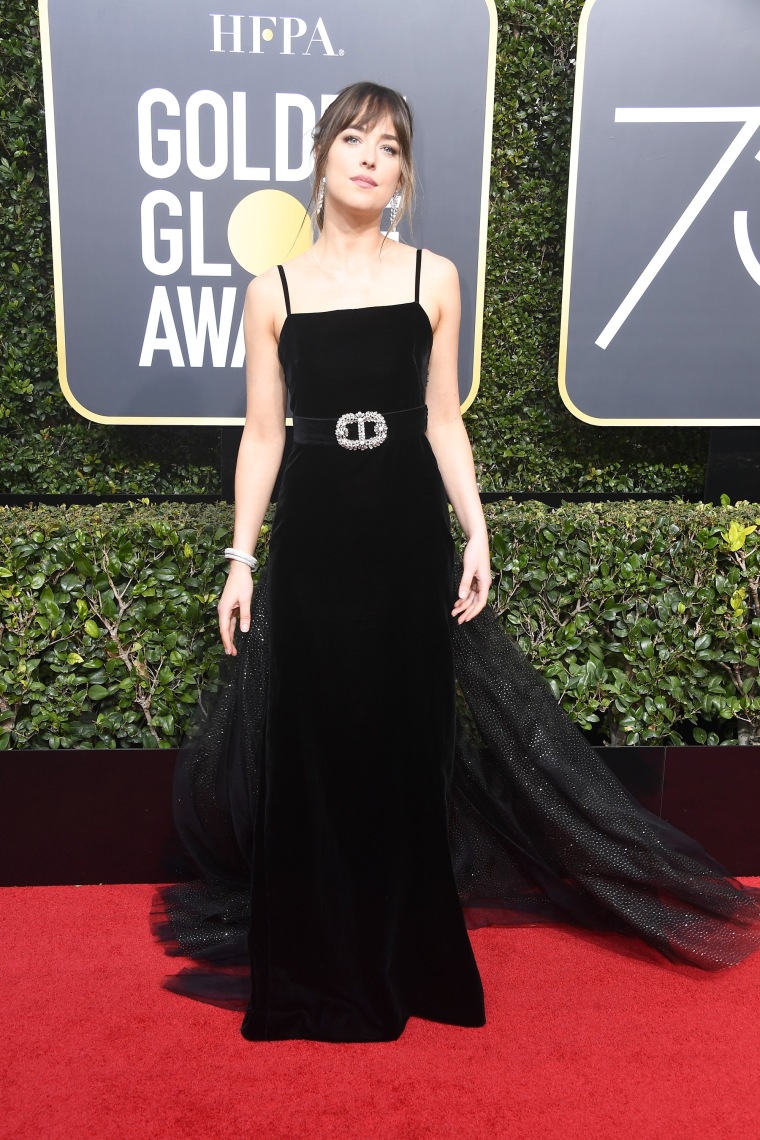 Dakota Johnson knows how to work her accessories. Her deceptively simple column gown is made all the more gorgeous with a statement belt and a shimmery train.
Catherine Zeta-Jones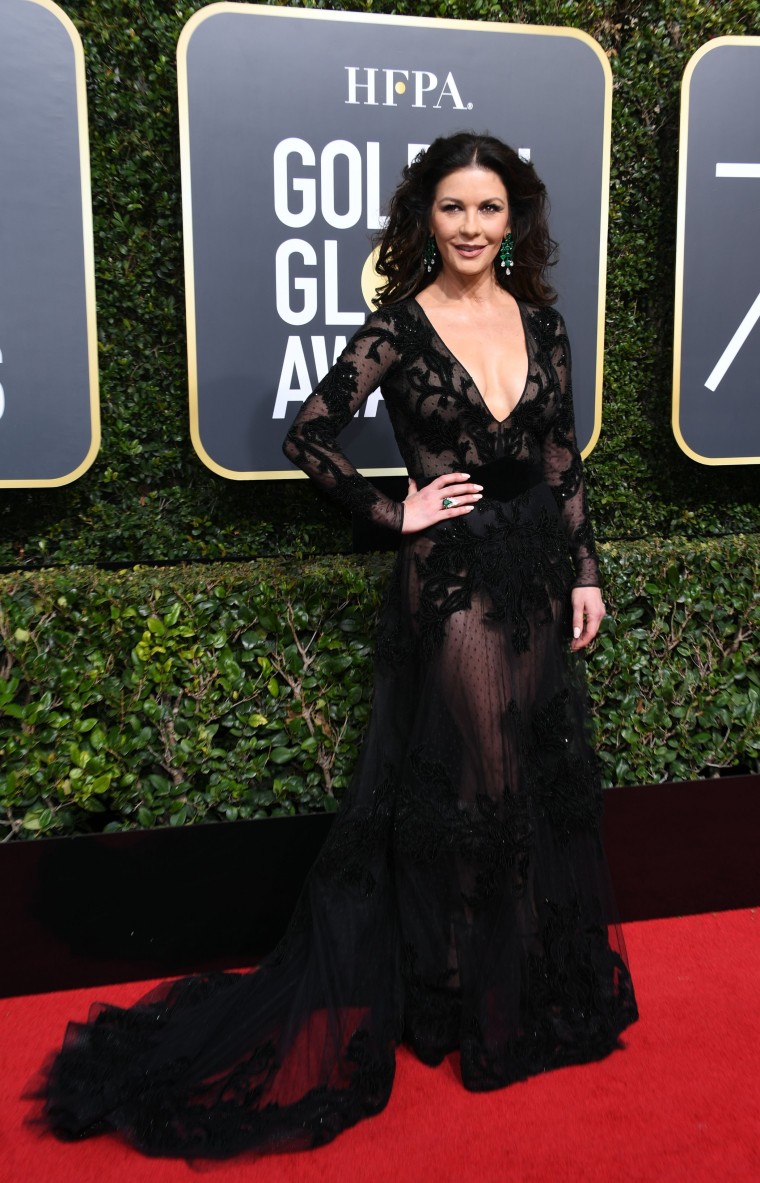 Catherine Zeta-Jones proves that black is anything but boring in this deep-V gown that features a sheer skirt and an exciting blend of textures.
Roseanne Barr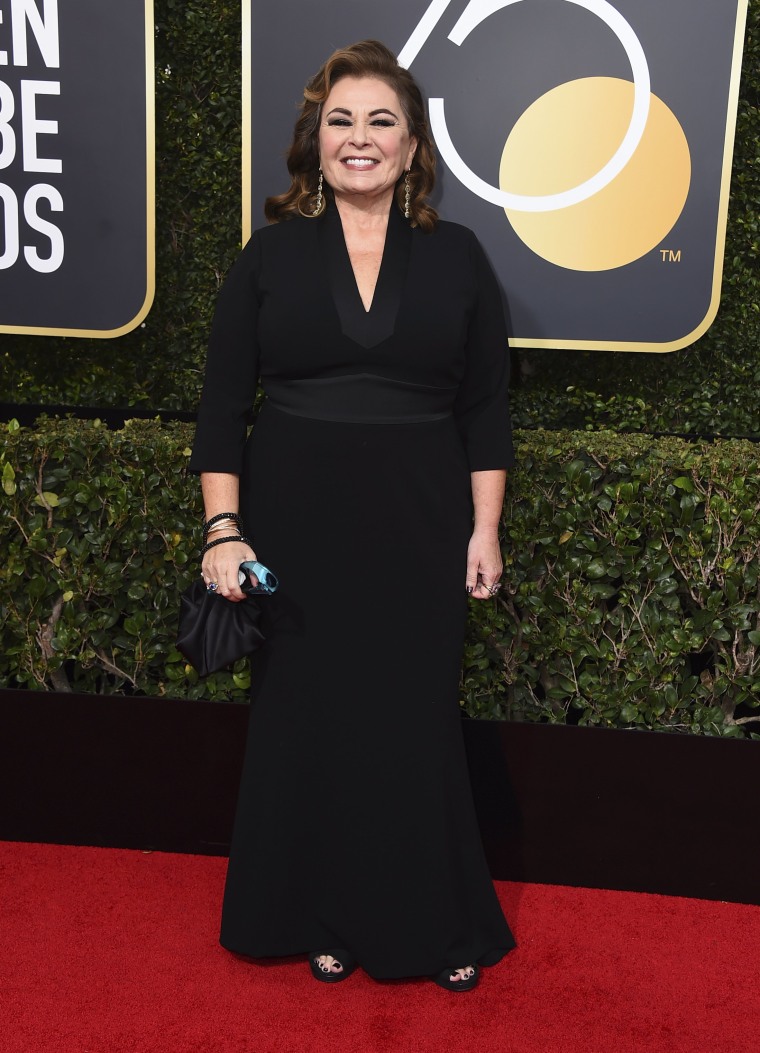 "Roseanne" is back! Both her hit show and the comedian on the red carpet. Judging by her ear-to-ear smile, she's happy to be there.
Simone Garcia Johnson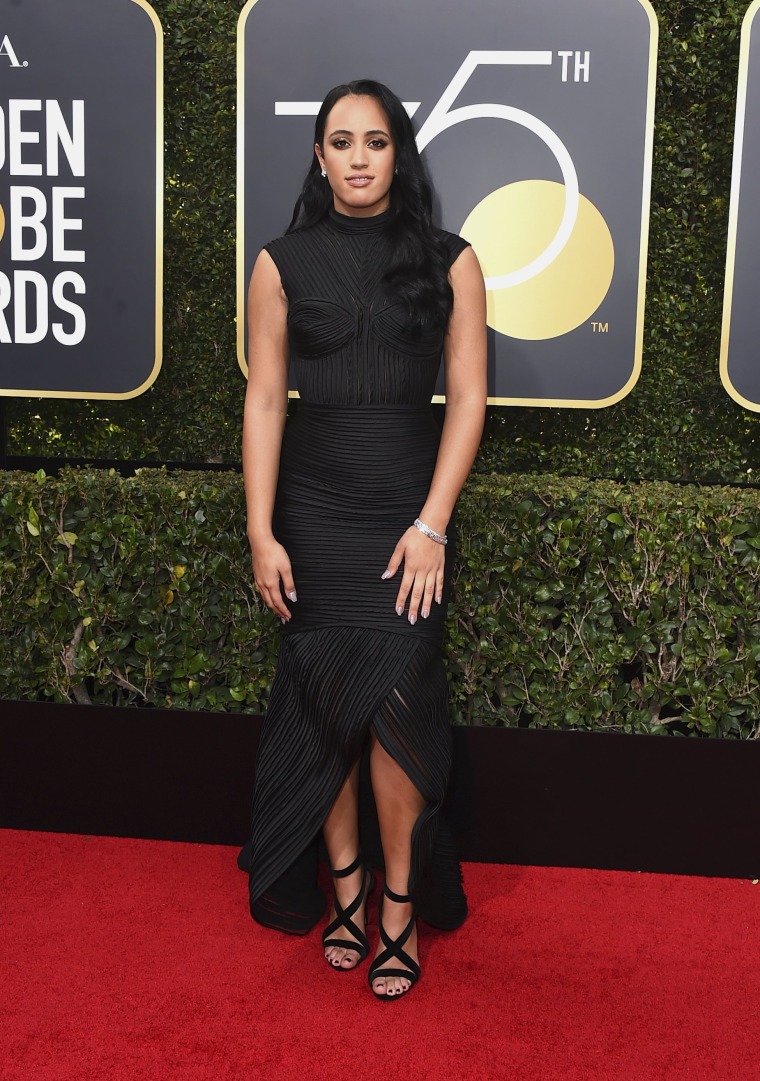 Dwayne "The Rock" Johnson can't help but post a glowing Instagram supporting his daughter, Simone, as the 2018 Golden Globes Ambassador (a job recently held by Sylvester Stallone's daughters).
Tara Lipinski and Johnny Weir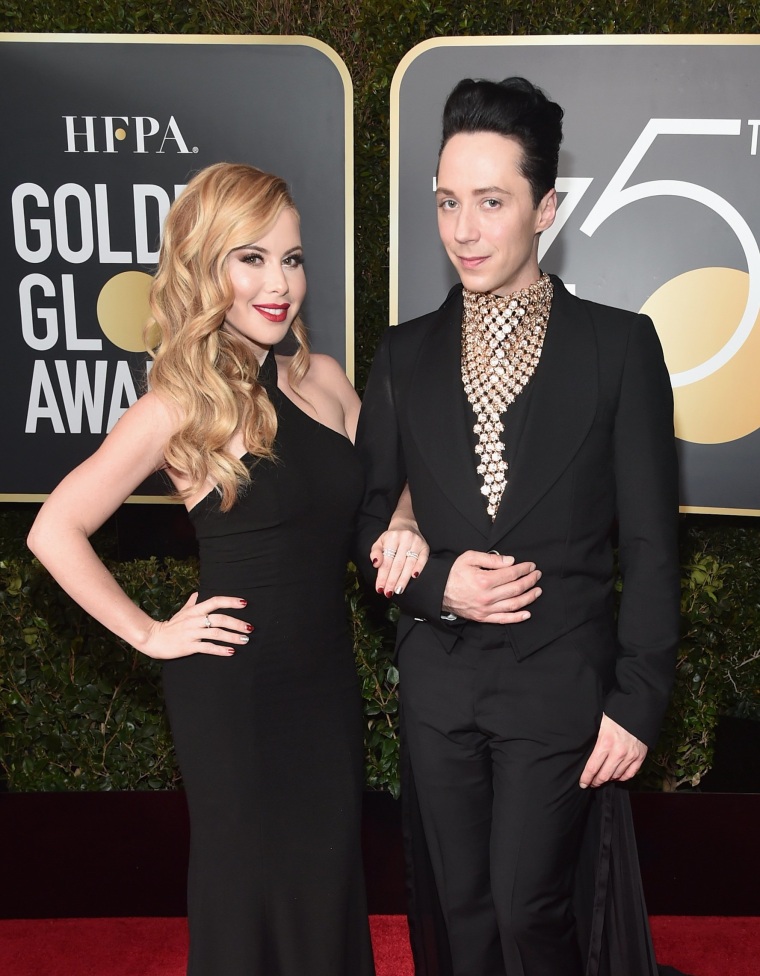 Figure skating superstars and dynamic duo, Tara Lipinski and Johnny Weir, used accessories like a dramatic necklace and red lips to stand out on the red carpet.