Who says age has to come before beauty?
One new makeup tutorial – for senior citizens – has gotten nearly 263,000 views in two weeks. "Glowing, Youthful Day Makeup Look for Mature Skin" has taken off as one of the few online videos aimed at older women.

British creator Lisa Eldridge, who has spent the last 20 years as a makeup artist to stars including Kate Moss, Kate Winslet and Keira Knightley and U.K. royalty like Sarah Ferguson and Princess Beatrice, has found a new niche thanks to online makeup tips that she posts on her Web site, lisaeldridge.com, and YouTube.
Eldridge said she's been overwhelmed by the response.
"All of the videos that I make are inspired by the letters I get, so it's real women with real problems, whether it's a teenager with acne or, in this case, so many letters from women in their 50s, 60s or 70s, predominantly saying, 'I'm scared of makeup, I haven't worn it for years. What should I do?'" Eldridge said Thursday on TODAY.
"So I thought, okay, I'll reply to all these ladies with a video. But it's taken off a lot more than I thought."
Eldridge demonstrated her makeup tips on five women on the TODAY set.
"I feel glamorous," one recipient said after her makeover. "She made me feel very good."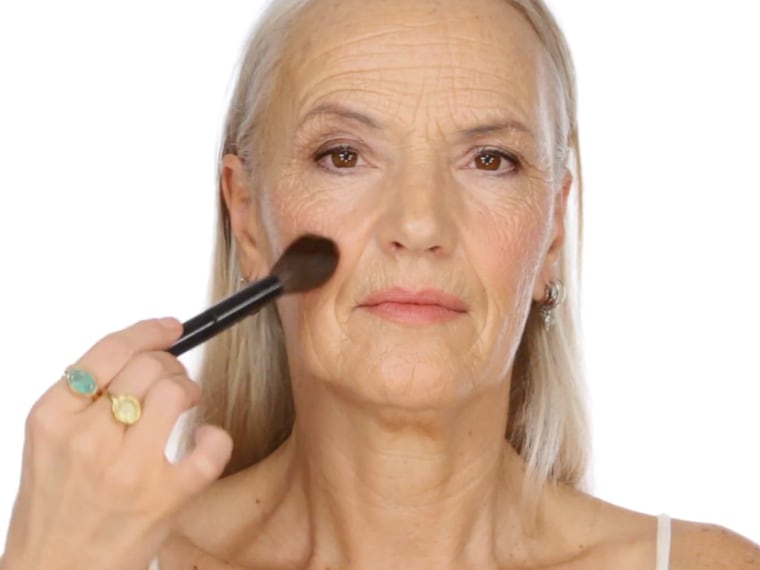 Eldridge has read the thousands of comments on the video that say things such as this one, from YouTube user Louizalass: "At last! Makeup for ME!! I'm 63 and although I love wearing makeup, all the tutorials on YouTube [are] mainly for younger women and although they're fun to watch, it's nice to see something for us more mature women."

While the Internet is full of teen girls posting beauty how-to's, Eldridge found there was no one at her level of the profession sharing tips. Eldridge said the video has become viral largely due to the lack of resources online for women over 50.
"Makeup is a young person's game," she said, adding that she had gotten many letters seeking advice from those battling wrinkles. "I didn't want someone with Botox or fillers," she said of the model, Yvonne. "A lot of it is genetic and sun damage, but the fact of life is that someday we're going to have lines in some degree or another … she loved the makeup so much and was smiling so much. I got so much out of doing her makeup."

Without publicity or promotion, the site has expanded to more than 100 videos and traffic has increased by word of mouth. "It has just grown and grown and grown so organically, so beautifully," she said, noting that she is posting things she likes, not pushing products for profit or posting simply to meet a deadline. More than half of her traffic is from the United States, she said, and the videos cater to everyone from "17 to 70."
A lifetime of beauty
Lisa Eldridge's lifelong love affair with makeup began when she was 6 and discovered her mother's teenage cosmetics collection full of vintage Mary Quant and early Elizabeth Arden products from the 1960s.

"I was fascinated by it," said Eldridge. Rather than using her face as a canvas, she used the colors to draw on paper and mixed them with water to see what effects it would create.
In addition to makeup artistry, Eldridge created a product line for Shiseido and is creative director for British cosmetics brand No. 7. She also shared her work on the British television show "Ten Years Younger."
When it comes to a philosophy on beauty, Eldridge believes in simplicity, adding that women should focus on learning how to create a flawless base, and then anything else, from mascara to lipstick, looks good.
"I also don't really buy into trends," she said. "Get the basics right. If the basics are right, skin looks great and natural and well done."
In addition, she said products don't need to be expensive to work well. For example, whether or not it costs a lot, mascara dries out quickly. "I buy cheap and replace often," she said, adding that she is a fan of Cover Girl's Lash Blast.
Most importantly, she said women must get to know their own face and use products that help them specifically rather than what is shown in magazines or used by friends. "Think, 'what do I need for me?'" she said. If your eyes are small, learn how to use a good eyeliner. If you have blemishes, find foundation that conceals them. "It's amazing how little self-knowledge people have about their own faces."
Eldridge keeps her site full of insider tips from her decades of experience working with women of every age, skin tone and background. "I'm really speaking from experience. I've learned a lot. It's been my life. I've been passionate about makeup since I was [a child]," she said, adding, "I hope that there's something for everyone."