From weddings and birthdays to babies or even breakups, beauty brands are now offering kits that have serious sentiment.
So next time you find yourself scratching your head over what to give, remember these special and sweet bundles that will send your message loud and clear (and beautifully!).
1. Tarte Blushing Bride Wedding Day Essentials, $49 at tartecosmetics.com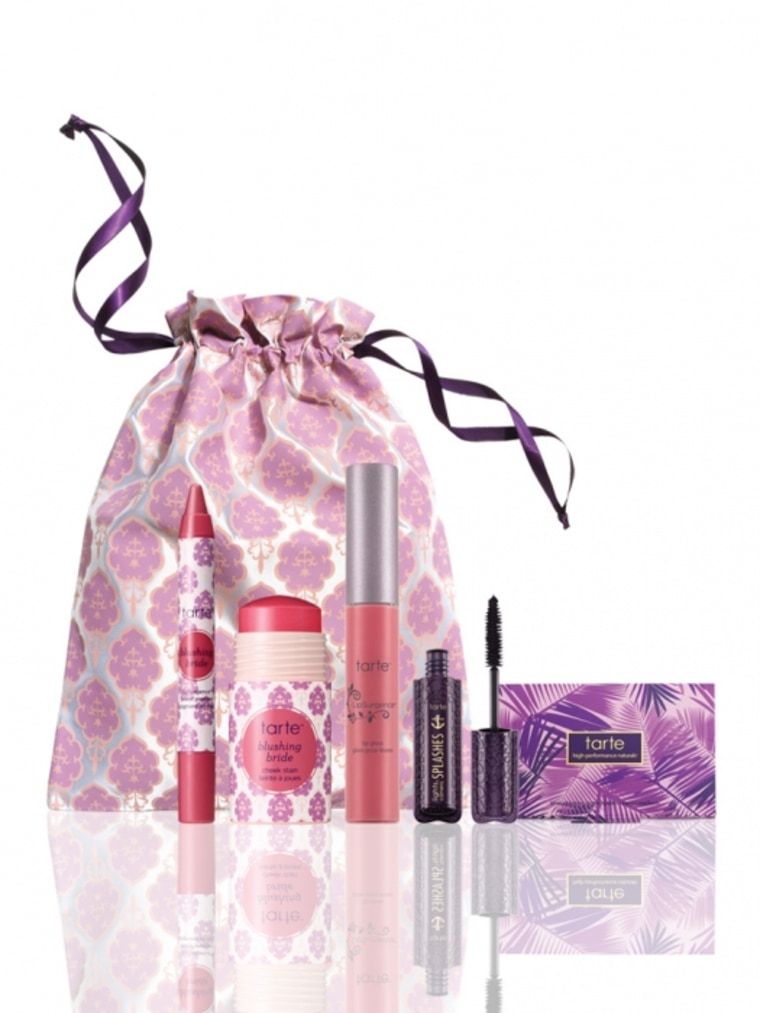 Be sure to equip your favorite bride with eco-friendly brand Tarte's first-ever wedding day collection. It features glow-getters such as cheek stain, lip gloss, lip tint and mascara, along with blotting papers to keep sweat at bay. The best part? It comes complete with a limited-edition lingerie bag to keep every pretty little thing in its place.
2. Philosophy Congrats! Bubbly Shampoo, Shower Gel & Bubble Bath, $18 at philosophy.com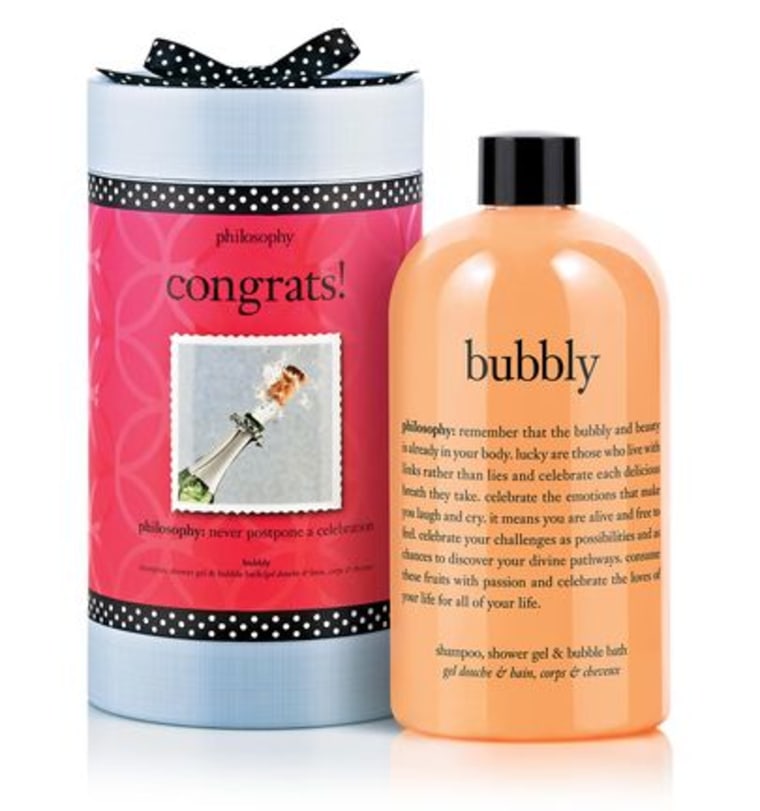 Talk about the sweet smell of victory! If you have a friend who just conquered a big race, got a promotion, or achieved a notable goal, give her the cheers that keeps on toasting with this bubbly-themed shampoo, shower gel and bubble bath all in one. Not only will she be able to revel in her accomplishment, she'll also be able to soak up some much-deserved relaxation after all that hard work.
3. Soap & Glory The Birthday Box, $20 at soapandglory.com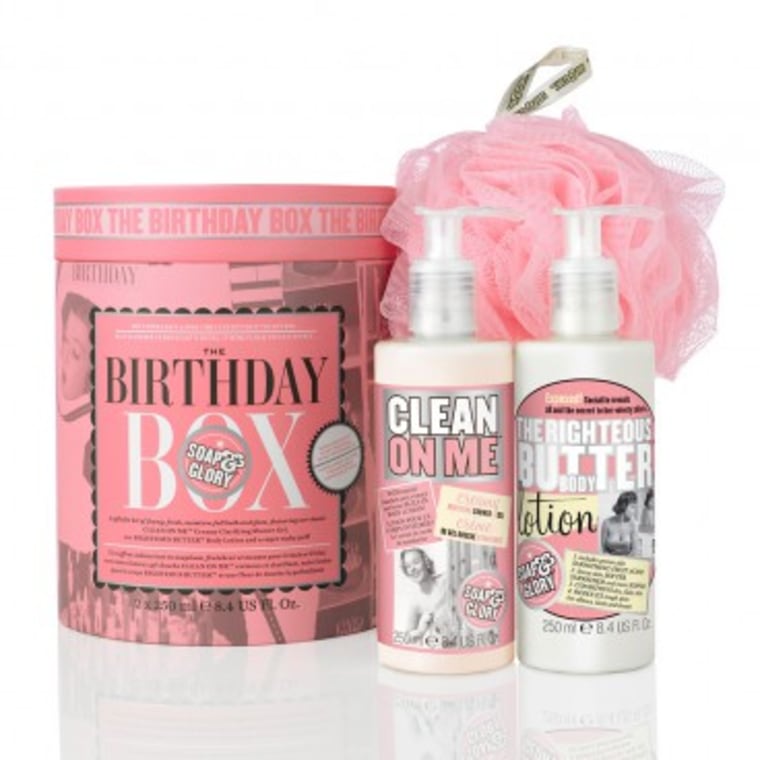 Give her the gift of a soft and moisturized "birthday suit" thanks to this sudsy set from Soap & Glory. The nostalgic box opens to reveal the brand's beloved Righteous Butter Body Lotion, Clean On Me Creamy Moisture Shower Gel and Super Sudsy Puff for all her buffing needs.
4. Pinch Provisions Minimergency Kit for Brides, $16 at sephora.com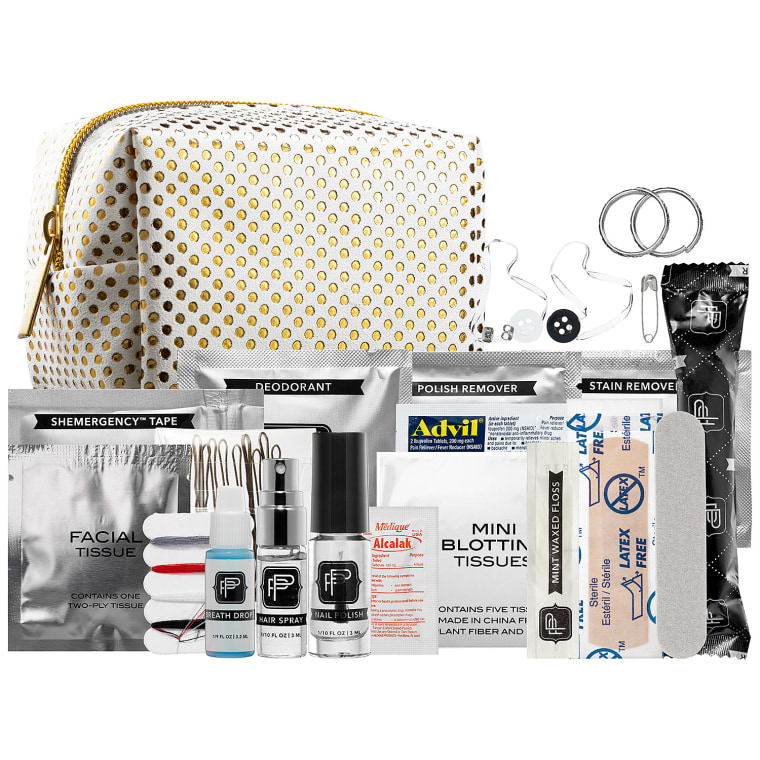 Especially great for a bridal shower, tell her "I've got you covered" with this preventative care package from Pinch Provisions. It features everything from deodorant towelettes to a mending kit (in one cute, compact mesh white pouch) to give her peace of mind on the big day.
5. Make Up For Ever Birthday Beautiful Set, $45 at sephora.com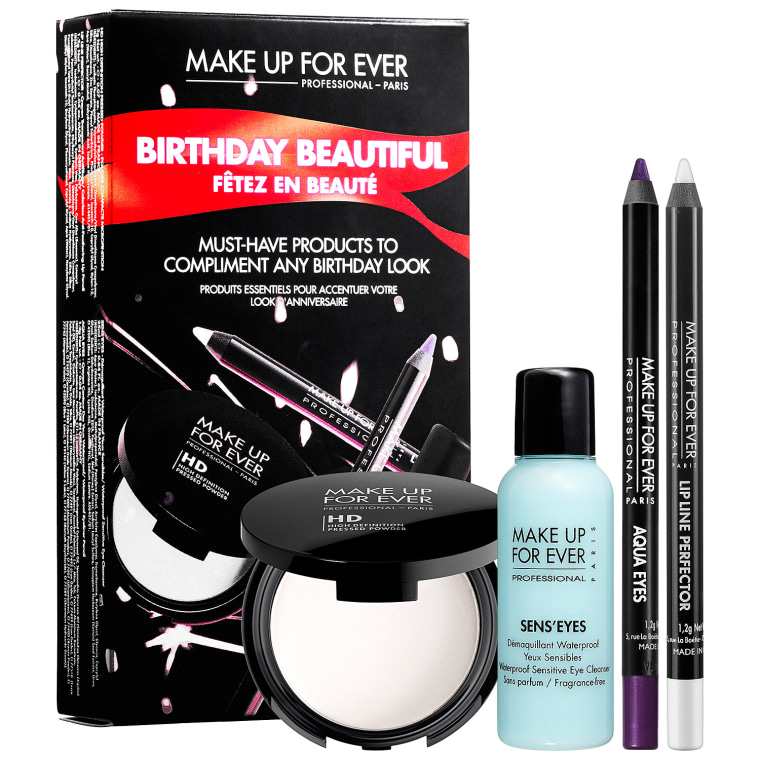 Give her the gift of confidence with this chic, birthday-themed set from Make Up For Ever. Once she cuts through the red ribbon, she'll be met with several of the brand's all-star products, including HD Pressed Powder, Aqua Eyes in Purple 11L, Lip Line Perfector and Sens'Eyes Waterproof Sensitive Eye Cleanser.
6. bareMinerals Thank You, You're So Sweet Set, $36 at ulta.com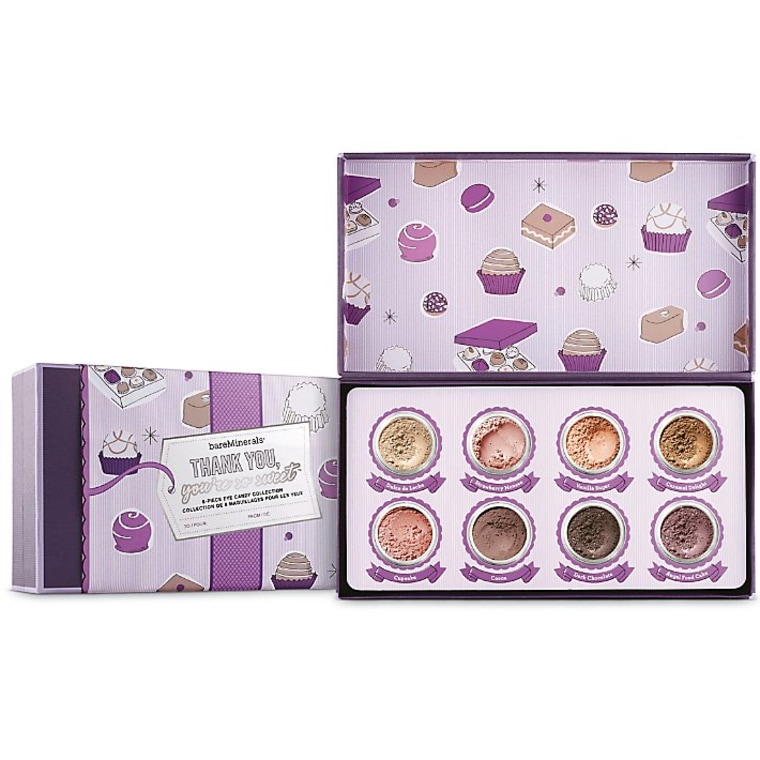 Have a seriously sweet friend? Return the favor with this confection from bareMinerals, featuring eight dessert-themed eye shadows that sound and look good enough to eat. It packs all the cuteness of her favorite cupcake without any of the calories!
7. Philosophy Here Comes the Bride Bridal Beauty Gift Set, $32 at philosophy.com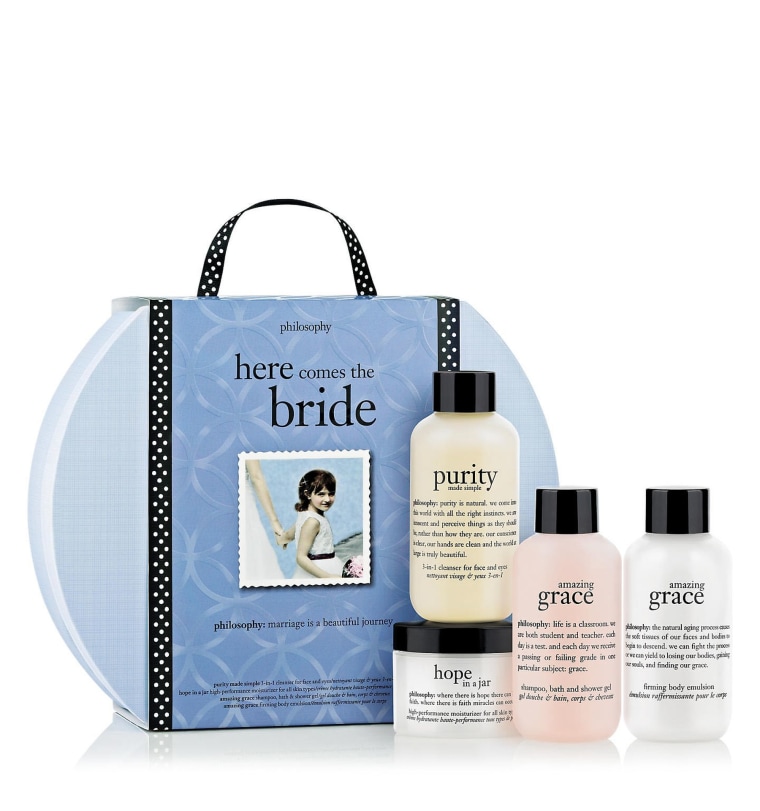 Help her prepare for her big day (and manage to unwind amid all the stress that comes with planning) with this purity-inspired beauty set from Philosophy. Nestled in the purse-like box is a sweet, yet simple assortment of some the brand's most indulgent skin and body-care offerings.
8. bareMinerals Thank You Gorgeous Set, $20 at ulta.com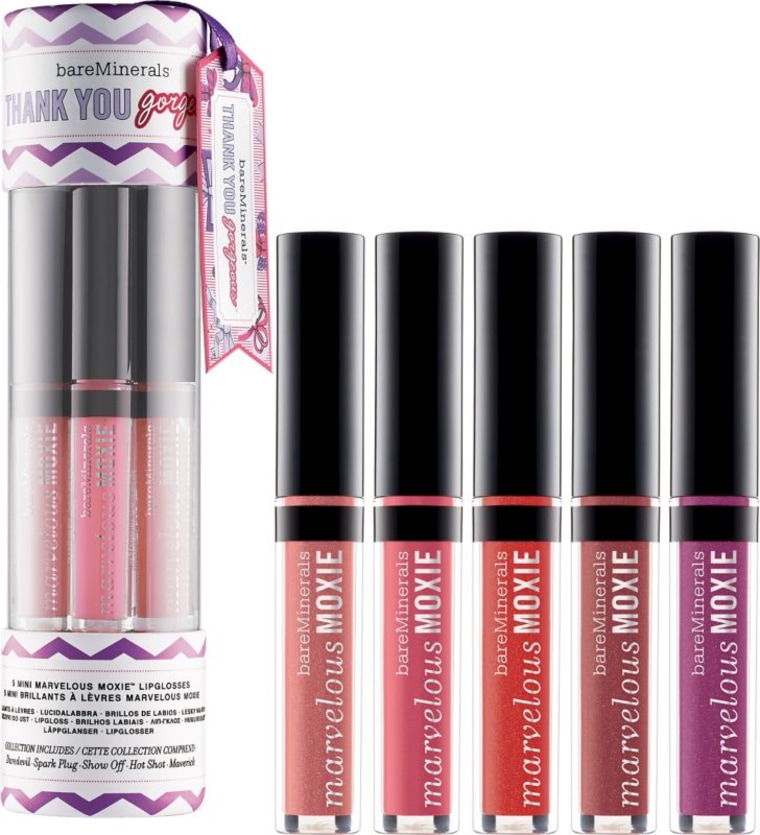 She's proven herself as a beautiful person time and time again. Help her radiate on the outside with this mini carousel of Marvelous Moxie lip glosses. With shades like Show Off and Hot Shot, each swipe of the wand will serve as another reminder of how much she's appreciated for her good deeds.
9. Sephora Collection Breakups to Makeup Bag, $24 at sephora.com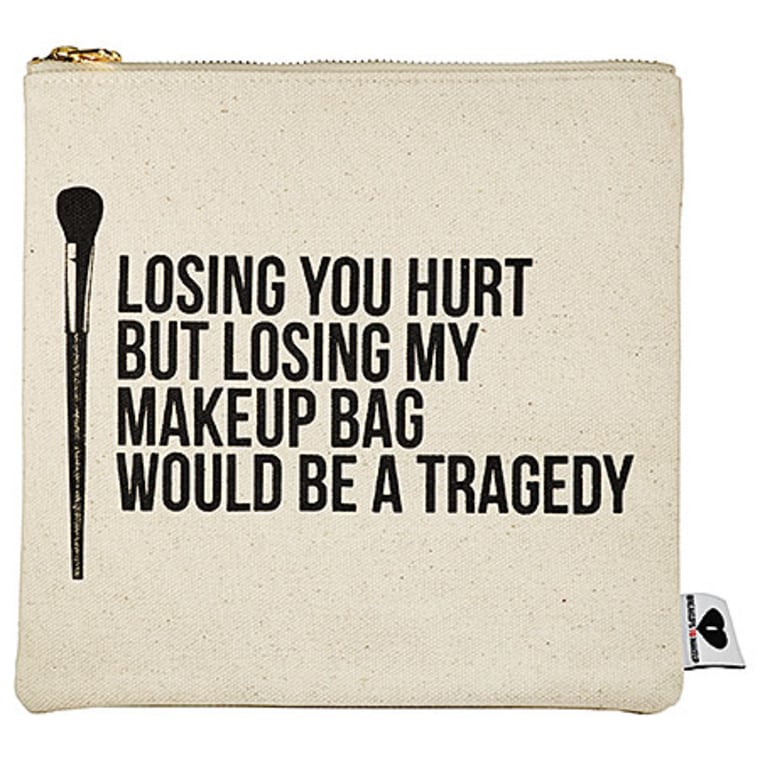 Have a friend who's going through a breakup? Help her tell him to "kiss off" with this cheeky find from Sephora's new Break Up to Makeup Bags. With three similarly-sassy options in the collection, it'll be hard to choose just one.