What to get the beauty-loving lady in your life? Try some gifts that keep on giving! From beauty advent calendars to makeup palettes and skincare kits, these gift ideas prove that great things come in small packages.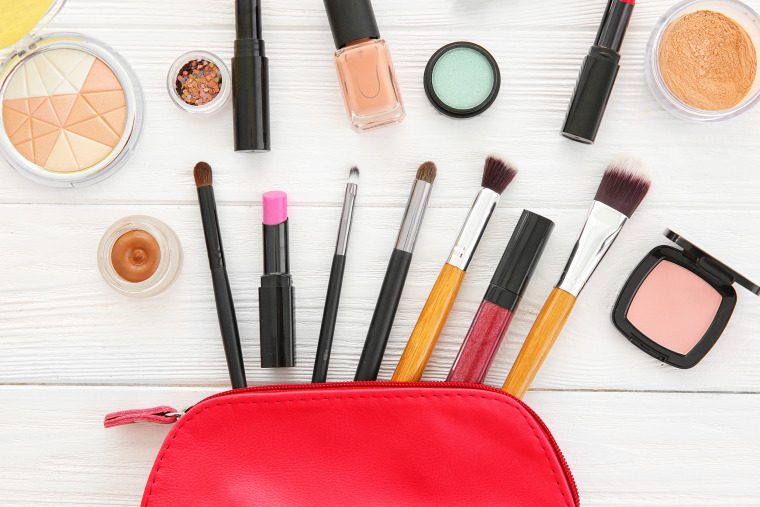 27 beauty palettes and gift ideas for the makeup addicts in your life
1. Hard Candy Super Mod Eye Shadow Palette in Nudes and Roses, $8, Walmart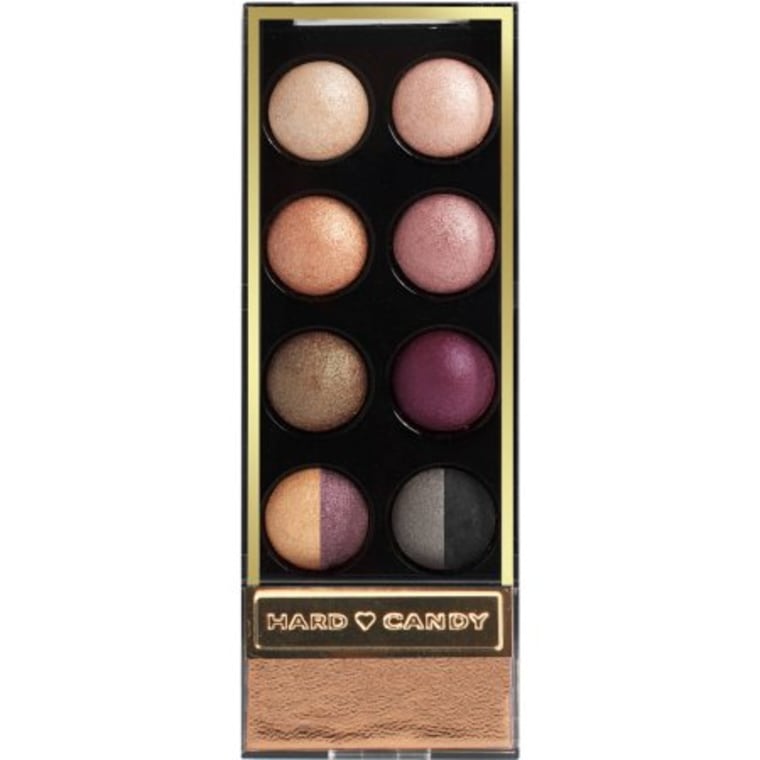 This sleek palette is easy on the wallet but includes 10 coordinated shades that can be used wet or dry for build-able intensity. Win-win!
RELATED: 22 drugstore beauty products that'll make great stocking stuffers
2. GO! Gorgeous Kit, $58, Skin Authority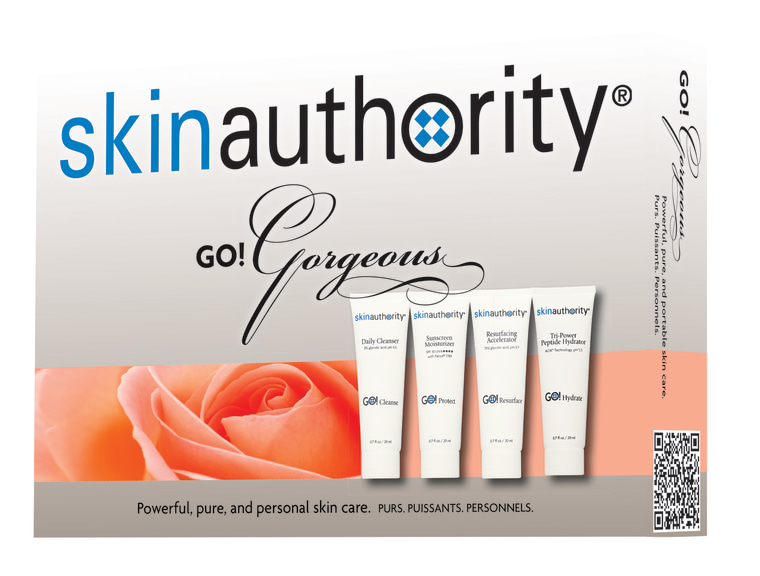 This is a 21-day supply of effective skin care in a kit that's great for travel and taking to the gym. The products include a cleanser, resurfacing accelerator, peptide hydrator and sunscreen moisturizer — all in travel sizes.
3. Mini Collection Gift Set, $36, Life Therapy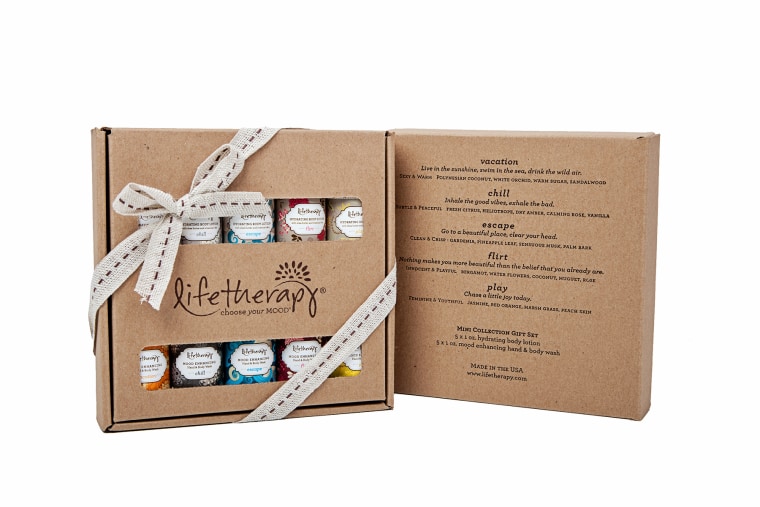 This collection of Lifetherapy hydrating body lotions and mood enhancing body washes in five signature fragrances with names like "Vacation" and "Chill" is perfect for the beauty lover on your gift list who loves to travel — all are TSA friendly!
4. Kevyn Aucoin The Loose Shimmer Shadow Kit, $65, Barneys
This limited edition holiday exclusive is a combination of universal loose shimmer shadows to create a multidimensional eye to complement your holiday party look. The unique roller ball glides on the shadows with ease adding dimension and light, creating a delicate dance of glistening crystals for your eyes.
5. It Cosmetics Je Ne Sais Quoi face palette, $42, Ulta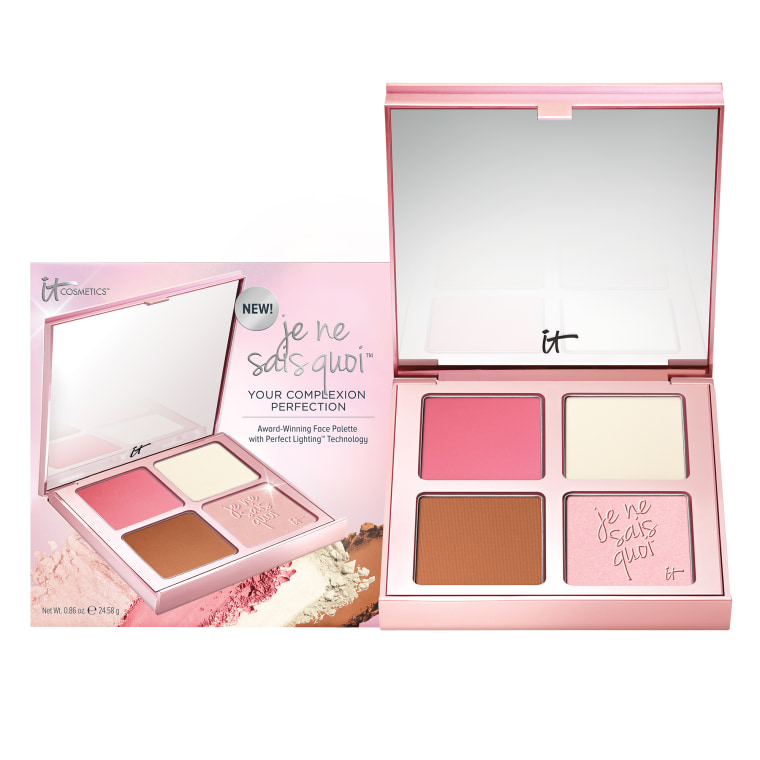 This complexion palette is an $80 value (so it looks like you spent more than you did!) and includes hero talc-free powder formulas that instantly enhance and brighten: Sunshine in a Compact Matte Bronzer, Perfect Lighting Luminizer, Bye Bye Pores Blush, and award-winning Bye Bye Pores Pressed Poreless Finish Airbrush Pressed Powder.
6. Japonesque Velvet Touch Eyeshadow Palette, $38, Ulta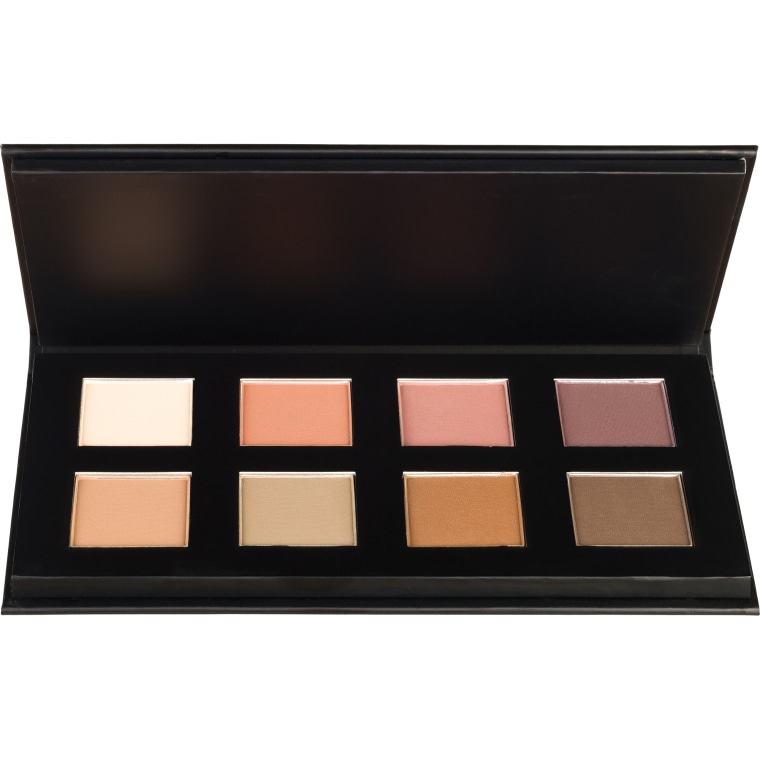 An assortment of warm bold tones perfect for achieving a festive holiday eye.
7. Urban Decay Full Spectrum Palette, $55, Sephora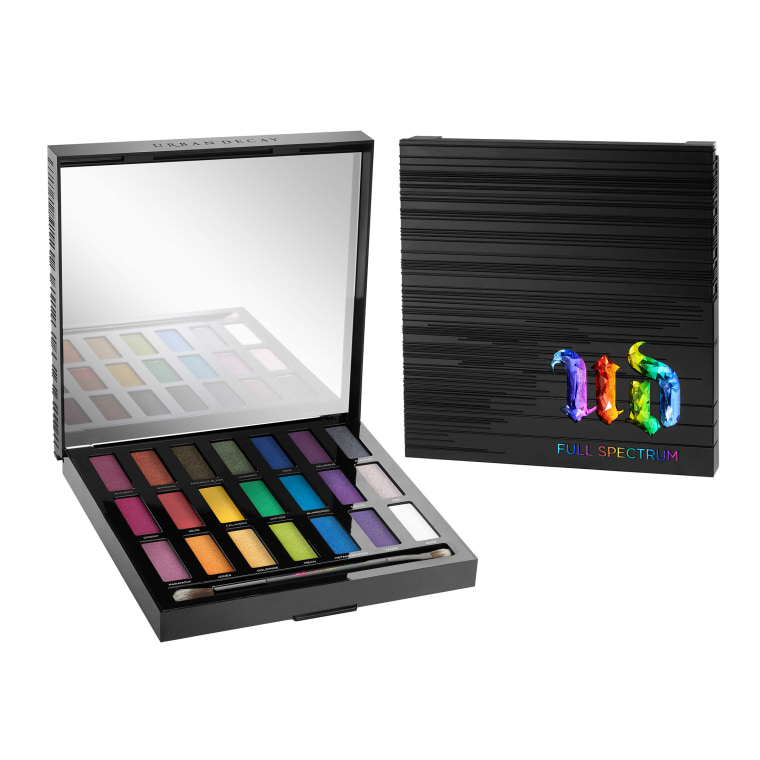 This limited-edition set features 21 bold shades of Urban Decay's Iconic Eyeshadow.
8. Laura Geller Holiday Train Case, $99, QVC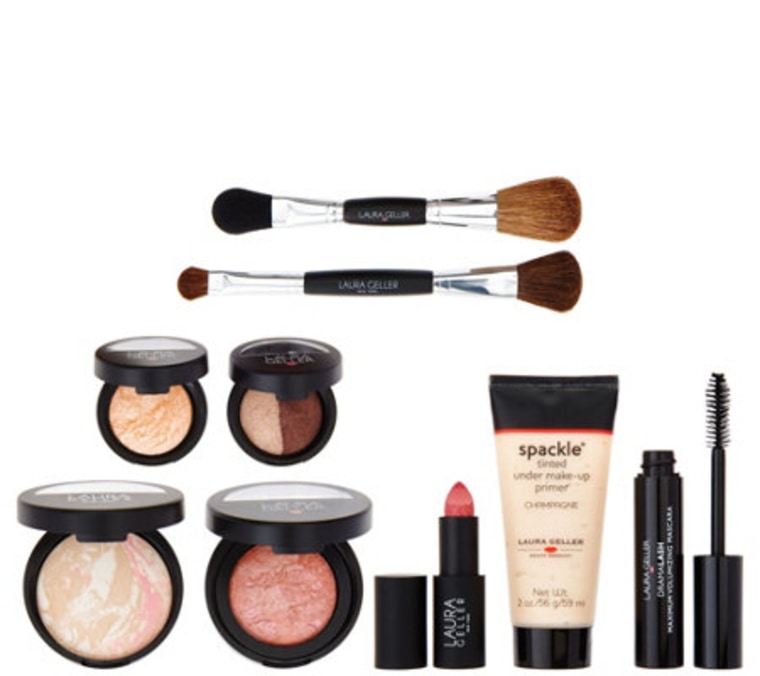 A lot of bang for the budget, this gorgeous train case includes a ton of Baked favorites, such as Baked Balance-N-Brighten Foundation, plus Spackle Tinted Under Make-Up Primer, Baked Blush-N-Brighten, a Baked Eyeshadow Duo, Baked Highlighter, Baked Iconic Lipstick, DramaLASH Maximum Volumizing Mascara, and two brushes.
Click here to get the best holiday gift ideas for everyone on your list!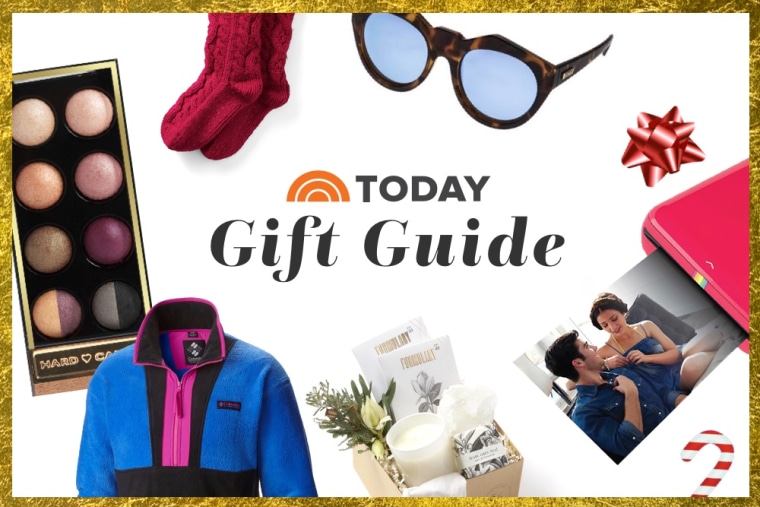 9. Tan & Glow Gift Set, $50, Skinny Tan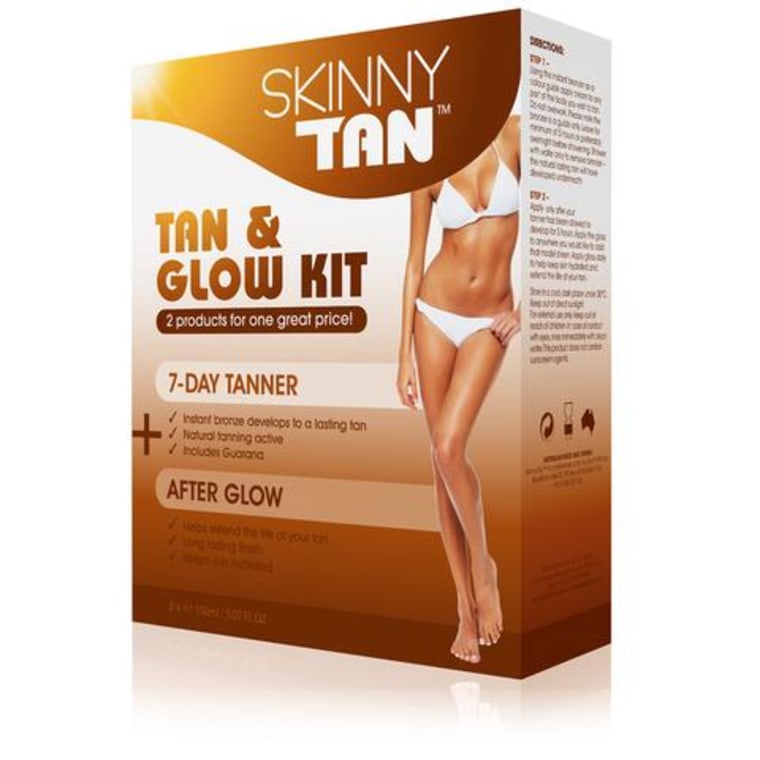 Everyone feels a little blah in the winter, this set helps to restore than tan and glow, no sun required.
10. Starter Kit, $60, Finding Ferdinand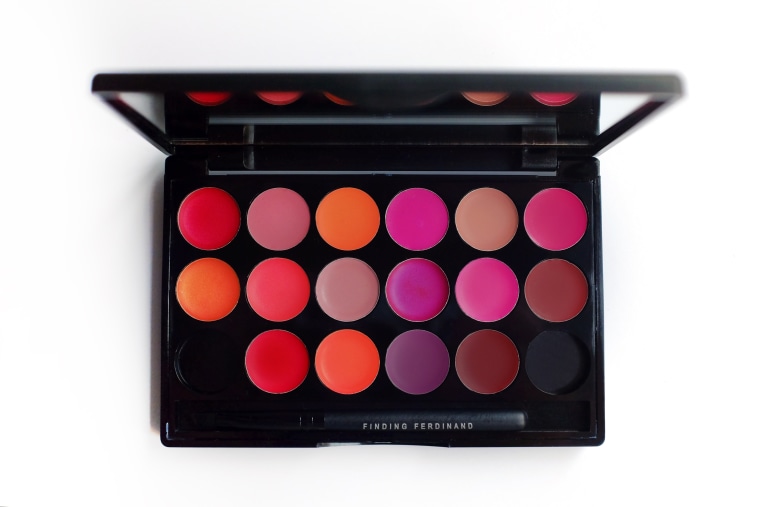 This startup beauty allows you to custom create lip colors using the tools on their website and app. The starter kit is a lip palette with 16 shades – two mixing wells so you can literally stack colors to create your color. Once you've come up with your perfect concoction, you go on the site/app and create (there is a code for a free lipstick on the box of the palette!) and then it comes in 3 business days! You can even name it whatever you want, so you might want to create the palette in the name of the person receiving it!
RELATED: Best drugstore makeup from the People and TODAY Beauty Awards 2016
11. Drybar To Go Kit, $135, Drybar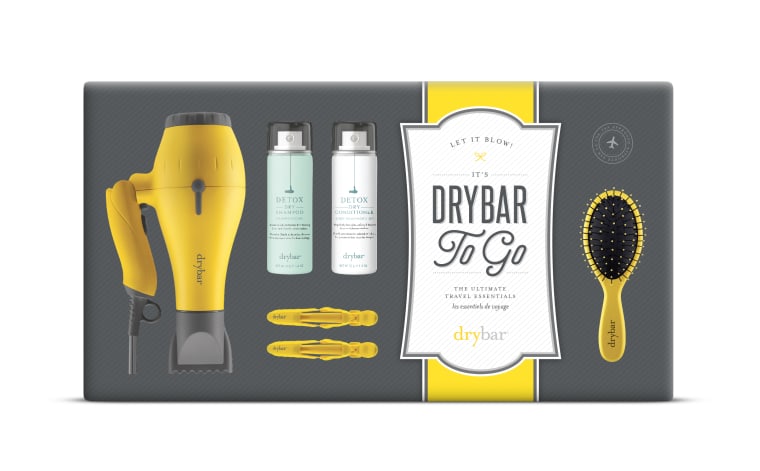 Being well traveled is a lot of fun, but it's not so easy on your hair routine. This kit includes Baby Buttercup, a great travel dryer, along with a Detox Dry Shampoo Mini, a Detox Dry Conditioner Mini, two Hold Me Hair Clips, & a Lil' Lemon Drop Brush, all they need for a DIY blowout on the go.
12. Passport to Bronze, $25, Too Faced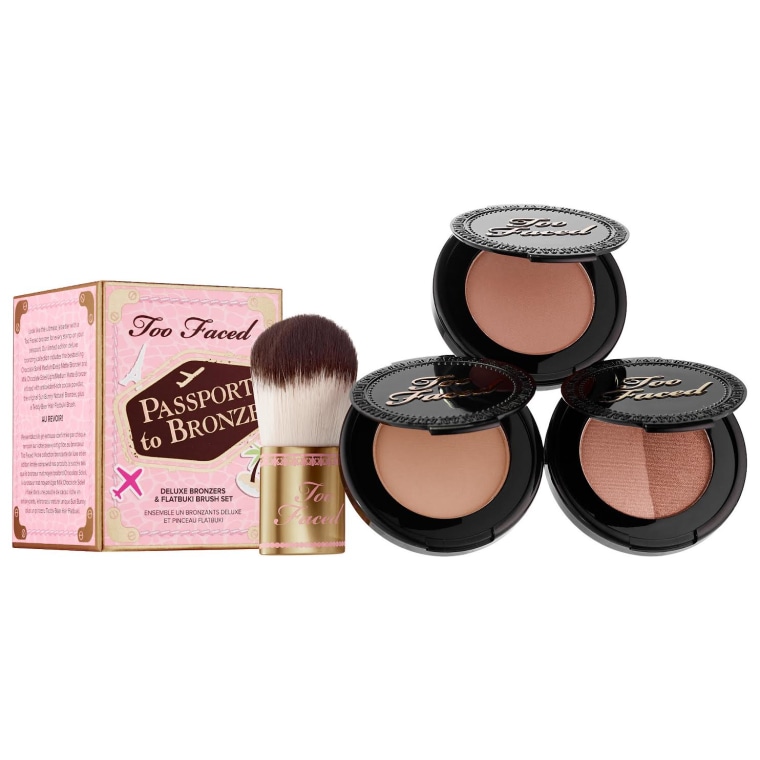 It is not easy to have a glow when it's this cold. This deluxe bronzing collection includes the bestselling Chocolate Soleil Medium/Deep Matte Bronzer and Milk Chocolate Soleil Light/Medium Matte Bronzer —infused with antioxidant-rich cocoa powder — the original Sun Bunny Natural Bronzer, and a mini Teddy Bear Hair Flatbuki Brush.
13. Candlenut Obsession Trio, $28, Juara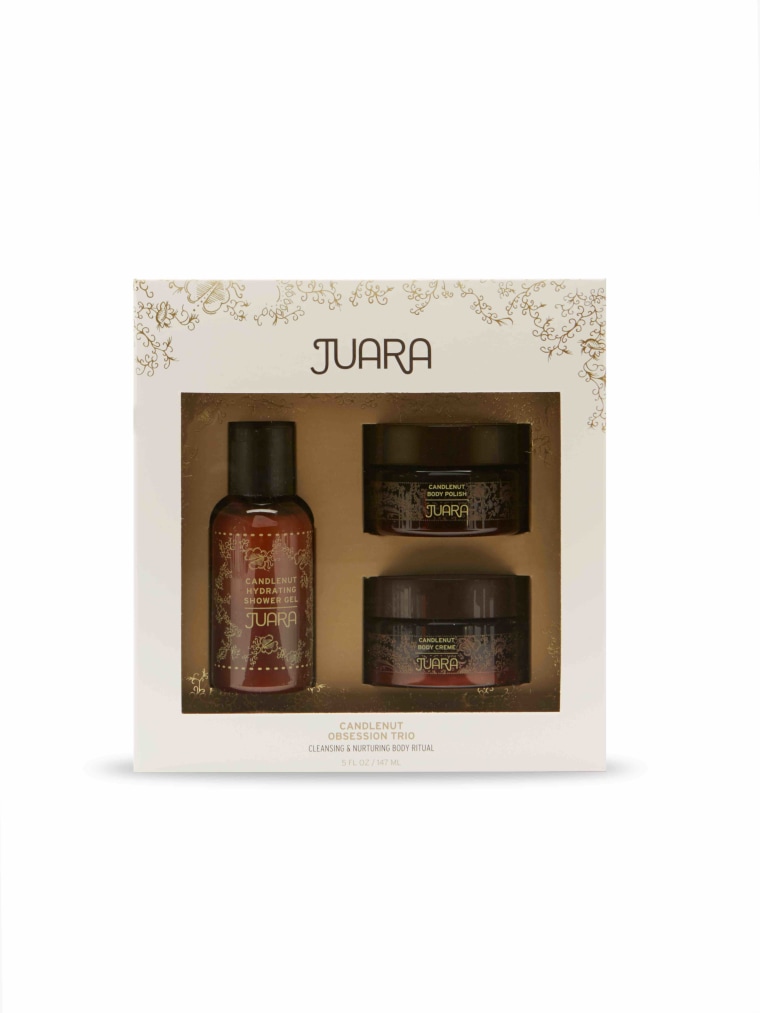 This trio features travel friendly sizes of JUARA's Candlenut Body Polish, Candlenut Hydrating Shower Gel and Candlenut Body Crème. It's almost like you are gifting them a Balinese spa experience, but this is a lot more affordable!
14. Pink Perfection Color Collection Eye, Lip and Face Palette, $35, Estee Lauder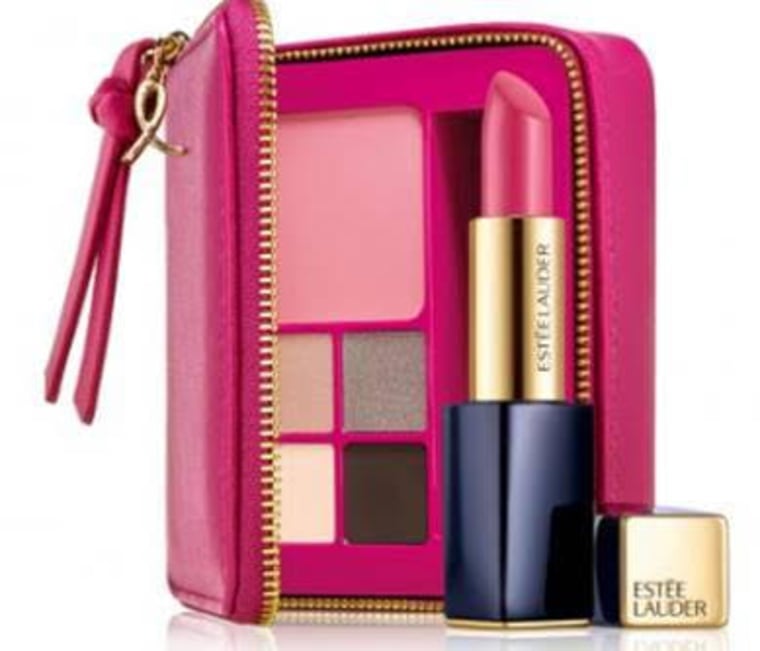 The limited time collection includes these Pure Color Envy essentials: four eye shadows, one blush and one full-size lipstick, plus a mirror. For each purchase of Pink Perfection Color Collection, Estée Lauder will donate 100% of the suggested retail price to the Breast Cancer Research Foundation® (BCRF) September 2016 - June 2017
15. Golden Glow Set, $110, Golden Door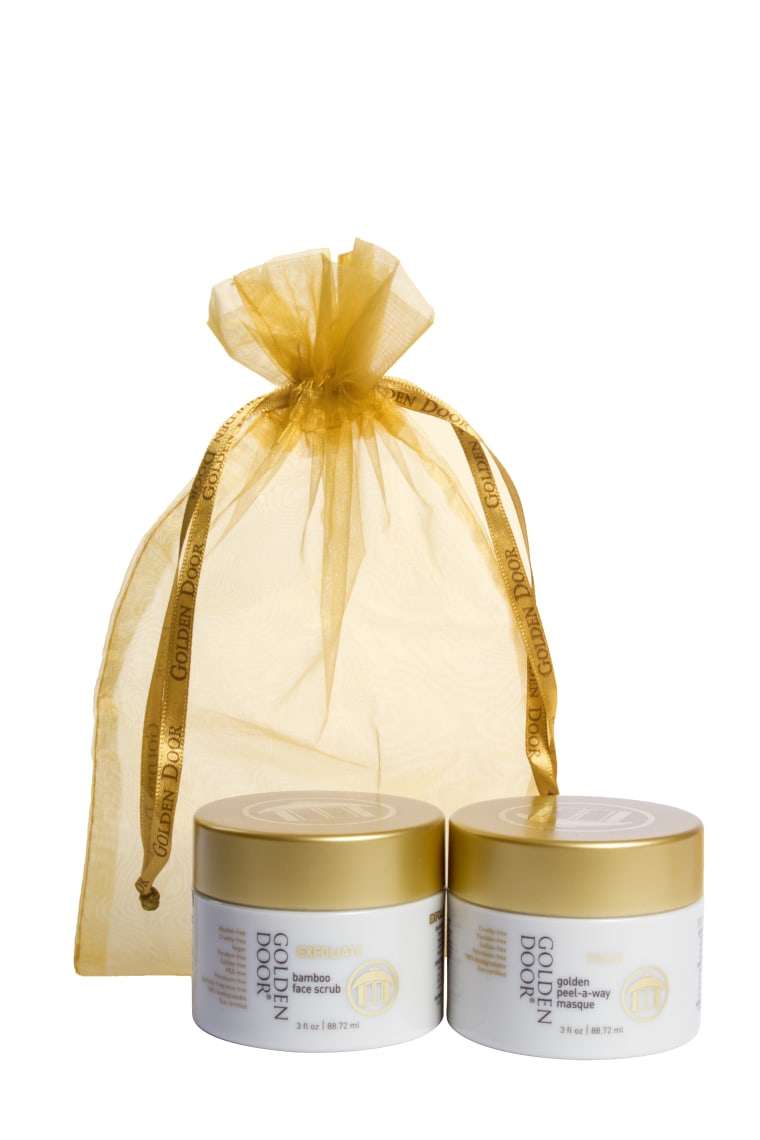 From a spa rated the top spa in the world, this set includes Bamboo Face Scrub, Golden Peel-A-Way Masque and small gold pouch. And the best part? 100% of proceeds go to charity.
16. Household Gift Set, $40, Sea Bottle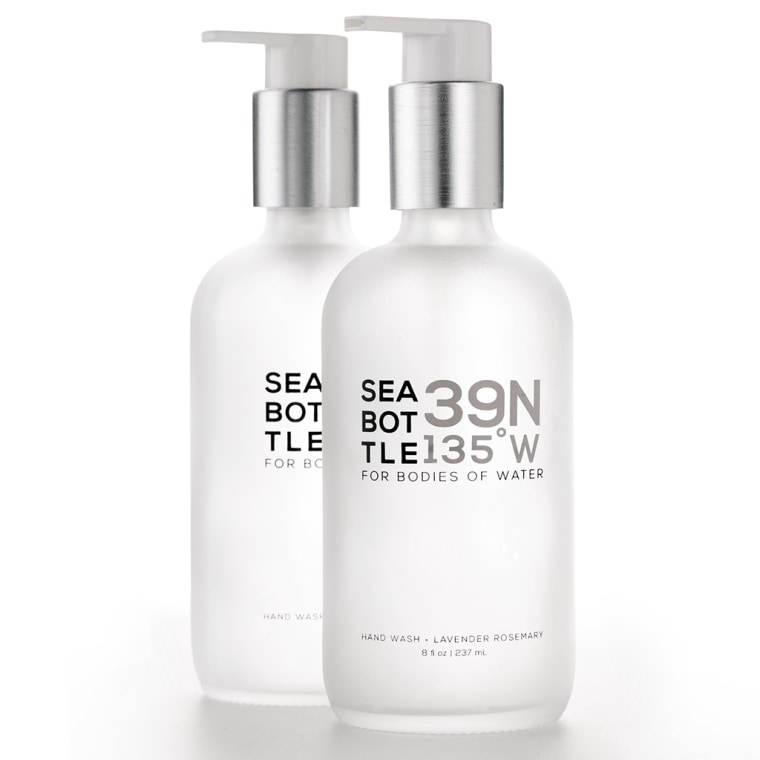 Includes two (2) pump bottles of liquid hand soap bottled in an eco-friendly, 100% degradable glass bottle to keep our oceans clean.
17. Men Luxury Badger Shave Set, $40, Van Der Hagen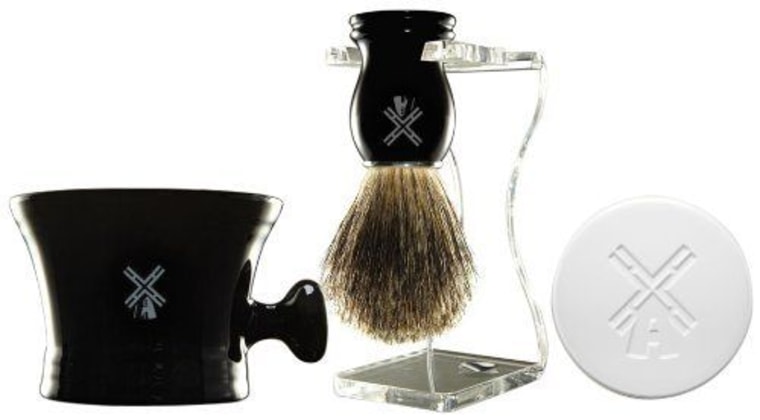 Don't leave men out of the skincare equation — this luxury shave set is a great intro into the wet shave experience, including a pure badger hair brush along with an apothecary mug, shave soap, and a brush/razor stand.
18. Prone To Wander Lipstick Set, $49, Wander Beauty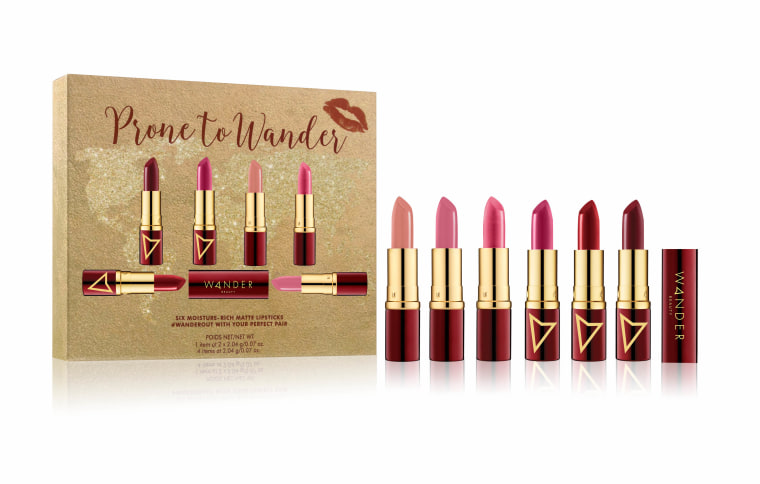 This is a set of six hydrating matte highly-pigmented lipstick. Even better, pick two colors and insert the lipsticks into the interchangeable core for portable color.
19. Holiday 2016 Limited Edition Face & Eye Palette, $140, Giorgio Armani Beauty.com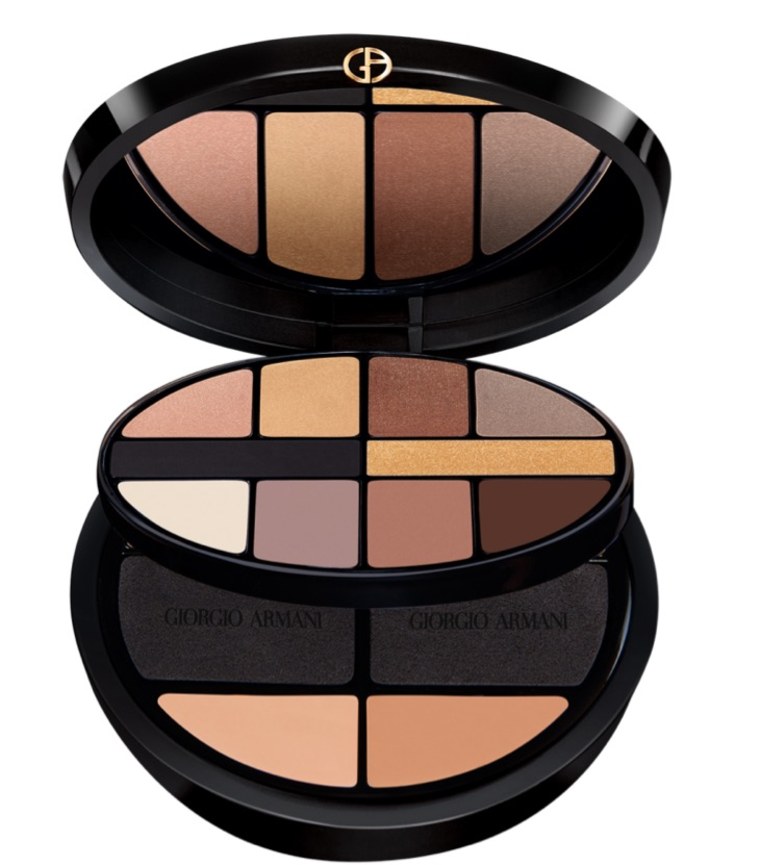 The new holiday collection by Giorgio Armani Beauty draws inspiration from Light Painting, a technique well known to photographers that consists of creating luminous drawings using a subtle balance of photographic skill, darkness, and sources of light. At the heart of this holiday collection, the holiday palette features eyeshadows and blushes, six new lip shades, and a new "glow" version of Crema Nuda to enhance the complexion.
20. Glowing Days Ahead Gift Set, $89, Philosophy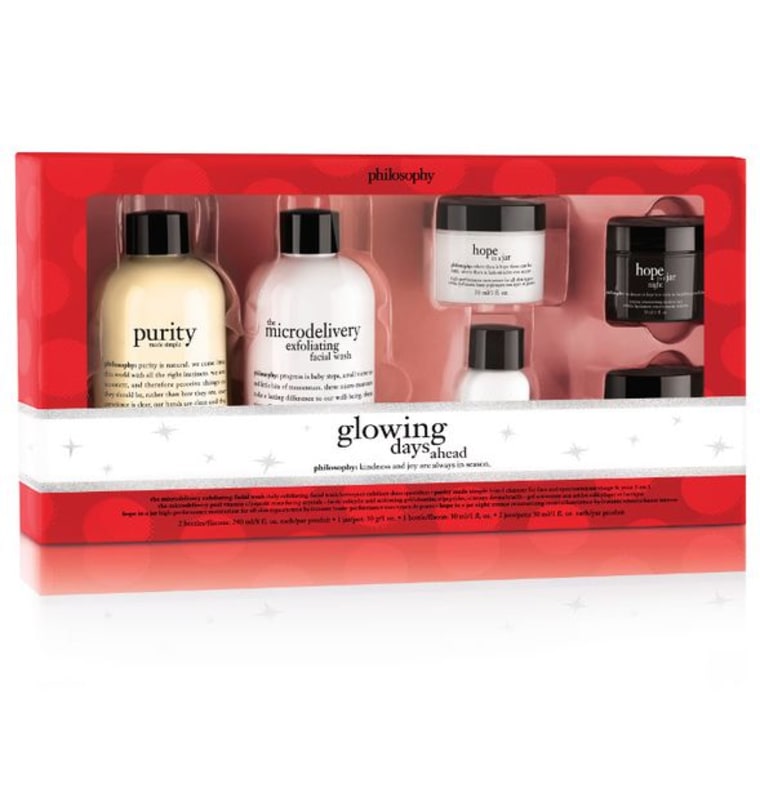 This set is a major value (separately the pieces would cost nearly double) and includes purity made simple one-step facial cleanser, the microdelivery exfoliating facial wash, renewed hope in a jar refreshing and refining moisturizer, hope in a jar night intense retexturizing moisturizer, time in a bottle daily age-defying serum and the microdelivery resurfacing peel.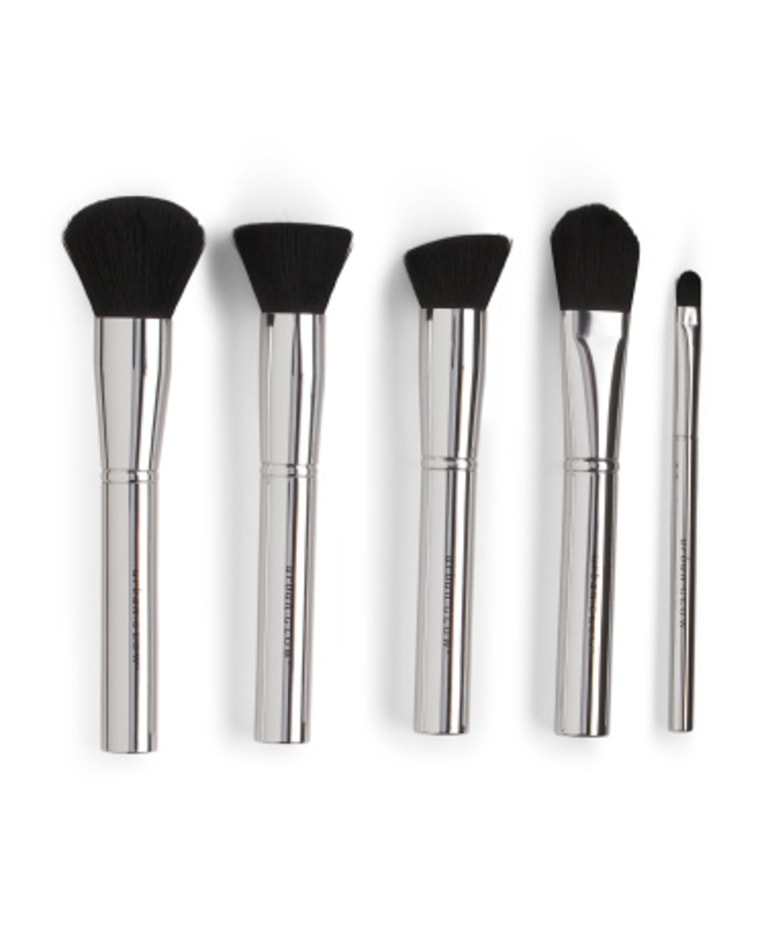 This five piece makeup brush set includes an illuminating brush, stippling brush, angled contour brush, foundation brush and concealer brush.
22. City Color Cosmetics, $7, T J Maxx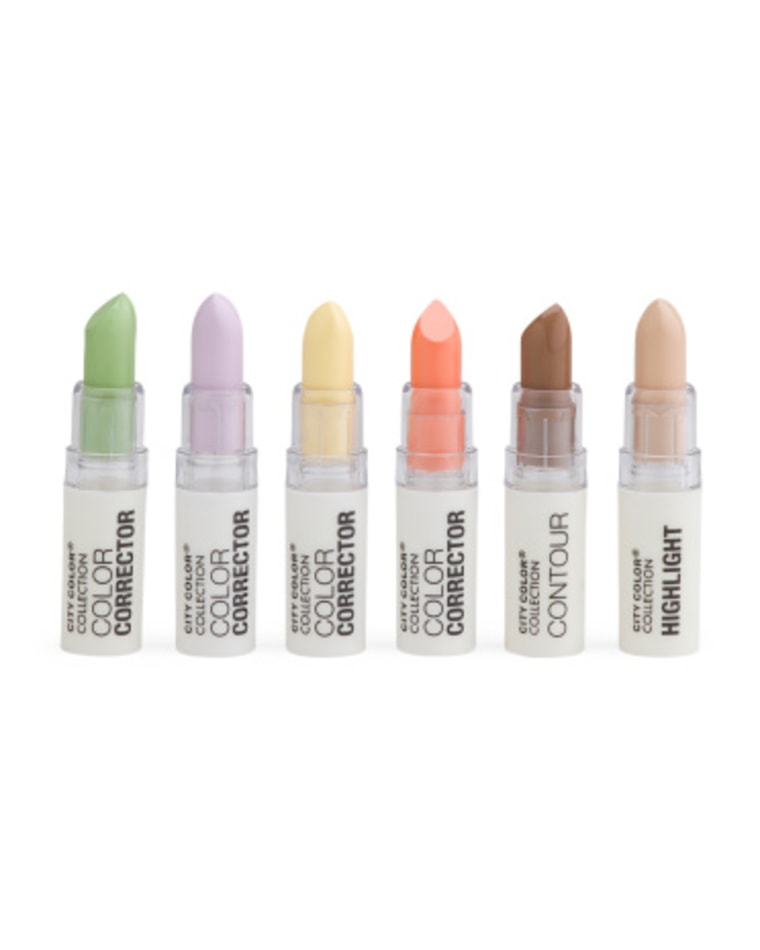 This kit includes four color correcting sticks, one contour stick and one highlight stick. The correcting sticks help with redness, discoloration, dark spots and circles. All of these sticks are paraben and oil free.
23. Formula X Nail Polish Set, $18, Sephora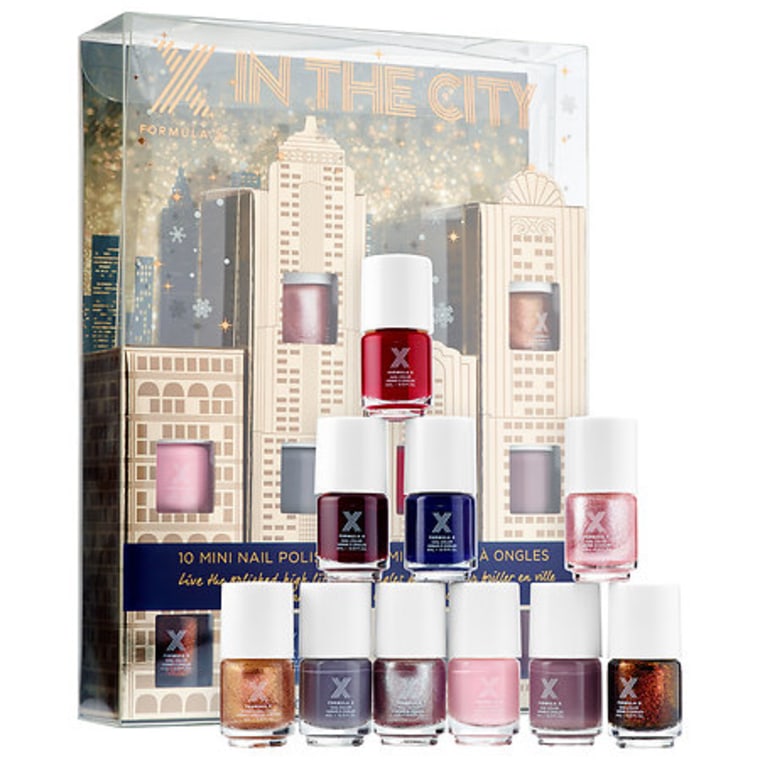 This 10-set of mini nail polishes are the season's most wanted colors. This set is inspired by the city skyline with light, bright, and bold colors.
23. Wanderlust Advent Calendar, $50, NYX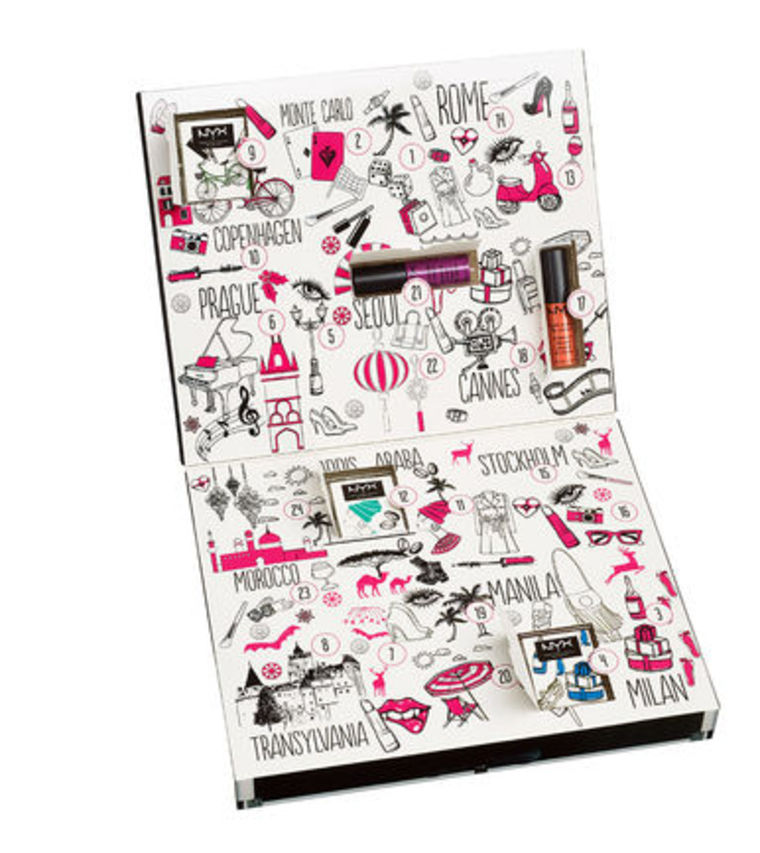 This advent calendar is limited-edition. Travel around the world throughout the holiday month to explore some velvety and rich colors inside the makeup-filled calendar.
24. Geometricolor Palette Blockbuster, $49, Sephora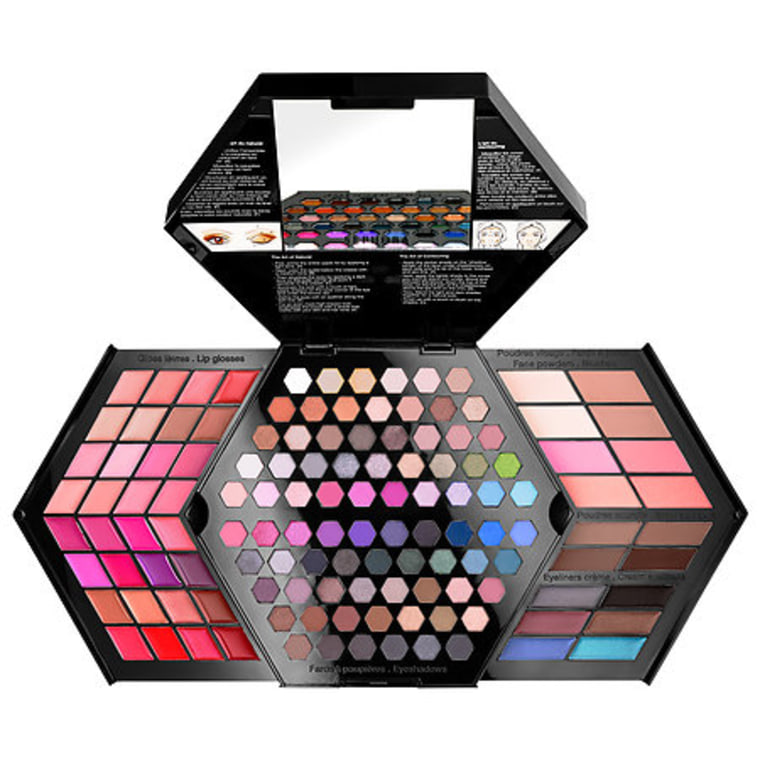 This Sephora kit features 130 colors with matte, satin, and shimmer finishes to help create the perfect look. This kit helps create some of the latest makeup trends: the art of natural eyes and the art of contouring. The collection includes eye shadows, lip glosses, cream eyeliner, brow powder, face powder and blush.
25. MILK Limited Edition Desk to Dawn Set, $68, Sephora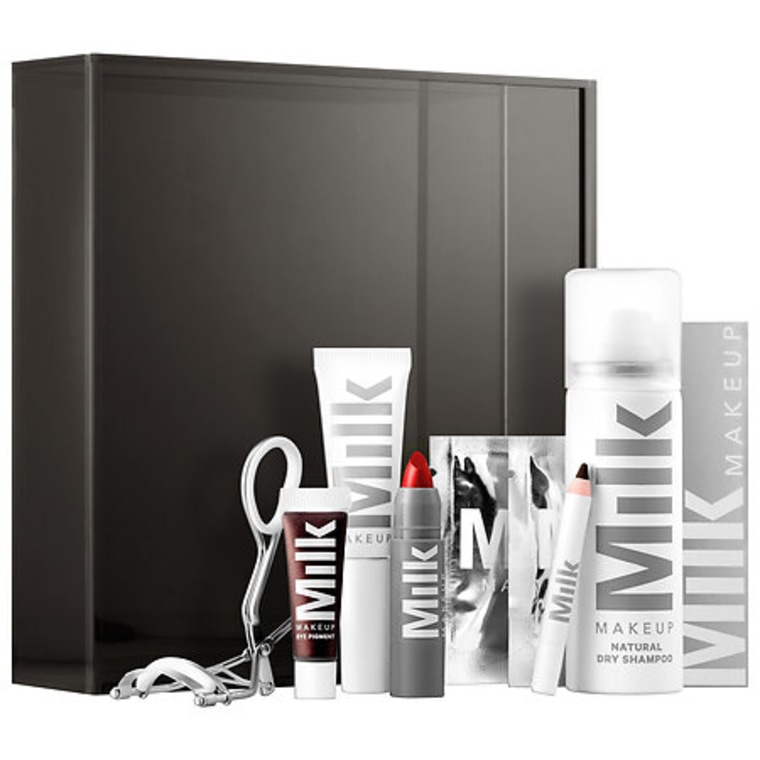 This MILK makeup set is perfect for on the go and features products for both day and night looks. In the kit, there are roll and blot sheets, makeup remover wipes, eye pigment in a brown color, lipstick in O.G. Red, Ubame Mascara in Inked, natural dry shampoo, gel brow in a medium brown color, eyelash curler, and smoky grey acrylic slide top box with a mirrored bottom. It's a great gift to give to someone who's always in a rush.
26. NARS Mind Game Velvet Lip Glide Set, $45, Sephora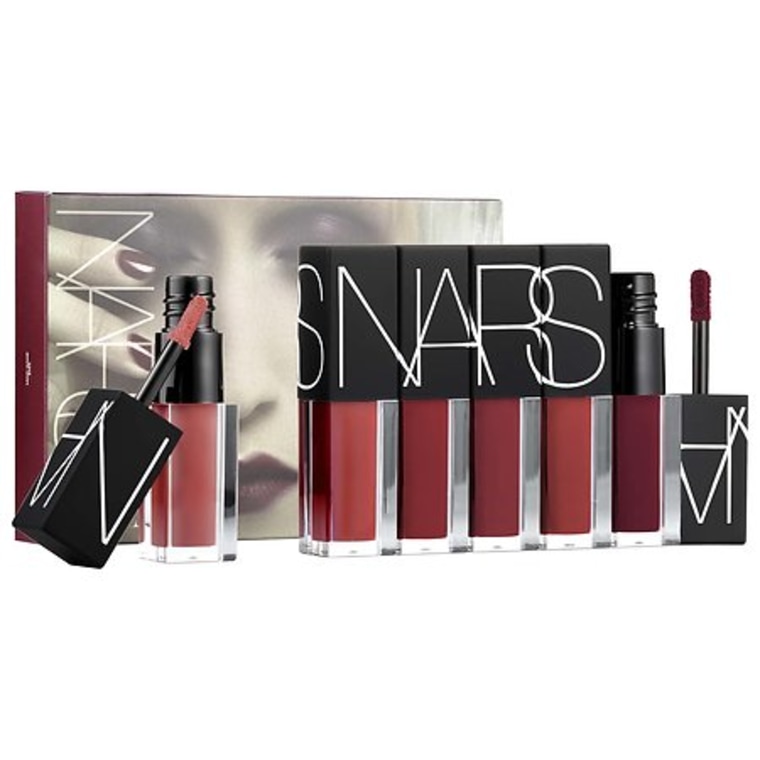 These lip colors are perfect for the holiday season. The NARS kit features three classic mini lipsticks and three limited-edition shades for instant, highly saturated color. These mini lipsticks have a semi-matte, velvety finish.
27. Chocolate Bar Eye Shadow Collection, $49, Too Faced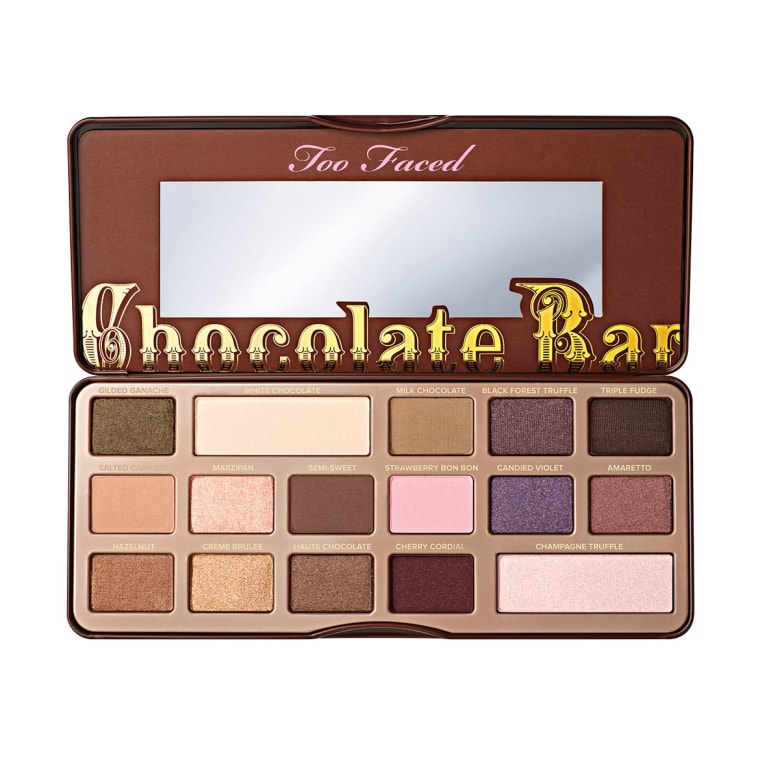 Open up this makeup palette and the first thing you'll notice is the delightful and comforting smell of chocolate. Each eye shadow contains pure, antioxidant-rich cocoa powder. The pallet includes 16 matte and shimmer shades of natural browns, delicate pinks, and vivid plums.