More couples are tying the knot in an unusual place — funeral homes.
"I think it's the future of funeral service, having reception centers on site for families to celebrate life and weddings and other major events," Nancy Brunner Sanden, who runs a funeral home in Mentor, Ohio, told TODAY.com.
At the Brunner Sanden Deitrick Funeral Home and Cremation Center, Sanden has organized dinners, graduation parties, reunions and first communion parties at its upstairs reception area. In March, her 24-year-old niece Chelsey Lesnick got married at the funeral home, which has a food and liquor license.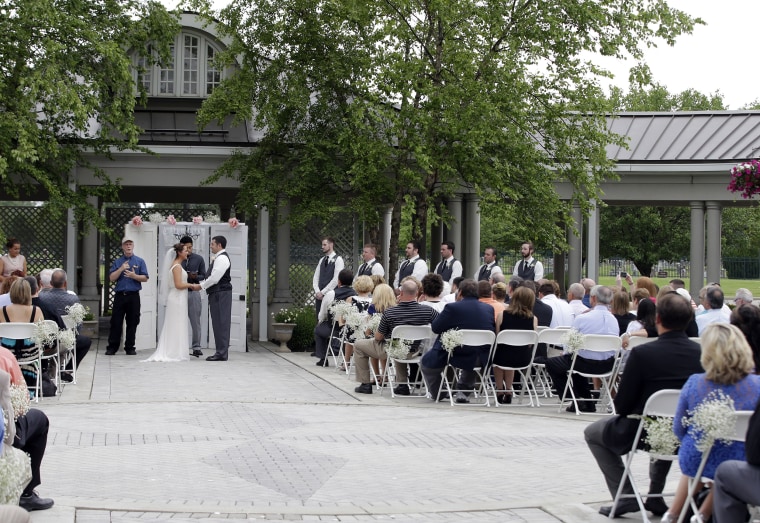 "She came to me and said, could we host it there?" Sanden said. "So I said, sure, let's talk about this. Because certainly you want to be respectful to the families we have served and also to the couple. We want to do something beautiful and celebratory."
RELATED: The top 10 wedding trends of 2015
"And it was. It was lovely," she added. "Our baker made a beautiful cake with black overlay on it that looked just like Chelsey's dress. There were homemade pastries, too. It was maybe 50 people, just close relatives and friends."
For Lesnick, the choice to have a wedding in a funeral home was a personal one — it's been in her family for more than six decades. But fans of the new trend say there are many reasons couples are getting married in funeral homes: They're often cheaper than traditional wedding venues and offer better availability, for example.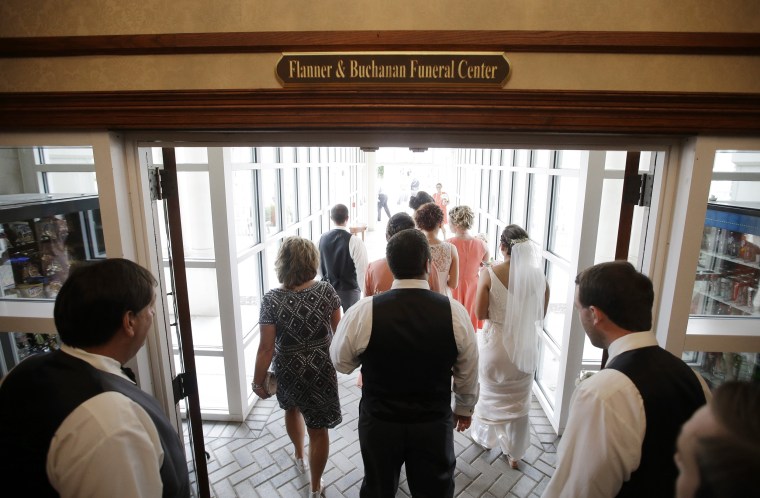 It's also a great revenue stream for funeral homes. And as more funeral homes offer food, alcohol and reception areas, they're becoming the perfect place for parties. In the past decade, many funeral homes have remodeled or built new structures to provide an event space, said Jessica Koth of the National Funeral Directors Association.
"And instead of letting this empty reception space go unused, why not let families use it?" Koth told TODAY.com. "It could be a wedding or a birthday party or an anniversary party, a bar mitzvah, any kind of event."
RELATED: Skip the tired wedding favors, donate instead
"Funerals aren't necessarily what they were 15, 20, 30 years ago," she added. "People are looking to celebrate the life of their loved ones."
In Indianapolis, the Washington Park East Cemetery Association runs an event center called the Community Life Center, which will host more than 50 weddings this year, according to the Associated Press.
"It's such a beautiful building," Danessa Molinder, who got married there in June, told the AP. "That's what really drew us to it."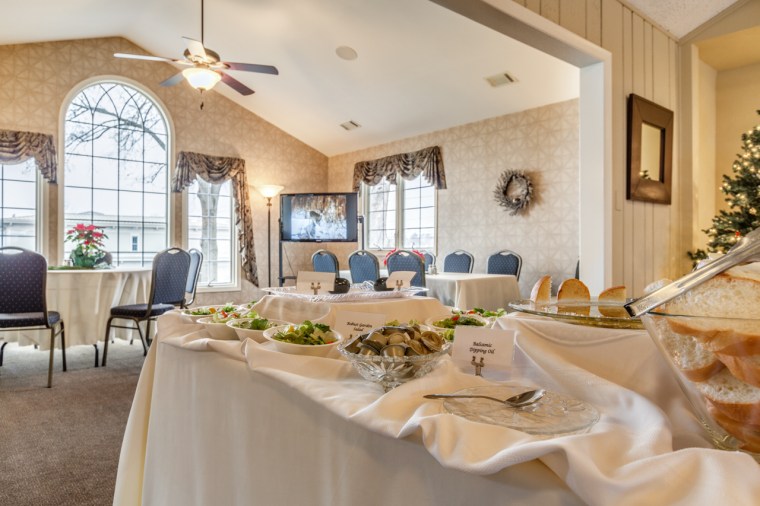 Like any trend, this one isn't for everyone. Wedding expert Kellee Khalil, founder and CEO of Loverly, said getting married in a funeral home "is definitely a little crazy to think about," but she understands how it can have its advantages — especially financially.
RELATED: Is it selfish to have an adult-only wedding?
"The funeral home can make extra money by adding weddings to their revenue stream, and the couple can save, too, because as a harder sell for the funeral home, they'll likely be slashing the price," she told TODAY.com.
If nothing else, getting married at a funeral home is unique — and that's always trendy, Khalil added.