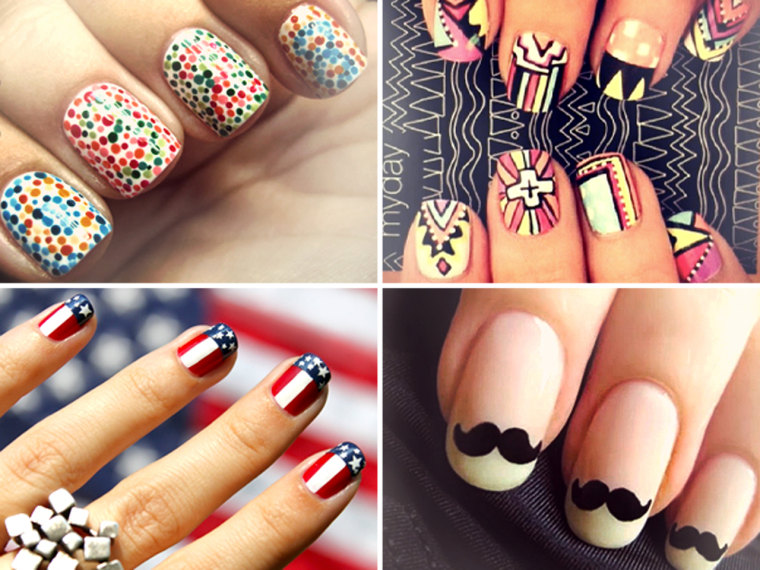 There are certain things in life that instantly boost my mood: ice cream cake, making it through all the green lights on my way to work, and … nail art. So for our latest installment of nail art you need to try, my fellow Beauty Riot editors and I have dug up some jaw-droppingly cool nail designs that you'll "ooh" and "ah" over.
To learn the tips and tricks of the nail art trade, I chatted with celebrity nail artists Fleury Rose and Skyy Hadley, and they both gave me the scoop on everything from must-have tools to perfect polish suggestions. But before we get started, I have to warn you: this nail art stuff is pretty addictive. Once you get the hang of it, you'll want more … and more. And we're not gonna stop you.
Mixed bag
If you're daring when it comes to mixing prints, then you'll love these colorful, geometric patterned nails. If you don't have a dotting tool, you can create the lines and patterns using a toothpick instead. For color, Hadley recommends using bright, juicy hues like the Zoya Beach & Surf Summer Collection, $8 each.
Color blind
To get your dots perfectly round, always use a dotting tool. "It makes polka dots super easy," explains Rose. She recommends the DL Pro Dotting Tool, $7, or if you are DIY-savvy, you can make a dotting tool at home with a sewing pin. Simply dip the round metal ball in polish and dot away.
Notebook nails
If you're a nail art newbie, these notebook nails are a great (and super simple) design to try. First, start with at least two coats of white polish, and then begin the lines. To get the lines precise, use a nail striper, which is a very thin brush. Rose suggests the Art Club Nail Art Striper, $8. Do the horizontal blue lines first and then finish with one, long, vertical red stripe
More from BeautyRiot.com:
Miss America
Show off your patriotism with a star-spangled manicure, just in time for the 4th of July. "To save time, you can replace the stars with white dots using a toothpick. It makes the process much easier, but still has that American vibe," says Hadley. To get the perfect patriotic color scheme try Zoya red polish in "America," blue in "Ibiza" and bright white in "Purity", $8 each.
Moustache mani
We dare you to look at this hilarious moustache mani without smiling. Begin with a nude base, and then do a white tip, as you would a traditional French manicure. Next comes the very un-traditional part: the moustache. "You can use a dotting tool to make two black circles right next to each other, and then go back with a thin brush to create the curl," says Rose.
I scream, you scream ...
We all scream for ice cream. Hadley recommends using the Sally Hansen Salon Effects in "Misbehaved", $9. These are easy-to-apply nail stickers that will give you the look of an ice cream cone without having to draw the lines yourself.
Flag day
These sweet and colorful flags spice up an otherwise traditional manicure. Instead of free-handing the flags, you can actually create them with scotch tape. To begin, paint multiple bright colors on a piece of tape, cut the tape into small triangle shapes, and let them dry. Next, use two coats of a nude polish and then use a silver striper brush to create the line where the flags will hang. Wait at least five minutes, and then carefully apply the colorful tape triangles onto your nails with tweezers. Finish with a clear top coat. This is tricky, so have patience — the pay off is fabulous!
More from BeautyRiot.com: