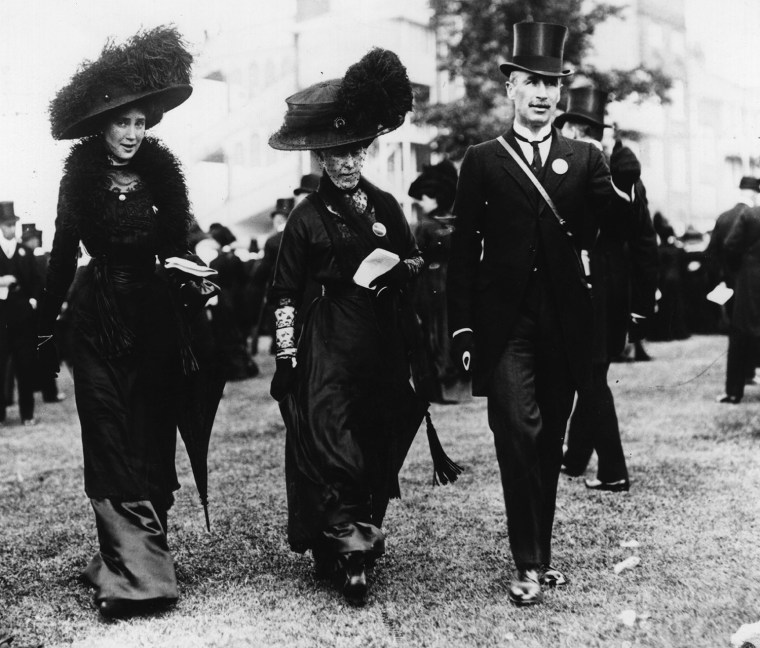 Is there such a thing as funeral style? Indeed there is, as the fashionable art of mourning will be explored through "Death Becomes Her: A Century of Mourning Attire," an exhibit opening Oct. 21 at New York City's Metropolitan Museum of Art. As the name suggests, it will reflect on the emotional expression of the grieving process through one's dress — quite a change from the current exhibit, which features brightly colored Charles James gowns.
So just how has funeral fashion changed (hasn't it always been black clothing?) It has, for one thing, become less formal.
Historical mourning imagery accompanying the exhibit reveals dark-colored, full-length corseted garments and such fabrics as silk crepe, mousseline, and corded silks, at times including long trains that would need to be lifted as you walk. Each look was accessorized with dramatic veils, wide-brimmed adorned hats, umbrellas and scarves. 
"Sartorial mourning practice has followed the general arc of fashion toward a loosening of rules, even the absence of them," Harold Koda, curator-in-charge of the Costume Institute at the Met, told TODAY.com. "Because of the solemnity associated with death, there is still a sense of dressing for the occasion, which generally means wearing something more formal than usual to a funeral. But when the baseline is sportswear, it leaves a wide range of options."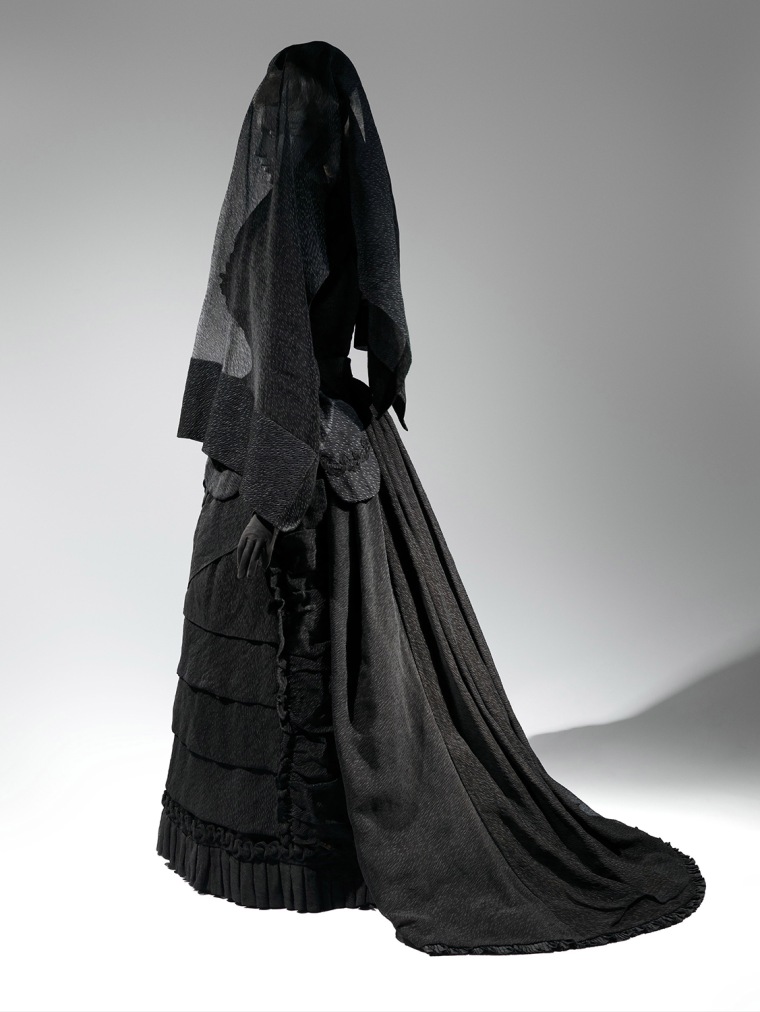 In an age of GOOP, affirmations, yoga, and mood-lifting green juice, it almost feels dramatic to wear your heart on your sleeve, so to speak, even during an extended period of grief. We can all agree times have changed from the elaborate ensembles of the 19th century, but how can we take our cue from sportswear?
A good rule, of course, is to look to fashion icons. "I always think Audrey Hepburn, of course minus the sunglasses and pearls," said Michelle Ng, director of women's merchandise at Burberry. "A classic black shift dress, boxy tweed jackets are safe and very conservative. Cigarette pants as well. Simplicity and understated elegance."
In regard to color, mauve, navy, and green can be just as somber as head-to-toe black. Etiquette expert Lizzie Post says one doesn't have to limit their wardrobe to New York City day wear preferences: "Because the nature of funerals and memorial services varies so widely today, attire isn't limited to just black or dark gray."
What you won't see in the exhibit are bright colors or floral prints, which signify the opposite of mourning. There has been, however, a recent trend to be remembered through celebration. 
"Some people want a traditional funeral where you usually wear darker, more somber colors, while others want a celebration," said Post. "If you've been asked to wear your favorite Hawaiian shirt or to dress in the deceased's favorite color, your clothing should be clean, pressed and presentable. Your clothing should not be a distraction from the service, no matter what kind of service it is."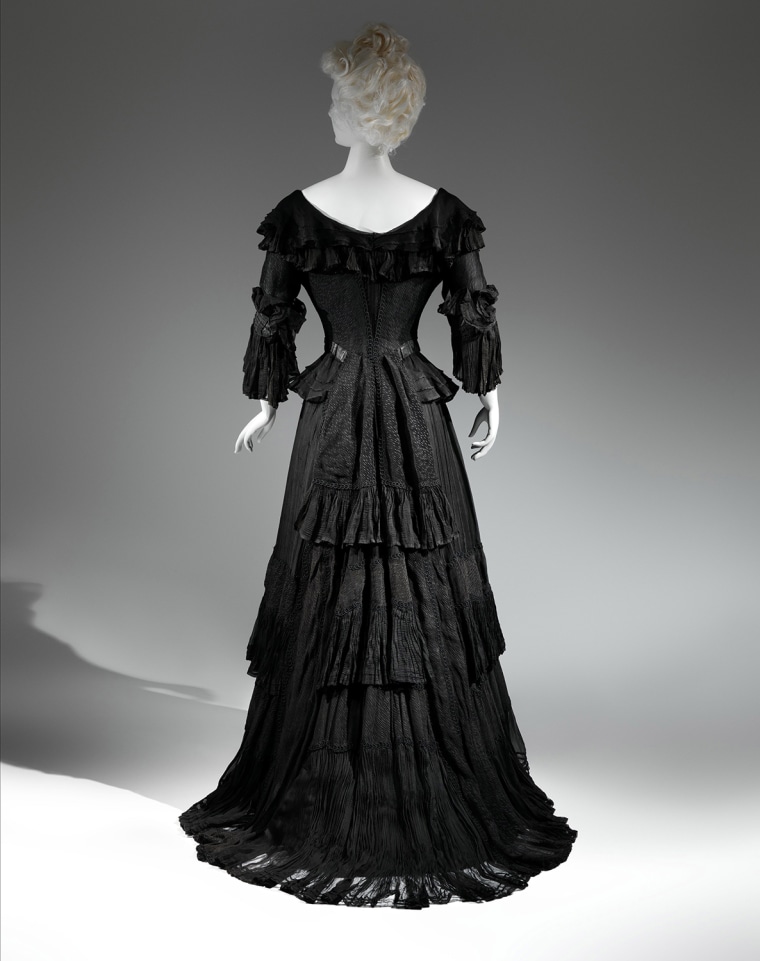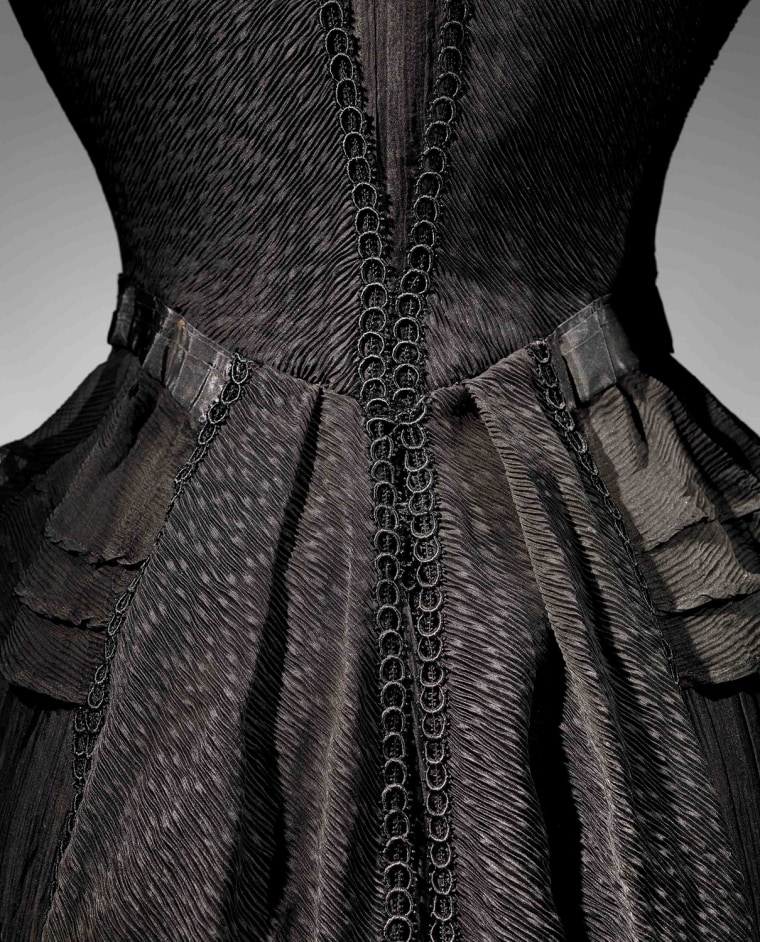 As for the dress code of the widow, it continues to evolve beyond the introduction of color as societal pressures of expressing grief through fashion lessen. Wearing long black gowns almost seems easier than defining new rules in the absence of Victorian formality. 
"In modern times, black is a more popular choice in daily wear and a range of dark colors has become acceptable to wear to funerals, making mourning almost impossible to spot through one's dress," noted Chelsey Bingham, founder of vintage e-commerce site Wiseling. "Even as veils and dark colors were meant to shield tear-stained faces, social etiquette and code became a stronger force in showing the loss of loved ones."
Our takeaway? While veils, umbrellas and larger silhouettes aren't exactly called for these days, dress is an extension of our emotion when honoring a loved one's, and it's OK to be subtle in color or formality — as long as you reflect the seriousness of the occasion. Trust your instincts, but don't be too flashy.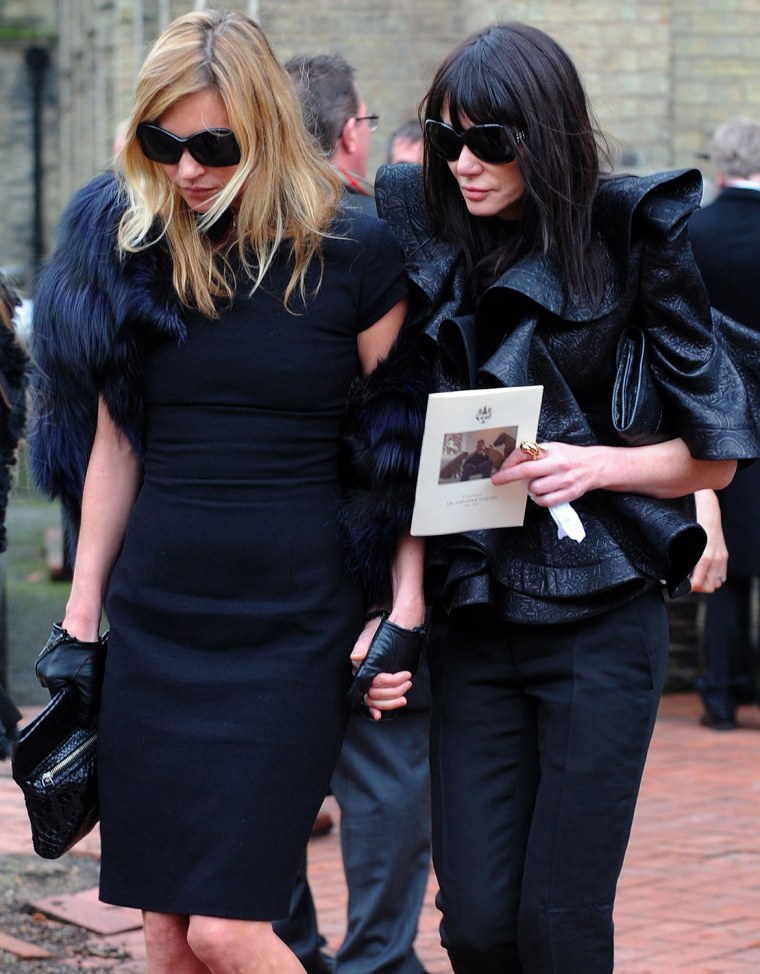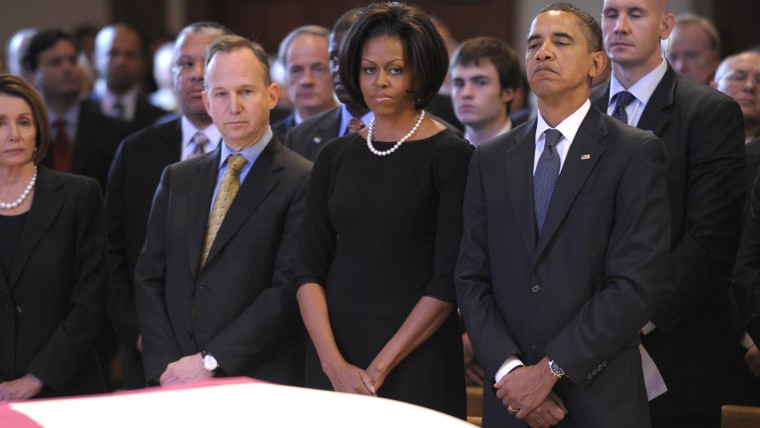 We prefer discreet combinations in darker colors like navy, hunter green, brown and eggplant purple. Solid or pinstripe knee-length dresses paired with a blazer and low heels allow you to move comfortably and still look polished. A neatly tucked silk blouse and cardigan with a midi-skirt, or flat-front trouser pants with black flats are also safe choices. Skip the logo items, stilettos, and prints, but feel free to veer closer to business than black tie.

The fall Met show showcases 30 mourning looks from the 19th and 20th centuries, including those of Queen Victoria and Queen Alexandra. If Koda's past shows are any indication, we suggest getting tickets early. For more information visit metmuseum.org.
From Sarah Jessica Parker to Bradley Cooper, Hollywood A-listers donned their best attire for the 2014 Costume Institute Gala.