That's a wrap! The Duke and Duchess of Sussex just finished their 16-day tour of Australia, New Zealand, Fiji and Tonga.
It has been a whirlwind couple of weeks for the royal newlyweds — and for fans of the former Meghan Markle's royal style. Meghan, Duchess of Sussex, has worn so many spectacular outfits throughout the trip that it's been hard to keep track, from casual sundresses to showstopping evening looks.
On her final day in New Zealand, the duchess chose a simple, navy dress for a luncheon in Rotorua. She wore an elaborate, traditional cape as part of a formal powhiri, a Maori welcoming ceremony.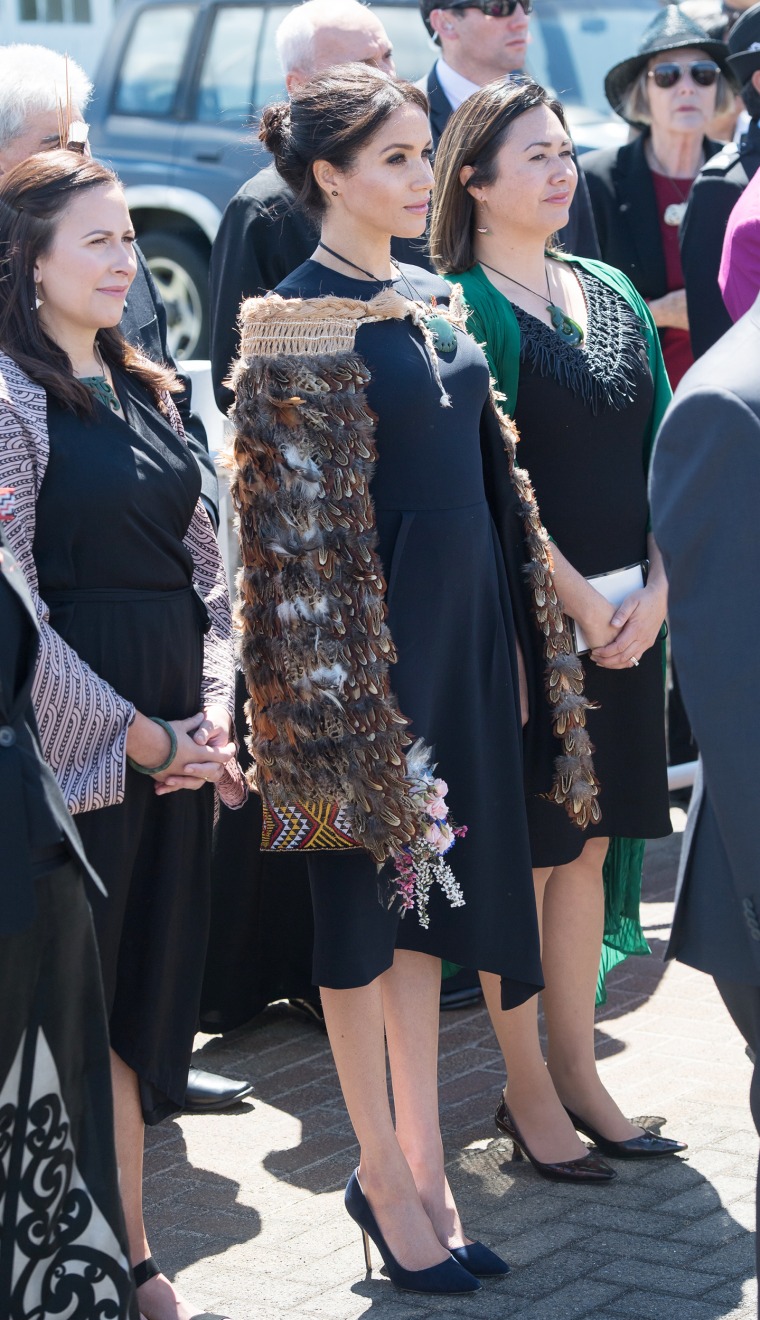 In keeping with the blue theme, she changed into a navy skirt with flashes of a lighter blue visible beneath the pleats as she and Prince Harry visited the Rotorua Public Gardens.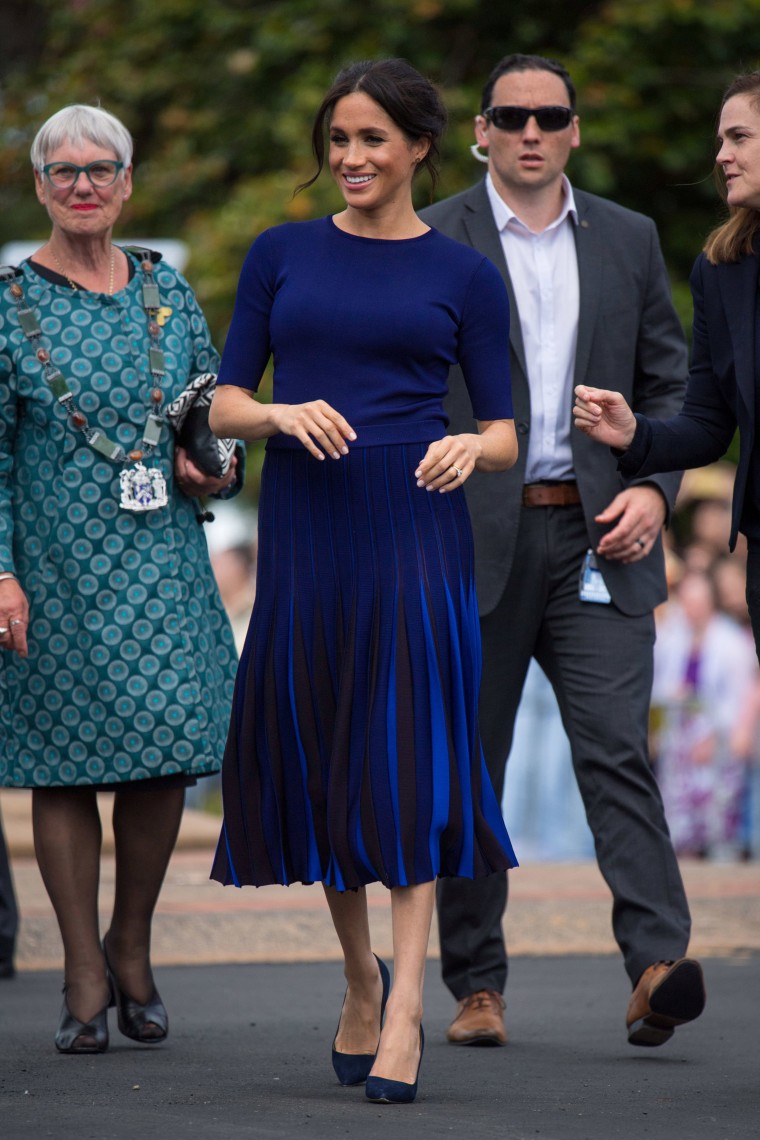 She wore a coordinating navy top and pumps as she greeted well wishers.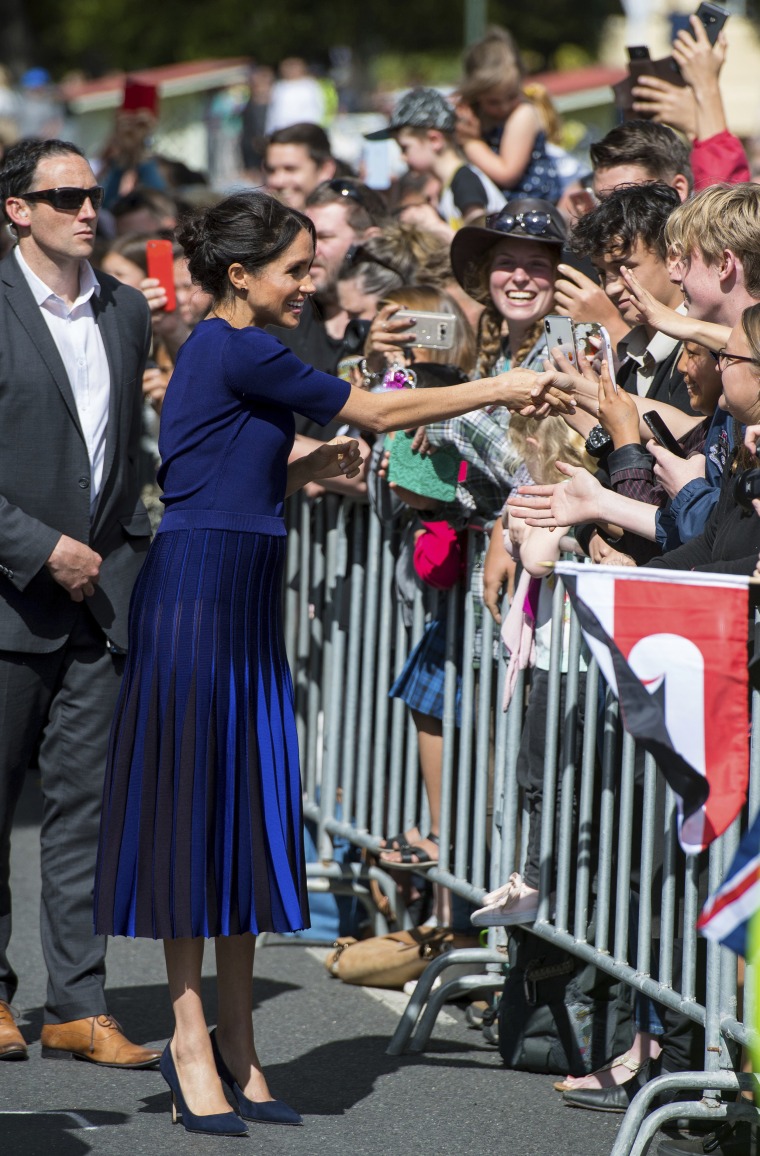 The duchess, who swept her hair up in her trademark, messy bun, had some sweet encounters with her youngest fans.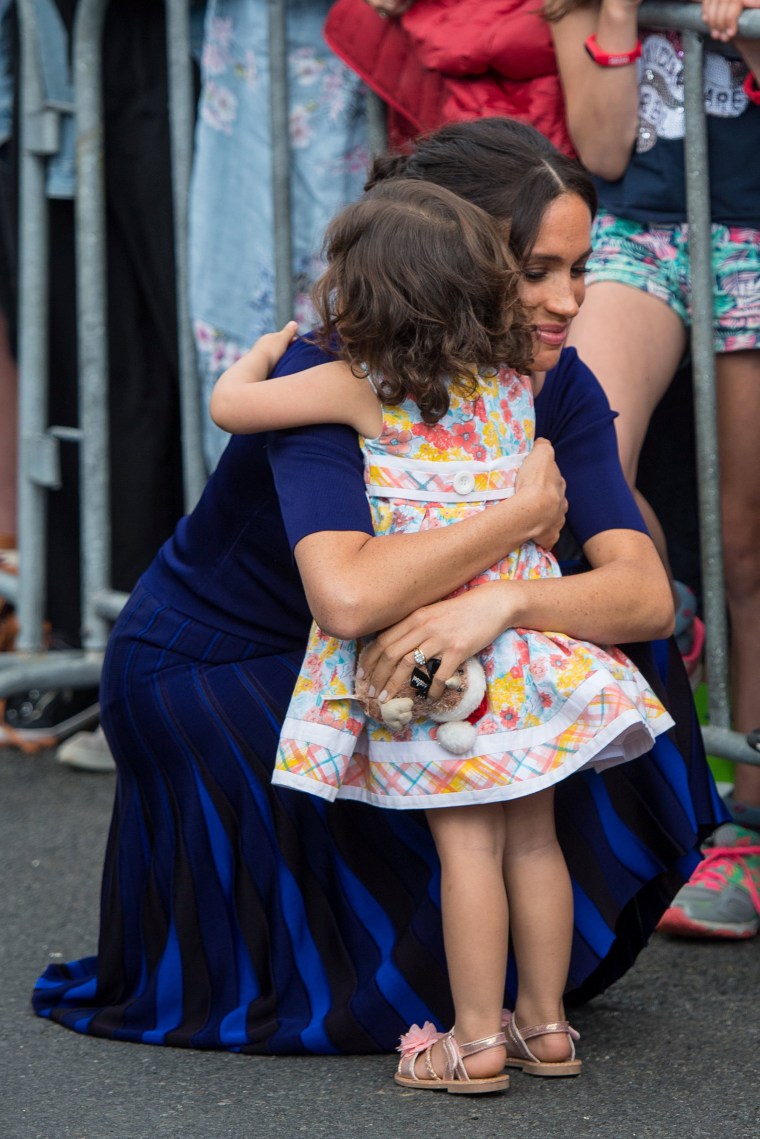 She definitely finished out the trip in style!
See her best royal tour looks:
What an entrance! She kicked off the royal tour in a crisp, white dress and light trench coat at Australia's Sydney Opera House.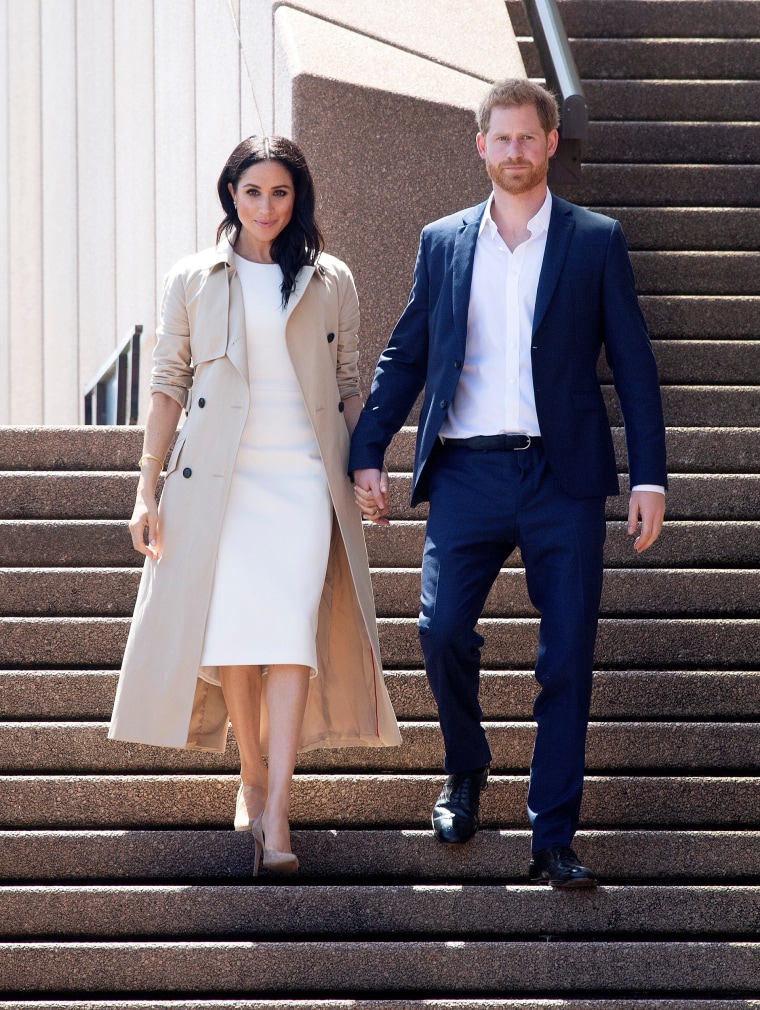 Later that day, she changed into a muted, olive green shirtdress as she attended an afternoon reception in Sydney.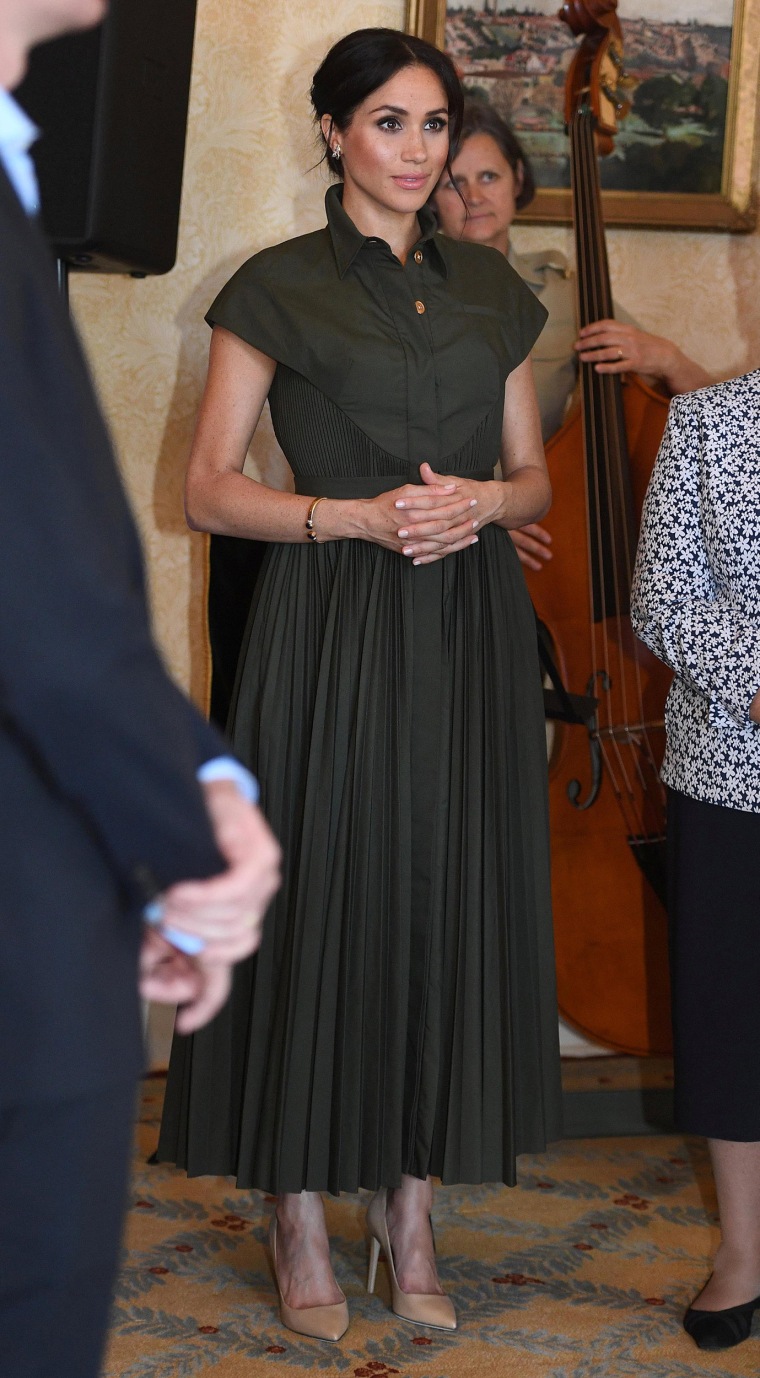 The duchess arrived in style at Australia's Dubbo Airport sporting a gray blazer, skinny jeans and black ankle boots. A sleek ponytail completed the effortless look.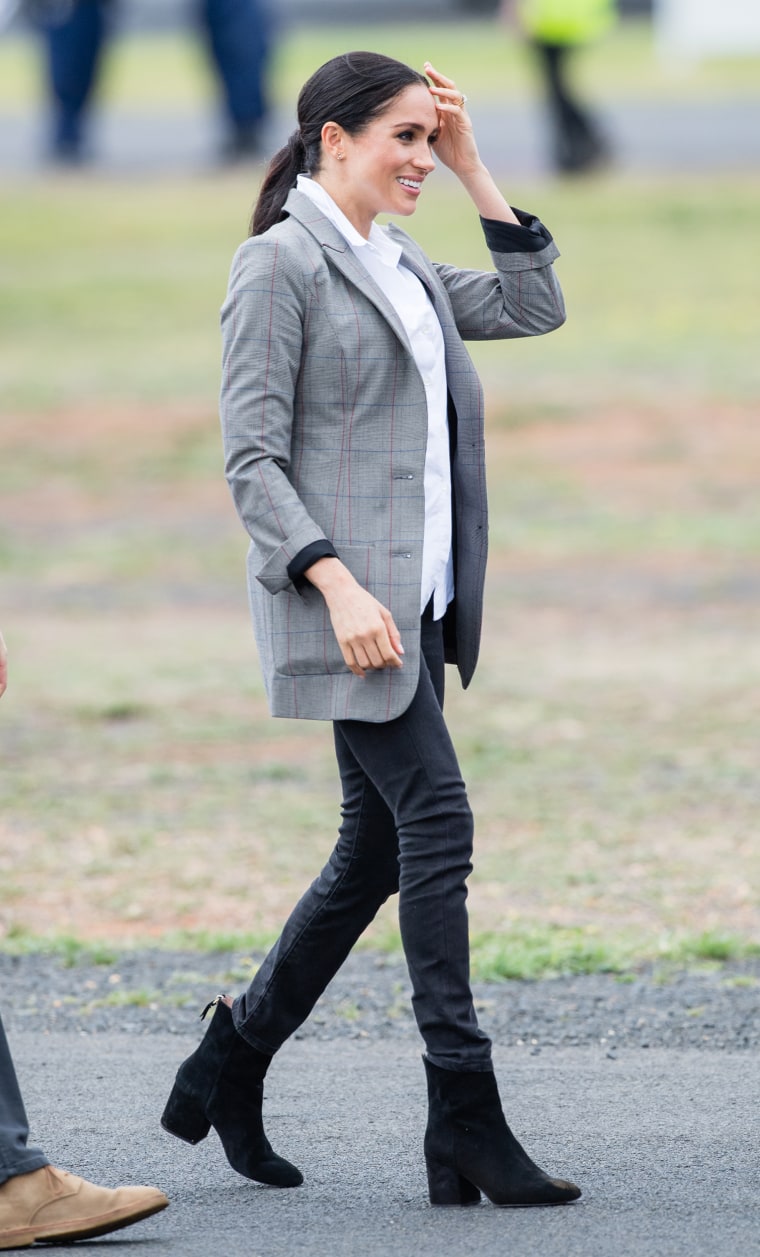 The next day in Melbourne, she chose a navy blue dress with matching pumps.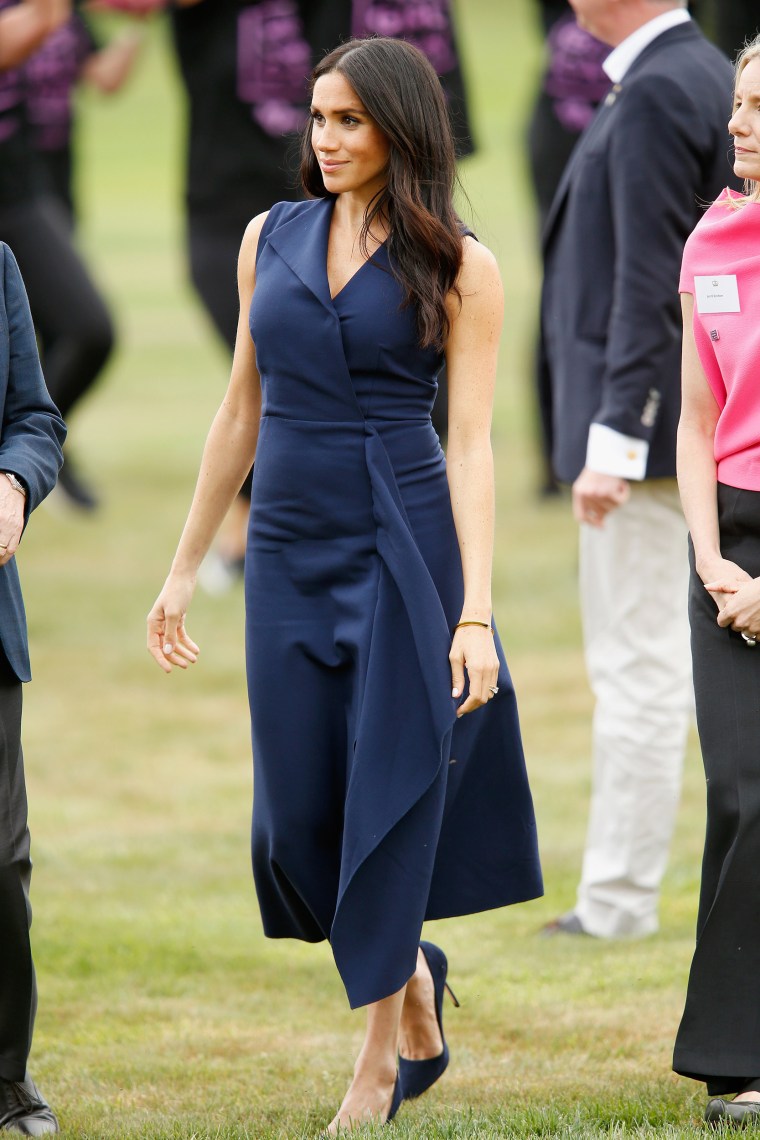 At one point, she added her go-to trench coat and an adorable pasta necklace made by one of her youngest fans. Leave it to the duchess to totally pull off pasta jewelry!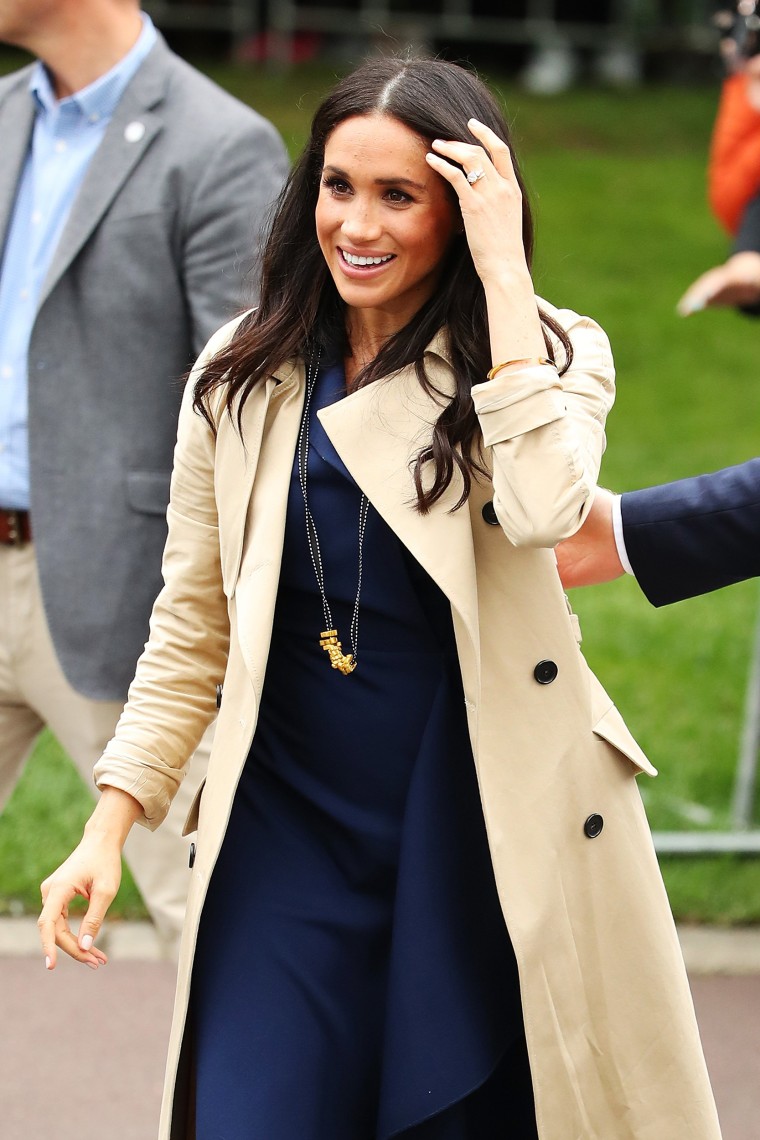 Her trusty trench coat made another appearance on Melbourne Beach, though she switched into black flats as she walked along the sand.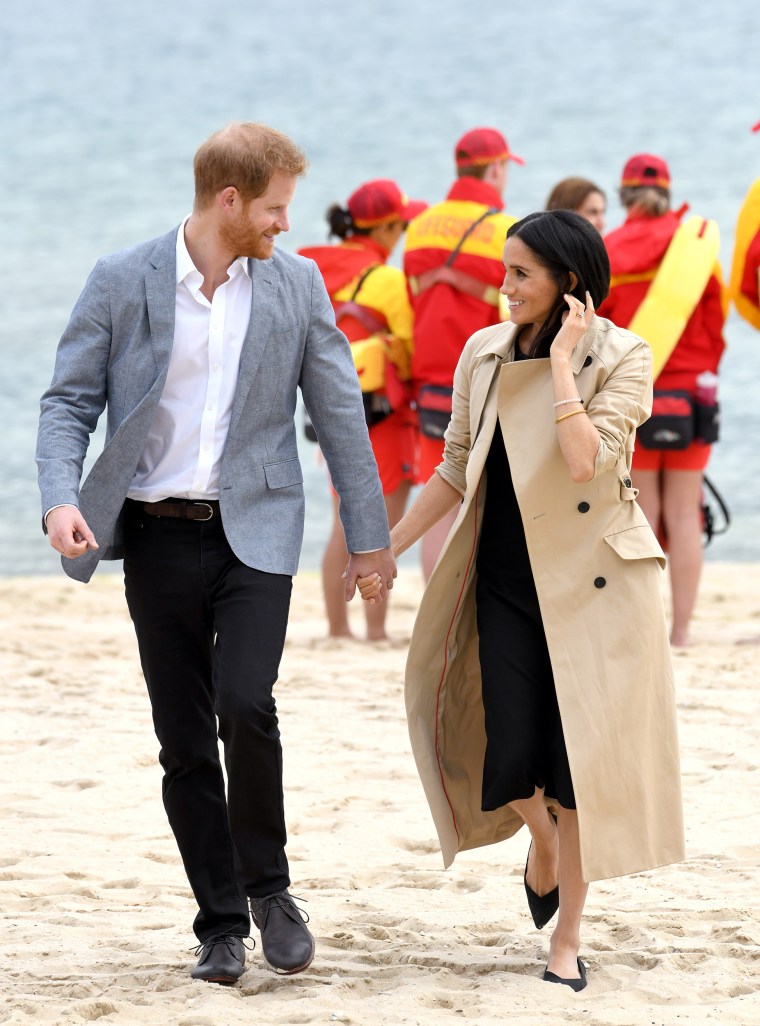 Her next beach look was more casual. She sported a striped maxi dress as she visited Australia's famous Bondi Beach.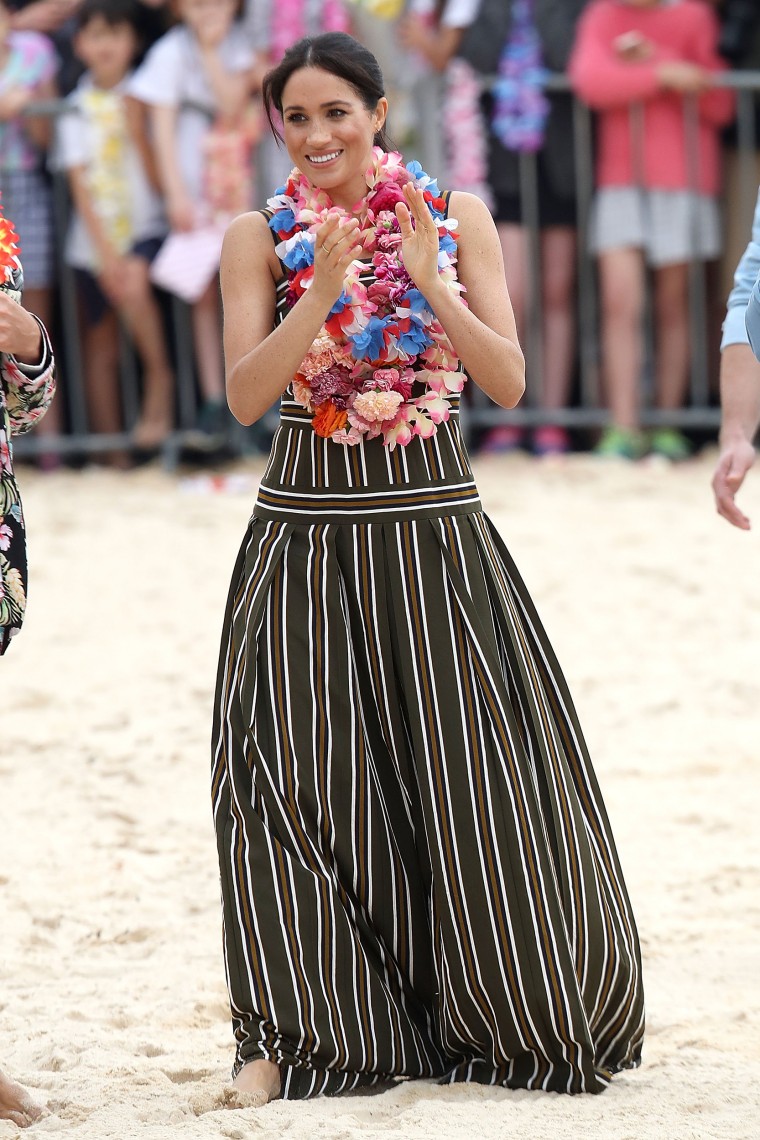 She went for a fun, color-dipped dress as she visited a girls' high school in Sydney.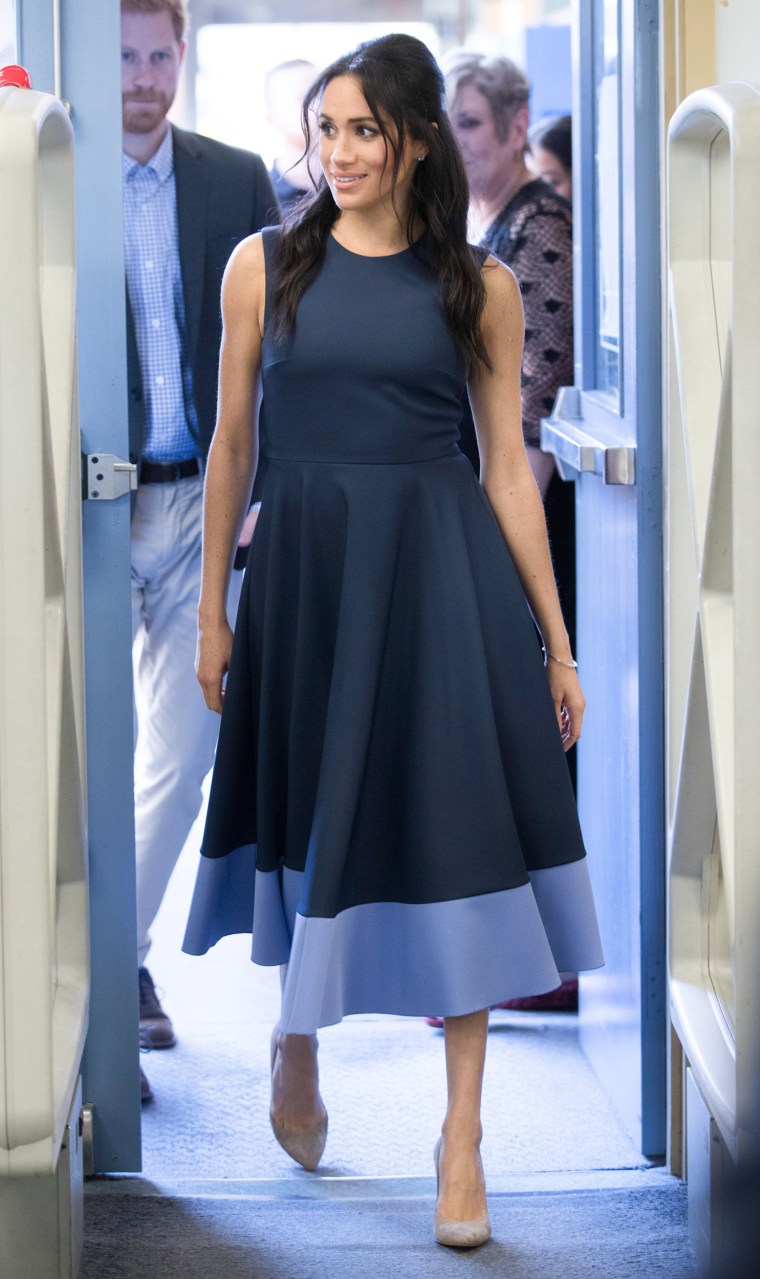 The next day in Sydney, it was back to a white blazer, this time paired with black skinny jeans and quirky sunglasses.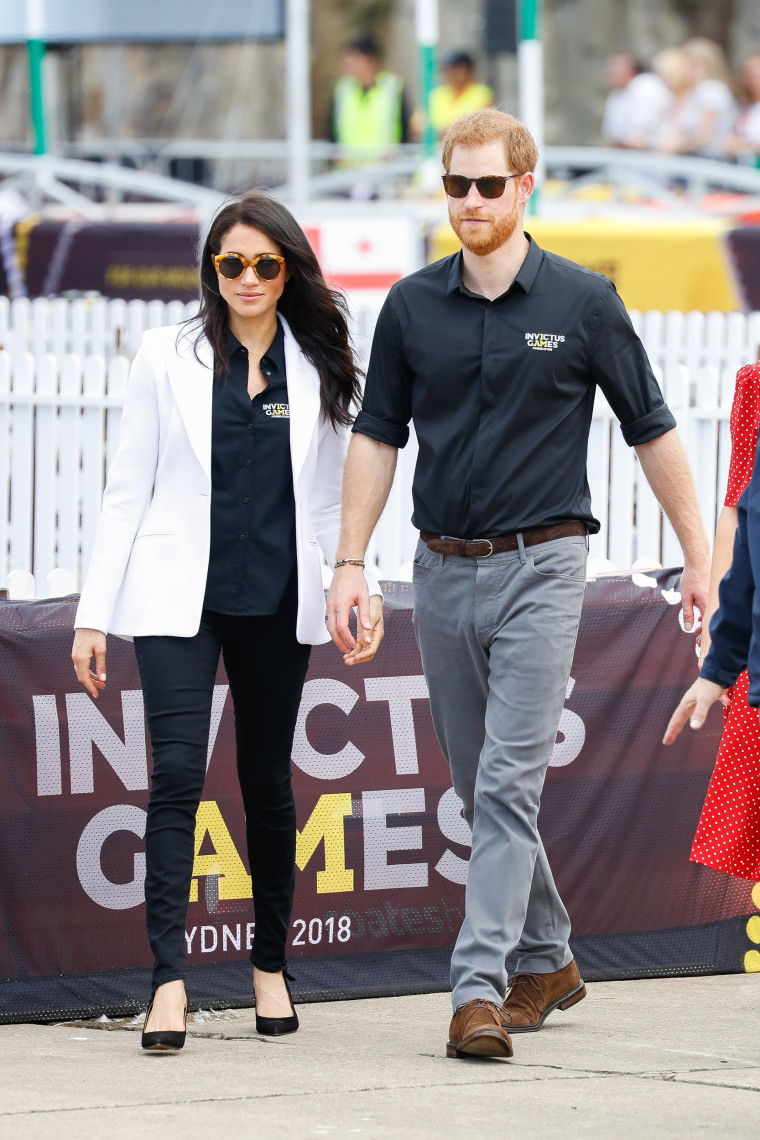 Later that day, she changed into a subdued, black dress with a matching fascinator as she attended the opening of the extension of the ANZAC Memorial in Sydney's Hyde Park.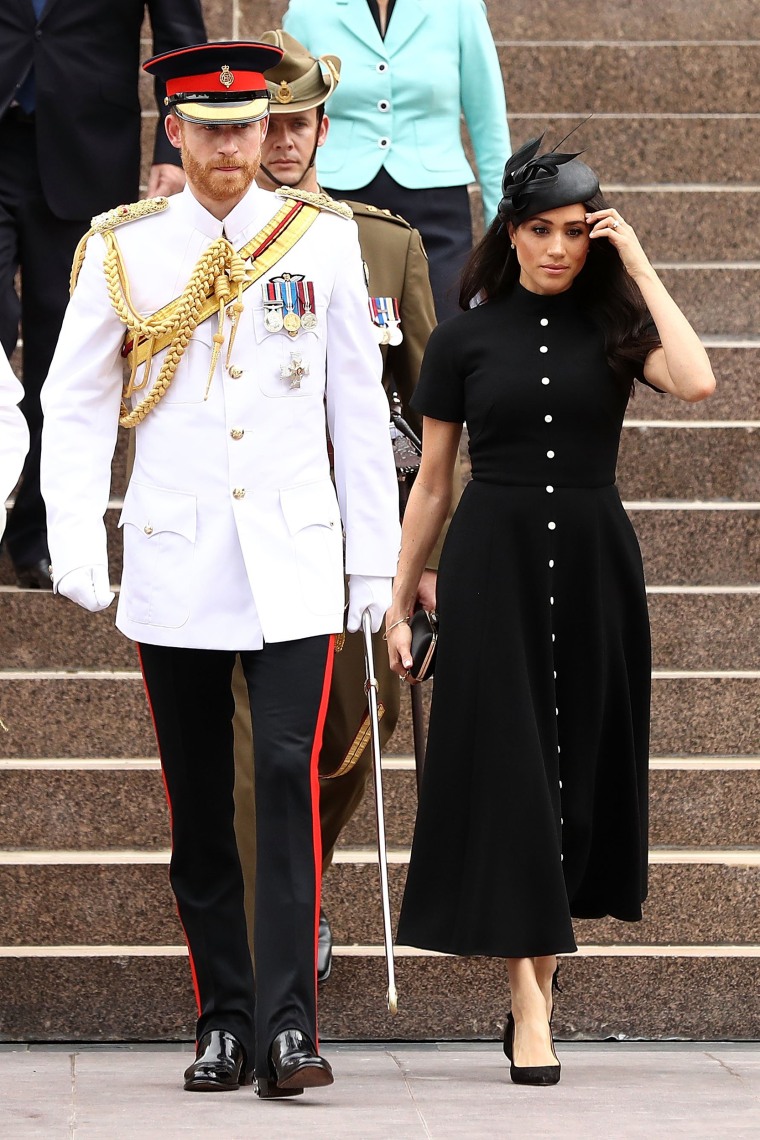 The duchess's blazer game was strong throughout the royal tour. At a reception in Sydney, she sported this fun, menswear-inspired look, paired with what looks like one of her favorite crossbody bags. The bag is from the Australian label Oroton, so it makes sense that the duchess would wear it to honor her Australian hosts.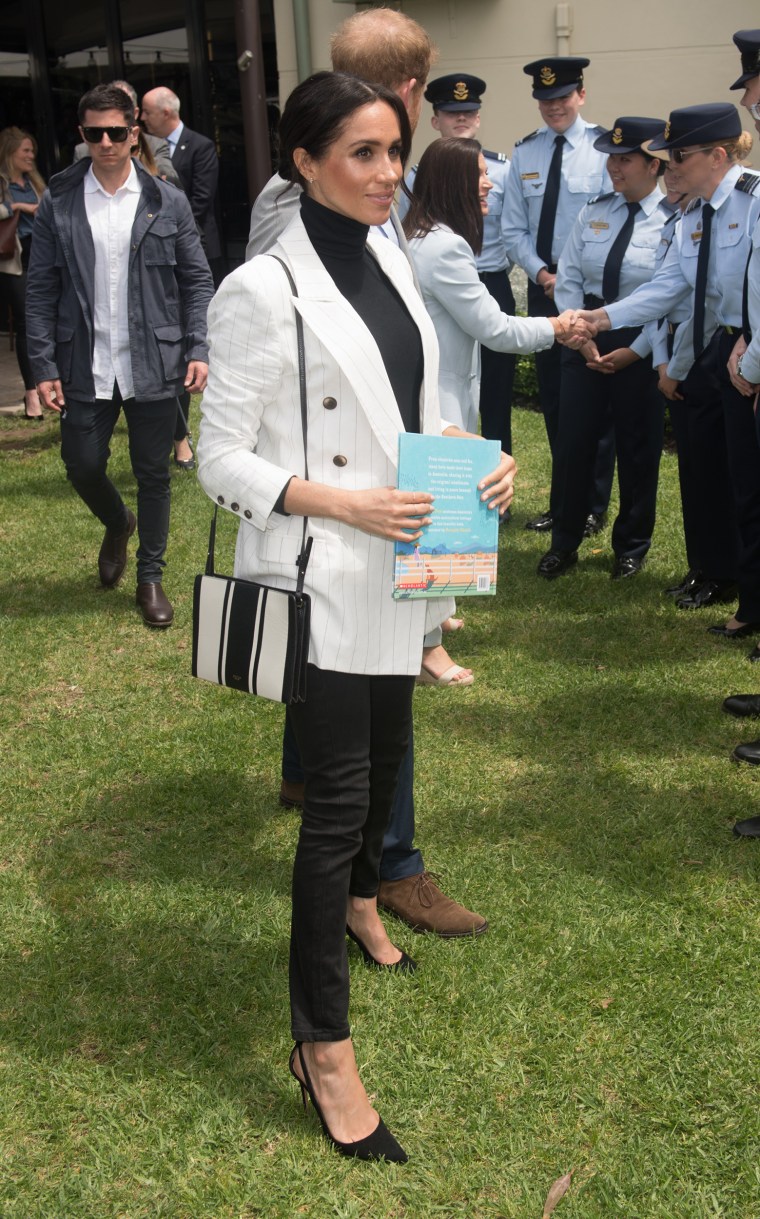 The next day, the duchess stepped out in a lovely, linen sundress from American label Reformation.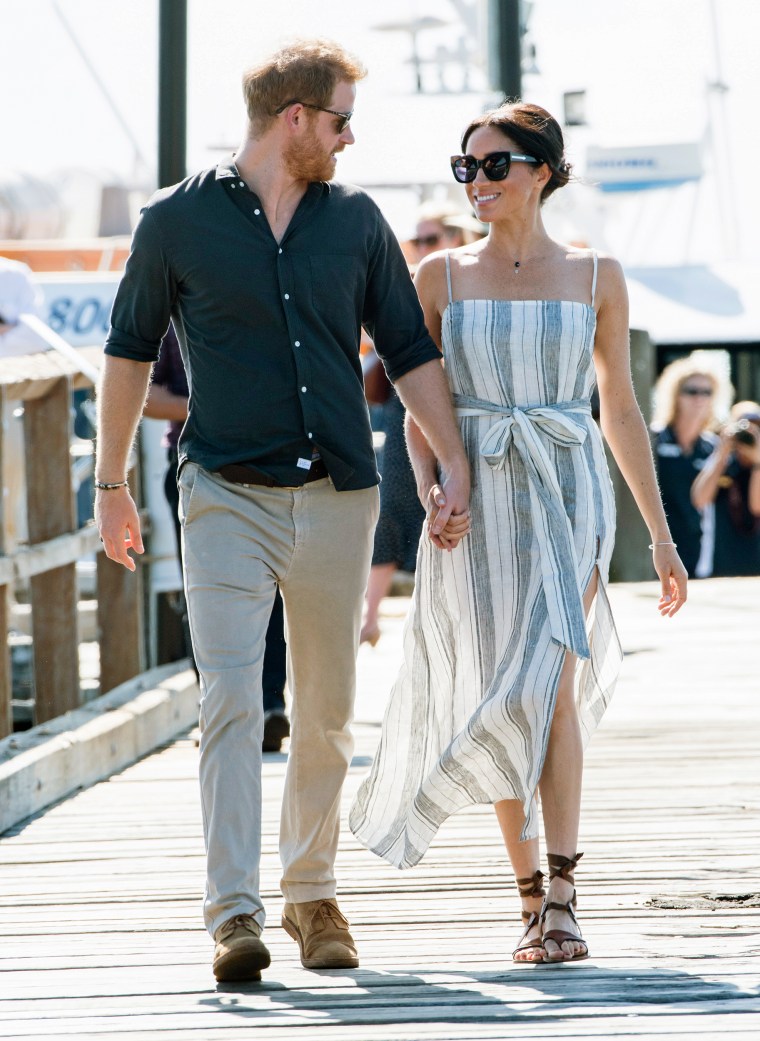 The duchess switched to a more traditional royal look as she attended an official welcome ceremony in Fiji.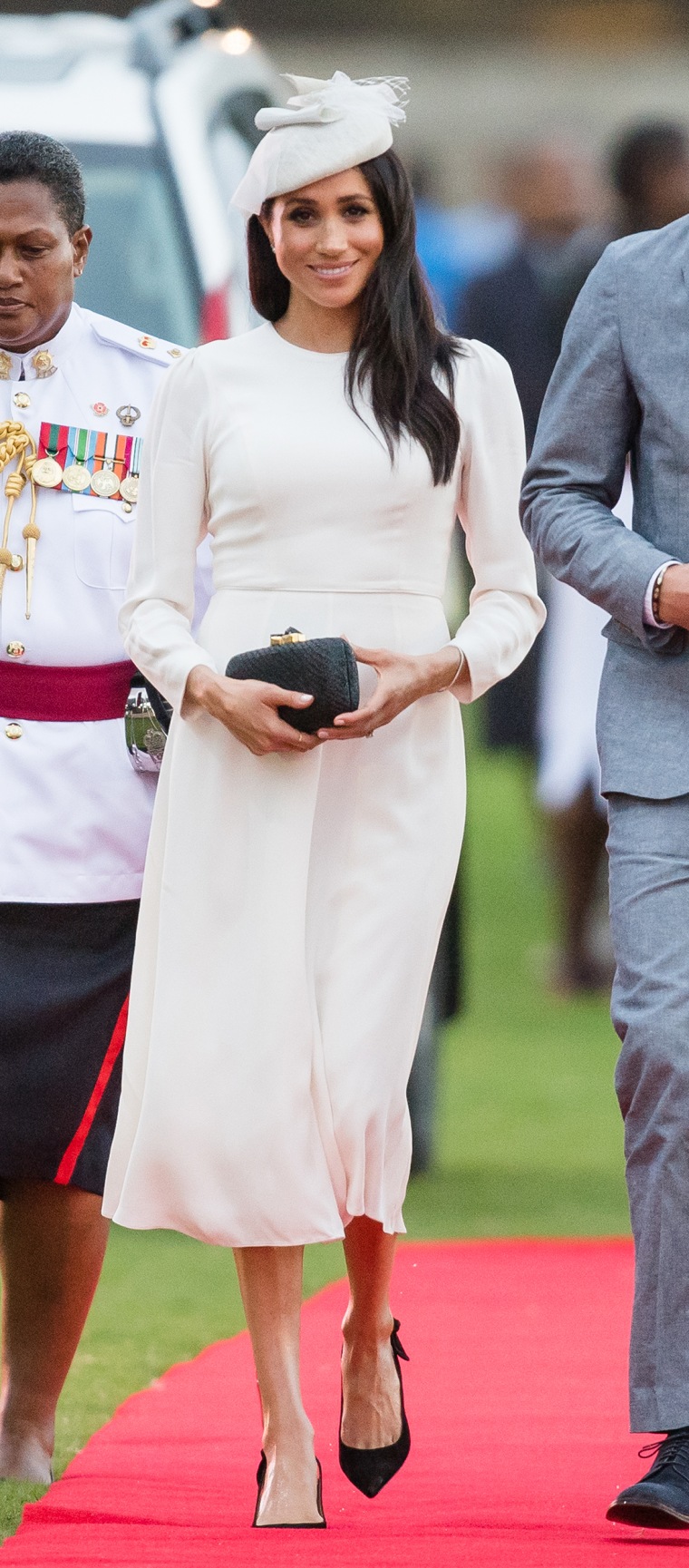 Later that day, she pulled out all the stops with this stunning, blue cape dress, which she wore to a state dinner in Fiji. She may have been honoring her hosts with the dress's hue, which matches part of Fiji's flag.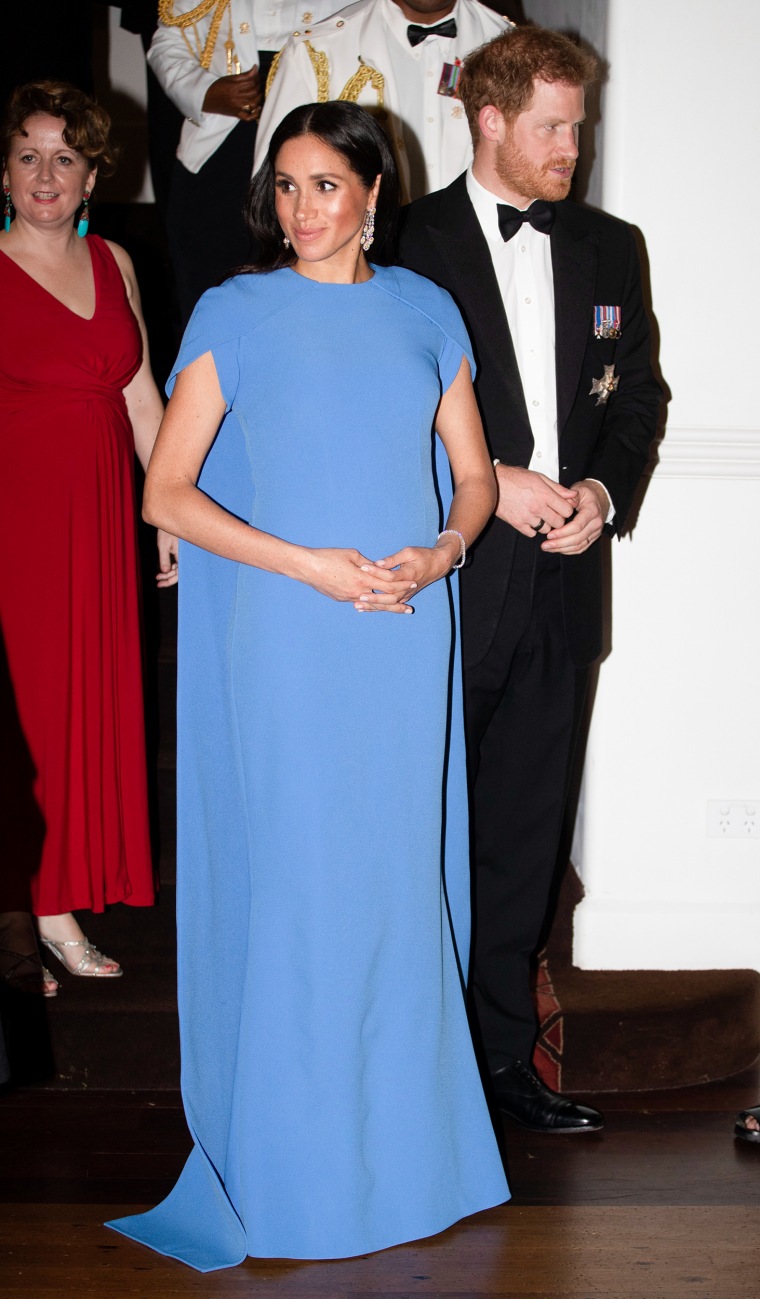 She wore a whimsical, floral dress with a pompom waist tie as she attended a morning tea reception and accessorized with a traditional, floral neckpiece.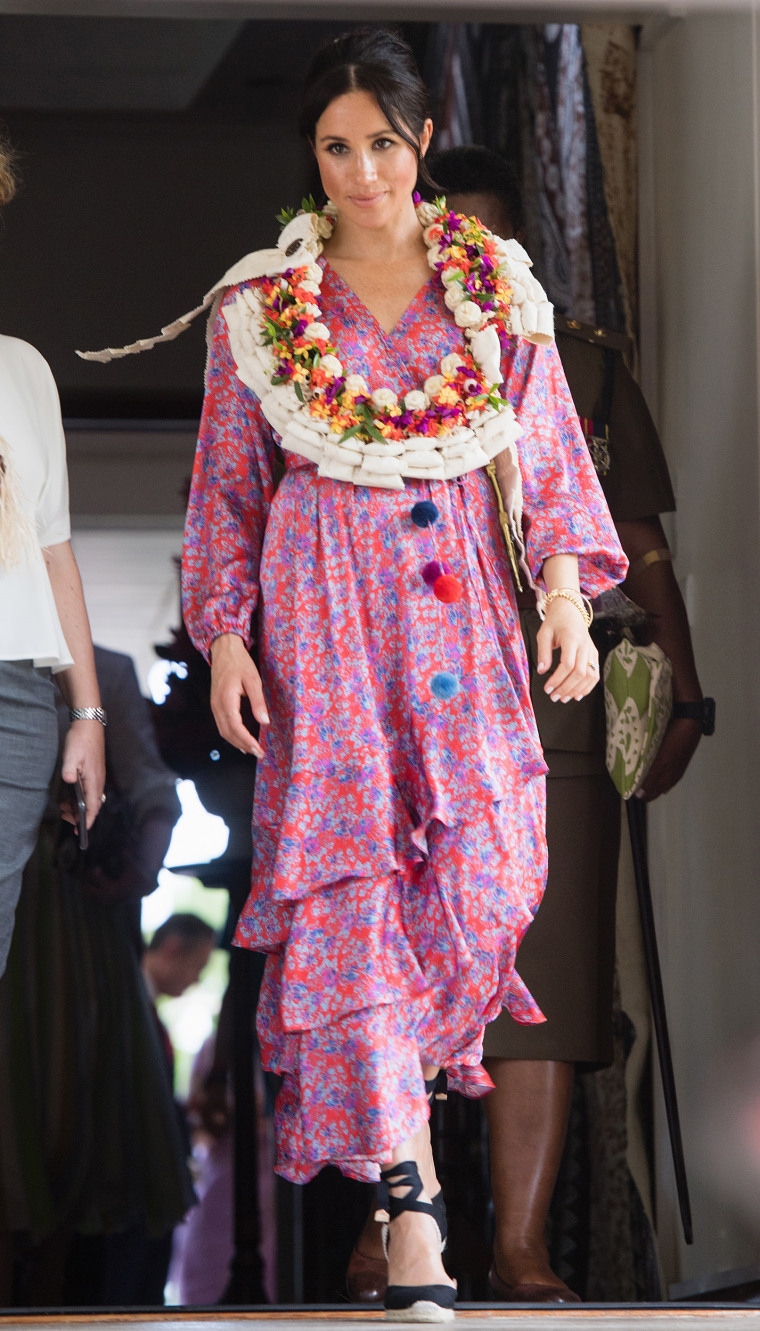 The duchess wore this vibrant red dress as she arrived in Tonga. She made the tiniest (and totally relatable!) style faux pas when she forgot to snip off the price tag — but she looked stunning!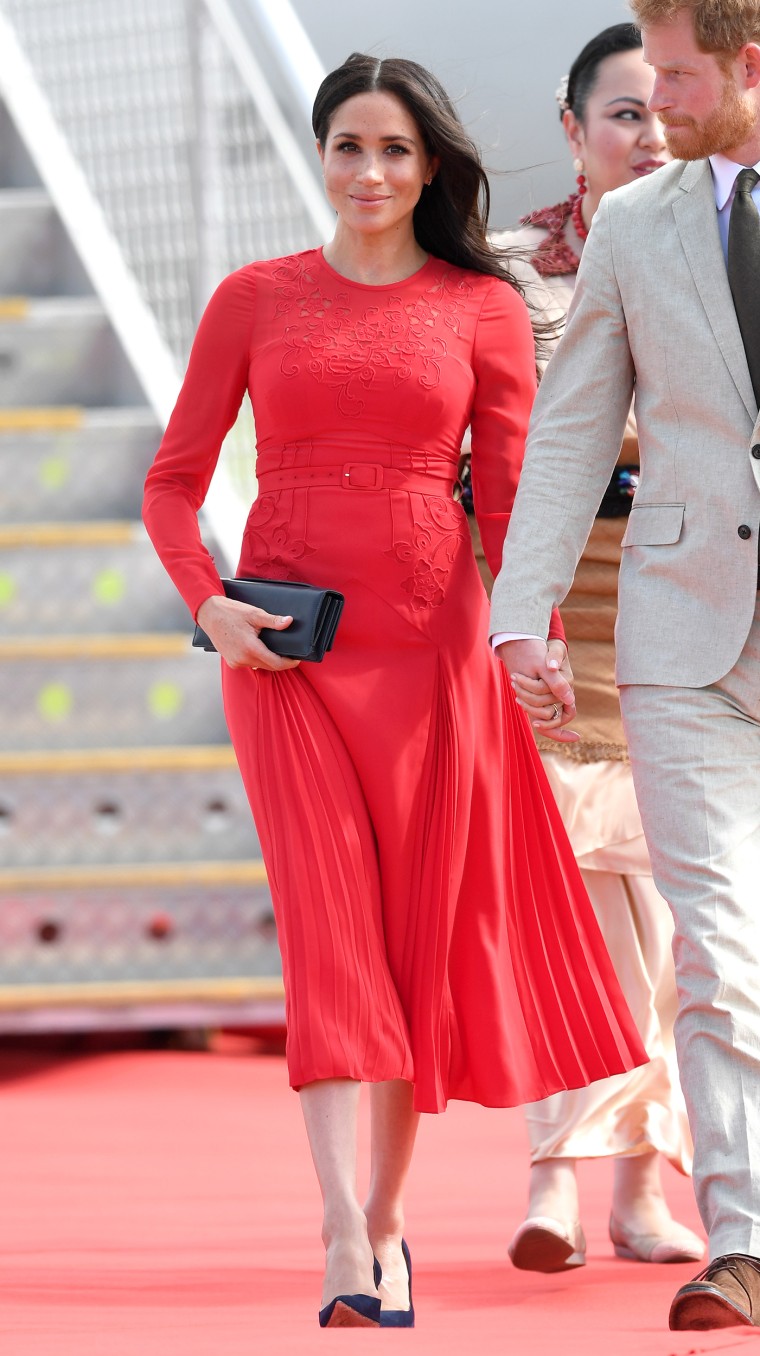 She wore this gorgeous white dress for a private audience with the king and queen of Tonga.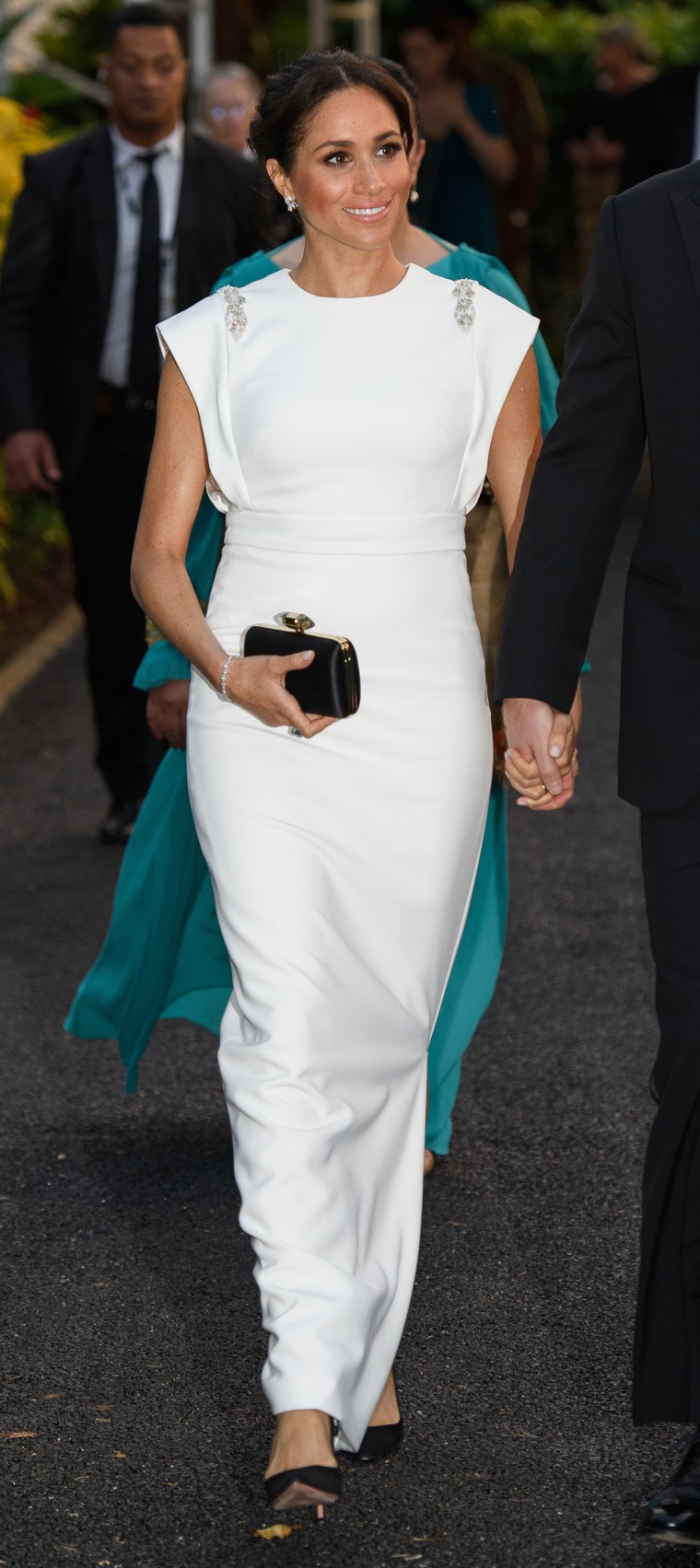 Her baby bump was visible beneath this short-sleeved, turquoise dress, which she wore in Fiji.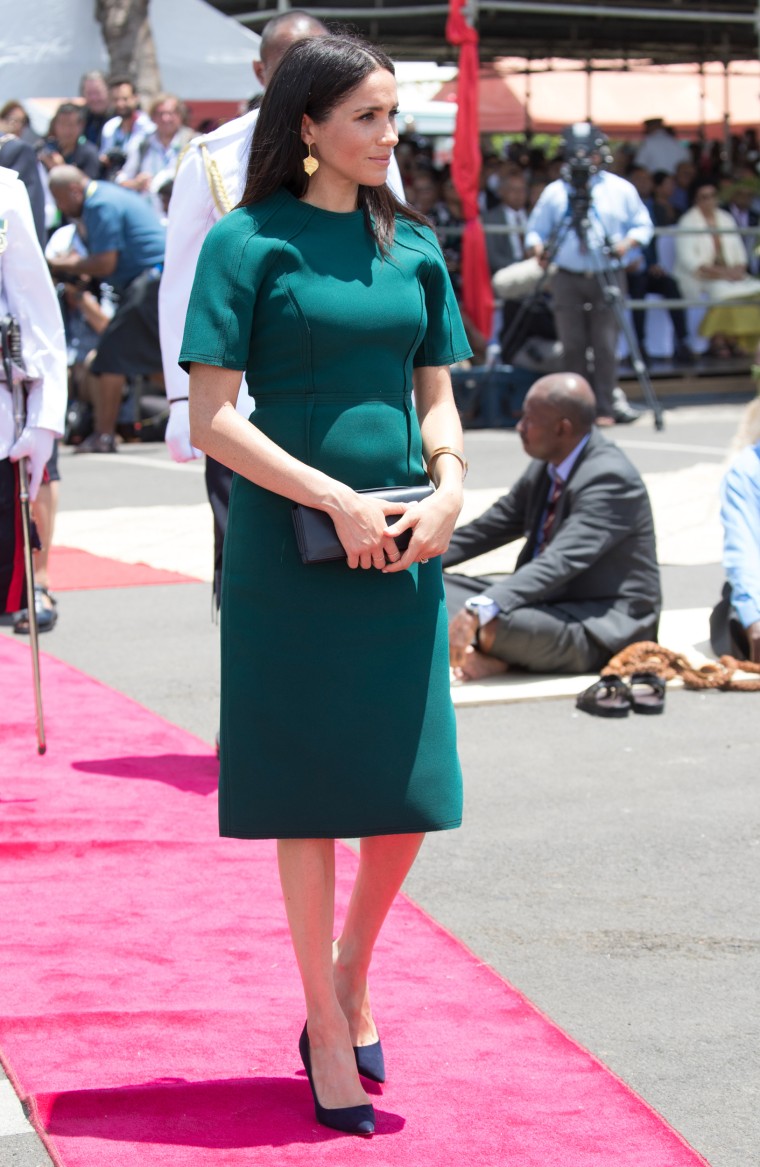 The next day in Tonga, she stepped out in a striking blue shirtdress with a belted waist.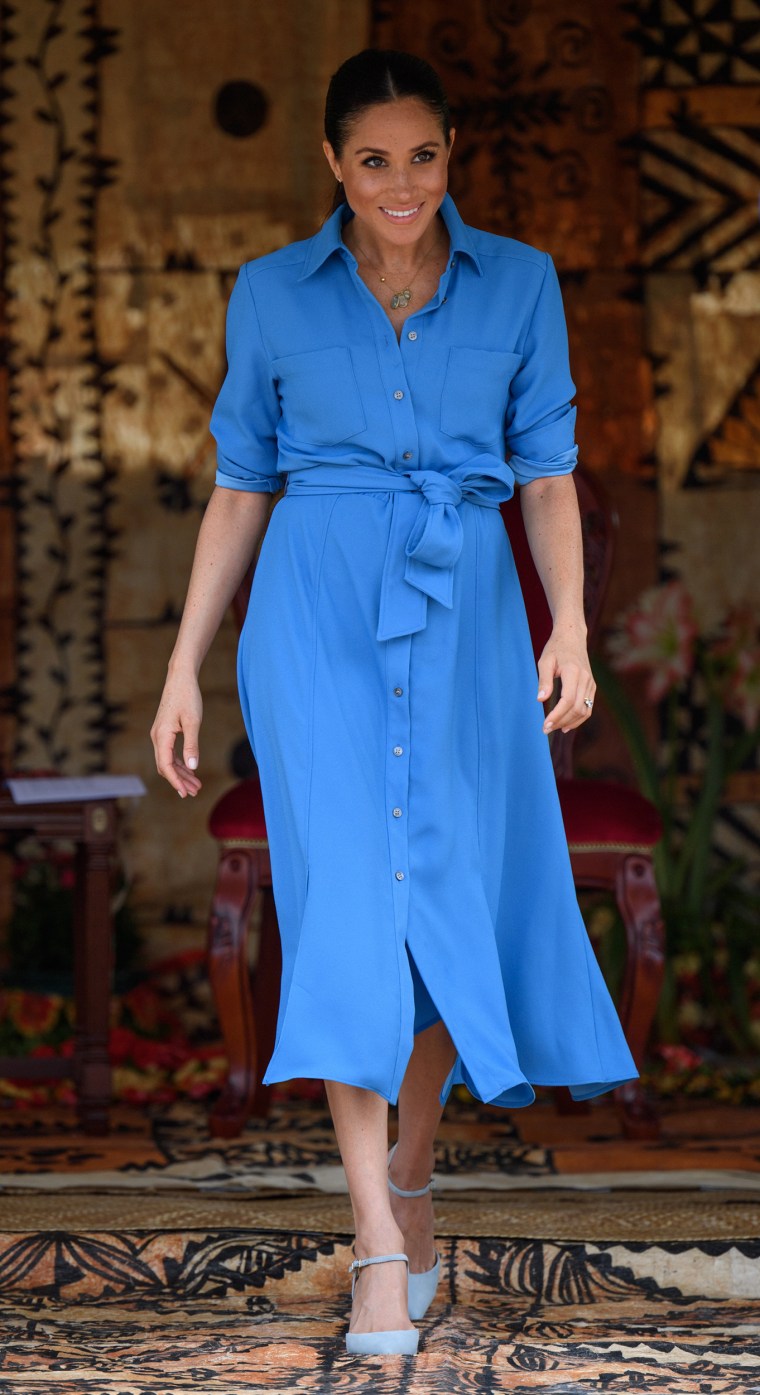 That evening, she turned heads in this incredible, bird-themed Oscar de la Renta dress. She wore the gorgeous gown as she attended the Australian Geographic Society Awards in Sydney.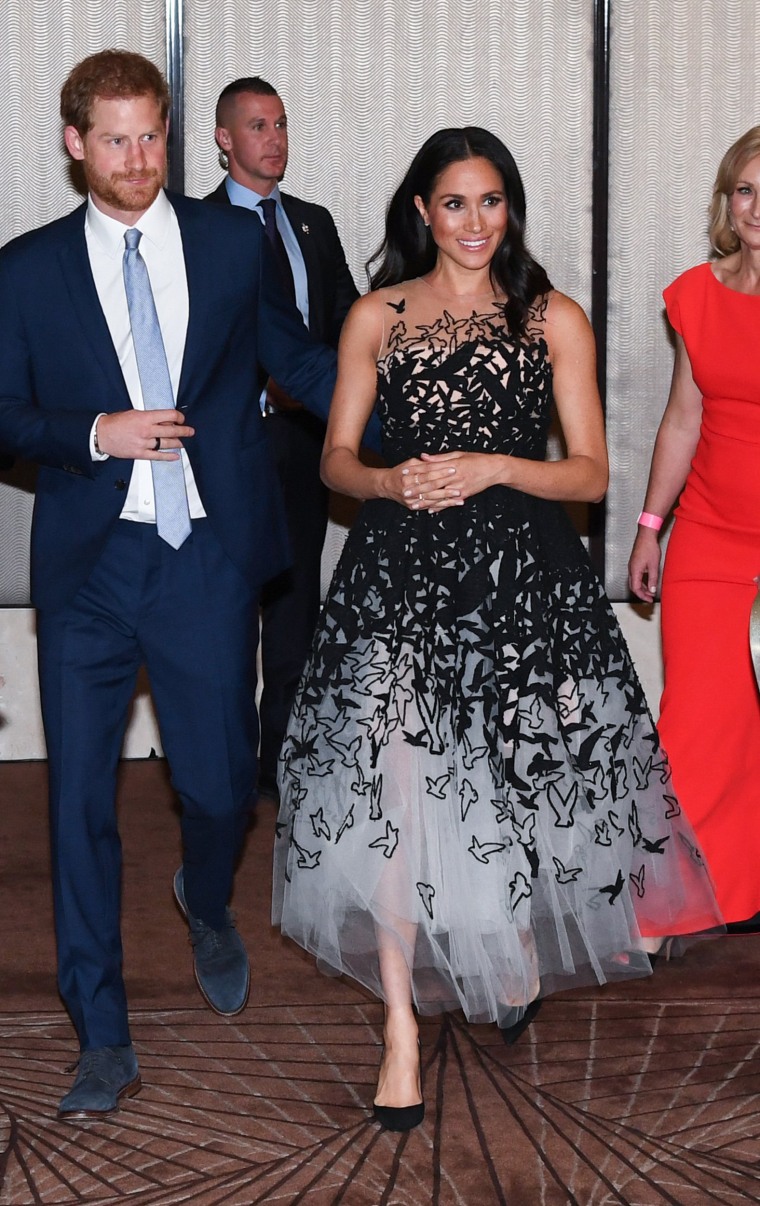 She wore a maroon top with a peplum detail at the waist as she watched the wheelchair basketball final at the Invictus Games in Sydney.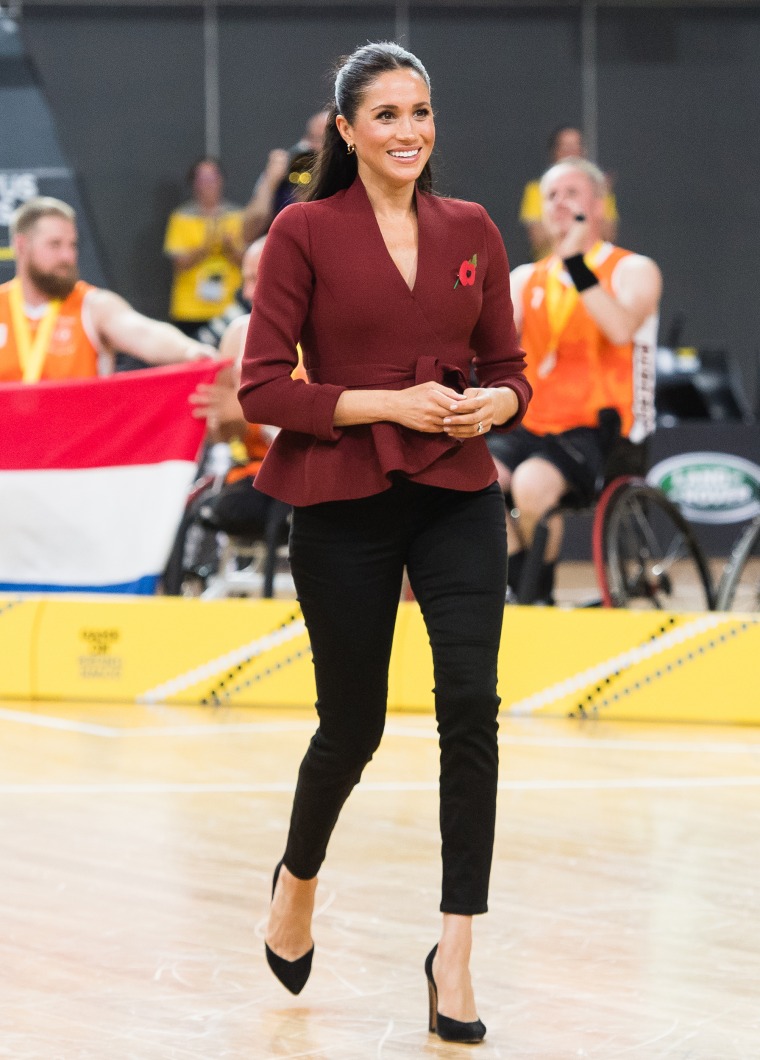 She sported an olive green, sleeveless dress as she gave a speech during the closing ceremony of the Invictus Games.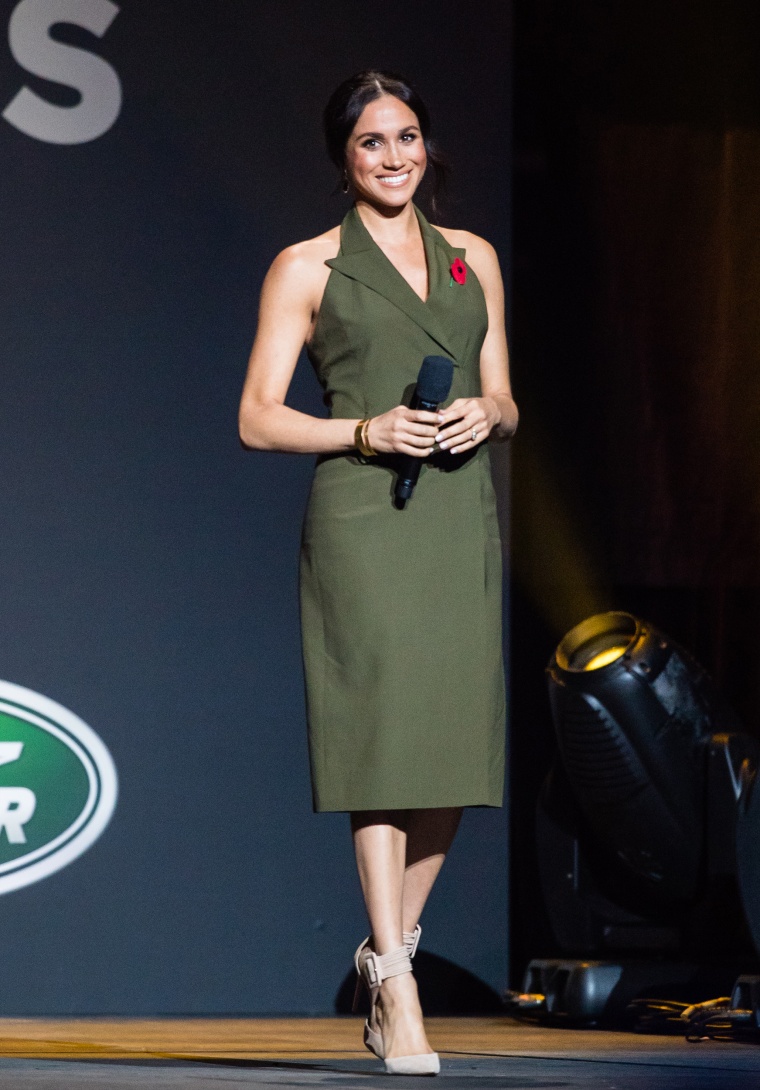 Then it was back to another stunning dress; this time a black gown with capped sleeves as she met with New Zealand's prime minister, Jacinda Ardern.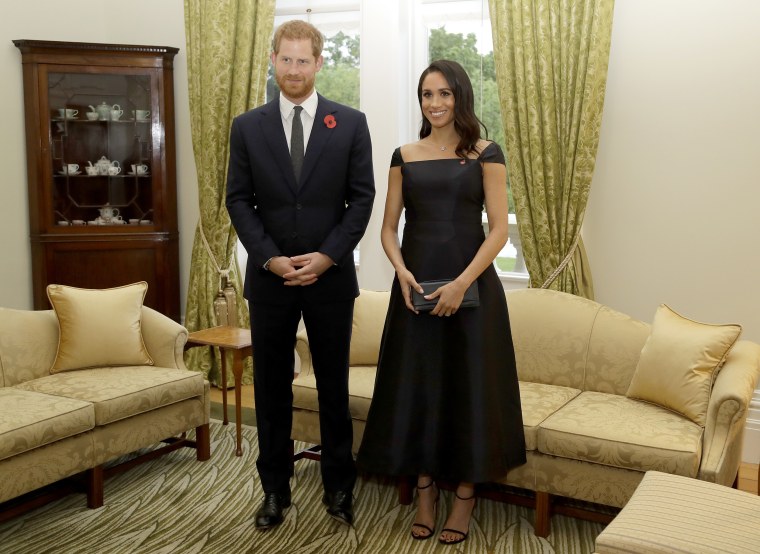 When she arrived at Wellington airport, royal style watchers noticed she was wearing one of her most affordable looks yet: a $56 black maternity dress from Asos layered with one of her go-to trenches.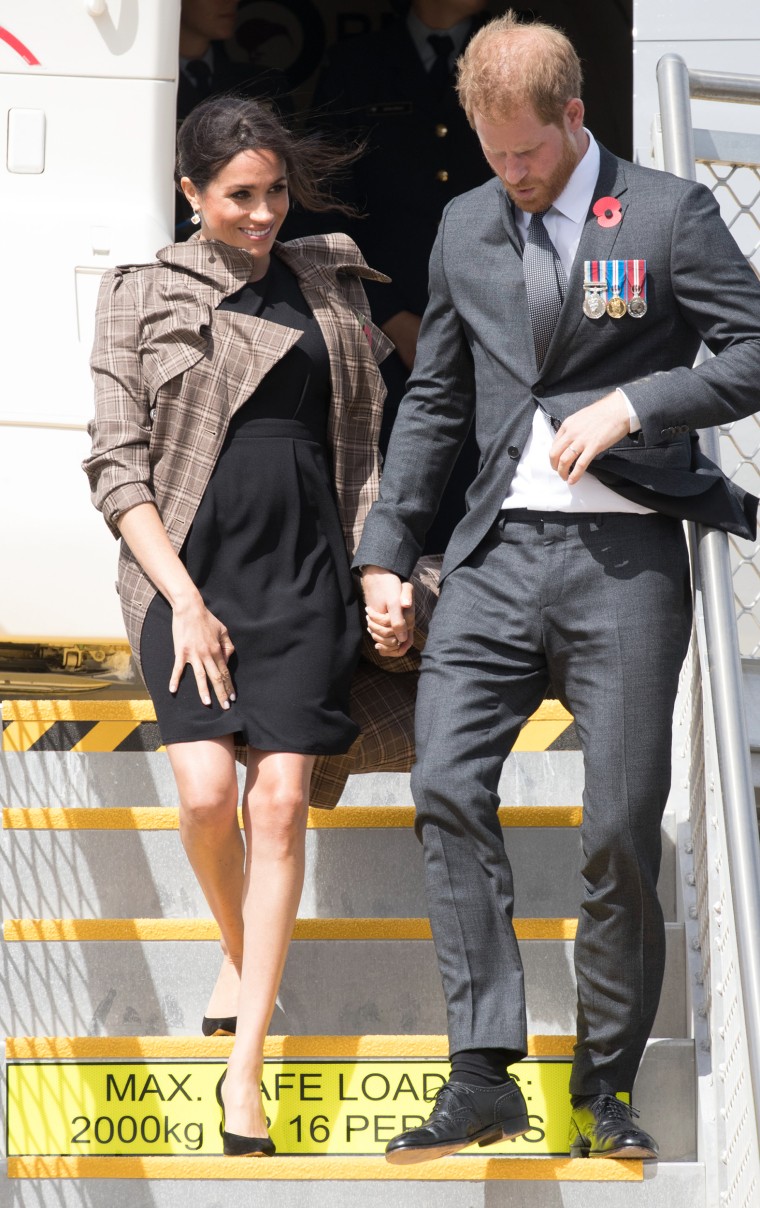 The duchess was able to relax in casual sneakers and a sporty jacket as she and Prince Harry toured New Zealand's Abel Tasman National Park.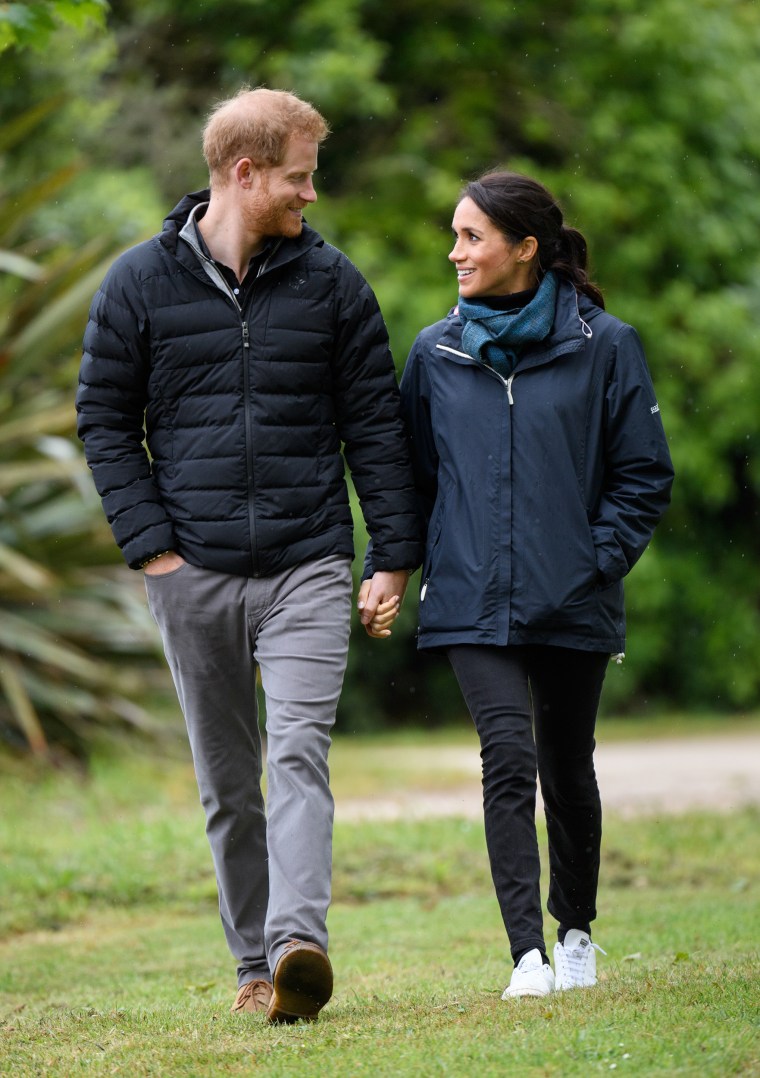 She changed into a white tuxedo dress for her next event in New Zealand, and made full use of the outfit's comfortable pockets.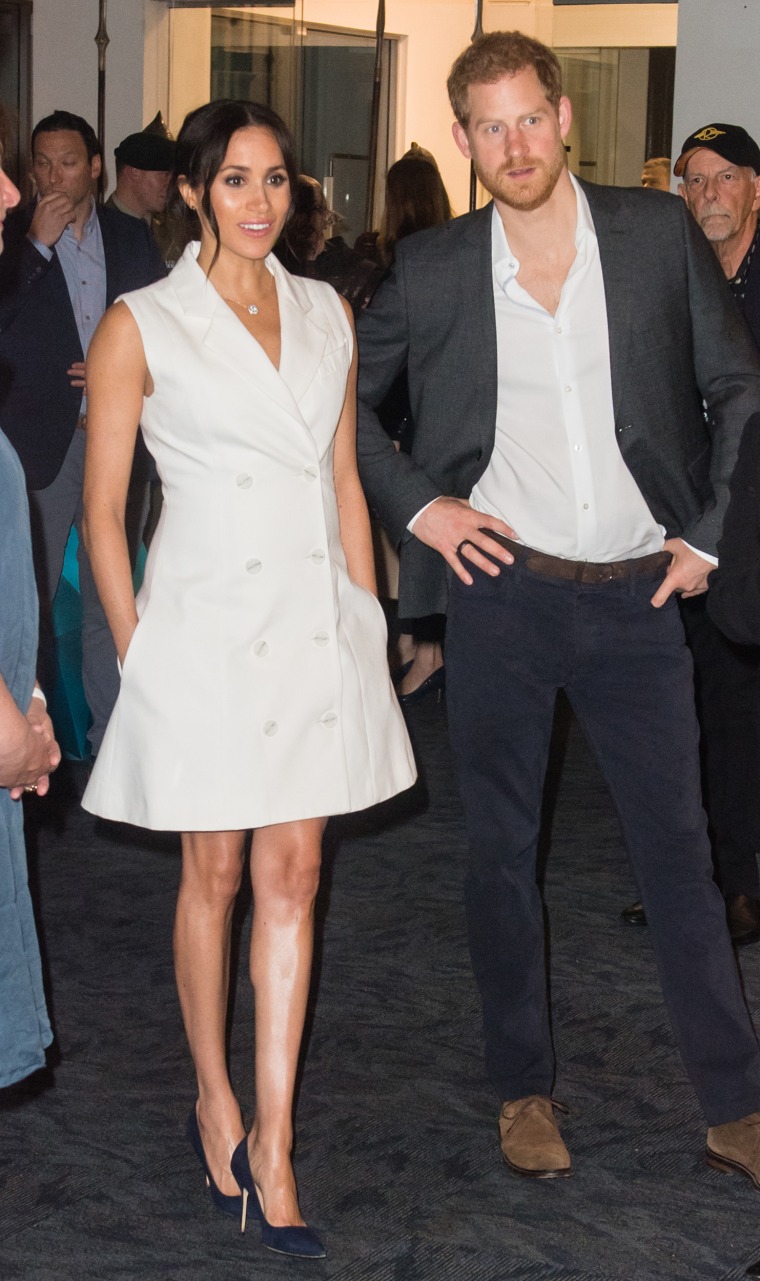 She sported yet another stunning jacket — a draped coat with a wide, shawl collar — as she visited a cafe in New Zealand.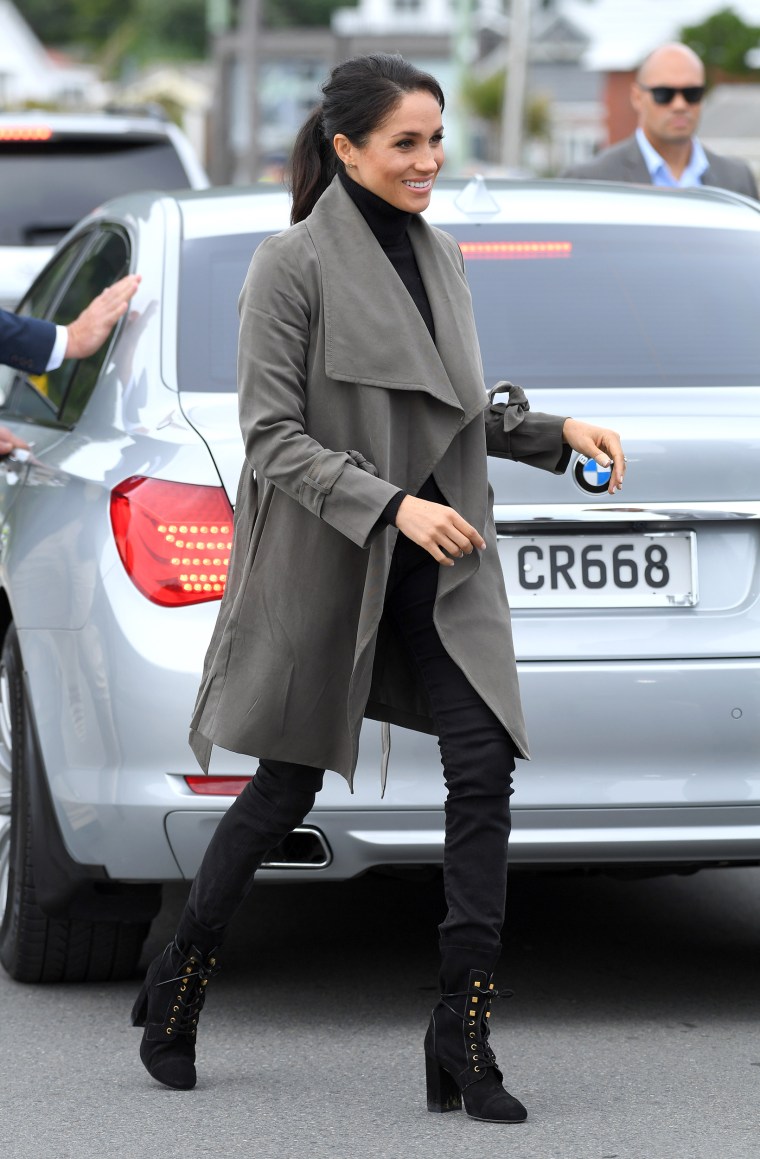 Then she was back to her signature white dress with a trench coat, this time cradling her baby bump.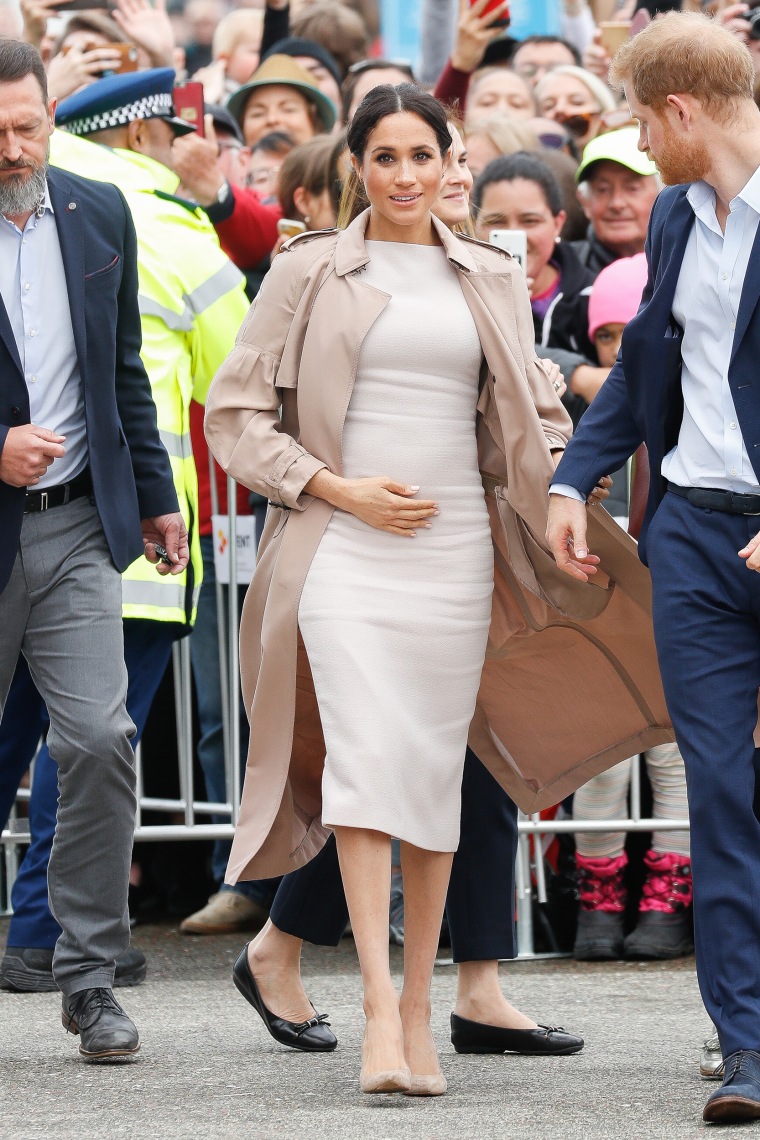 The next day, she stepped out in wellies and a casual blazer as she dedicated a natural area to the Queen's Commonwealth Canopy.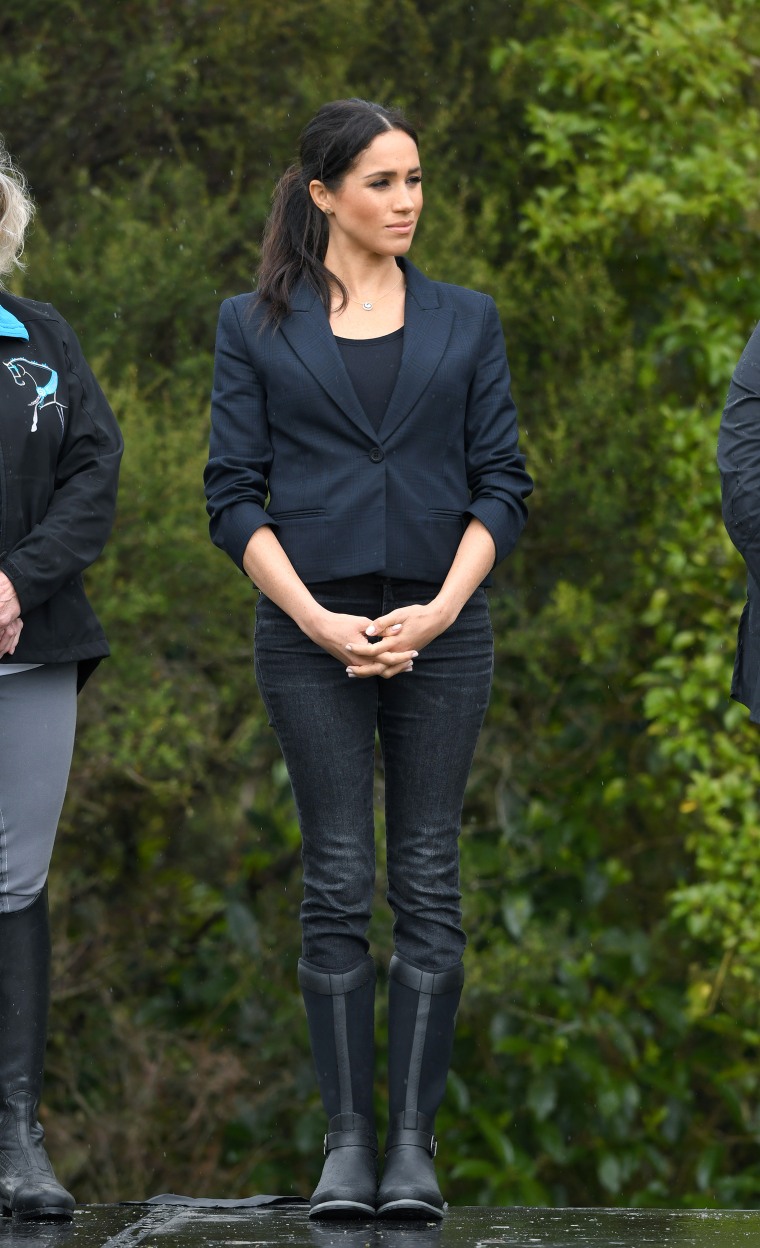 On the final day of her royal tour, she sported a trademark, blue dress with an asymmetrical hem.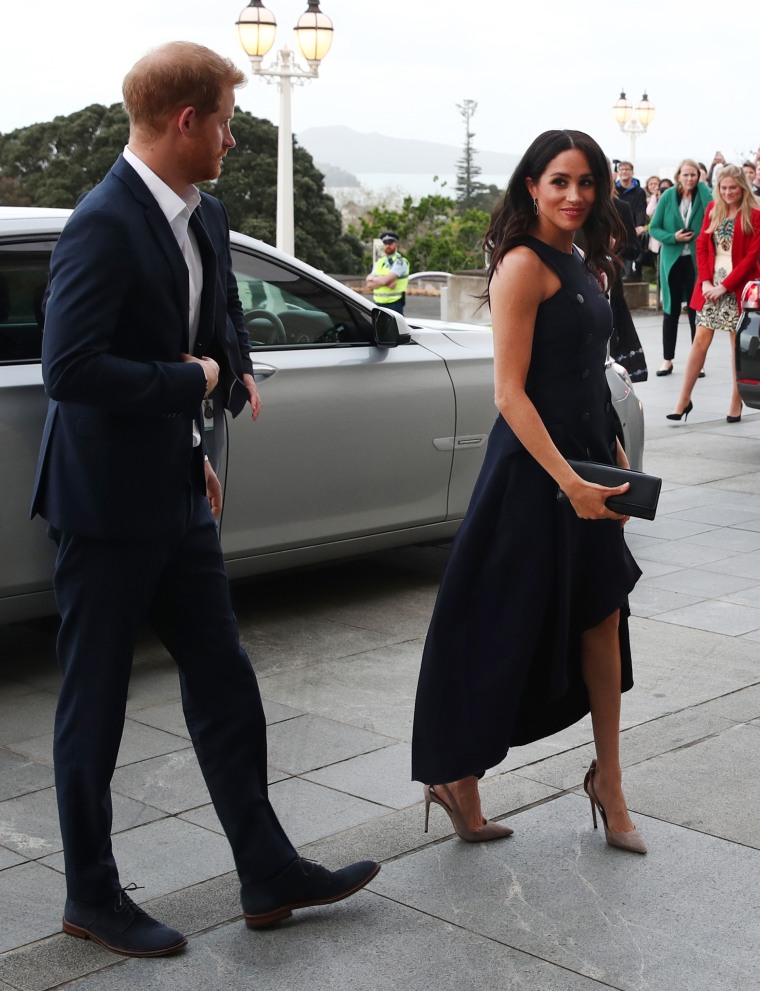 Her tour was a triumph all around!