Brooke and Adrian Franklin's recent walk down the aisle was different than it was 17 years ago, when they were the flower girl and ring bearer in a family friend's wedding.
The couple met at daycare in Gastonia, North Carolina, and belonged to the same church — South Gastonia Church of God, which ended up being the church they got married in on Sept. 19.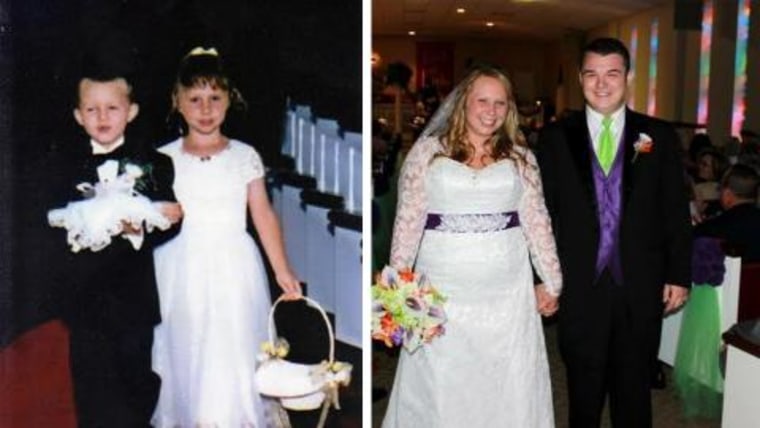 While Brooke, 22, thought Adrian, 21, was the "only boy in the whole world," Adrian didn't want anything to do with her.
RELATED: Bride will be 11th in her family to wear 120-year-old heirloom wedding dress
"I didn't care too much for Brooke," Adrian told TODAY.com. "I was shy and she was outgoing and rambunctious. When they told me I had to walk down the aisle with her, I wasn't about that."
While Adrian couldn't wait for the wedding to be over, Brooke was thrilled to be able to walk with him.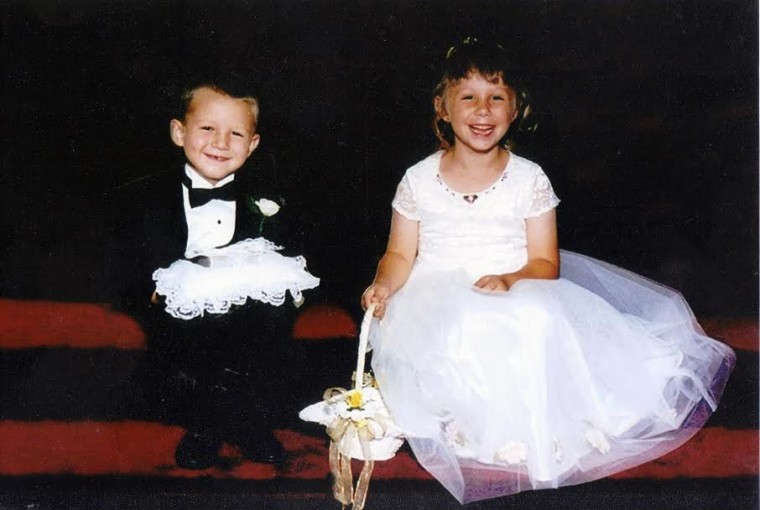 "I had a major crush," Brooke told TODAY.com. "I always tried to play with him at school and sit next to him at church. I was just mesmerized by him."
The couple ended up attending the same school together up until third grade, when Brooke's family moved to South Carolina. They briefly saw each other at a religious event in middle school, which is when Adrian's feelings toward Brooke started to change.
RELATED: 40 years later, couple recreates wedding photos from 1975
They remained in the back of each other's minds, but it wasn't until August 2011 — when Brooke attended a service at her childhood church, where Adrian is now a minister — that they reconnected for good.
"Her outgoing personality used to annoy me and now it's one of my favorite things about her," Adrian said.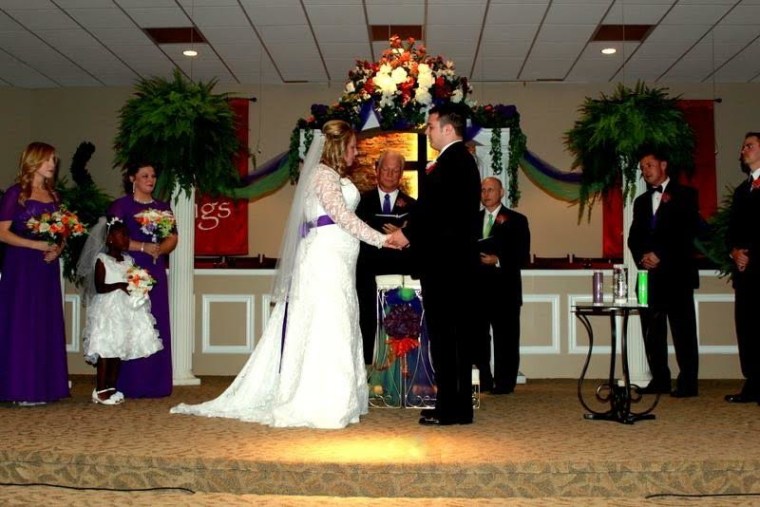 About 300 people gathered in the South Gastonia Church of God, including the bride from the 1998 wedding, who gave the couple photos a month before, which were blown up and put on display at the wedding.
RELATED: Magician's wedding dance features unbelievable, gravity-defying routine
"It's pretty crazy that I married my crush from daycare," Brooke said. "And he's just as cute now as he was then!"