The opening of "The Great Gatsby" has brought a flurry of attention to the fun glamour of 1920s fashion, making it one of the hottest trends. It's gone from the movie to the runways to the street, and it's a look that anyone can emulate for many summer occasions. Here, Marie Claire fashion editor Zanna Roberts Rassi shows you how to get that Roaring '20s look with a modern twist.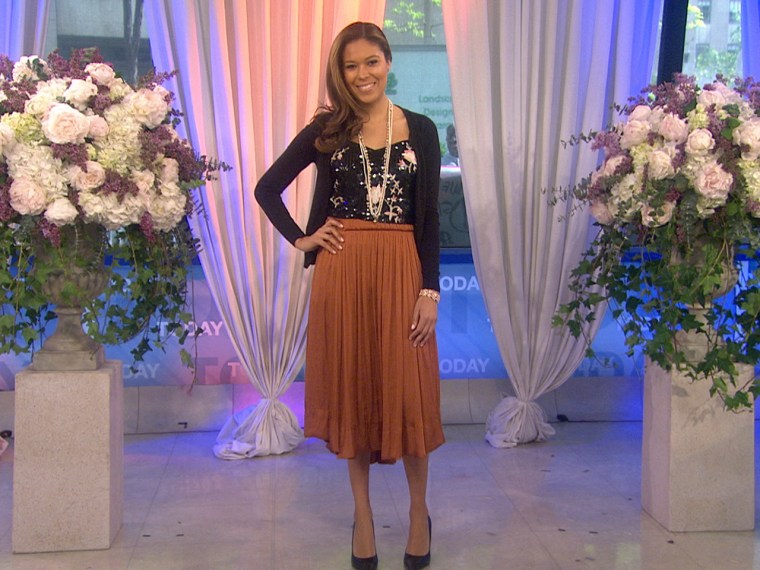 Gatsby day look
Skirt: Zara, $80
Top: Topshop, $64
Shoes: Nine West/Great Gatsby collection, $99

This is the perfect look to frolic around in at a summer garden party. It's a common misconception that 1920s dresses were all very short, when, in fact, many day outfits consisted of skirts and dresses that fall just below the knee.
This calf-length pleated skirt from Zara is on trend for spring, especially when worn with an embellished crop top that nods to the '20s while remaining modern. Another perk: The pleated skirt is forgiving and not fitted true to the '20s style. This skirt hits the natural waist, which is the smallest part of your body, and exposes the bottom half of the leg and ankle.
Pair the look with flatter heels, as shoes were lower in the '20s, and we are seeing a big resurgence in smaller heels in the fashion world.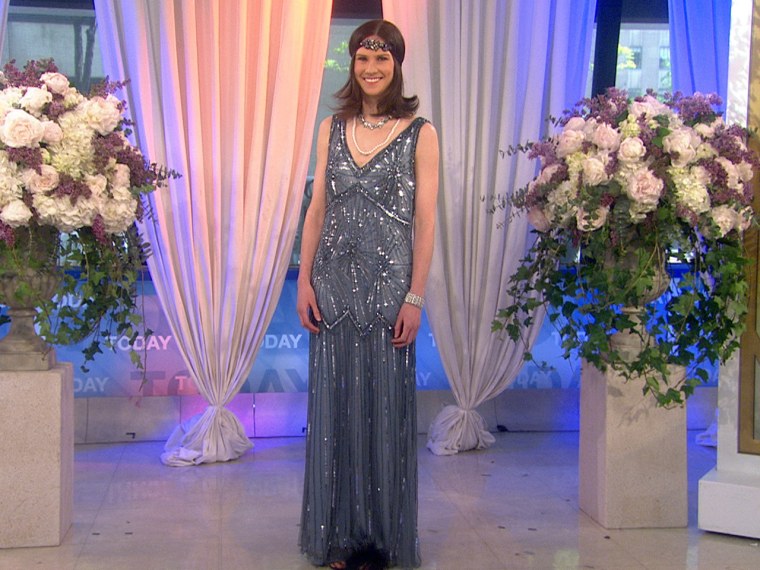 Gatsby evening look
Dress: Macy's, $150
Headpiece: Forever 21, $7.50
Shoes: Nine West/Great Gatsby collection, $99

There is no such thing as too much bling. Dressing at this time was also a status symbol: the more decked out the dress, the higher spot you held in society. Much like today, dresses were adorned with layers of beading, sequins and metallic details.
We saw heavily embellished clothes all over the spring runways at Alberta Ferretti, Dolce & Gabanna and more. Get the look without breaking the bank by wearing this stunning deep-blue dress from Macy's with firework-like embroidery. It's the perfect option for any black-tie event you have this summer. It's super easy to wear and sexy whilst not being too revealing or form-fitting. This pattern would blend in at any "Gatsby" party, and the bottom of the dress is pleated for movement, so you can dance the night away in style.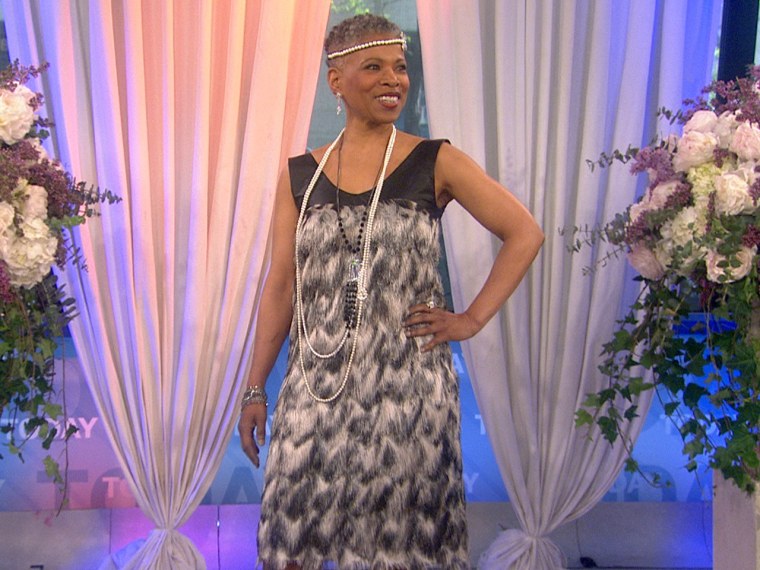 Gatsby accessories style:
Dress: Abi Ferrin, Nordstrom
Jewelry: Forever 21, $3.80 and up
Jewelry: Nordstrom, $3.80 and up
Shoes: Nine West/Great Gatsby collection, $99

More is more! It wasn't enough to have a a dress draped with beads, feathers and sparkles; women added layers of art deco jewelry, including rings, bracelets and necklaces. Diamonds and pearls were the gems of the day — the bigger, the better.
Perhaps a better name for headpieces in "The Great Gatsby" is headgear, because women practically wore helmets of pearls, feathers, lace and diamonds. And this is becoming a huge trend with brides this season. "Gatsby"-inspired headpieces are one of the most sought after items for brides, and they are going fast!
Our headpiece, which is less bridal and more youthful, is from Viva de Marina. But if you aren't comfortable going all the way with extravagant headgear, simple embellished headbands with pearls and rhinestones give off a "Gatsby" vibe as well. (And remember: Headbands go over the forehead, not on top of the actual head!)
Last but not least: shoes! Nine West has collaborated with the film, shrinking the size of its heels to 2 to 3 inches, and adding feathers, rhinestones and sparkles (all of the soles of the shoes are glittered).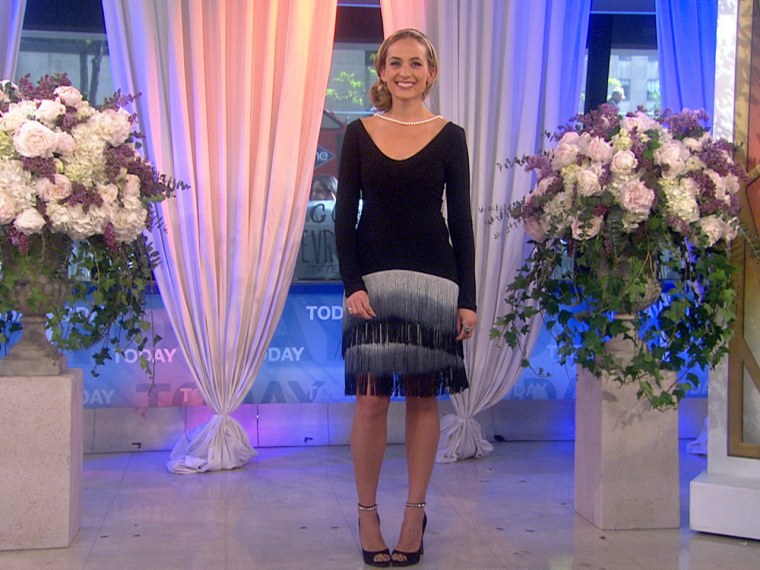 Gatsby beauty styles
Dress: Abi Ferrin 'Jourdan', $300, AbiFerrin.com
Makeup: Mac, $15 and up

Makeup in the '20s was very defined. There are a few key aspects to the "Gatsby" look: a smoky eye, full, baby-doll lash, boldly-stained lip, defined brow and a flushed cheek.
M.A.C. makeup artists teamed up with "The Great Gatsby" movie so you can have the look at home. We used M.A.C. shadows and liner to create a smoky eye and then expanded lashes out with Benefit's BADgal mascara.
As for lips, the 1920s pout was all about the bold stain — no shiny glosses. We used Ruby Woo by M.A.C., which was used in the film. The movie's makeup artists first covered the actors lips in concealer and then drew on them with liner and lipstick. Don't go overboard with concealer that's too thick; after applying the lip, blot with a tissue, apply again and blot once more. Voila — now you have a stained lip!
Back then, brows were well-groomed and bold. Test out brow pencils before applying; your bold brow should look natural, not like you've painted it on. Apply with small strokes, not one long line, and put on a clear brow gel to hold everything in place.
Finally, we come to the natural, flushed rosy cheek of the '20s. Apply rouge upwards on the cheek bone, but hold off from adding color to your forehead or chin. A "Gatsby" glow is strictly for cheeks — no bronzer ladies!
As for hair, 1920s coifs have been trending on the red carpet this past awards season on stars like Naomi Watts, Amy Adams and Taylor Swift. Hair in the Jazz Age was sleek and shiny, often with an iconic pin curl crimp. Long hair was out, and the short chin bob was in.
The '20s bob was often sleeked to the cheek and flat, but if you don't have short hair — or don't feel like making a dramatic change to your cut — you can still create the look at home. Wash your hair as you normally would and give it a light blow-dry. Divide your hair into 1-inch sections, and wrap one section around your fingers tightly. Now secure the curl with a bobby pin or two. Then repeat with the rest of your hair and slip a shower cap over your 'do while you sleep. Take the pin curl out in the morning and groom with a small amount of serum for a sleek look.