If you were to picture a woman who just got her first tattoo, do you picture someone barely out of their teens or a 40-something with kids of her own? It might be time to at least add the latter to the picture.
The number of people with tattoos in the United States is on the rise: A 2015 Harris Poll found that about 29 percent of Americans had at least one tattoo, up from 21 percent in 2011. While to poll didn't address the age at which people got their first tattoo, the data indicates that people in every age group are getting more tattoos, and the number of women getting tattoos has risen faster than the number of men getting tattoo. So it stands to reason that some of those women are getting their first tattoo after the age of 40.
The top-ranked reason people say they regret their tattoo is that they were too young when they got it, according to the Harris Poll.
"I have noticed an increase in women getting tattooed later in life, past their 40s," said Julie Duncan, a tattoo artist at Lady Luck Tattoo in Phoenix, who recently gave 74-year-old Janice Graham her first tattoo. "I think it's simply because we as a society are moving forward and removing a lot of the taboos surrounding tattoos," Duncan adds. "It's honestly probably something they always wanted but were too worried about social norms and being judged to actually get. I think it's great that a lot of those preconceived notions about tattooed people are falling away slowly. Everyone should feel free to be themselves, whether that involves tattoos or not."
Graham and other women who got their first tattoo after 40 told TODAY Style they're thrilled with their tattoos, using words like "euphoric" and "exhilarating" to describe the process and results. One thing none of them said they felt? Regret. That jibes with the Harris Poll, which says that the top-ranked reason people say they regret their tattoo is that they were too young when they got it.
"I just love it," Graham said of her tattoo. "I keep looking at it all day long." She, along with three other women, shared their personal tattoo stories with TODAY Style, including the inspiration for their designs, what gave them the push to go for it, the reactions of their friends and families and the biggest surprises afterward.
Checking off the bucket list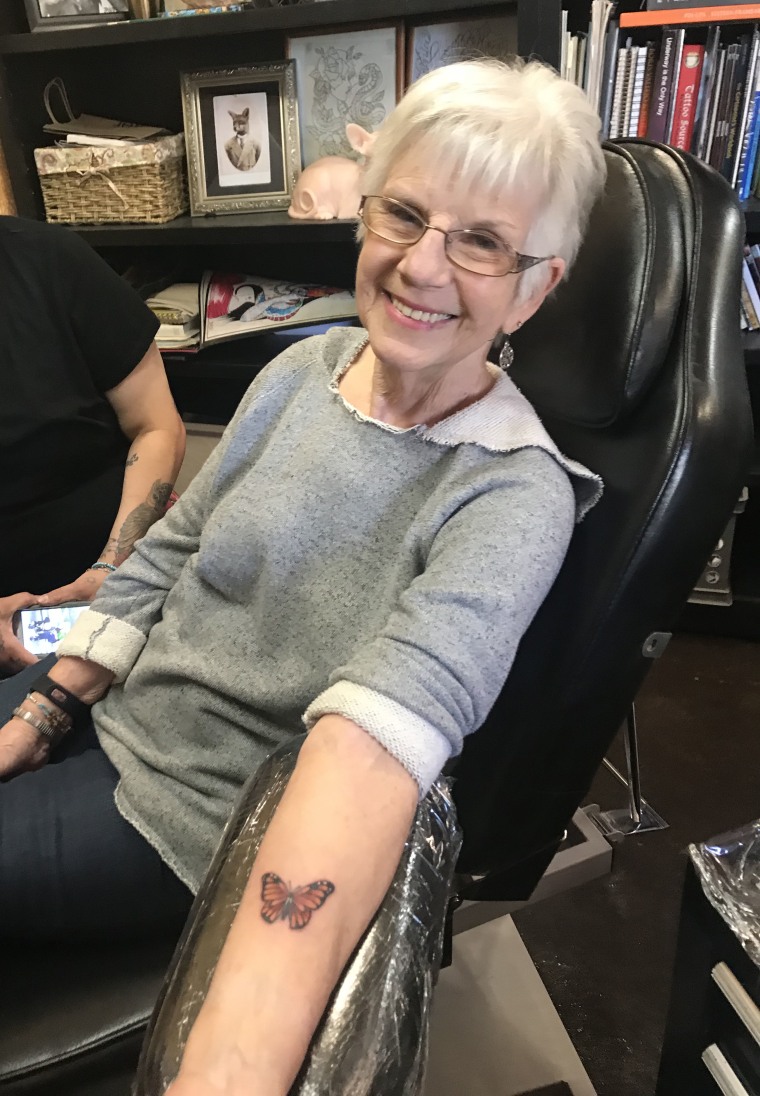 Who: Janice Graham, 74, of Grosse Pointe Woods, Michigan
What: Graham knew she wanted a tattoo, but she didn't actually choose a design until she met with Julie Duncan, a tattoo artist at Lady Luck Tattoo, while she was visiting her sister and niece in Arizona. "I wanted something small but nice," said Graham. "She did a beautiful butterfly. She's a wonderful tattooist."
Why? Graham said she always liked tattoos. "I would see all these guys with tattoos," she said. "(But) back in the day when I was young, girls didn't get tattoos." Her late husband always said, "No wife of mine is having a tattoo," she added.
Why now? Graham is ticking off "bucket list" items: She also went zip-lining recently and is planning a trip to the Grand Canyon.
The process: Graham was admiring her niece's 17 tattoos, so her niece said, "I'll take you to my friend to get one." And that was that! "It didn't even hurt," Graham said.
How getting a tattoo makes her feel: "I just love it," she said. "I am showing everybody. I keep looking at it all day long. I am excited, it's exhilarating. It's just beautiful — that's all I can say."
What friends and family think: "My sister said I was crazy," Graham said with a laugh, clearly unfazed. She added that she thinks anyone who wants a tattoo should go for it. "I will be back next year for another one," she said, though she hasn't chosen a design. "It will come to me."
A glass that's always half full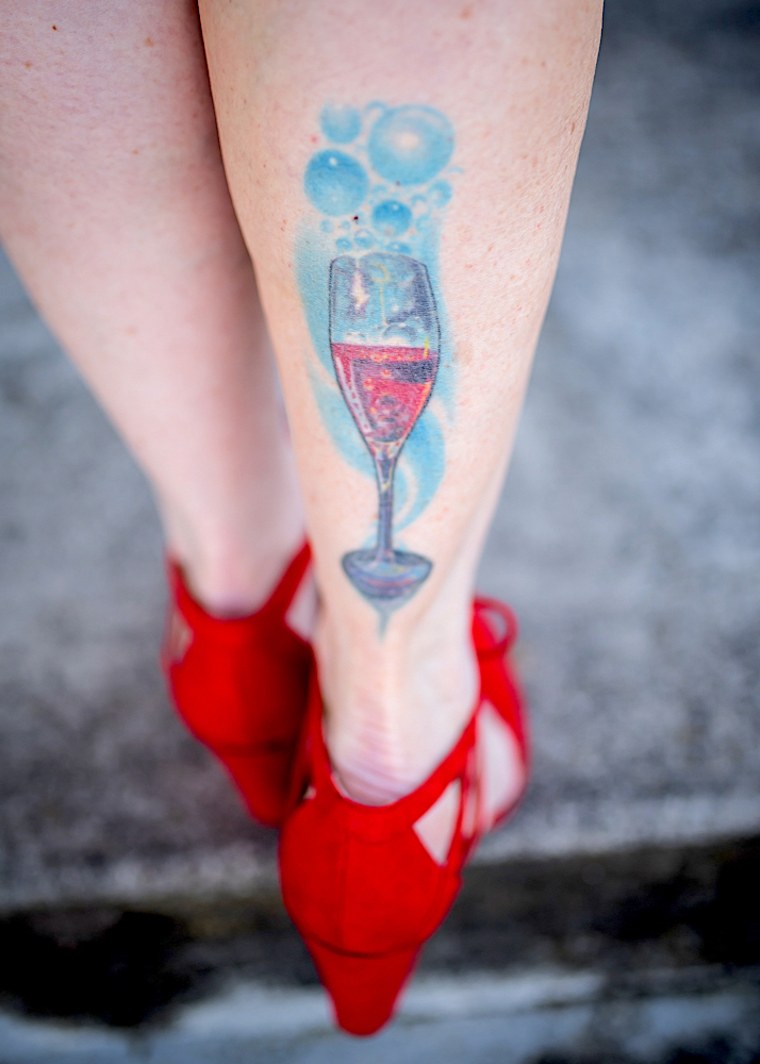 Who: Leslie Sbrocco is a wine, food and travel expert, TV host and frequent TODAY guest. Learn more about her at lesliesbrocco.com and thirstygirl.com or follow her @lesliesbrocco on Facebook, Twitter and Instagram. (She prefers not to reveal her age to "keep people guessing.")
What: Sbrocco, who got her tattoo when she was in her 40s on the TV show "LA Ink" chose a flute of sparkling rosé wine. "It represents not only my love of pink bubbly but signifies my effervescent outlook on life — the glass is always half full," she explained. " I'm known as the Thirsty Girl for a reason, as my motto is 'Life … drink it up!'"
Why: I had been considering it for a few years before I took the plunge," said Sbrocco. " I was thinking of what I really love — tattoos are permanent after all — and outside of my family members, I realized I simply adore sparkling wine. It's my favorite thing to drink and something I will love forever."
The timing: "I always joke that there are three things to consider before getting a tattoo after 40," said Sbrocco, citing these rules:
1 . Put it in a place that you can cover up if need be
2. Have it done by a great tattoo artist
3. Ink it on a part of your body that doesn't sag
"It all fell in place a few years back since I had already decided I would ink my calf — as I could show it off with a skirt but cover up with pants if I wanted," said Sbrocco. "I had an opportunity to have it done on the TV show 'LA Ink,' so I knew the artist would be top notch. And, finally, I checked the back of my mom's leg and was comforted by the fact that even in her 70s, her calf skin wasn't sagging. Bam. I had all three criteria met and so I did it."
The process: For her televised tattoo, Sbrocco worked with the artist Nikko Hurtado. "He and I worked on the sketch together, but it was really his vision with the big bubbles breaking out of the glass and the vibrant colors," she said. "Since I was laying down while the whole process was going on and being taped for TV, I couldn't watch the progress. It most definitely hurt, but i just grinned and gritted my teeth knowing I could indulge in a few glasses of bubbly when it was all over. After it was unveiled, I knew I did the right thing. It's such a part of who I am now."
How getting a tattoo made her feel: "I was so happy," said Sbrocco. "Not one moment of regret because I had thought about it and made sure my three criteria were met. I talk about it and show it off in many of my wine education classes and get comments all the time from strangers when I'm wearing a skirt about how much they love the tattoo. I'm seriously considering getting the other leg inked with a bottle pouring into the glass. Stay tuned!"
A celebration of her body's capabilities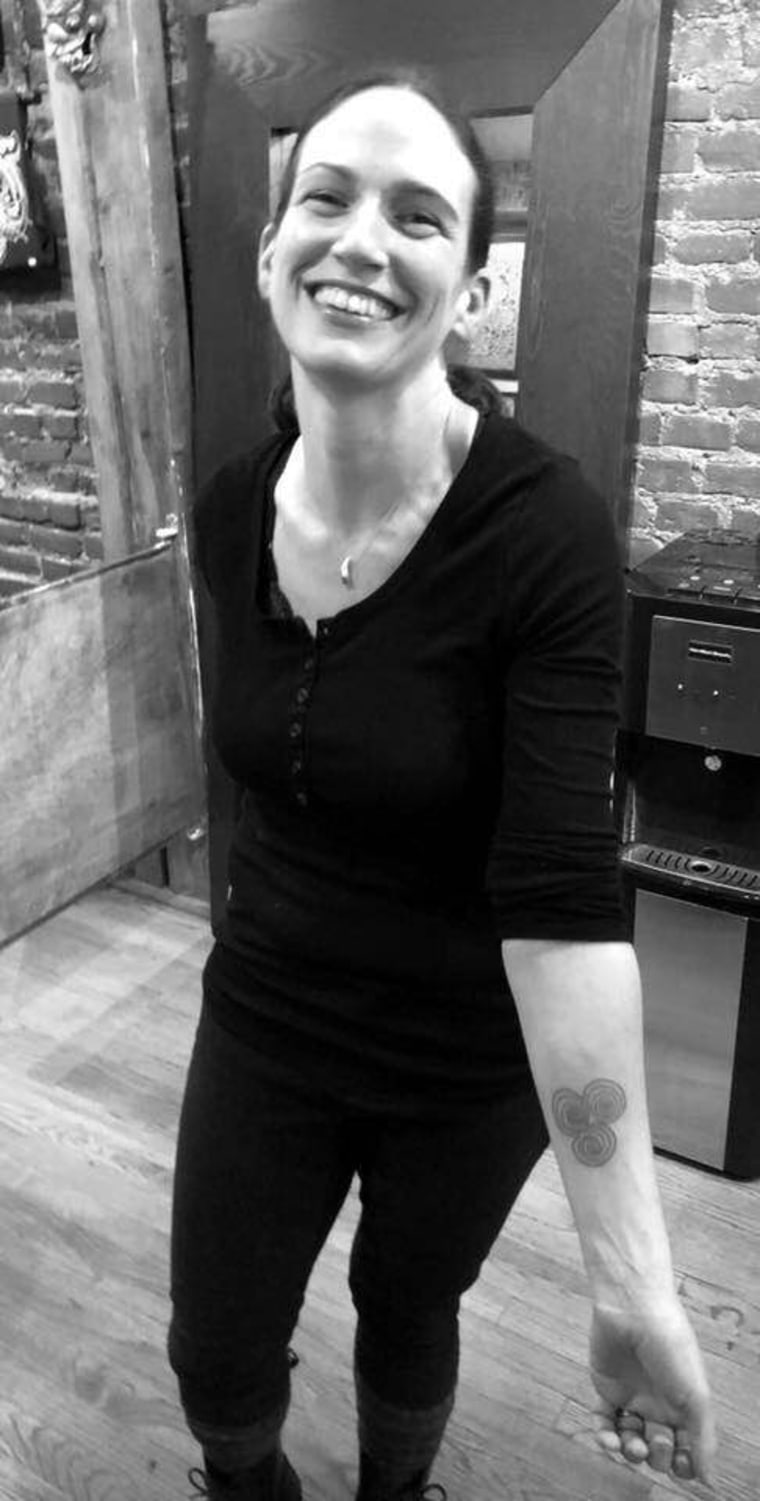 Who: Sarah Kagan, 45, mom and writer
What: Her spiral tattoo, which she describes as "an early birthday present to myself" for her 45th birthday was inspired by a rock carving she saw on a family trip to Ireland. "I saw this design on a 5,000-year-old rock carving in Ireland this past summer and fell in love with it," she said. "It's called a triskelion or triple spiral and features one continuous line."
Why? "I had thought seriously about getting a tattoo since at least my late teens/early 20s," she said. "For a while I really wanted to get a female symbol on the back of my left shoulder. But I guess I just never found a design that I really felt comfortable with having on my body forever."
Now, she said she's "especially glad" that she waited.
"I guess I feel more comfortable with who I am and not like I have anything to prove. What would have seemed cool and edgy and powerful when I was in my 20s just seems kind of lame now. I'm now much more into a tattoo that is beautiful and feels like me first-off, and then maybe has meaning but the meaning is personal and secondary."
Why now? "As for why now, it's hard to say," she explained. "Maybe partly a midlife crisis? Turning 45 and all that ... But I guess in a good way. Over the past two years I've lost 60 pounds and gotten in better shape than I've been since my 20s. I feel stronger and, I guess, younger, than I have in a long time. Although at the same time, even though I'm the same weight I was when I was 25, my body is not the same. Things have shifted, my belly is stretched from having two kids, my skin is looser, my boobs are much lower after nursing two kids — and, I guess, just from gravity! I've had to come to terms with that.
"At first it was hard; when I started losing (weight), I had a picture of what my body looked like the last time I was at that weight and it was a bit shocking what I ended up with. But now I'm OK with it. I'm happy to be a strong, healthy 45-year-old woman. Somehow getting a tattoo seemed like a celebration of that, of how much I like my body, where it is now and how much it's capable of. When I was considering getting it, I would go for runs and fantasize about it, look at my arm and imagine that it was already there. I somehow connected it with that feeling of power I got while running."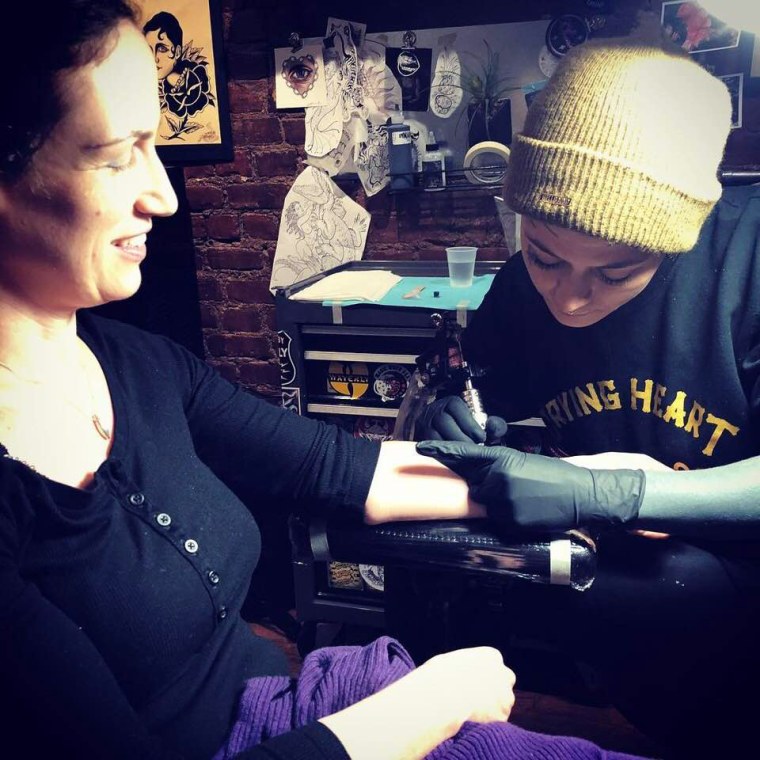 The process: Kagan said that she loved the collaborative process of working with tattoo artist, Kati Vaughn at Three Kings Tattoo in New York City, and she was particularly glad that she chose to work with a female artist.
"She was so kind and calm and the process of designing, it felt really collaborative," Kagan said. "I would not have felt as comfortable if it had been a man. It was kind of an intense process of me — I'm such a control freak that what stressed me out was trusting that the person doing it would do exactly what I wanted. I'm not very artistic, so sometimes it's hard for me to communicate my design ideas, but I do have strong opinions. She worked with me, we tried several slightly different options so I could get an idea of exactly what I wanted and by the time we got it figured out I had calmed down. I just felt like I trusted her and felt OK putting myself in her hands, which was was intense but so satisfying. I actually gave her a hug when she was done!"
How getting a tattoo makes her feel: "There is an almost euphoric feeling that comes from getting a tattoo, at least there was for me," Kagan said. "I get why people say they're addictive!"
Kagan also enjoyed putting aside her self-described "control freak" tendencies.
"Maybe it was just that the process of giving up control was so freeing," she said. "Trusting (the artist) enough to do that made me feel really safe. Plus, I was just super excited. For the first few days afterward, I was so in love with it, I would get a little rush of happiness every time I looked at it. It was really fun!"
What friends and family think: "(My husband) thinks it's sexy," said Kagan. "Yes, you can quote me on that!"
Biggest surprise: While Kagan said they pain wasn't bad at all (she likened it to menstrual cramps and said that any woman who has given birth could easily handle it), she said the healing process can be a bit annoying if you have kids.
"It's tender for a few days — up to two weeks for a more elaborate tattoo — and you're not supposed to let things rub against it, which can be tough if you're constantly picking up your kids and it's in a place like your arm."
A reminder to cherish life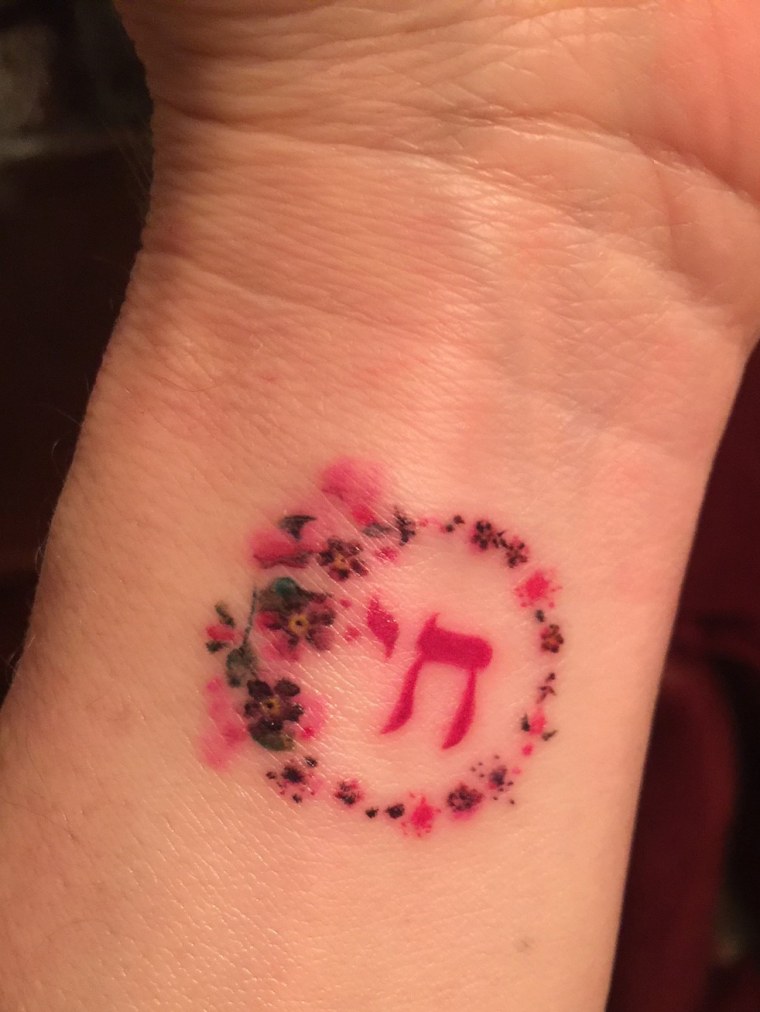 Who: Barbara Goldman Carrel, 57, college librarian at the City University of New York
What: Last year, Goldman Carrel got the Hebrew word chai surrounded by a floral wreath tattooed on the inside of her left wrist.
"The Hebrew word chai means life," explained Goldman Carrel. "My tattoo reminds me that life, with all its ups and downs and unknowns, is to be cherished as a blessing. It reminds me to try and live every day to the fullest with kindness, compassion, honesty, understanding and joy no matter what may come my way. Chai is comprised of two letters, a chet (the eighth letter of the Hebrew alphabet) and a yud (the 10th letter of the Hebrew alphabet), adding up to the number 18. So the word chai is also known as the number 18, which is considered a good omen."
Why: "I wanted to get a tattoo for my 50th birthday, but somehow just never got around to it," said Goldman Carrel. "This past summer, my youngest son, who was 17 at the time, told me that he wanted to get a chai tattoo on his left wrist. I thought that was such a fantastic idea! So I told him I wanted one, too. The plan was for me and my two sons to all go together and each get our own chai design, but in the same place on the inside of our left wrists. Not only as a bonding experience, actually getting our tattoos together, but also as a symbol of our bond as a united force in life — to be there for each other no matter what.
"We had planned to go during Thanksgiving when they'd be home from college. We actually all went, with my youngest in the chair first, when the tattoo artist asked my son how old he was. When he replied 17, she informed us that by law he had to be 18 years old in order to get a tattoo. So we left to return on the actual day of my younger son's 18th birthday. By then, much to my disappointment, my older son had made the decision that he was not yet ready to get a tattoo. He hasn't ruled it out completely, so I have hopes that one day he will go and all three of us will have our chai tattoo!"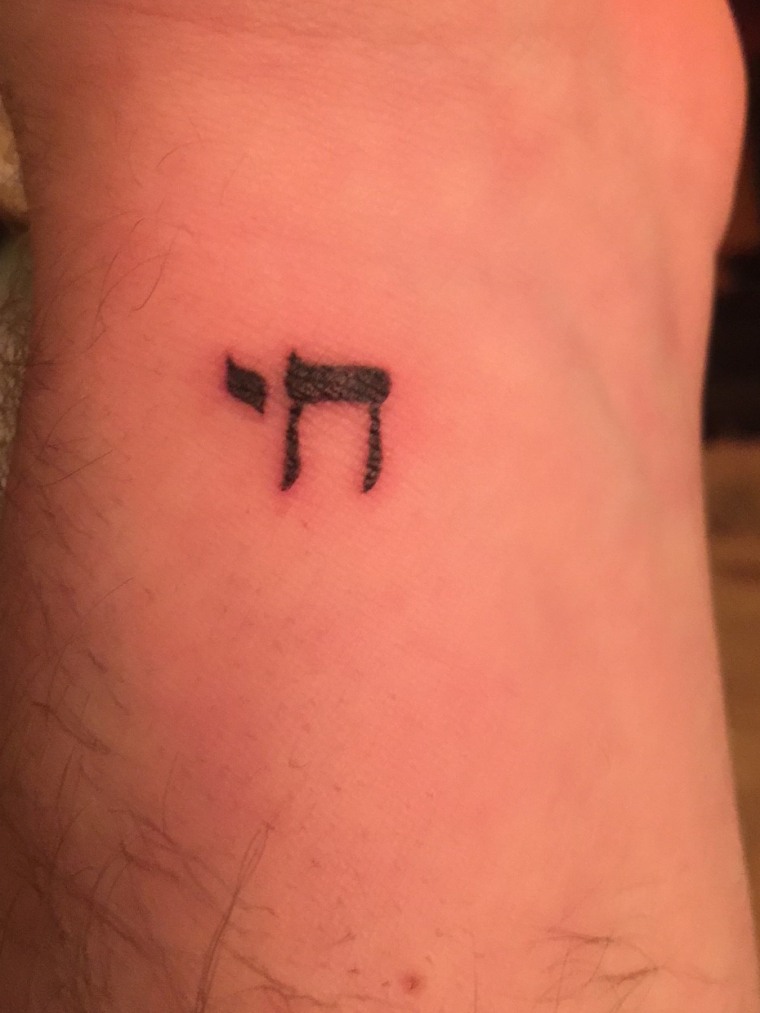 The timing: "When my son said he wanted a tattoo, it was the perfect time to do it together."
The process: Goldman Carrel said she spent time researching tattoo artists in New York City, checking out artists' websites and Yelp reviews.
"I knew I wanted color and a pretty intricate design, so it was very very important to me to check out the other tattoos done by someone," she explained. " I also wanted a place and person I felt good about. I really feel that process of getting the tattoo — the person, the place, the vibe and overall experience — somehow becomes a part of your tattoo, an everlasting ingredient in and reminder of the actual experience. I did a Google image search to find the exact design and color of the floral wreath and chai I wanted."
Once Goldman Carrel had finalized the design she wanted, she reached out to the tattoo artist she selected, Dani at Black Fish Tattoo in New York City, to make sure it was possible to do what she wanted. "We emailed back and forth quite a lot in order to finalize and make sure the size, design and colors were spot on," she said. " She was super available, cooperative, knowledgeable and understanding of how important every detail was to me. And amazingly talented!"
How getting a tattoo made her feel: "It was extraordinarily emotional," said Goldman Carrel. "First, because I was doing it with my son as a forever bonding experience. And secondly, because it's permanent. I was a little nervous that it wouldn't turn out right. But Dani, the tattoo artist, was just amazing! She not only mixed the colors so perfectly to get the exact colors I requested, but she miraculously created a tattoo that matched the design, down to the most excruciating minute detail. Just unbelievable!"
What friends and family think: "Everyone loves it!"
Biggest surprise: While Goldman Carrel says there were no huge surprises, she was happy to report it was not as painful as she expected.