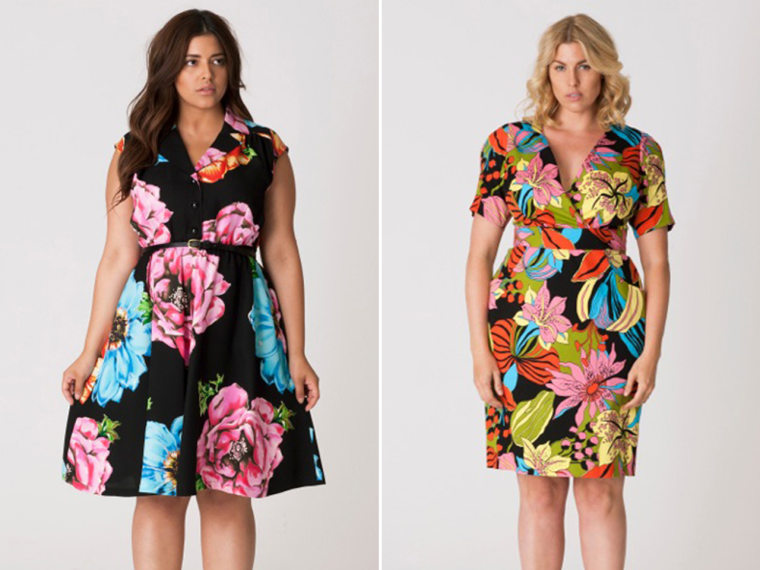 Eden Miller may be the first designer with a plus-size collection to ever show at New York's Fashion Week, which started Thursday, but the Cabiria creator says the opportunity should be judged on its own merits and not seen as a fluke.
"I'm not going to walk in with garbage and just say, 'Well, I'm this plus-sized designer, you better be glad I'm here,'" she told TODAY.com. "I feel that my designs are strong. I like what I'm putting together. I have confidence in my eye. I also hope that it's received in a similar fashion by those who attend and in the press."
Miller's high-end line, named after the 1957 Federico Fellini film, "Nights of Cabiria" and designed for women sized 12 to 24, was selected to be one of six designers in a New York Fashion Week Spring 2014 showcase of up-and-coming designers presented Friday by Fordham Law School's Fashion Law Institute, a nonprofit organization dedicated to the business of fashion.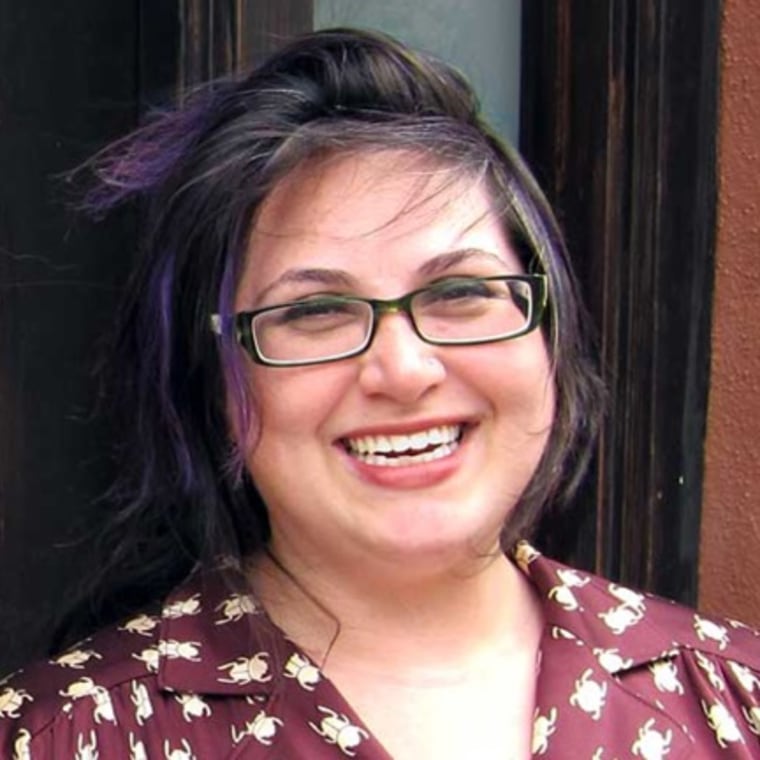 Miller, 41, who has been a costume designer for more than two decades, finds the challenge nerve-racking and "super exciting." To go from mainstream unknown with a small but loyal following to someone who has secured a highly coveted fashion industry spot is "both mind-boggling and an honor."
"Part of it is a responsibility that I feel to make space for other relevant, worthy plus-sized lines to come in the door and show as well," she said.
Marshal Cohen, chief fashion industry analyst for the NPD Group, a consumer market research firm, said the inclusion of Miller's line sends a "very big signal" to the market about a severely underserved community. 
Currently, plus-sized apparel make up only 14 percent of the market share, the smallest in more than a dozen years, he said. That's because plus-sized lines often were the first niche-markets to get booted from stores when the economy turned sour. Markets have started to improve, but the availability of plus-size clothing remains limited, despite skyrocketing demand, especially for more and better-looking choices.
"This a really good time for designers to take advantage, because the market is absolutely starved," he told TODAY.com.

More From Today: Where to Shop for Cute and Cheap Plus Size Clothing
Miller made it clear that while she designs with the larger woman in mind — she boldly reveals her own size to be 18-20 on her website and on press statements — she doesn't want her work to only be compared to other plus lines of clothing.
"I want to get to the point where plus fashion is just as legitimate as any other fashion out there on the runway, and whatever somebody is showing, the collection itself is what speaks," she said. "I love the idea of pushing that forward. But what I'm really looking forward to is, as plus-size becomes more legitimate, the weight of responsibility of opening that door becomes less and less, and it can be more about just the clothes."
Susan Scafidi, Fashion Law Institute's founder and academic director, called Miller a "very easy and obvious choice" for the school's showcase. For one, she said, her tastes appeal to a broader crowd.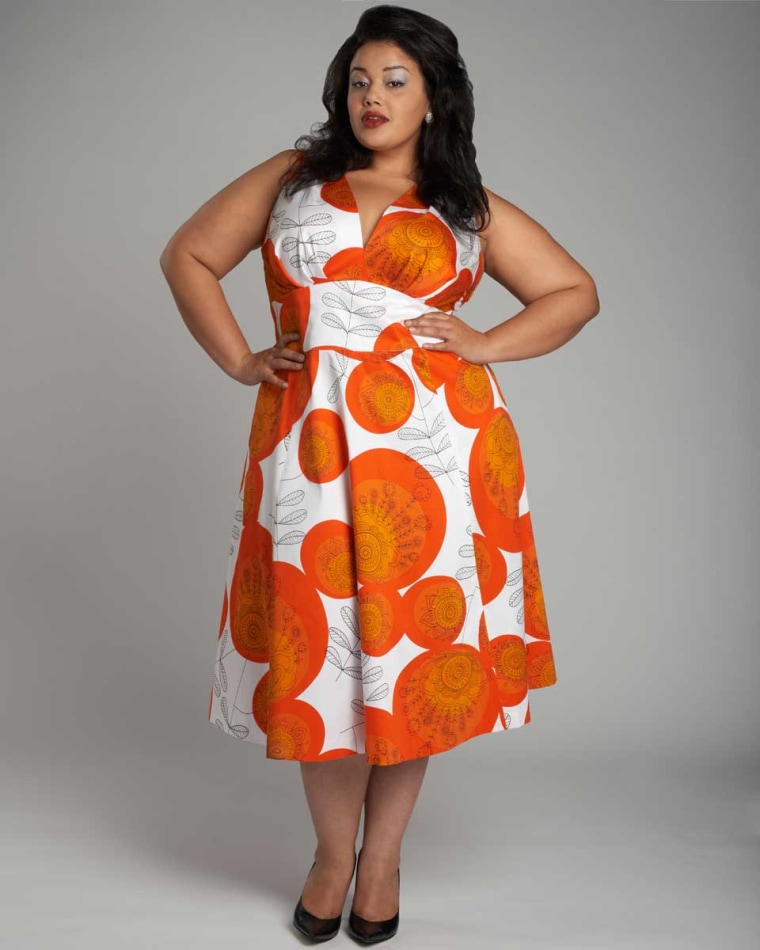 "I remember looking at her line when she came to the clinic and thinking, 'Wow, I wish she cut clothes in my size,' because I wear more common sizes. And immediately, I got it," Scafidi said. "I suddenly understood, looking at this line of plus-clothing, what so many curvier women feel when they look at the traditional, very narrow range of designer sizes."
Cutting for plus-sizes can be more difficult technically, but Miller has shown a talent in how she grades up her sizes. It's an ability the fashion industry needs to follow but has yet to catch up on, Scafidi said.
(A request for an interview with New York Fashion Week organizers was declined by spokesman Andrew Serrano.)
Miller also works as the wardrobe supervisor for the political satire created by "Doonesbury" cartoonist Garry Trudeau, "Alpha House," starring John Goodman. She officially launched Cabiria in Feb. 2013 after a successful Kickstarter campaign last fall provided her with critical funding. The line is known for its luxurious fabrics and its range of prints. Items range in cost from $225 to $300.
One of her favorite parts about preparing for the Fashion Week show has been her ability to pick her models with rounder and softer feminine features.
"I got to reach out to the bookers personally and be intrinsically involved with the people I requested as far as saying, 'You know the girl who went on vacation and ate all week and is like, 'Oh I have to get back in shape?' Give me her. Let me have her — can she walk (the runway)?' Because I do want people to fill out my dresses," she said. "I am using these models' bodies to show off my clothes, but I feel the bodies themselves enrich the clothes."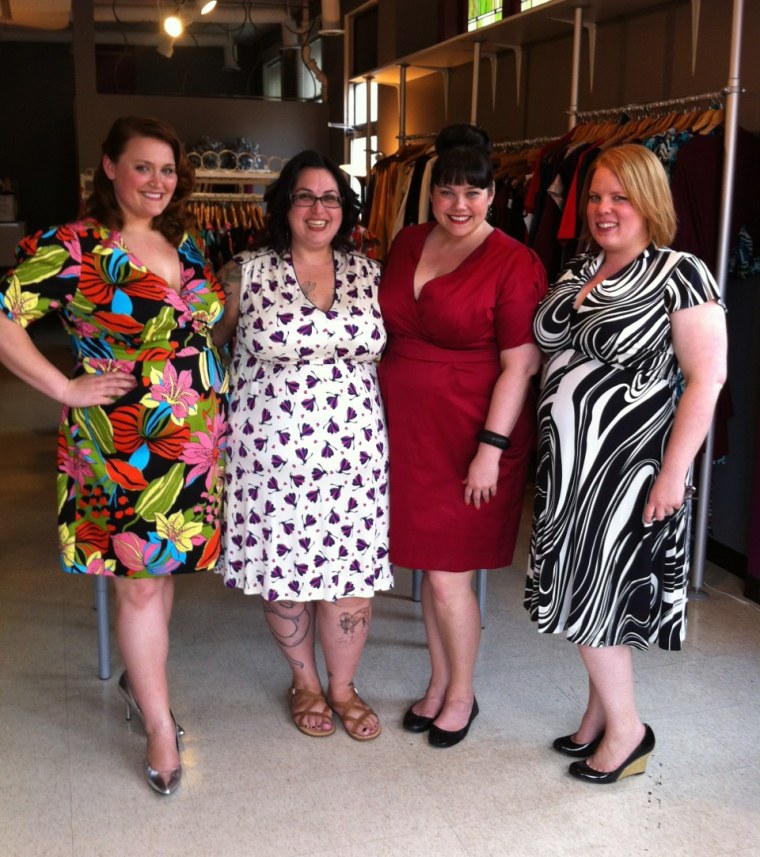 Miller said she's been overwhelmed by the pride and congratulatory response she has received, both by her loyal fans and those within the industry.
"The plus fashion community is so intimate and small. Everyone knows all the influencers and bloggers and big designers, so the response has been very personal," she said.
The response also has reminded her about the how much growth potential exists in the marketplace for plus-sized fashion.
She points out the success story of Gabi Gregg, the "fatkini" blogger whose plus-sized bikinis began selling out almost immediately after she posted a picture of herself in one of her creations.
"The money will follow the trends if the trends establish traction. And the trend is that people are not ashamed of being plus-sized," she said. "There also are a growing number of Millennials who have said, 'Enough, we want beautiful clothes and we're not going to feel bad about ourselves anymore. We're going to demand market share."
Cohen said the apparel business is a growing industry, but at a very slow pace. That means people are looking for any area that offers a proven growth record, like the plus-size market.
"One thing about fashion, they're not ashamed to follow success. If somebody else did it well, they'll come right back and do it themselves in their interpretation, in their way of selling plus size," he said.
Having Miller's line show during Fashion Week is significant, "just by the mere fact that there's a presence there," he said. "Unless it's a total disaster, look for it to be the beginning of many more to come."
Icon status has been achieved by a specific canon of women whose look has inspired, endured and infiltrated pop culture, designer collections and mass trends time and time again.