It can give you a sartorial boost of confidence to get you through almost any situation. It's a look you love, an outfit you just know is going to work like magic when you slip it on.
It's a go-to outfit, and TODAY's own Hoda Kotb seems to know just how great it can be.
When she appeared on TODAY earlier this month to celebrate the release of her her new book, it didn't go unnoticed that the split-neck fuchsia dress she was wearing just happened to be the same one she appears in on the book's cover.
"It's my go-to dress," Hoda said, laughing as the repeat was pointed out. Actually, she continued, it's one of two go-to dresses she owns.
Just what exactly is a go-to outfit?
It's one you are constantly gravitating toward, something you feel confident in and one that serves as a backup that's there when you need it, says Stacy London, style expert and host of TLC's "Love, Lust or Run."
Imagine you're late for a party and the outfit you planned isn't working. You need something you can turn to in a pinch. "You always want to have the 'break this glass in an emergency,'" she said. "You want your 'break-this-glass' outfit."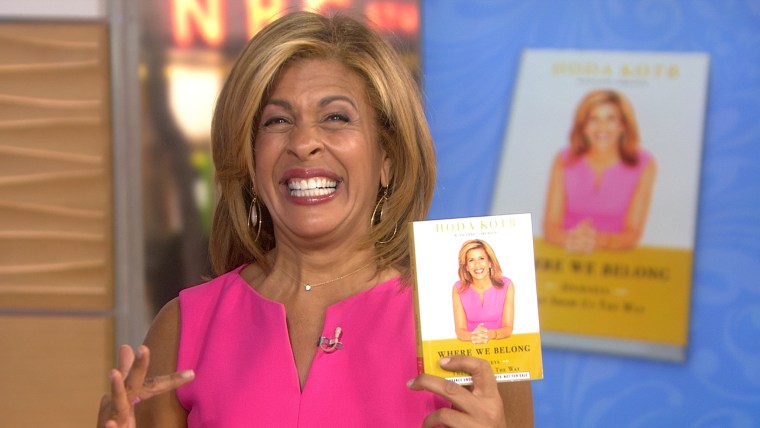 A few ingredients go into the making of this closet staple.
"What makes for a great go-to outfit is something that A) really flatters your body, B) makes you feel really good, and C) something you'll probably get compliments on, no matter what," London said. "That usually comes from great fit and also good color; color that compliments your skin tone."
1. It doesn't have to be a chic sheath.
It might be a suit, a skirt and top or great denim and a sweater. "It could be something that has sparkle in it, or it could be jeans that just make your tush look so good that somebody compliments them all the time," London said.
Ideally, women will have two go-to looks, a dress or skirt outfit and a pants ensemble, she said.
It's also important that this security blanket of a look is versatile with enough sophistication that it can take you various places, like from the office to a dinner date. "What makes a good go-to outfit is something that feels timeless but also versatile, so it can be dressed up or dressed down accordingly," London said.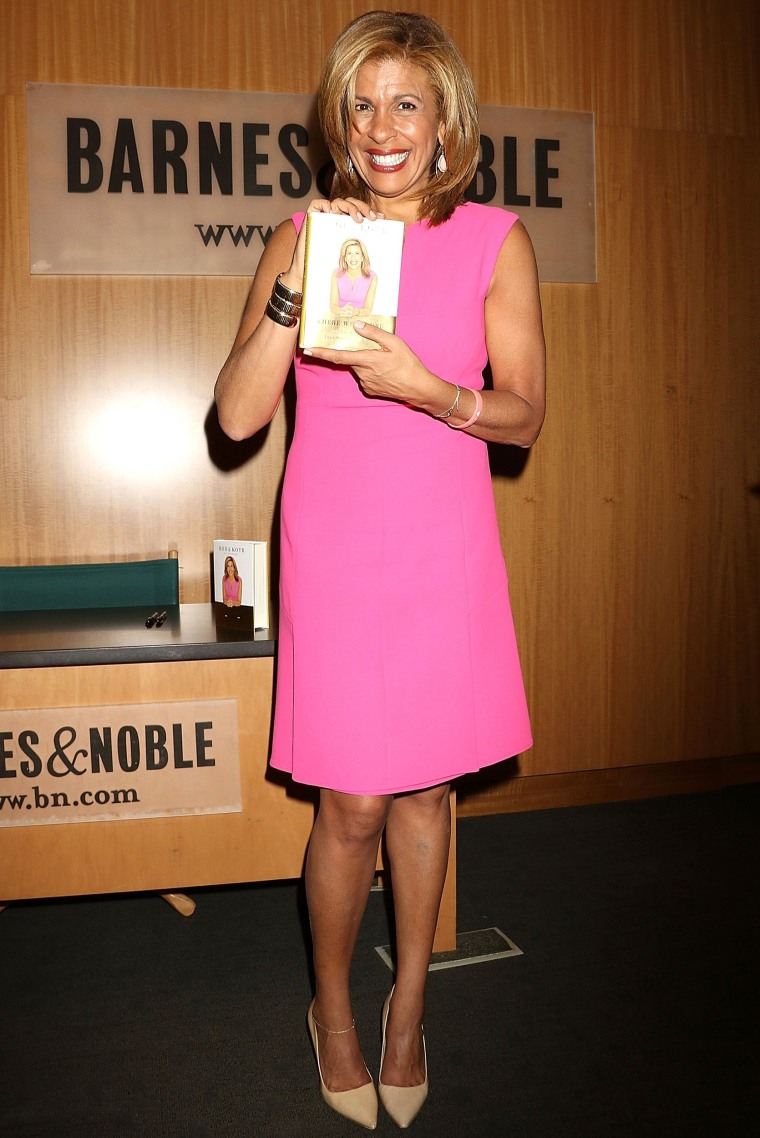 2. Focus on fit.
If you don't have these reliable standbys in your closet or need something new, focus on fit and know your measurements and body shape.
"Once you understand which part of body is the biggest, that's the one you're going to dress," London said. "That's the one you have to fit first in order for everything else to work."
Universally flattering options are the A-line dress and skirt, and a well-fitted blazer. "It gives everybody waistline, and it's also great for camouflaging a larger tush," she said of the jacket.
3. Stick to your personal style.
When it comes to style, popular trends don't work on everybody. Your style should come from what works well with your silhouette.
"You can't look necessarily to the runway and say, 'I'm going to do punk rock,'" London said. "You have to decide whether or not skinny leather pants look good on you or not."
4. Find your power color.
Hoda called the vibrant pink of her dress her "power color," or bright, confidence-boosting hue that makes people notice you.
While many cite red as their power color, it could also be Hoda's pink, black, black and white together or the bold marigold yellow on first lady Michelle Obama that turned heads at the State of the Union address.
"It's whatever gives you a certain amount of confidence and courage when you put it on," London said. But just like with style, not every color works on everybody. "Your power color is sort of like your spirit animal," she said. "It only works for you."
If you're looking for say, the perfect red, try comparing a sampling of red items. Clothing with blue undertones, like a bluer red as opposed to an orange red, is flattering for most people, London says, while garments with yellow undertones look better on darker skin tones.
You can also hold the color up to your skin. "The closer it is to your skin tone, the less likely it will be flattering," she said. "You want contrast between the undertone in your skin."
When you realize you've found a go-to, treat it with love. Don't dry clean it too often because it can hurt the fabric, and avoid the clothes dryer.
While London liked that Hoda repeated her dress (she's in good company with outfit recyclers like the first lady and Duchess Kate), she cautioned against having only beloved outfits at the expense of a cohesive wardrobe.
"You do want to develop a wardrobe that you love generally," she said, "so it's not that the go-to outfits become the only thing that makes you feel good."
And don't count leggings and an oversize top as a suitable go-to outfit. As London said, "That's a give-up outfit."
TODAY.com contributor Lisa A. Flam is a news and lifestyles reporter in New York. Follow her on Twitter: @lisaflam