When winter — not the flurry-filled fantasy you see in movies, but the freezing reality — rolls in, it stirs a primal urge to hibernate, or at least hide inside.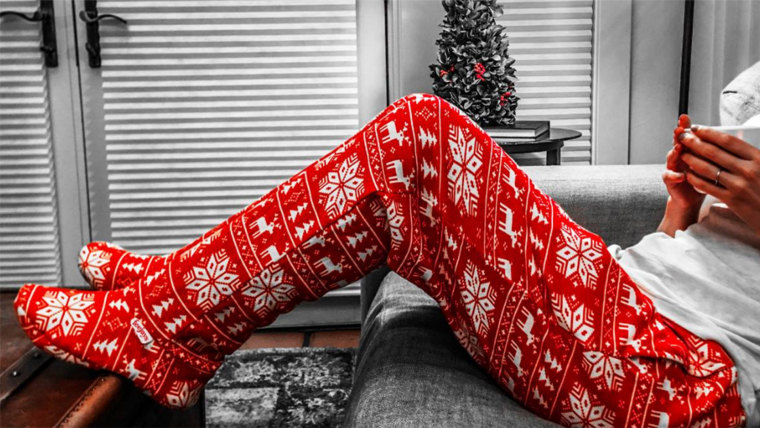 There's nothing quite like cozying up on the couch with a warm beverage and comfy clothes. Sure, you could wrap yourself in a blanket, but then mobility becomes an issue. A Snuggie lets you move, but leaves your feet exposed.
Footed onesie pajamas (a grown-up twist on the nostalgic matching jammies of childhood) seem like the snuggliest and most sensible solution ... until you've had your second cup of cocoa and need to get to the bathroom STAT.
What are you supposed to do, skip the hot chocolate or succumb to a life of frosty tootsies? Either scenario is enough to bring out the inner Grinch in even the most Cindy Lou Who among us.
Thankfully, the latest winter loungewear trend — convertible footsie sweatpants — is here to save the day, err season.
Feejays offer the the warmth of feetsie pajamas without the annoyance of a onesie, keeping your top half free for your favorite ugly Christmas sweater and making restroom trips less of a chore. And you can remove the sherpa-lined foot cover if your toes could use some fresh air. They even have hand pockets, because why should your hooves get all the attention?
These hygge-worthy hybrids come in a range of solid colors and trendy prints, from yuletide motifs (just in time for Christmas) and plaids to florals and camo prints.
Plus, they're available in mens ($40), womens ($40) and kids ($30), so the whole family can get in on the cozy fun.
We know what's going to be at the top of our holiday wishlist!